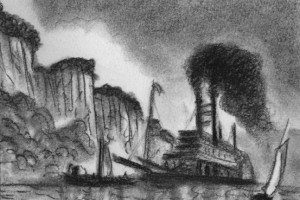 We're trying out a new feature here on the blog by debuting our very first ever Bowery Boys Book of the Month selection! Each month I'll pick a book — either brand new or old, fiction or non-fiction — that offers an intriguing take on New York City history, something that uses history in a way that's unconventional and different or exposes a previously unseen corner of our city's complicated past. Then over the next month, I'll run an article or two about some of historical themes that are brought up in the selection.

For the inaugural selection, a page-turning graphic novel that turns to the Hudson River's 19th century steamship trade for inspiration…..

Sailor Twain, or The Mermaid In The Hudson
by Mark Siegel
First Second Books
Something lurks in the waters of the Hudson River in Mark Siegel's moody new graphic novel.
"Sailor Twain; or the Mermaid In The Hudson," shaded darkly and finely formed out of moody atmosphere, is an ethereal rumination on American urban legend, borrowing from history to create myth.
The Lorelai is a passenger steamship delivering Gilded Age passengers along a bustling Hudson riverfront in 1887, with the major city in New York Harbor ever at its root. It untethers northward along a river famously known for strange secrets which lurk beneath its currents.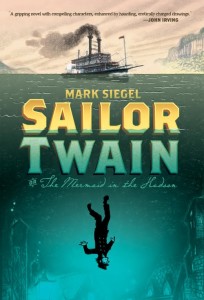 Elijah Twain has a familiar name for a steamboat captain in the late 19th century. "Are you related to the writer?" asks a fine lady. "That's not his REAL –" Twain attempts to explain before being interrupted by the boat's owner, a French Lothario named Lafayette. (I can't help but think that this dandy is a nod to another historical figure, the Marquis de Lafayette.)
Their vessel the Lorelai, named for the famous siren who led sailors to their deaths, travels up and down the Hudson through murky and sometimes surreal waters, inviting to eccentric passengers and otherworldly specters alike..
Books mysteriously appear, as do two ghostly little boys. Lafayette's unexplainable lust for female passengers seems connected to his brother's recent suicide. Twain's own moodiness derives from his wife Pearl, bedridden at home and seemingly a distant reality away.
One evening Twain discovers what appears to be a woman who's fallen overboard. He lifts her to the deck to discover she's a mermaid, naked down to her scaly fins and severely injured. He secrets her away to his room, where the creature slowly casts an erotic spell over the captain. Even his cabin is affected by her charms as ghostly seaweed slowly breaks through the floor.
Lafeyette's randy exploits and Twain's mysterious guest have a very sinister connection, potentially revealed by a book — inexplicably popular with New Yorkers — of local occult stories "Secrets and Mysteries of the River Hudson" by the reclusive C.G. Beaverton. The author soon boards the Lorelai during a book tour and proves to carry secrets too scandalous even for print.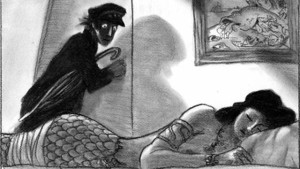 The heavy, charcoal-like images are a perfect complement to the story. The Hudson River, as illustrated by Siegal, seems like the end of the earth, a world so choked in mist that it feels like the artist's ink will rub off on your fingers. Siegal presents a lush, romantic view of historical New York, at equal points comic, erotic and melancholy. Some faces are cartoonish, others delicately real. The art holds the mood as the story unfurls, from Gothic romance to horror parable. It felt like a fog was rolling in each time I opened the book.
The moments where 'Sailor Twain' enters 1880s New York — from its cabarets and saloons to even Steinway Hall on 14th Street — are moments where sun and nostalgia briefly shine, before (and I mean this literally) submerging the main characters into the Hudson itself, entering a world H.G. Wells might have imagined.
We get to see the table of contents of Beaverton's book, a fictional tome which promises other mysteries of the Hudson River Valley: famous shipwrecks, Indian legends, the 'Wood People of Pocantino Hills' and even cigarette-smoking ghosts. Perhaps Siegel's 'Sailor Twain' is just the first illustrated chapter of a whole menagerie of mysteries?
TOMORROW: A few questions with the creator of 'Sailor Twain' Mark Siegel!