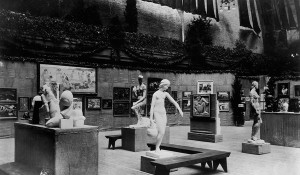 A study in madness: a view inside one room of the 1913 Armory Show
This Sunday marks the 100th anniversary of the opening of the 1913 International Exhibition of Modern Art — aka, the Armory Show of 1913 — which stunned New Yorkers and revolutionized the direction of American art in the 20th century.
So on top of celebrating Presidents Day weekend, add a little art to your agenda this week! Some ways to celebrate across the country
1 "Inventing Abstraction 1910-1925" at the Museum of Modern Art in New York features many works that were displayed at the Armory Show, including the powerful "Dances at the Spring" by Frances Picabia. The show will be open a few more weeks.
2 The 69th Regiment Armory at 68 Lexington Avenue is where the lunacy took place, so walk by and imagine the rows of limos and carriages and the throngs of shocked art enthusiasts spilling out on to the street.
3 For a new show focused specifically on the Armory Show, take a short ride to the Montclair Art Museum in Montclair, NJ, for their new show "The New Spirit: American Art in the Armory Show 1913" which celebrates some of the American stars who participated in the show, including John Marin and Robert Henri. According to their website, Edward Hopper will also be featured, so I assume they will have his little sailboat.
4 The Philadelphia Museum of Art is the permanent home of the Armory Show's most notorious entrant — "Nude Descending A Staircase, No. 2" by Marcel Duchamp — and I assume it's still there confusing audiences, if it hasn't been loaned out.
5 A new documentary about Marcel Duchamp's participation in the Armory Show makes its debut this Sunday in Provincetown, MA, at the Provincetown Art Association and Museum. The film was made by Richard N. Miller, who worked with Duchamp during a 50th anniversary commemoration of the Armory Show. If you're in Cape Cod and want to check it out, visit their website for more information.
6 But the easiest thing to do is simply listen to the Bowery Boys podcast on the Armory Show! Download it for free on iTunes, find it on Stitcher, or click this link to listen to it on the original blog page. Art Insanity: The elegant audacity of the Armory Show of 1913, the daring exhibit that awed and outraged America