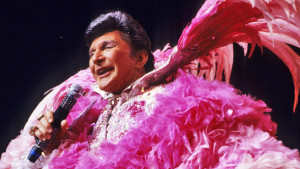 Liberace is the embodiment of a certain California flamboyance, but New Yorkers were as susceptible to his allure as anyone.
In fact, for this brightly-painted musical showman, Radio City Music Hall was a second home. He continued to smash box office records here year after year as late as the 1980s, well past his prime as anything more than a jewel-encrusted artifact. In 1985, his stint here grossed more than $2 million.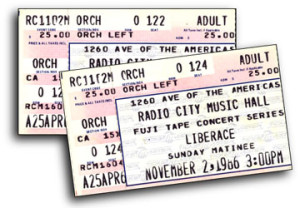 He went out, of course, in a blaze of glory and sequins. His final live show anywhere was at Radio City on November 2, 1986, capping two weeks of consecutive shows at the venue. (Most stars have a hard time packing the house one night!)
The entertainer, with his flowing robes, acres of feathered frippery, furs and wires and "dancing waters," was enough spectacle for any stage, but for this series of shows, he was also joined by the Rockettes and a gigantic simulation of the Statue of Liberty holding a candelabra. Photo of the tickets courtesy Bob's Liberace
Time Magazine's Richard Corliss, in a 1986 article called 'The Evangelist of Kitsch, sets this scene: "The lights go down in Manhattan's deco dream palace, Radio City Music Hall, and Mr. Showmanship makes his entrance, flying across the huge stage in a cocoon of feathers, enough for a whole flock of purple ostriches."
That's right; in a move that would inspire future boy bands, Liberace flew in, "attached to a wire like a puffed-up Peter Pan, in a hundred pounds of purple and white feathers," according to the New York Times.
The audience lapped up every bon mot of coy comedy. Corliss: "They laughed as he sat down on his studded coattails and remarked, 'If the rhinestones are turned the wrong way it'll kill ya.'"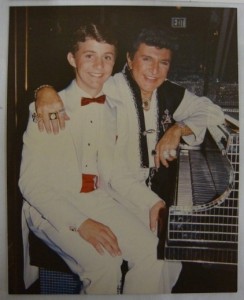 Liberace was assisted on stage by his new handsome assistant Lee; his last assistant and chauffeur — and not-so-secret lover — Scott Thorson had settled his palimony lawsuit out of court just earlier that year for $95,000. (This is the subject of Sunday night's Behind the Candelabra with Michael Douglas and Matt Damon.)
Believe it or not, it wasn't Lee or the Rockettes that got the most stage time with Liberace during the Radio City Music Hall performances. That honor belonged to 14-year old child pianist and "Liberace protege" Eric Hamelin, who performed a piano duet with the feather-frocked superstar ("Slaughter on Tenth Avenue") and a couple other numbers. At right: the star and his protege (source)
Stephen Holden at the Times was understandably critical of the actual performance. "His heavy-miked pianism is at once metallic sounding, exaggeratedly florid in ornamentation and unbendingly rigid in tone and phrasing," said the critic.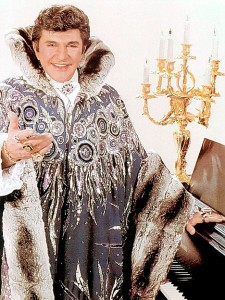 But the audience lapped it up, as he buoyantly hopped from classic to classic with jokey classical trills linking the songs together. His tribute to Chopin led right into "Mack the Knife." His mournful, dripping "Send In The Clowns" spiraled into the silly '60s novelty song "Bumble Boogie."
His final song that final evening was "I'll Be Seeing You". The audience leaped to their feet as Liberace in his sumptuous robes and dazzling bejeweled rings gave his final bow. Three months later, Liberace would be found dead of AIDS-related pneumonia in his Palm Springs home.
He left the stage with his personal charms intact even as his engineered facade had practically disintegrated. "Too many young performers have forgotten that the most important part of show business is not the second word, it's the first," he was quoted as saying . "Without the show there's no business."
Believe it or not, video footage from those final Radio City Music Hall concerts. While this footage is poor quality, the fact that it exists at all is extraordinary. Pop open the champagne and enjoy!
Courtesy showmanlee on YouTube.
:
Top picture courtesy NBC/wire image