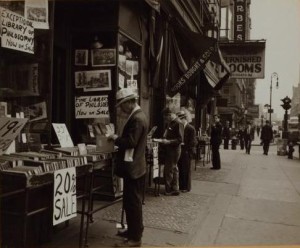 The used bookstores of Book Row, the above shot from Fourth Avenue and 10th Street, 1938 (courtesy NYPL)

BOWERY BOYS BOOK OF THE MONTH Each month I'll pick a book — either brand new or old, fiction or non-fiction — that offers an intriguing take on New York City history, something that uses history in a way that's uniquely unconventional or exposes a previously unseen corner of our city's complicated past. You can find some our past selections here and links to purchase them from Amazon at the bottom of this post.
Thieves of Book Row
by Travis McDade
Oxford University Press
You probably own a book that you consider priceless, not for its physical value, but for the knowledge it imparted upon you, or the adventure it provided. Books can bring you into their worlds, and they can capture who you once were when you first read them.
Now separate those meaningful values and see your favorite book as nothing but an object — a precious, rare artifact, hoarded like jewels by wealthy collectors. A one-of-a-kind bound volume as desirable as fictional literary treasures like the Maltese Falcon or the Holy Grail.
From the late 19th century until the end of the jazz age, criminals worthy of a film noir backdrop were on the prowl for these objects, spiriting them away in coat pockets and sprinting through the streets of Manhattan to deliver them to book-buying fences. It was in this manner that hundreds of books changed hands from the advent of mass-market publishing to the end of the jazz age, creating New York's most intellectual black market.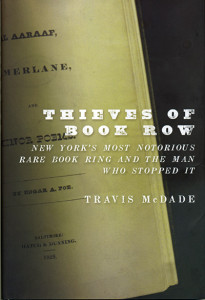 Welcome to the world of Thieves of Book Row, an intriguing new historical investigation by Travis McDade that uncovers an unusual criminal undercurrent that thrived in New York upon the increasing stature of books as exotic, desirable artifacts.
The rare book market exploded in the late 19th century as Americans became wealthier and created their own personal libraries. The development of American identity after the Civil War turned obscure, small-run volumes of Americana by local historians into highly sought-after items. Early editions by famous poets and novelists, manufactured in modest runs, were hunted down by Gilded Age millionaires who could spend months seeking one particular book.
But the value of books went beyond particular authors and titles. Public lending libraries, such as the Astor and Lenox libraries, made old books available for the general public. The concept of a 'rare book' room was still many years in the future, so older books frequently went into circulation. By the early 20th century, the New York Public Library and associated neighborhood libraries sprang up throughout the city, and for the first time, regular New Yorkers could experience great works of writing themselves.
With mass production of books came the advent of used bookstores, which clustered in New York City north of Astor Place in an area called Book Row and later in areas of midtown Manhattan. As McDade illustrates, it was here that the book thief thrived, as crooked book sellers went into overdrive to provide rare, valuable objects for a growing number of wealthy book lovers.
In fact, a ring of book thieves terrorized book stores and libraries up and down the East Coast, common criminals often led by a book seller with connections to wealthy buyers. Hardly a trifling crime, book thieves were considered "the meanest thief God ever let live" by 1907 and were harshly prosecuted. A few thieves you will meet in McDade's engrossing investigation will end up in Sing Sing Prison.

Below: Outside of the New York Public Library central branch on 42nd Street, early 1920s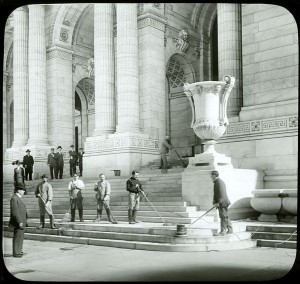 Robbing from a public library was akin to snatching a book from a poor child's hands. "Stealing books from the libraries of the public is one of the unspeakable crimes — like stealing coins from the eyes of a dead man," said a judge in 1904.
The centerpiece of this tale is the theft of a particular volume: Al Aaraaf, Tamerlane and Minor Poems by Edgar Allan Poe, an author whose book value skyrockets during the Gilded Age. What makes this book theft so intriguing is where it was stolen from — the virtual fortress of the New York Public Library's main branch. The best passages in Thieves of Book Row describe the methodical heist of this and other precious volumes from NYPL's Reserve Book Room, walking you step-by-step through this criminal enterprise.
If you love books, it will be McDade's backdrop that may appeal to you more, a world of bookstores that has disappeared, dozens of stores stocked with thousands of old book, clustered along a few city streets. Today, the Strand Bookstore, Alabaster Bookstore and a couple others are all that remain of this once remarkable district in the Village.
Along the way, you'll meet the New York Public Library's jazz-age investigator G. William Bergquist and a shifty assortment of book thieves, some of middling intelligence. It seems many of these desperate men were simply too busy shoving volumes into their coats to actually read any of them.
PAST BOWERY BOYS FEATURED BOOKS: