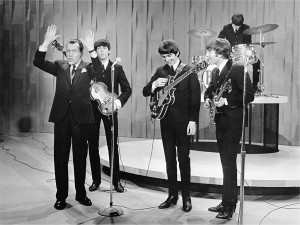 The Beatles in one of their many appearances on the Ed Sullivan Show. [source]

PODCAST This is the second part of the Bowery Boys TV Mini-Series, covering the years of New York City television production from the late 1940s to the 1960s. Some of the most classic television shows ever made — and many still around today — were filmed from various locations in midtown Manhattan.
The insatiable appetite for television programming in the United States after the war created a new industry out of the roots of radio, with the television networks NBC, CBS, Dumont and ABC trying out almost every conceivable form of entertainment. Their efforts in the late 40s and 1950s created many standard forms of programming — the morning show, the late show, the situation comedy and the game show.
This podcast is arranged a little bit like a leisurely Midtown walking tour, taking you past four of the greatest locations in NYC television history. We give you the back story behind nine television shows that were filmed in New York City in this period — Howdy Doody, Texaco Star Theater, the Today Show, the Tonight Show, What's My Line?, The $64,000 Question, Life Is Worth Living, The Honeymooners and the Ed Sullivan Show.
This show definitely features the strangest cast of characters we have ever discussed — television's most influential chimpanzee, a regal bishop superstar, a freckled marionette, a buxom blonde, and the father of Sigourney Weaver!
LISTEN HERE: THE GOLDEN AGE OF TELEVISION


_____________
CORRECTION: In this week's show, I say that the Blizzard of 1947 occurred on the exact date as the debut of Howdy Doody (December 27, 1957). The storm actually hit in the two days before that date — December 25-25. But the city was a total mess for days after.
_____________
J. Fred Muggs, Dave Garroway and Phoebe B. Beebe on the Today Show. Courtesy NBC Television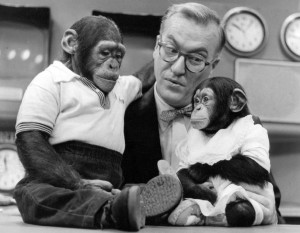 The glorious Dagmar from 'Broadway Open House'! [source]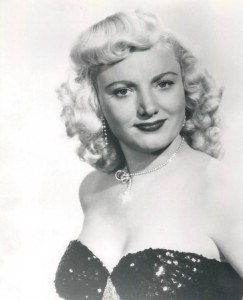 A few episodes of some of the show's we talked about in the podcast:
The $64,000 Question
Life Is Worth Living with the Bishop Fulton Sheen
Texaco Star Theater from November 1949
What's My Line? — with an episode featuring Eleanor Roosevelt!
The Honeymooners — the episode called "The Bensonhurst Bomber"