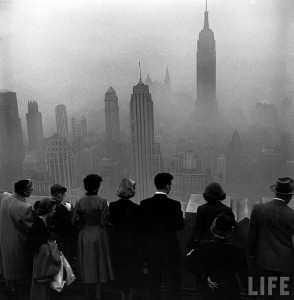 New York City, 1953, the setting for Kevin Baker's The Big Crowd. Photo by Eliot Elisofen, courtesy Life/Google images

BOWERY BOYS BOOK OF THE MONTH Each month I'll pick a book — either brand new or old, fiction or non-fiction — that offers an intriguing take on New York City history, something that uses history in a way that's uniquely unconventional or exposes a previously unseen corner of our city's complicated past. You can find some our past selections here and links to purchase them from Amazon at the bottom of this post.
The Big Crowd: A Novel
by Kevin Baker
Houghton Mifflin Harcourt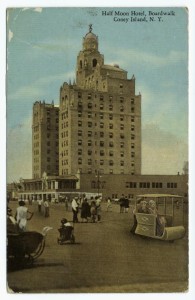 The Half Moon Hotel (pictured at left), named for Henry Hudson's ship, was Coney Island's most glamorous accommodation when it was built in 1927.
In the fall of 1941, the mob informer Abraham Reles, nicknamed Kid Twist, was being held here, heavily guarded by police officers. Reles had information on dozens of murders, putting away some of Brooklyn's most notorious gangsters.
Next on his list was Albert Anastasia, better known in the press as the leader of Murder Inc. On November 12, Reles plummeted out the window to his death. Was Reles trying to escape? Or was he murdered?
This real life mystery is at the heart of Kevin Baker's new historical novel The Big Crowd, a brassy noir of New York City in the post-LaGuardia era.
Baker is one of the more thrilling historical novelists working today, latching colorfully and with epic flourish into specific New York eras, obsessed with the seedier elements which make the city tick. He is unafraid of embracing real-life characters and emboldened by difficult, abrasive eras. In Paradise Alley, his imagination ran wild through the Civil War Draft Riots. In my favorite Baker novel, Dreamland, gangsters and freaks collide amid famous Coney Island landmarks. He somehow even fits in Carl Jung and Sigmund Freud along the way.
He's written about the life of Kid Twist, too, in Dreamland. But it's his death that sits in the smoldering center of The Big Crowd, exposing the connection between waterfront gangland activity and the upper reaches of New York government, reaching, in fact, all the way to the very top.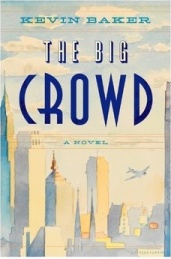 While Baker has fictionalized the lives of real-life people in the past (a young Malcolm X being the most ambitious, in his novel Strivers Row), for his latest, he's transformed Mayor William O'Dwyer into Mayor Charlie O'Kane.
While their biographies are nearly the same — an Irish mayor brought down by scandal — O'Kane is a lustier, more mysterious figure, escaping America and becoming an almost godlike figure in Mexico City. His brother Tom works for the New York district attorney's office, attempting to clear his brother's name while solving the mystery of Reles' death.
The Big Crowd often feels like an unmade gangster film, its beat cops and waterfront roughs rendered from a world of cinematic grays. At the core is Baker's relentless attention to historical detail, even when it seems impossible to believe, manifesting into occasional weirdness.
For instance, O'Kane's lascivious wife, who incidentally sleeps with his brother, fancies herself a bull-fighter. (O'Dwyer's real wife Sloan Simpson did become a bull-fighter in Mexico.)
Some of my favorite 20th century figures are successfully evoked, including Toots Shor and racketeer Joe Ryan. Robert Moses is glimpsed without apology as a menace; a powerful passage late in the book envisions the wreckage of a demolished Bronx neighborhood, "the cityscape melted into a pile of pure, mindless wreckage."
Like other Baker adventures, The Big Crowd rewards history buffs with dozens of recognizable signposts, but not so many as to seem like an over-researched theme park.
The underlying story of Reles' murder languidly ebbs and flows through the book, unspooling gradually, via interrogations and in few eloquent monologues. (In real life, the mystery was never solved.) But The Big Crowd is the type of book where the distractions are often the most entertaining. Baker has once again created a magnificent alternate New York of exacting, glamorous detail.
PAST BOWERY BOYS FEATURED BOOKS: