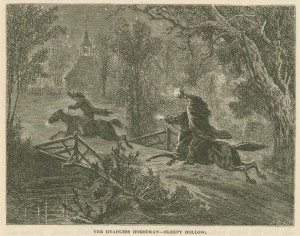 An 1864 wood engraving of 'The Legend of Sleepy Hollow' for Harper's Magazine (NYPL)
The new Fox television show Sleepy Hollow debuted last night. The storyline involves Continental Army soldier Ichabod Crane who confronts a masked Hessian soldier on the battlefields of Westchester County in 1781. He chops off the Hessian's head but is knocked unconscious. Next thing you know, Crane has woken up in 2013 and so too has the Hessian, aka the Headless Horseman.
The Headless Horseman is looking for his head and has a masterful grasp on modern weaponry. There are also witches who were burned at the stake — in the early 19th century — and whispers of the Four Horsemen of the Apocalypse returning to earth. What follows is certainly New York's very own version Grimm, the crime procedural set amid the fairy tale traditions of the Brothers Grimm.
Below: From Disney's 1949 'The Adventures of Ichabod and Mr. Toad', still one of the best versions of 'Sleepy Hollow' put to film, at least atmospherically

I'm sure this will be light and fun to watch, a la ABC's contribution to the modern fairy tale genre Once Upon A Time. But it is shocking how much of Washington Irving's original tale they've simply eliminated. Irving's Ichabod Crane was a school teacher. The character's name was probably inspired on an actual soldier named Ichabod Crane; he distinguished himself with valor in the War of 1812 but would have been four years old in 1781.
In Irving's tale, the Horseman "is said by some to be the ghost of a Hessian trooper, whose head had been carried away by a cannon-ball, in some nameless battle during the Revolutionary War, and who is ever and anon seen by the country folk hurrying along in the gloom of night, as if on the wings of the wind."
Also, the show is filmed in North Carolina.
If you wanna get in the autumn mood with the real story of Washington Irving and 'The Legend of Sleepy Hollow', check out my back catalog podcast (Episode #19) on the life of the writer, his beginnings as a publisher in colonial New York and his tenuous connection to Irving Place below Gramercy Park.
Download it on iTunes, directly from our satellite site, or listen to it here via SoundCloud: