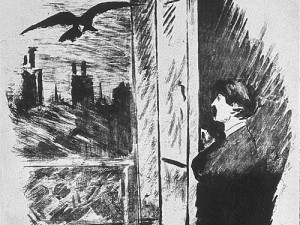 An illustration by Eduardo Manet from a 1875 French reprinting of "The Raven"
We are all too comfortable with Edgar Allan Poe in the abstract. His fingerprints seem to be on everything these days. His morbid tastes and the flowering dark genres he helped create appear just underneath much of American pop culture in the 21st century, from crime procedurals to teen supernatural romances. He inspired the modern detective novel (and, by extension, film noir) and an uncountable number of American mystery and horror stories.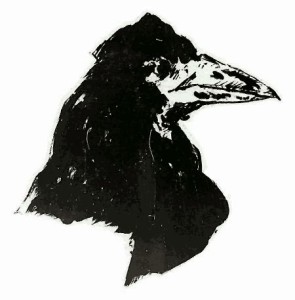 But do you dare get closer to the man, to the stained papers and morbid inner thoughts of a writer who practically cornered the market on early 19th century American perversity? In Edgar Allan Poe: Terror of the Soul, the brilliant new show at the Morgan Library & Museum, you are trapped in a bloodred box with the writer, his letters, notes and original publications in an intimate and vaguely disturbing setting.
Yes, the room is actually painted red. And a silhouette of Edgar's haggard face glares down at you as you huddle in a perfectly awkward closeness over evidence of Poe's brilliance, fame and madness. Terror of the Soul is an autopsy of a strange career, revealed through first edition volumes and original newspaper clippings, then confirmed through bold, occasionally terse letters from the author himself. A vivid portrait of the public Poe emerges — erratic, rarely satisfied — allowing you to speculate upon his private, tormented side.
Among the treasures here is a copy of Poe's first book of poetry Al Aaraaf, Tamerlane and Minor Poems, published in 1829, a book so rare that it inspired one of the 20th century's great book thefts. Nearby sits the first publication of "The Raven," next to handwritten notes from Poe about changes to be made in future reprintings.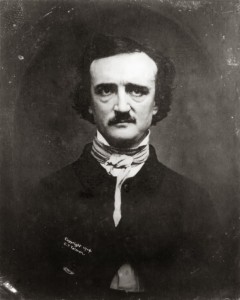 Terror of the Soul is as much about other people's perception of Poe as it is about the writer himself. Eduardo Manet's expressive lithographs from a 1875 French edition of "The Raven" are a highlight of the show, a perfect synthesis of elegance and gloom. A selection of sketches, daguerreotypes, photographs and even a bust of Poe are on display, his hollow face in an array of contortions and somber moods.
Most of the objects here require you to move closer, your eyes peering over old text of a sometimes unsettling nature. Often the format is downright alien, as in the odd, mysterious scroll on which he chose to lavishly transcribe his poem "The Bells" in 1849, one month before his death. The scroll has pencilled changes along the margins; in one change, he ponders using the word 'menace' over 'meaning'. Along the edges of the scroll is evidence that it had been set on fire at some point.
There are many such tiny mysteries among the artifacts of Edgar Allan Poe: Terror of the Soul, a show with more horrors contained within it than any Halloween-inspired haunted house could ever provide.
Edgar Allan Poe: Terror of the Soul, at the Morgan Library & Museum, through January 26, 2014. Visit their website for more information.