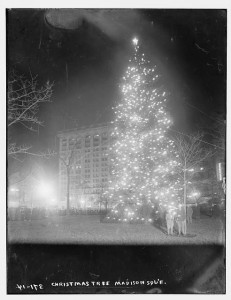 I'm not sure if the Madison Square annual Christmas tree was really the biggest in the entire world — as the 1913 Evening World at right suggests — but it was most certainly the largest in New York City. Its closest competitor in size would have been the City Hall Christmas tree.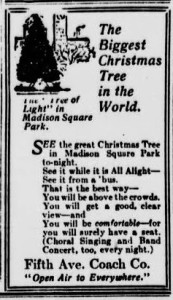 This unique tradition in Madison Square began just the year before, in 1912, and is often considered to be the first community Christmas tree in America.
From my 2010 article: "This 'Tree of Light', mounted in cement, was such a novelty that almost 25,000 people showed up that night to witness it and enjoy an evening-long slate of choral entertainment." [Read more about its history here.]
I've seen a few photographs of the Madison Square Christmas ceremony from this period, but rarely any at night. I'm not sure whether the pictures at top and at bottom are from 1913, but they're definitely from the early 1910s.
We're so used to novelty lighting features now that it's difficult to imagine the extraordinary effect of a single tree draped in electric illumination.
From the ad by the Fifth Avenue Coach Company:
"See the great Christmas Tree in Madison Square Park to-night.
See it while it is All Alight —
See it from a 'bus
That is the best way —
You will be above the crowds.
You will get a good, clear view — and
You will be comfortable — for you will sure have a seat."
(Choral Singing and Band Concert, too every night"
Here's one view of a grand Fifth Avenue Coach omnibus of the type advertised (pictured here in 1906) that you might have been riding that particular evening. I can't imagine this was the most enjoyable ride on a chilly December evening, especially passed the famously windy Flatiron Building: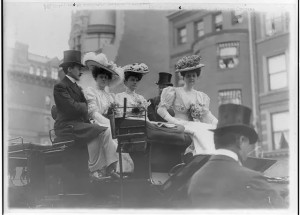 Pics courtesy the Library of Congress