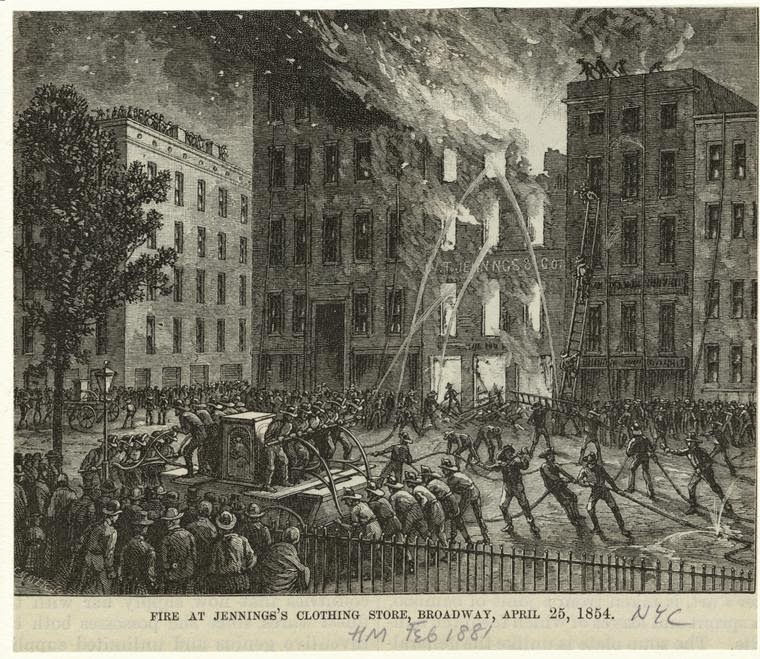 Above: A dramatic depiction of a fire which took place 160 years ago today.

W. T. Jennings was a fine gentleman's clothing store located at 231 Broadway, on the site of today's Woolworth Building. A tremendous fire took the building on the evening of April 25, 1854, causing thousands of dollars in damage and destroying the "hair-dye and wig establishment" next door.

In the image above, you can see the volunteer fire fighters manning a pump at the very edge of City Hall Park. The Astor House would have been one block to the south.

Eleven men were eventually killed in this horrible blaze, the worst fire-related accident since the Great Explosion of 1845 (which killed 30 people). It was later discovered that the fire was started by teenager thieves who were subsequently sent to Sing Sing Prison. However the architect and builders of the structure were censured in a later hearing for creating a so-called fire "death-trap." Jennings eventually opened another location at 566 Broadway (at Spring Street). Below: headline from the NYT.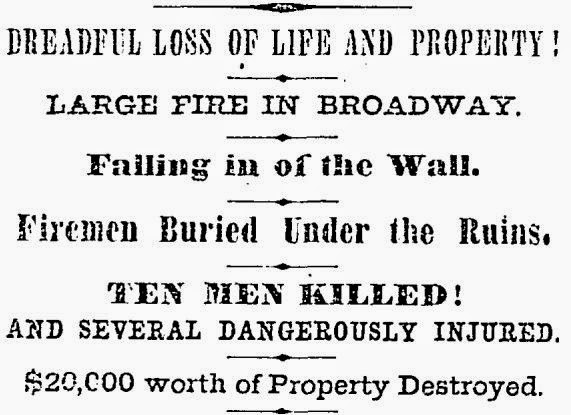 ____________________________________



Some historic-themed links of note:
A Robert Moses-Jane Jacobs opera. It's happening, soon. "[T]he story of New York, of cities, and of the struggle between Jane Jacobs and Robert Moses will be told like never before." [Moses Jacobs Opera]
An Alexander Hamilton hip-hop musical. It's happening even sooner! Coming January 2015. [Public Theatre]
One hundred and forty-nine years ago, there was a solar eclipse on the same day as Abraham Lincoln's New York funeral procession. Here's the procession order: [New York Times]
Next week we celebrate the 75th anniversary of the opening of the World's Fair 1939-40. One notable star of the fair — Hitler the Cat! [Slate]
A tour of all the New York City locations used in the Martin Scorsese film Good Fellas, from downtown Manhattan to Astoria, Queens. [Untapped Cities]
Well, isn't this just great! "Lower Manhattan's Flood Risk is 20 Times Higher Since 1844″ [Accuweather]
The New York Times Book Club is discussing Colm Toibin's amazing novel Brooklyn next month! [NYT]
Next month is Lower East Side History Month! Tours, exhibits, a Henry Street Settlement block party and the sidewalk-focused #ChalkLES are all on the slate. Check out the full calendar: [LES History Month]
A short history of the New Yorker called the Queen of the Waves who swam the English Channel in 1926. [Ephemeral New York]
Explore the newly opened photo vaults of the American Museum of Natural History! [Gothamist]
Top image courtesy New York Public Library