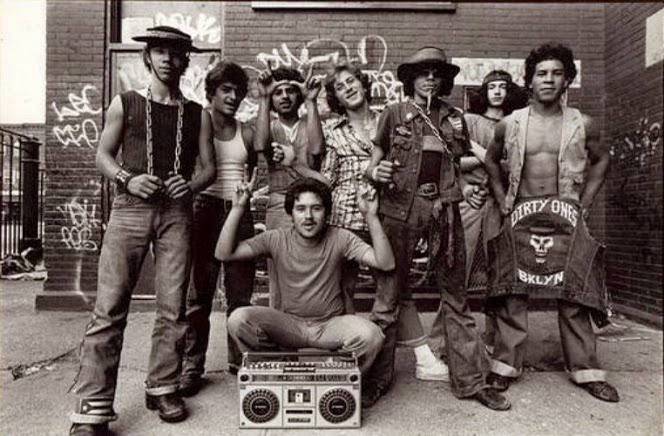 The Dirty Ones, a notorious gang from Williamsburg.
My new column for A24 Films (a tie-in to the new movie A Most Violent Year) is up on their site devoted to culture and events from 1981.
For this article, I look at what some of the dangerous undercurrents to life in Williamsburg, Brooklyn, in 1981. "By the 1970s, Williamsburg was best known for its steeply rising crime rate, harboring both violent street-gang activity and organized crime." You can read the whole article here.
During my research for this piece, I found this rather startling map in the New York Times, August 1, 1974, charting out the various turfs of northern Brooklyn street gangs.
This is not a souvenir from the film The Warriors, but an actual list of the many violent gangs which kept Brooklyn a very dangerous place to walk around in during the 1970s.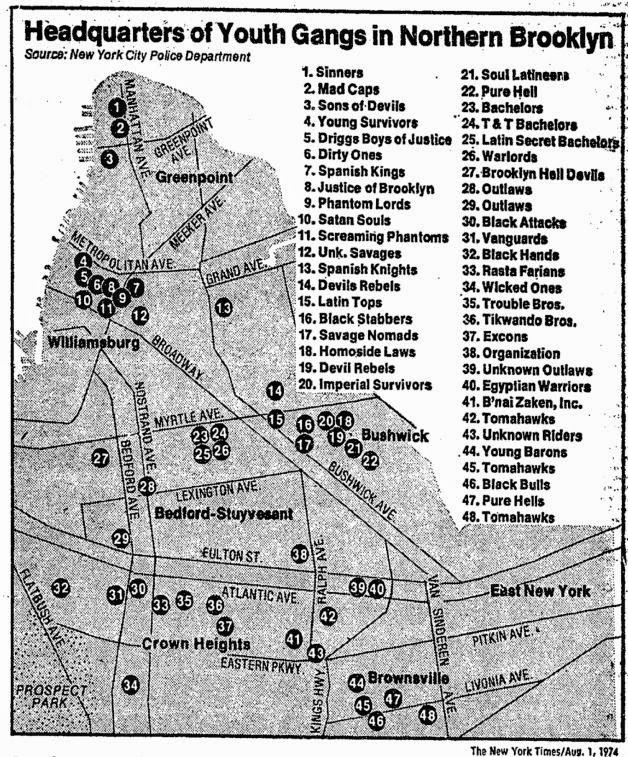 Gang activity was so especially vicious at this time — particularly gang-vs-gang violence — that Luis Garten Acosta, the founder of El Puente youth outreach program, called northern Brooklyn 'the killing fields' in 1981.
I dug a little further to find some specific incidents which involved some of these gangs. I've put numbers by the gangs so you can find their dedicated turf on the map above:
— September 16, 1972 — A gang altercation among the members of the Young Barons (44) resulted in the death of one young man and another whose nose was cut off.Â
— August 21, 1973 — Several members of the Devils Rebels (19) were walking around Bushwick when they were accosted by the Screaming Phantoms (11). Two boys associated with the Devils Rebels were stabbed and killed. Police report "the Screaming Phantoms operated out of the Williamsburg area and had been 'way out of their area' at the scene of yesterday's gang fight."
— October 12, 1973 — Several gangs have been cast as extras in a new film called The Education of Sonny Carson, including the Tomahawks (48), Pure Hell (22) and the Unknown Riders (43).


— February 25, 1974 — The Times reports on the extortion schemes of various northern Brooklyn gangs, mentioning the Outlaws (28,29), the Tomahawks (48), the Jolly Stompers (not listed) and B'Nai Zaken (41).