Tonight NBC's unveils its live theatrical experiment Peter Pan with Girls star Alison Williams in the cross-dressing role of the boy who never grows up.
We can all have our debates about who's been the greatest stage Peter Pan in history. Â Most will say Mary Martin, a sizable minority will claim Sandy Duncan, and a few smaller voices may even cry the name Cathy Rigby. However the first and most popular woman to ever play the role was most likely the actress who originated the role on the American stage — Maude Adams. Â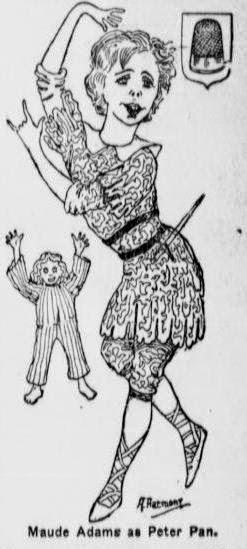 Her rendition was so popular that it inspired one enduring fashion trend.

Peter Pan made its New York debut on November 6, 1905 at the Empire Theatre at Broadway and 41st Street. Â The theater was owned by one of New York's most powerful producers Charles Frohman. Adams was one of his greatest finds, casting her in several productions when she was just a teenager.
Adams had played a boy on stage and had even starred in a prior play by Peter Pan's author J. M Barrie (Quality Street). Â Barrie himself came to New York to witness rehearsals with Adams and the show 70-odd cast members.
At right: The bizarre visage of Maude Adams as illustrated in the New York World, November 1905
The audiences loved Adams, but not the critics. From the New York Tribune the following day: Â "As an actress Miss Adams is incarnate mediocrity — for she possesses neither imagination, passion, power, depth of feeling or formidable intellect and her faculty of expressive impersonation is extremely limited" — OUCH — "but as a personality, she is piquant, interesting and agreeable … she has shown to advantage and she causes the effect of commingled merriment, sentiment and momentary thought."
Others criticized her physical size, calling her "plump and prancing." "She was a trifle overweight for a fairy, but she carried herself lightly and gracefully and didn't scare the children in the least."
Audiences loved her, however, Adams proceeded to play the role of Peter Pan, off and on, for over a decade. In fact, Maude Adams was the actress most associated with the part for fifty years. Â Mary Martin then took the role to Broadway in 1954, won the Tony Award for Best Actress the following year and then became the model for which all subsequent actors have looked to.
More important, Adams inspired a popular fashion trend — the Peter Pan collar. Â Her costume, by John White Alexander, took great liberties with Barrie's descriptions of Peter's garments. Â Women soon clamored for dresses with a similar floppy collar. Â The play was still running at the Empire when the collars soon appeared at department stores. Â This ad is from April 1906:
Her belted waist also took the fashion world by storm. Â The "Peter Pain waist," a traditional shirtwaist bound with a thick black belt, was called "decidedly chic," "particularly becoming and stunning in effect."
The front of the Empire Theatre, where Peter Pan made its New York debut:
Pic courtesy New York Public Library