My new column for A24 Films is up over on their 1981 site (in support of the film A Most Violent Year). 1981 was the year that Robert Moses died, and his death sparked new discussions into what his legacy to the New York City area truly was. Â In a word: automobiles. Â You can read my article here.
But that's a little depressing. How about I tell you about the time that the New York Times published a couple Christmas poems written by Moses?
That's right, the Santa Claus of Long Island, bearing gifts of bridges and highways, did occasionally get into the Christmas spirit, albeit dripping in vitriol and sass.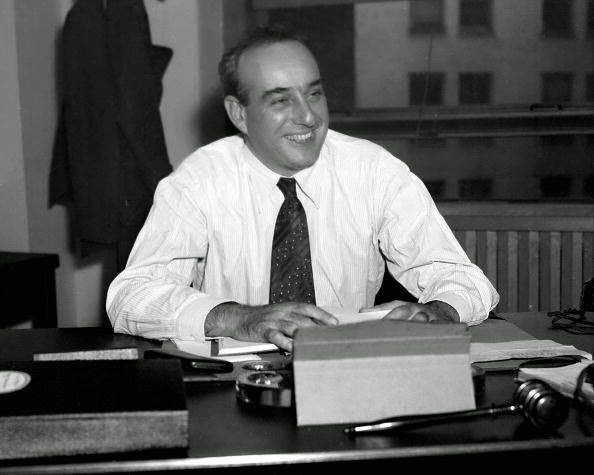 Moses in 1934 during his failed campaign for governor. (Courtesy New York Daily News Archive)
POEM ONE – 'TIS THE NIGHT BEFORE ELECTION

This loosely poetic speech first manifested in print during the last gasps of Moses' failed bid for New York governor in 1934.
As the Republican candidate running against incumbent Herbert H. Lehman, young Moses failed to connect with voters, and the experience soured him on elected positions. He was soundly defeated by Lehman, the investment banker-turned-politician aligned with new president Franklin Delano Roosevelt (who had preceded Lehman as governor).
His final words as a candidate were spoken on radio station WEAF and printed the following day.  Those words paid an awkward homage to the great Christmas poem written by Clement Clarke Moore. Despite the fact that the election was in early November, his point in conjuring the visage of Old St. Nick would become clear.  It's hardly rhythmic. Imagine this read in his gruff, determined voice:
"'Tis the night before election, and nothing much is stirring throughout the state.

The stockings in Democratic homes are hung by the chimney with care, in the hope that Jim Farley soon will be there.

The Big Bag Man is dressing himself up as Santa. He doesn't really look the part, but that's not important.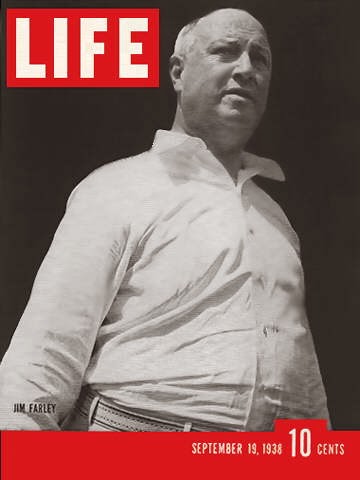 Neither is the fact that all the presents were bought on credit, and that Santa Claus is running up a tremendous bill. Â Â 

The important question is: Â Has he plenty of presents to go around for the boys and girls who have been good?

Governor Smith expressed the fondest hopes of the Democratic party, and summed up the strategy of the whole Democratic campaign when he said that he thought the people would not shoot Santa Claus before a hard Christmas."
Jim Farley (pictured at right, 1938) was considered a 'kingmaker' in Democratic politics, responsible for the election of FDR.  He would become Roosevelt's U.S. Postmaster General.  The James A. Farley Post Office across from Madison Square Garden is named in his honor.
Using the Santa analogy, Moses was taking a dig at Democratic programs that would soon shape FDR's New Deal. Â Of course, as New York's power builder, Moses would later benefit greatly from these programs so perhaps he shouldn't have been complaining.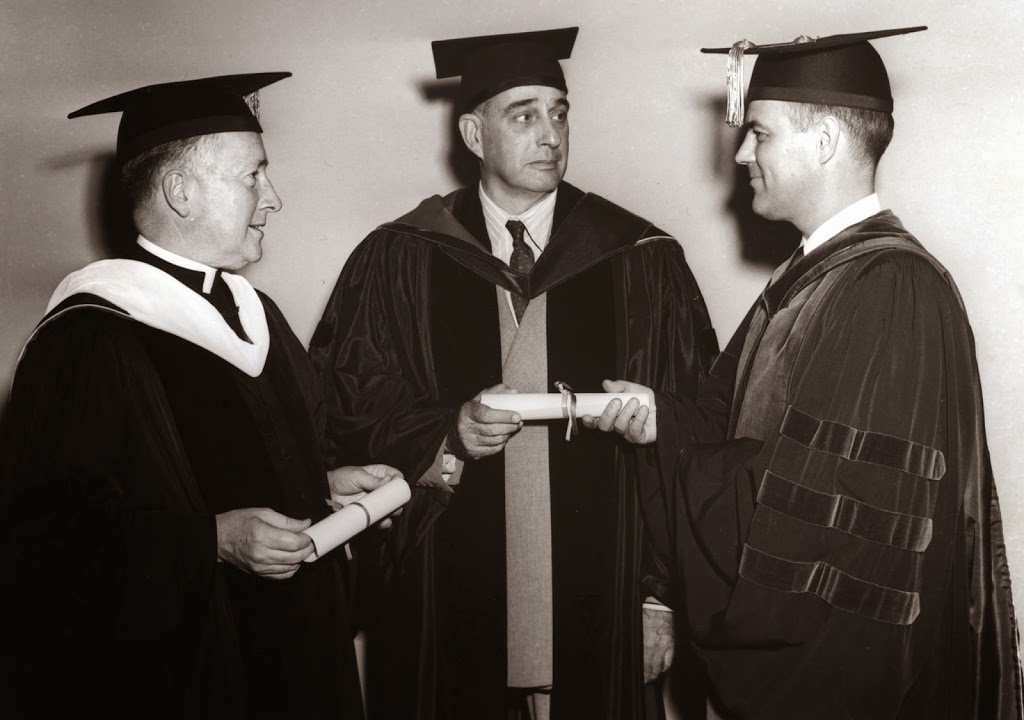 In 1948, Robert Moses received the very first honorary degree from Hofstra University, along with Robert Gannon, the president of Fordham University. Â However, that year it would be a phony university that would inspire Moses to pen a sassy Christmas verse. (Courtesy Hofstra University)
POEM TWO: CHRISTMAS GREETINGS (LETTER TO THE CHANCELLOR)
Perhaps more unusual was the poem which ran the day after Christmas in 1948, an inside joke between men of influence.
By the late 1930s, Moses had amassed several positions of responsibility and power and had pushed through a great number of vast, expensive projects, including the Triborough Bridge. Moses had to routinely pitch these projects to the New York Board of Estimate — the men who held the purse strings — which included Henry M. Curran (Deputy Mayor), Newbold Morris (City Council President), and James Lyons (Bronx Borough President).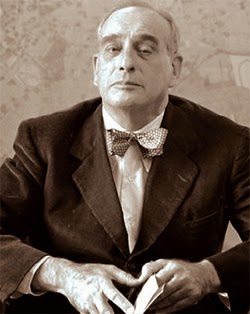 Curran was a bit of a grammar nerd — the kind who cringes at improper usage of words — and recoiled during debates when Moses (at right) and the others misused the English language.
According to the Times, Curran organized among the men a hierarchy of language correction, (jokingly?) referred to as Curran University. Â One could only 'graduate' from this phony university by excelling in their verbal and written debates with grammatical aplomb.
During a board meeting where the fate of the old Claremont Inn was discussed, Moses used the phrase 'coign of vantage' which scandalized Curran but suggested that Moses' verbal skills were improving.
Then, one day, Moses wrote a memorandum to Lyons using the phrase 'high-falutin' as well an apparent mis-use of the word Aurignacian. Â This threw his superiors into a light-hearted conniption.
"We tried to help. Â But Moses has failed, flunked. Â Up with the bars! Â Let Mose wail — without — not within," wrote Curran.
Moses, who would become more powerful than all three men combined, responded in an unusual way — he wrote a biting Christmas poem. Â The following verse, penned by Moses, was delivered to Lyon, who "promptly converted it into a Christmas card — with embellishments — and passed it along to his superior officer." Â The poem, as published in the Times:
CHRISTMAS GREETINGS
To Chancellor Henry H. Curran
Great Chancellor of Curran U
Greetings from Borough Hall and Zoo.
Assorted barks and roars and honks
From the four corners of the Bronx.
Gannon, Osborn, Robbins and Moses
Greet you with laurel, rhinos and roses.
Cheerios and loud hosannas
From Pelham Bay and the Bronx savannas.
Great critic of the spoken word,
Greetings with the proverbial bird.
From every coign and height definitive
We greet you with a split infinitive.
Signed, 
James J Lyons, Dean
Robert Moses, Sophomore Cheer Leader
So remember: the next time you have a friend correct your grammar, remind yourself, "Hey, I have something in common with the Power Broker!"
Below: A New Yorker cartoon from 1960, the year when his grammar pal Morris took the job of Parks Commissioner from Moses.