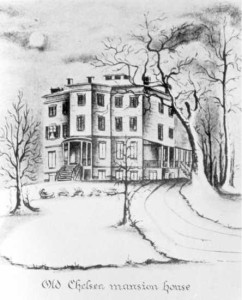 On Christmas Eve, one hundred and ninety years ago today, wealthy landowner and august Columbia professor Clement Clarke Moore completed a seasonal poem to read to his children. He penned the whimsical little tale — a throwaway, really, in comparison to his great and respected writings in Greek and biblical literature — from a desk at his comfortable, snow-covered mansion which the family called Chelsea.
The home sat atop an old hill (at around today's modern addresses of 422-424 West 23rd Street) overlooking Moore's estate which stretched south from here. His estate, of course, gives modern Chelsea its name. At right, the Chelsea estate on a cold winter's night.
Moore was allegedly inspired that afternoon during an outing to Washington Market to purchase a Christmas turkey. The market (pictured below in 1829) would have another holiday claim to fame: it was the site of America's first outdoor Christmas tree market.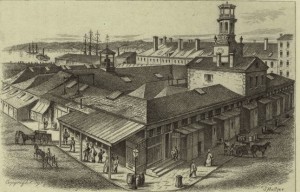 The poem, "A Visit from St. Nicholas" and often referred to as "'Twas The Night Before Christmas," would eventually help define Santa Claus mythology. It's perhaps the most important source in shaping the physical appearance and ritual behavior of the North Pole gift-giver and would provide inspiration to New York illustrators like Thomas Nast and, in the 20th century, the Coca-Cola advertising of Haddon Sunblom. Moore is even credited with naming the eight reindeer.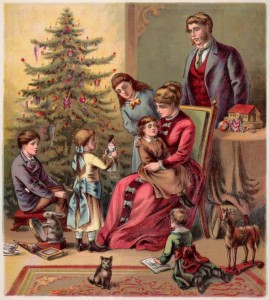 But the poem was only originally intended for Moore's children. I'm not certain how many were around to hear it in 1822, but Moore and his wife Catherine Elizabeth Taylor would eventually have nine of them. One daughter, Mary Ogden, would later produce the first of dozens of illustrated versions of the poem.
At left: An illustration of Moore and his family from an edition published in 1896 (source)
The poem was published anonymously the following year, and Moore would only take credit — at his children's insistence — in 1844.
Given Moore's original hesitation, some scholars have suggested that another New Yorker, Henry Livingston Jr., may have penned it. Until that is definitely proven, you are allowed to always think of the neighborhood of Chelsea — just two blocks west of the Chelsea Hotel — every time you hear it.
So jump in your 'kerchief, open your shutters and throw up your sashes, and give this little holiday poem a ripe rendition this year. You can find the full text here. But to quote the final section:
He sprang to his sleigh, to his team gave a whistle,
And away they all flew like the down of a thistle.
But I heard him exclaim, 'ere he drove out of sight,
"Happy Christmas to all, and to all a good-night!"
For more information on Moore and the Chelsea neighborhood, check out our podcast on the Chelsea Hotel.
Pictures courtesy NYPL