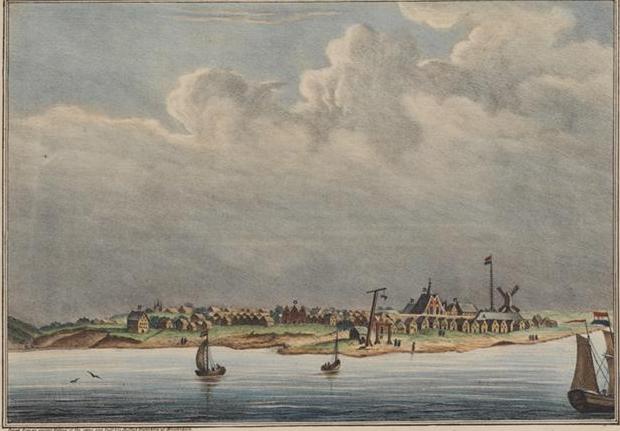 On Tuesday, Mayor Bill De Blasio announced a broad expansion of New York ferry services beginning in 2017, taking commuters to various destinations along the East River and New York Harbor.
And fares will cost as much as a bus or subway ride. Proposed services would head to the Astoria and Rockaway Beach, Queens; the Lower East Side in Manhattan; and Soundview in the Bronx. The New York Times also mentions possible future routes to Coney Island in Brooklyn and Staten Island's Stapleton neighborhood.
If these plans come to fruition, it will be a grand return to a form of transportation that once dominated New York waters in the 18th and 19th centuries. Ferries connected the two great cities of New York and Brooklyn well before there was any bridge  or consolidation plan. The Vanderbilts made their early fortunes on ferry service.
Yesterday's announcement got me thinking about where all of this began — along the sandy shores of Manhattan in the years of Dutch occupation. [NOTE: The story below is partially reprinted from a blog post I wrote in 2010.]

The year 1642 saw the very first regular ferry service in (later named) New York Harbor, between the two small villages of Breuckelen and New Amsterdam.
The populations of both areas numbered less than 1,000 at most, combined, and most were employed by the Dutch West India Company. New Amsterdam, under Peter Kieft, had a modicum of defenses (notably Fort Amsterdam) but that famous wall demarcating its northern border would only come many years later, as would Peter Stuyvesant.
Across the water, Breuckelen was nothing more than a cluster of basic structures along the shore, near the area where the anchorage of the Brooklyn Bridge sits today. Its long stretch of flat shore in full view of the harbor and a high bluff (later Brooklyn Heights) made it a choice spot for adventurous Dutch settlers who made it their home in 1636. In contrast, other areas of Long Island were settled by other nationalities under Dutch authority, e.g. the English settlements of Gravesend (modern Gravesend and Coney Island).
Just north of New Amsterdam resided a man who would be the first to link the two tiny settlements. Cornelius Dircksen was a farmer and inn owner with prime real estate, even in 1640, along the eastern stretch of Mannahatta at Peck Slip, just north of the city.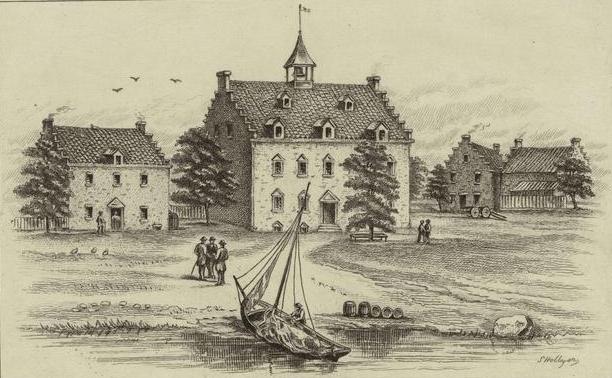 In the early 1630s, Dircksen's ferry was an irregular service, a way to earn extra income. Perhaps he considered it a special accomodation for guests of his inn. And who was staying at his inn, at this time? Mostly newcomers to New Amsterdam, or Dutch West India fur traders passing through.
As legend has it, if one of his guests or a passerby wanted conveyance across the river, they needed only to take a horn hanging from a tree and blow it. Cornelius would drop what he was doing to arrange the voyage, even if he was tending to his own fields. (I imagine the money must have been good.) His small boat would take passengers from the foot of his farm to a small landing on the other side — not surprising in the area that would later develop the Fulton Ferry in the 19th century.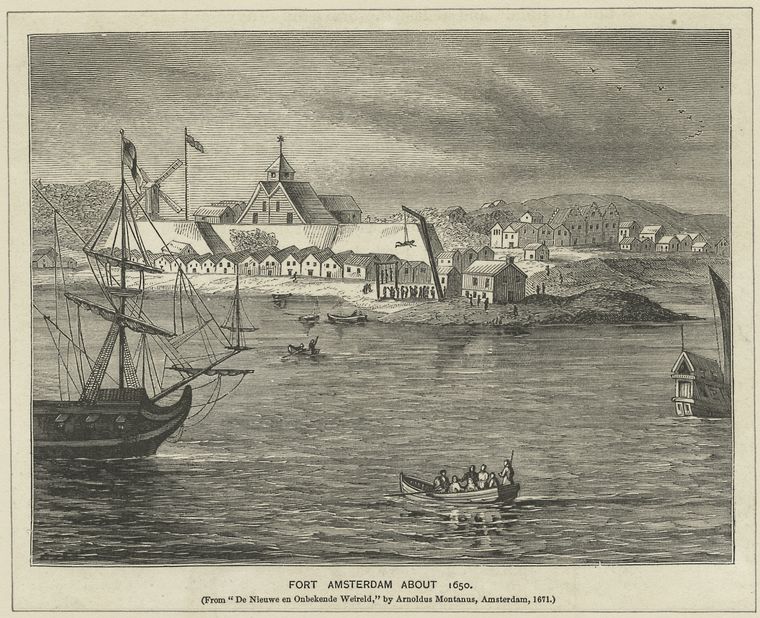 In 1642, Cornelius decided to jump into the ferry occupation full time. Dircksen was, according to old histories, "the earliest ferryman of whom records speak and was, probably, the first person who regularly followed that calling."
In a modest skiff, Cornelius (or his assistants) would take passengers across the harbor for shells: "the small price of three stuivers in wampum, meaning nine purple beads or eighteen white beads." Wampum would be the colony's most versatile form of currency, usable in both the Dutch settlements and with the Lenape themselves. The ride, often choppy and unpredictable, would sometimes take a full hour.
Cornelius owned the land on both sides but later sold the Breuckelen landing in 1643 to Willem Jansen — who then opened a competing tavern there himself.
Flash forward ten years later, and enough budding (and inept) entrepreneurs had gotten into the unregulated ferry business that people complained to the city of "waiting whole days before they can obtain passage and then not without danger and at an exorbitant price."  So in 1654 the city began issuing licenses to ferry operators.
But it would not be until British occupation that regular ferry service was actually operated by the city itself.