PODCAST The history of the New York City taxicab, from the handsome hansoms of old to the modern issues facing the modern taxi fleet today.
In this episode, we recount almost 175 years of getting around New York in a private ride. The hansom, the romantic rendition of the horse and carriage, took New Yorkers around during the Gilded Age. But unregulated conduct by 'nighthawks' and the messy conditions of streets due to horses demanded a solution.
At first it seemed the electric car would save the day but the technology proved inadequate. In 1907 came the first gas-propelled automobile cabs to New York, officially 'taxis' due to a French invention installed in the front seat.
By the 1930s the streets were filled with thousands of taxicabs. During the Great Depression, cab drivers fought against plunging fare and even waged a strike in Times Square. In 1937, Mayor Fiorello LaGuardia debuted the medallion system as a way to keep the streets regulated.
By the 1970s many cabdrivers faced an upswing of crime that made picking up passengers even more dangerous than bad traffic.  Drivers began ignoring certain fares – mainly from African-Americans – which gave rise to the neighborhood livery cab system.
Today New York taxicab fleets face a different threat – Uber and the rise of private app-based transportation services. Will the taxi industry rise to the challenge in time for the debut of their 'taxi of tomorrow'?
To get this week's episode, simply download it for FREE from iTunes or other podcasting services or get it straight from our satellite site.
You can also listen to the show on Stitcher streaming radio and TuneIn streaming radio from your mobile devices.
Or listen to it straight from here:
The Bowery Boys #189: TAXI: The history of the New York City taxicab
Top picture: Photo by Albert Fenn/Office of War Information, Cleaned up image courtesy Shorpy (Get a print of it here)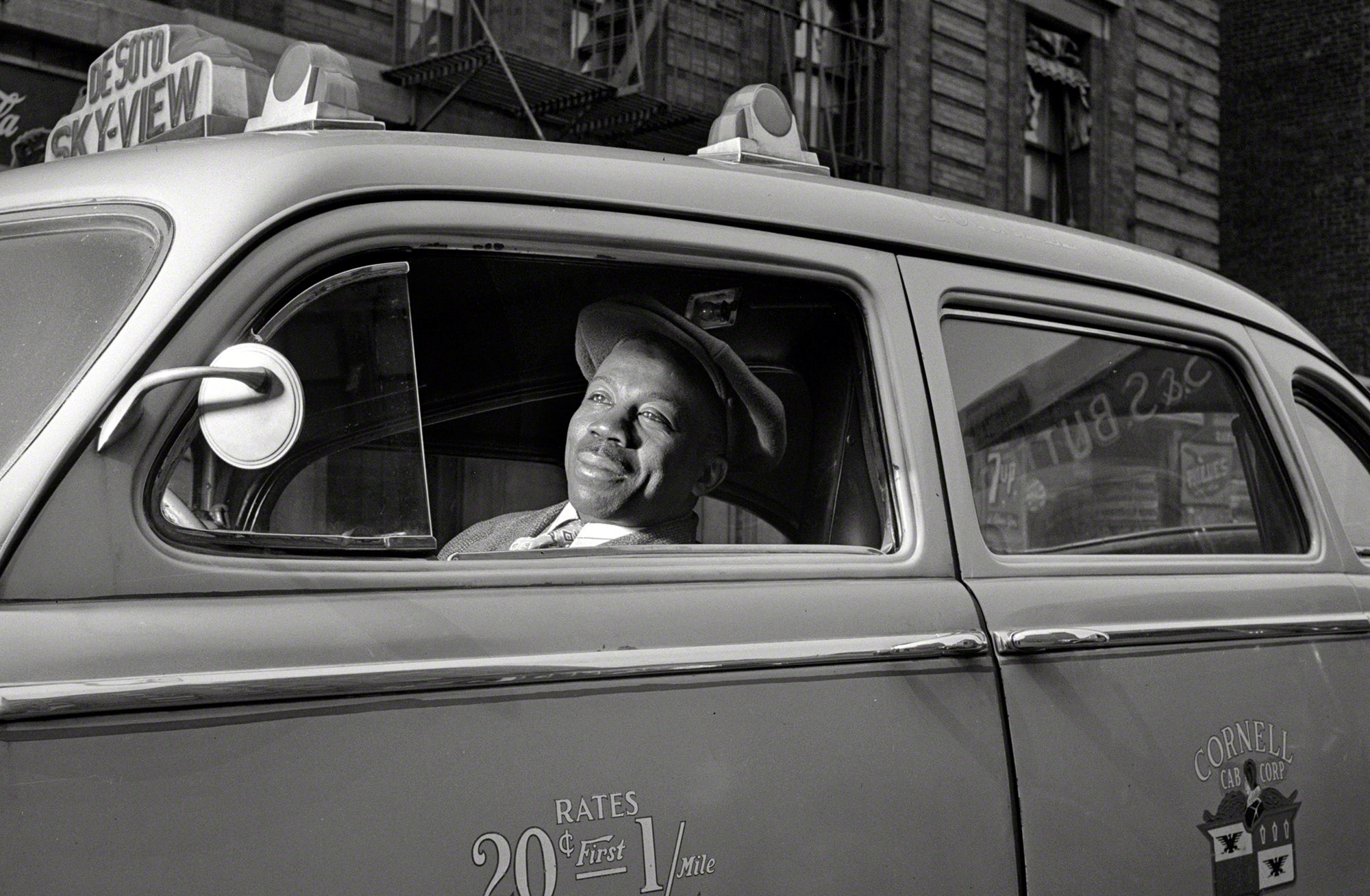 ___________________________________________________________________________
The Bowery Boys: New York City History podcast is brought to you …. by you!
We are now producing a new Bowery Boys podcast every two weeks.  We're also looking to improve the show in other ways and expand in other ways as well — through publishing, social media, live events and other forms of media.  But we can only do this with your help!
We are now a member of Patreon, a patronage platform where you can support your favorite content creators for as little as a $1 a month.
Please visit our page on Patreon and watch a short video of us recording the show and talking about our expansion plans.  If you'd like to help out, there are five different pledge levels (and with clever names too — Mannahatta, New Amsterdam, Five Points, Gilded Age, Jazz Age and Empire State). Check them out and consider being a sponsor.
We greatly appreciate our listeners and readers and thank you for joining us on this journey so far. And the best is yet to come!
________________________________________________________________________
A snugly dressed cabbie awaiting some fares at the Battery Park elevated train station — 1895. Note that the poor horse too is swaddled up for a bad winter.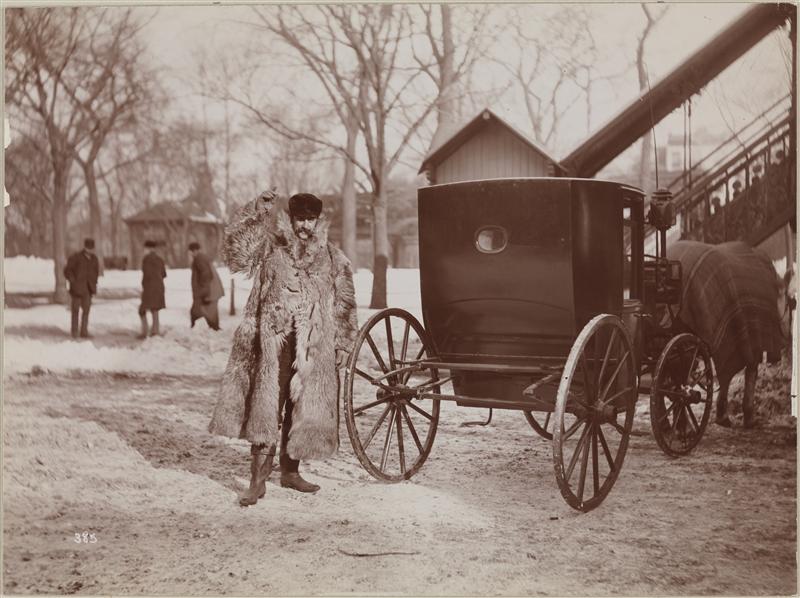 A hack from 1896.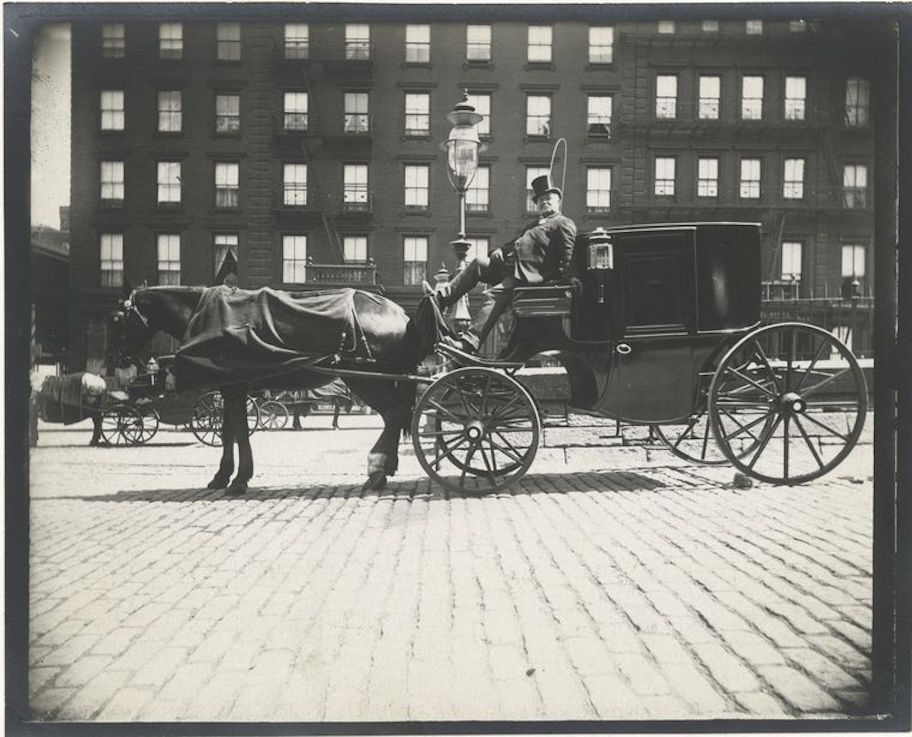 A hansom cab from 1906. This was still the dominant cab ride in New York during the period despite the introduction of the 'horseless carriage' onto the city streets.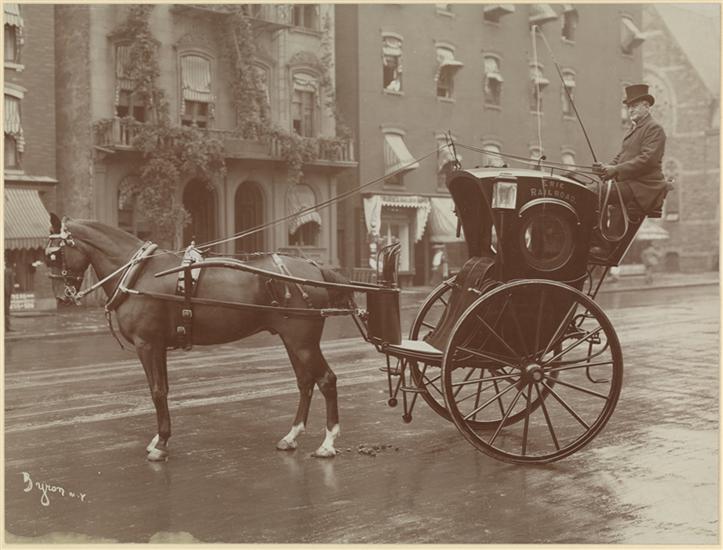 A fleet of electric cars in 1896, and a couple Electrobats in action outside the Metropolitan Opera House 1898. Compare these with the picture of the hansom above.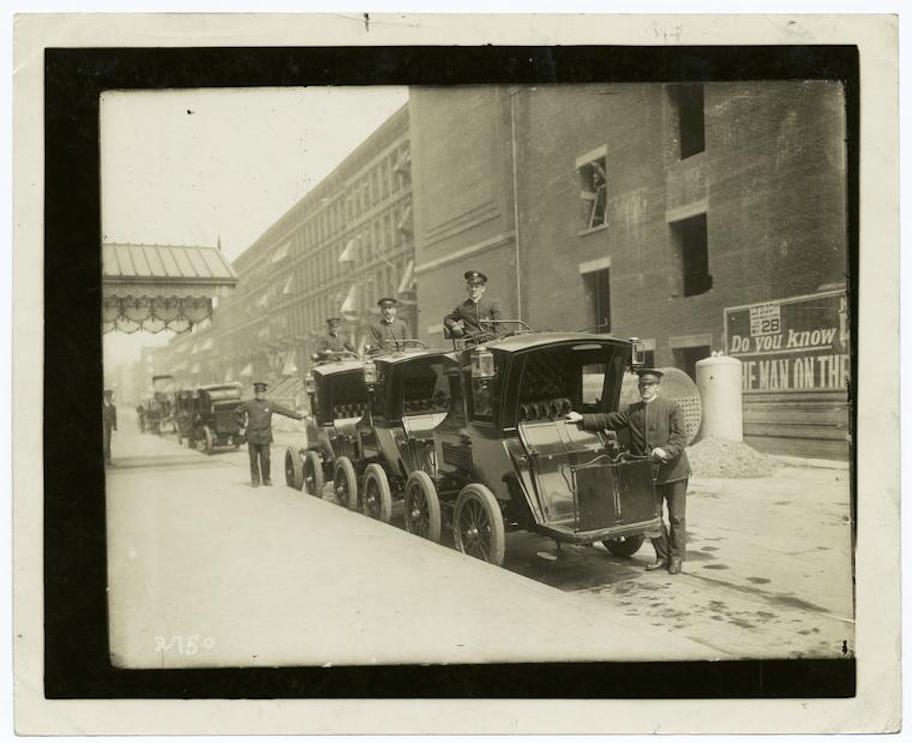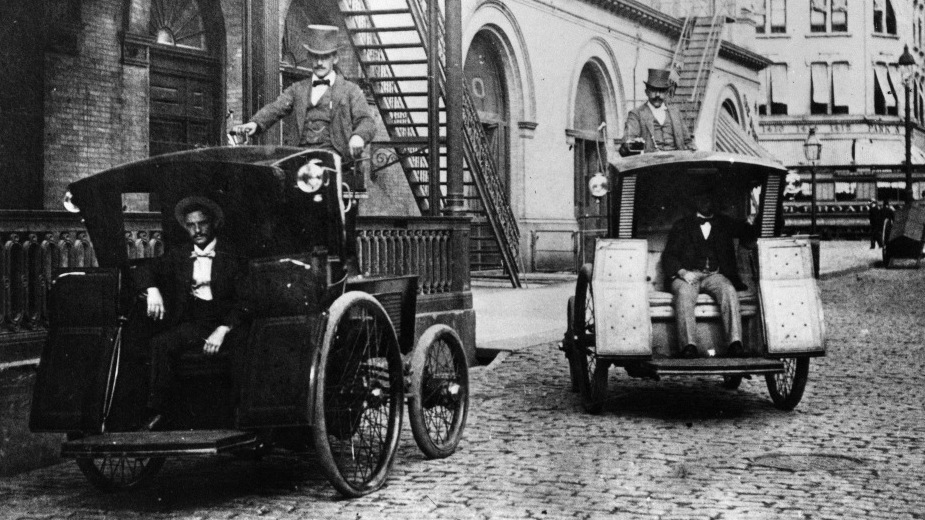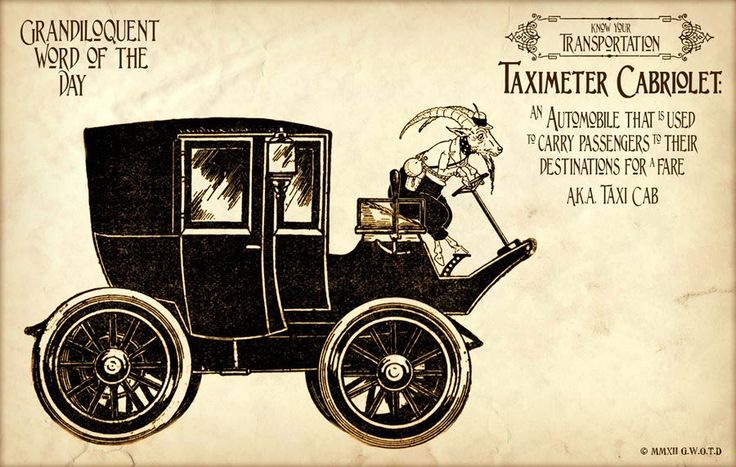 A taxicab waiting outside Alwyn Court (West 58th Street/7th Avenue)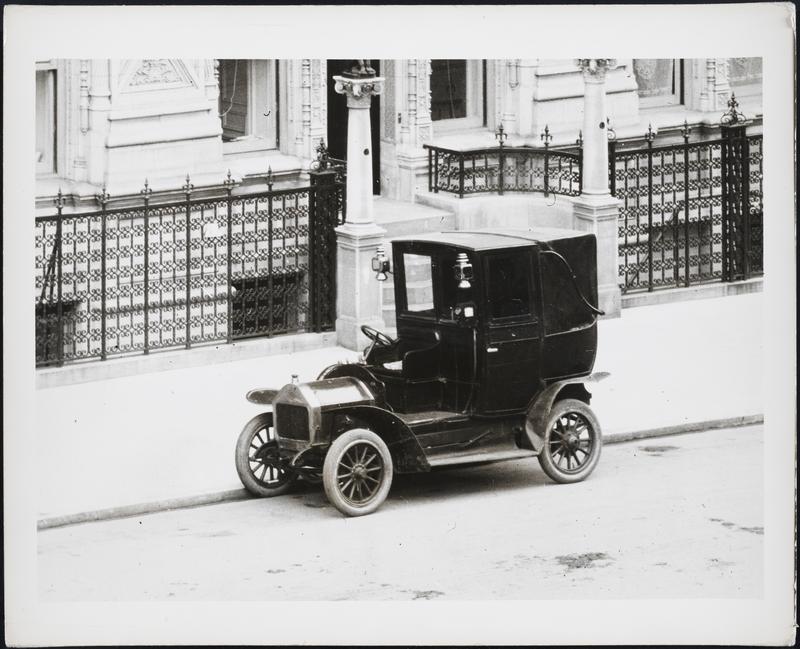 A cab waiting passengers at West 150th Street.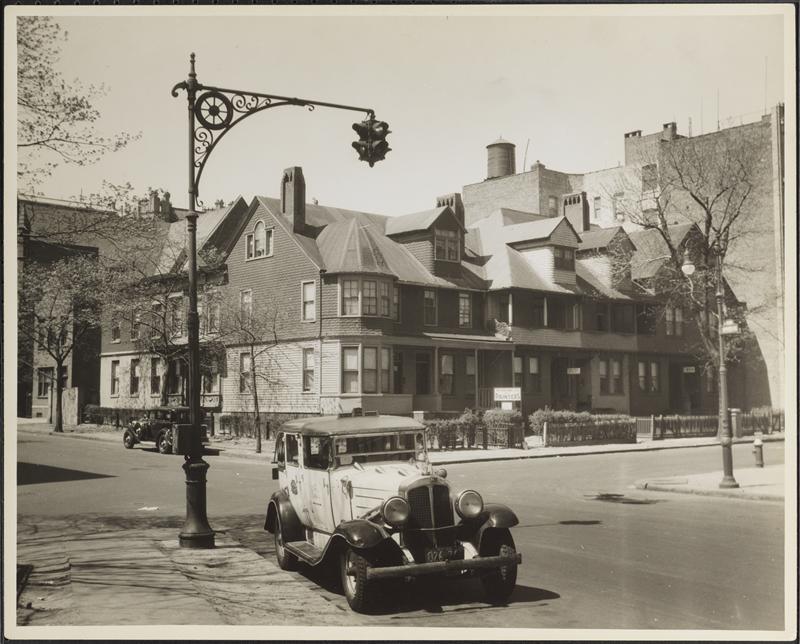 A view of the bustling street life of Herald Square, 1935. The horses are off the street but there are many other kinds of transportation options joining the taxicab.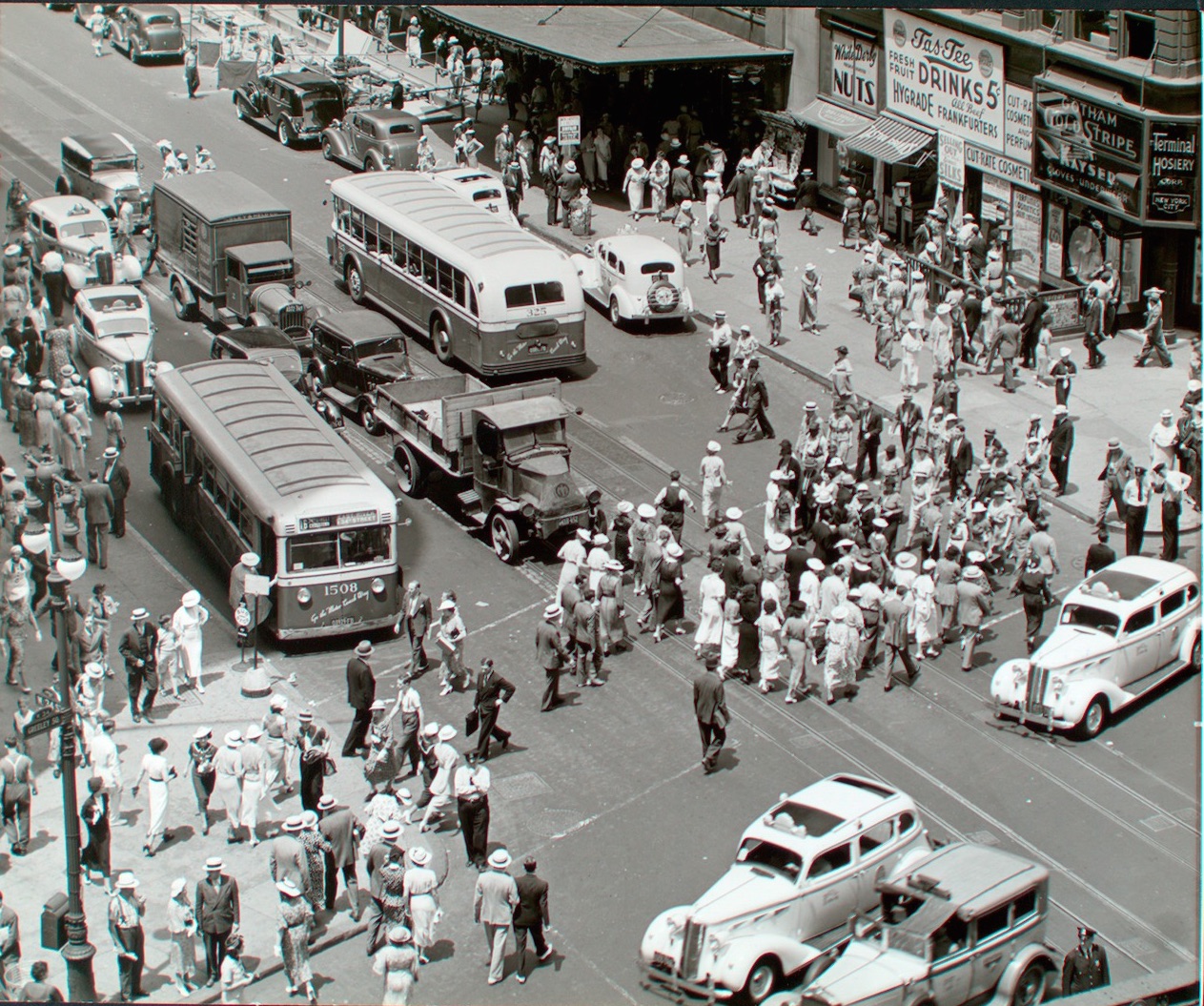 Grabbing a Checker Cab on Park Avenue 1944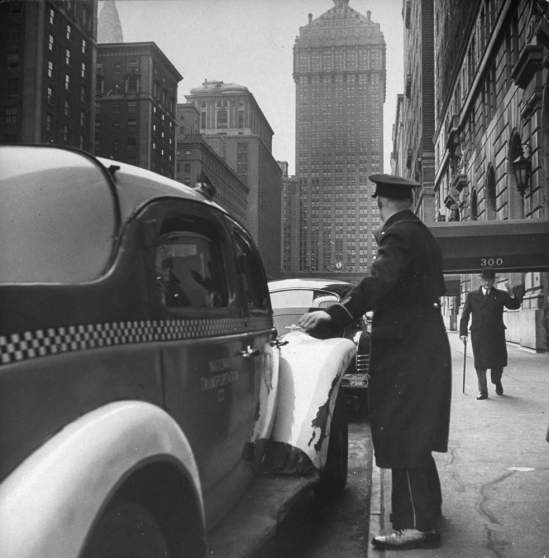 A row of Checker Taxis, sitting idle during a taxicab strike in 1940.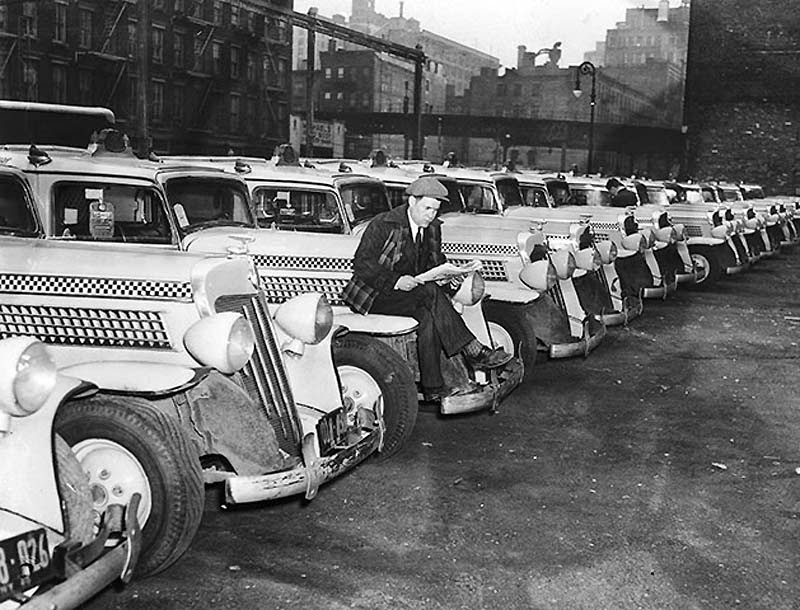 Some vivid 1960s photography by Ernst Haas capturing the mystery and allure of the New York taxi.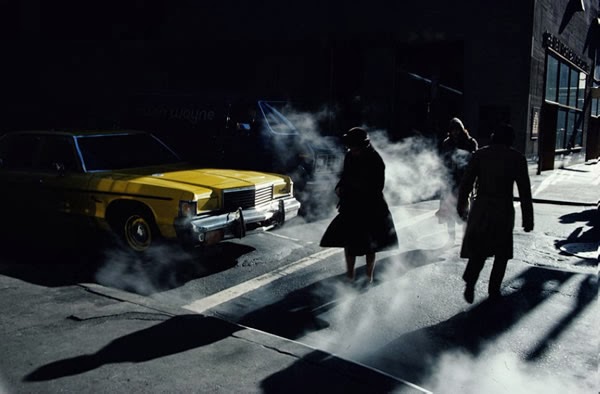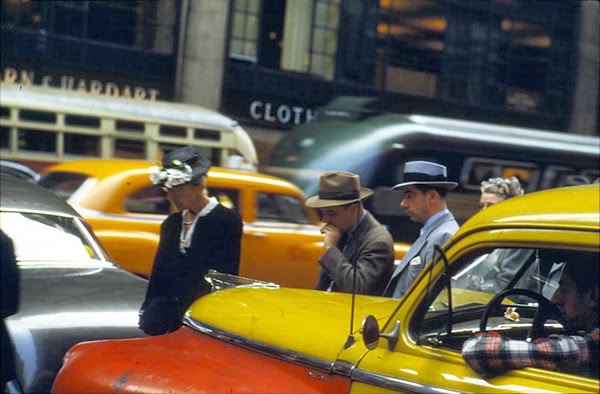 Some scenes from the 1970s…