PODCAST REWIND We turn the clock back to the very beginnings of New York history — to the European discovery of Mannahatta and the voyages of Henry Hudson.
Originally looking for a passage to Asia, Hudson fell upon New York Harbor and the Lenape inhabitants of lands that would later make up New York City. The river that was eventually named after Hudson may not have provided access to Asia, but it did offer something else that attracted the Dutch and eventually their very first settlement — New Amsterdam.
ORIGINALLY RELEASED MAY 22, 2009
THIS IS A SPECIAL ILLUSTRATED PODCAST!  Chapter headings with images have been embedded in this show, so if your listening device is compatible with AAC/M4A files, just hit play and a variety of pictures should pop up.  The audio is superior than the original as well. (This will work as a normal audio file even if the images don't appear.)
For this and our older episodes (Episodes #5-#81), subscribe to The Bowery Boys: NYC History Archive feed, on iTunes, directly from our host page, or directly via our RSS feed.
___________________________________________________________________________
The Bowery Boys: New York City History podcast is brought to you …. by you!
We are now producing a new Bowery Boys podcast every two weeks.  We're also looking to improve the show in other ways and expand in other ways as well — through publishing, social media, live events and other forms of media.  But we can only do this with your help!
We are now a member of Patreon, a patronage platform where you can support your favorite content creators for as little as a $1 a month.
Please visit our page on Patreon and watch a short video of us recording the show and talking about our expansion plans.  If you'd like to help out, there are five different pledge levels (and with clever names too — Mannahatta, New Amsterdam, Five Points, Gilded Age, Jazz Age and Empire State). Check them out and consider being a sponsor.
We greatly appreciate our listeners and readers and thank you for joining us on this journey so far. And the best is yet to come!
________________________________________________________________________
For the images associated with the original blog post, click here.
A replica of Henry Hudson's De Halve Maan (Half Moon) departing the Netherlands for New York Harbor for the Hudson-Fulton Celebration of 1909.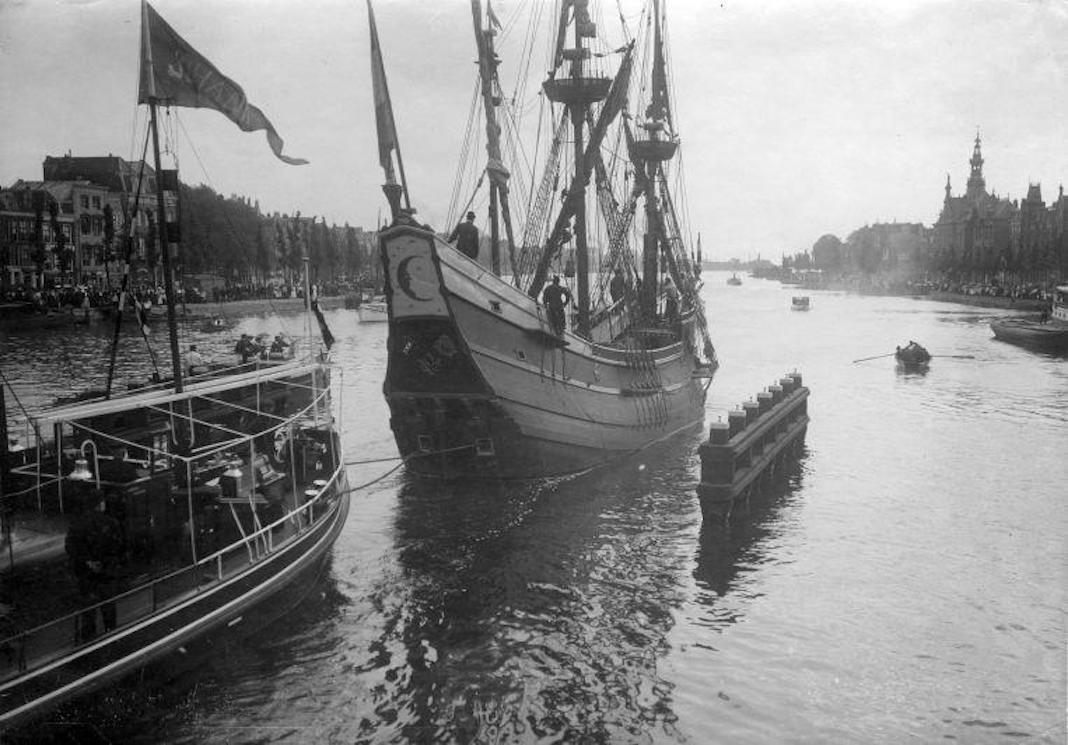 "View of a naval parade on the Hudson River taken from a boat, showing crowds on a the piers for the "Henrick Hudson 300 Years Celebration." The docks for the Red Star Line and the American Line are visible."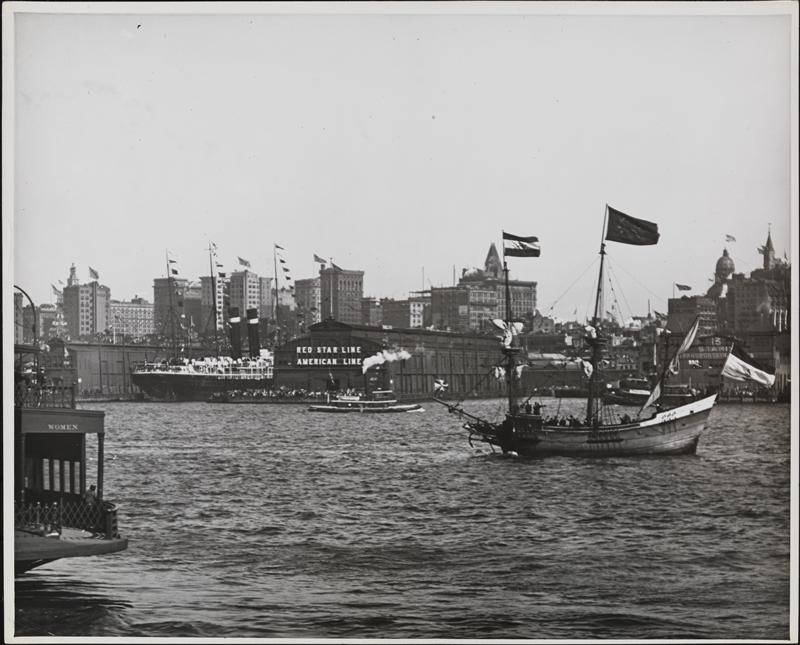 A postcard commemorating the Hudson-Fulton Celebration. Read my article from 2009 (on the anniversary of the festival) for more information.