Photo-mechanical postcards were popular during the Gilded Age because they were photographs printed on thick card stock and enhanced with colored inks, turning reality into a Technicolor dreamscape well before the invention of color film.
This also describes the film style of Baz Luhrmann, the Australian director known his flamboyant, indulgent visual technique, seen in Strictly Ballroom, Romeo+ Juliet, and Moulin Rouge. So it might take you a few minutes to adjust to his latest work — the Network television series The Get Down, set in the South Bronx in the 1970s.
Below: The Fantastic Four Plus One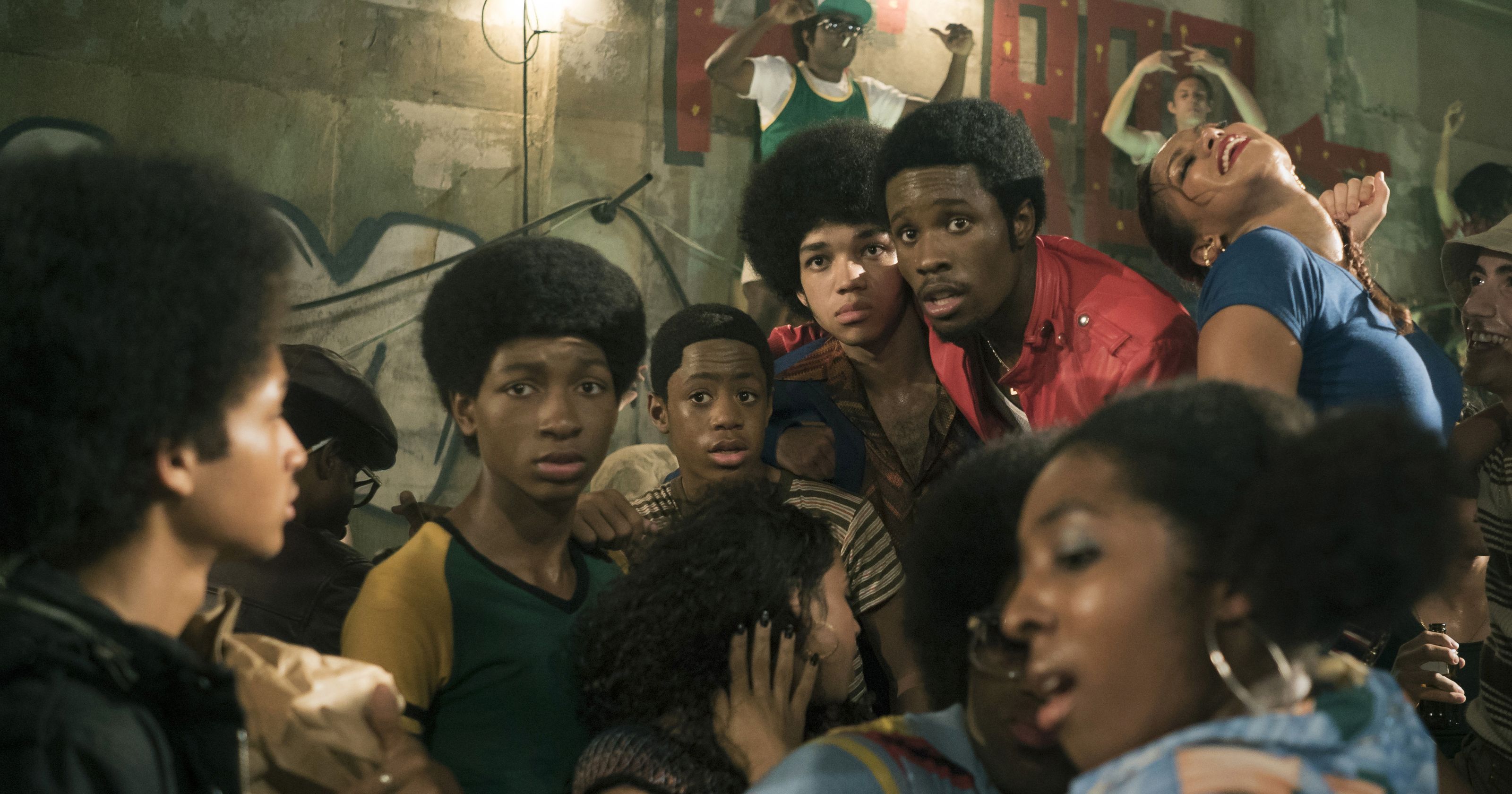 Luhrmann has explored New York City history before — in his radical take on The Great Gatsby, a sparkling, dreamlike drama with its details so heightened that it was offered to movie theaters in a 3-D version.
The South Bronx was a wasteland of urban decay by 1977, with a cash-strapped city government employing planned shrinkage onto a poor and ravaged neighborhood.  Hardly suitable for gaily colored musical treatment? Weirdly enough, it works. The Get Down is a reminder of the humanity and creativity that kept the South Bronx alive during this period.
Below: The character Shaolin Fantastic: Treated as a mythical figure (at first)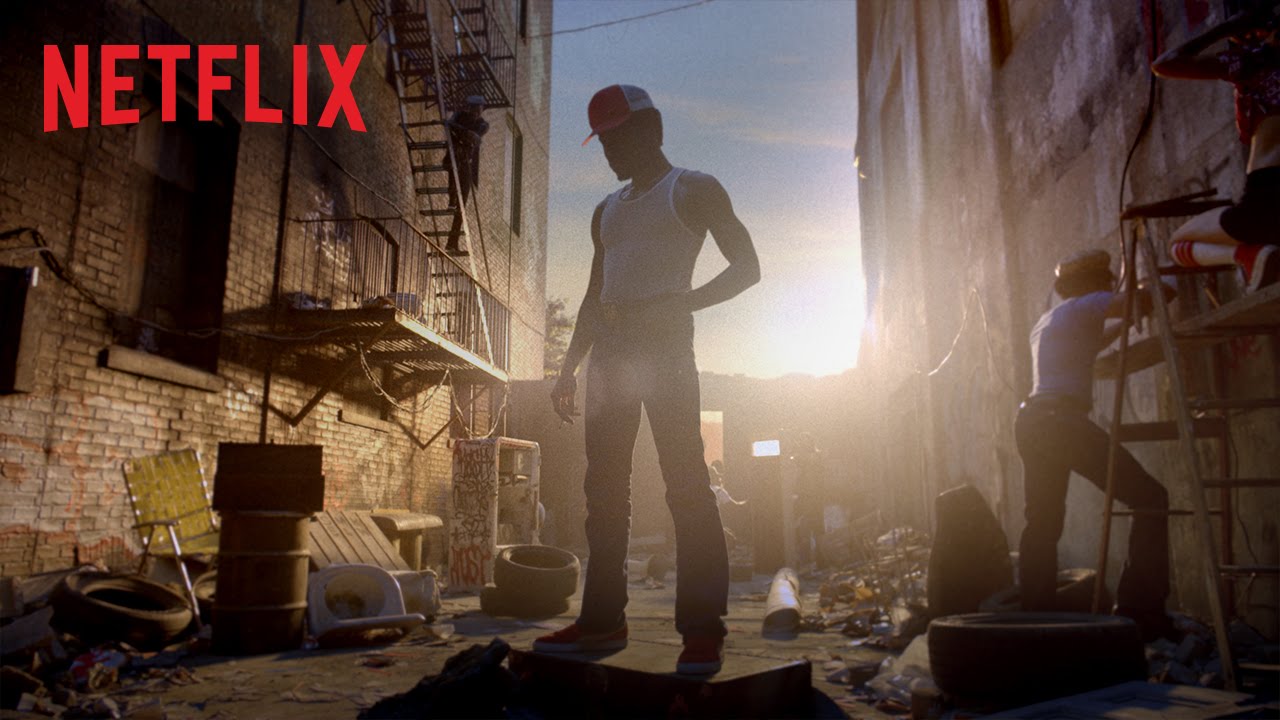 The Get Down focuses first on the exploits of two young lovers. Mylene (Herizen F. Guardiola) is a preacher's daughter and a star of the church choir with dreams of disco stardom. She reluctantly falls for Zeke (Justice Smith), an earnest poet who she fears will distract her from fame. In fact Zeke's budding talents for beautiful rhyme keeps his head above the streets, even as he befriends the graffiti-artist turned deejay Shaolin Fantastic (Shammeik Moore), a young man with connections both to the musical future and to the criminal underworld.
It's the summer of 1977, and their adventures fall upon a landscape of infinite moral choices. Plots frequently take them to Les Inferno, the hottest disco in the South Bronx (inspired perhaps by the real Disco Fever), owned by queen-pin Fat Annie (played by the terrific Lillias White). They frequently seek the aid of Francisco Cruz (Jimmy Smits playing a role based on real-life political boss Ramon S. Valez), who perhaps has more nefarious reasons for helping out the young lovers.
Below: Cadillac, the flamboyant disco king with an evil side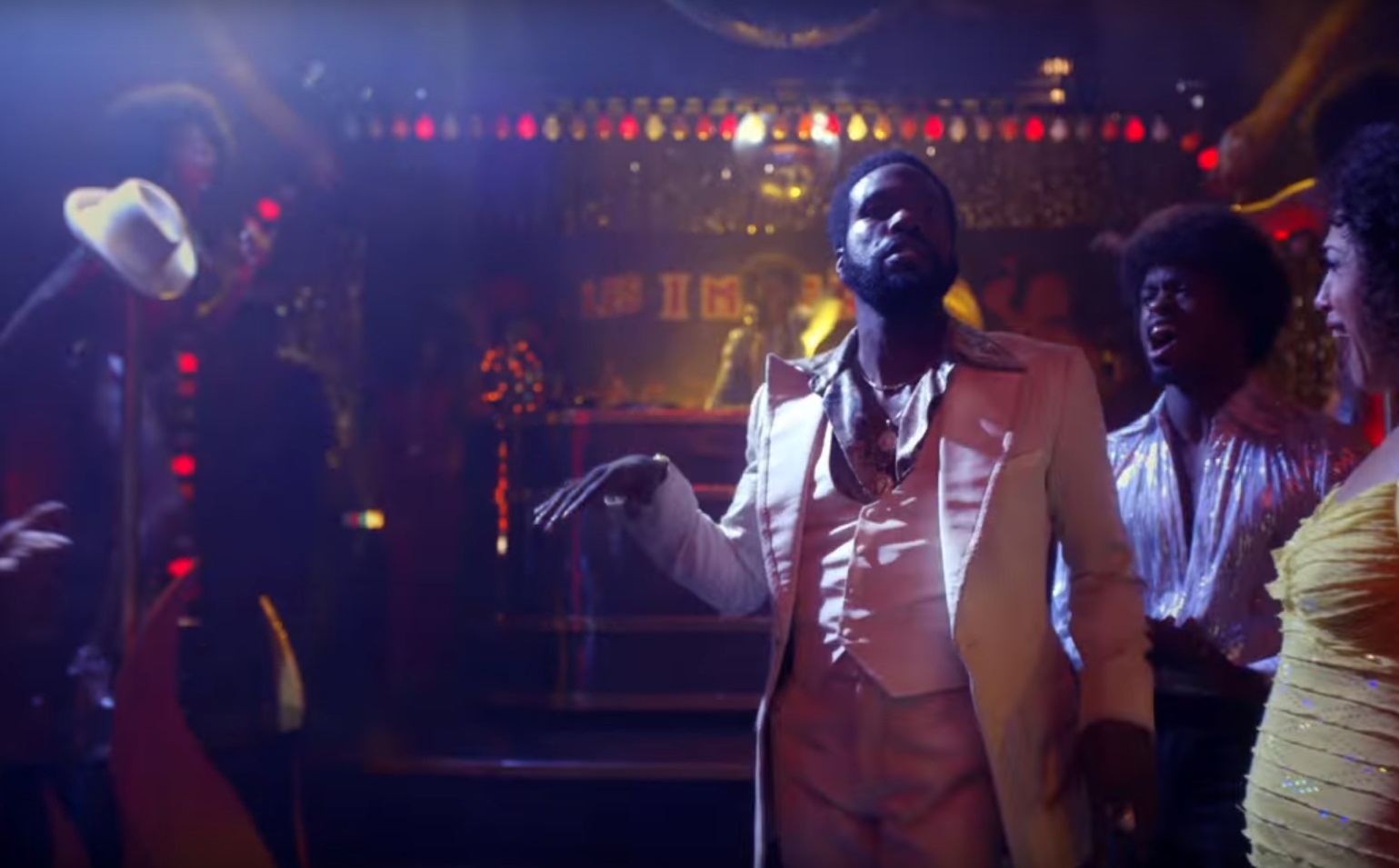 The Get Down is a very Luhrmann production: Musical numbers, bright colors, operatic cross-editing, earnest intentions. And yet its handling of real Bronx history is assured, confident and innovative. The show (six episodes so far) is able to turn this troubled era into a sort-of disco West Side Story because of its reverence of those who lived here.
Here are some of my favorite historical details from the first six episode. NO big plot spoilers but definitely a revelation of some of the history used on the show:
Below: Mylene, her conflicted mother Lydia and Francisco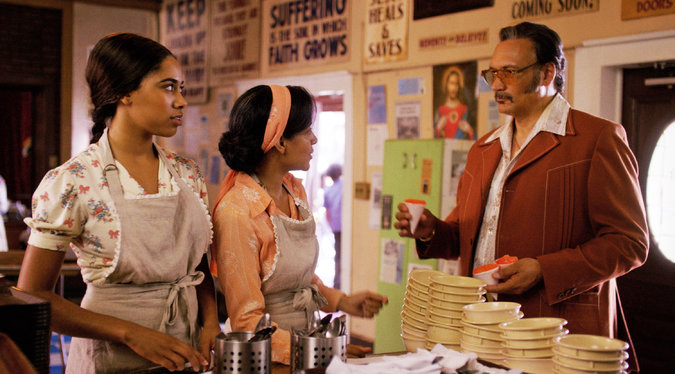 1) Political Wars — The Get Down manages to bring our two heroes into New York's greater political and social context. One character even gets a job at the World Trade Center! The street dramas are balanced nicely with action at the polls, with Abe Beame running in election that year against congressman Ed Koch, played beautifully by Frank Wood.  Charlotte Street, one of the Bronx's most troubled places in the 1970s, is centerpiece for much of the action. (Below: A burned building on Charlotte Street)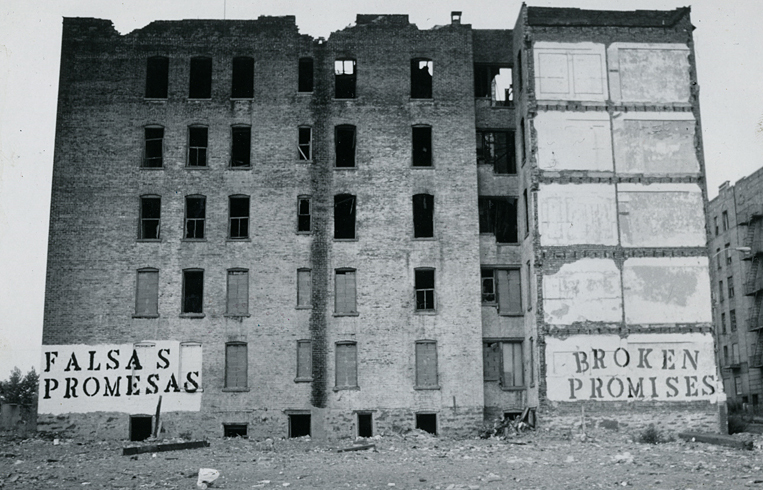 "Tear down the competition. Wherever you find it!"
2) Deejay Wars — Even as disco becomes mainstream, a new form of music develops using tricks of the turntable. The musical battles between Grandmaster Flash and DJ Cool Herc are solidified in gang fiefdoms — kings and kingdoms are frequently referenced — while a separate strata of deejays (located mostly in Manhattan) focus on the next disco diva. (Nobody much cares for Brooklyn here; its leading deejay Grandmaster Flowers is laughed away!)
Below: The real Grandmaster Flash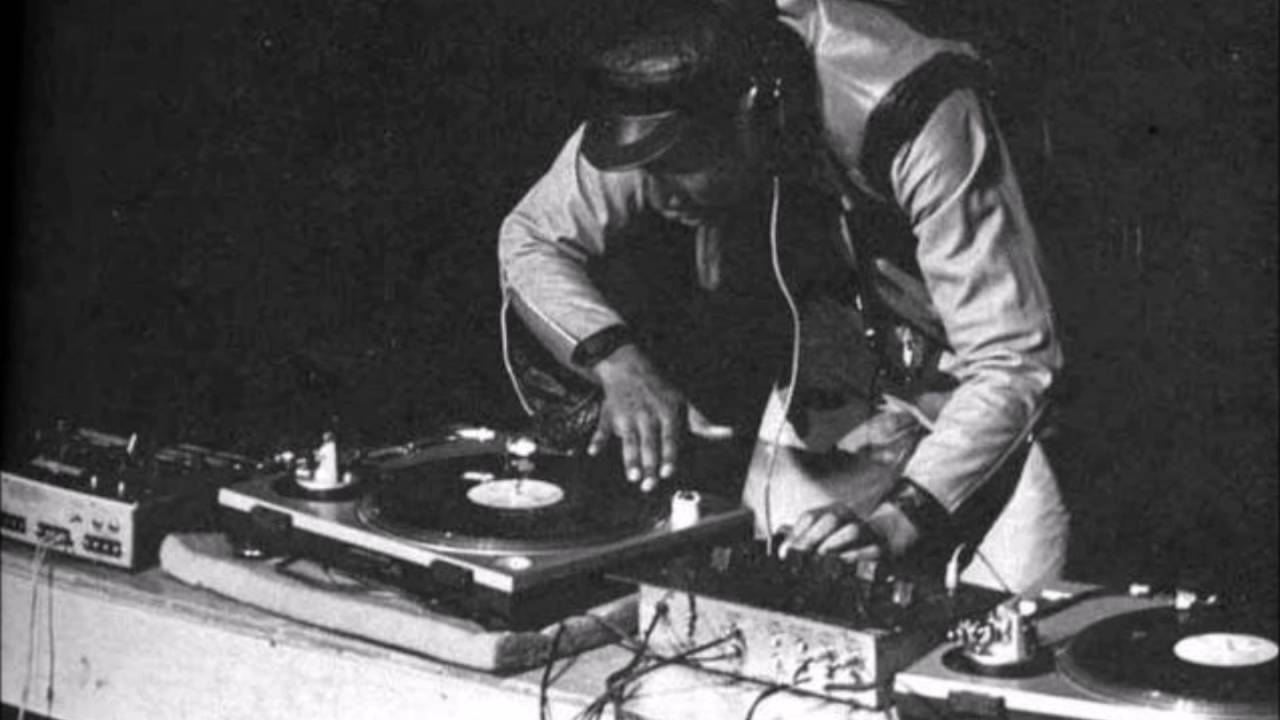 "Above all this? How are we above all this?"
3) Harlem vs the Bronx –Fat Annie is obsessed with Nicky Barnes, the Harlem crime boss threatening to spread his influence into her territory. That summer he appeared on this cover, flaunting his underground power: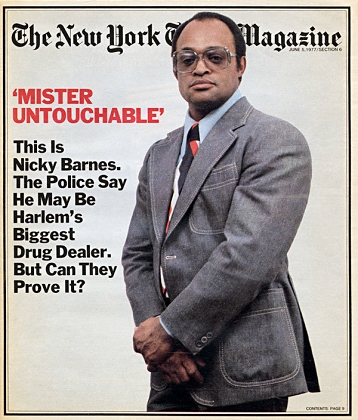 4) The Blackout of 1977 — The middle two episodes are set during the infamous blackout with characters, in typical Luhrmann fashion, scattered throughout the borough in various states of drama and distress.  This piece of history is brilliantly incorporated into the series, fueling the motivations of the last episodes. In fact, had this been a film instead of a series — and there have been some critics who have suggested that — I imagine it probably would have called The Blackout.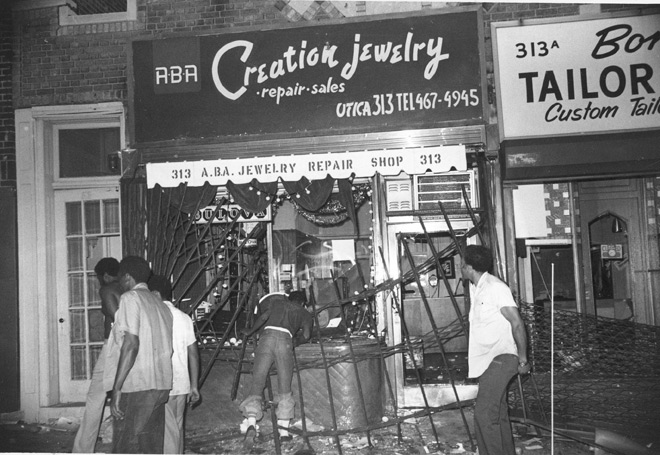 5) Musical Diversity — During the course of six episodes, you'll find yourself wanting to make comparisons with Glee, Empire and, especially HBO's failed Vinyl. Indeed, Vinyl traipses through the same musical era and with similar characters. But The Get Down does a better job of encapsulating the excitement, the freshness of new music's infancy. We see the characters learning to turntable and beatbox; we hear musical genres — gospel, salsa, soul, blues — transform into new sounds — disco, rap, hip hop.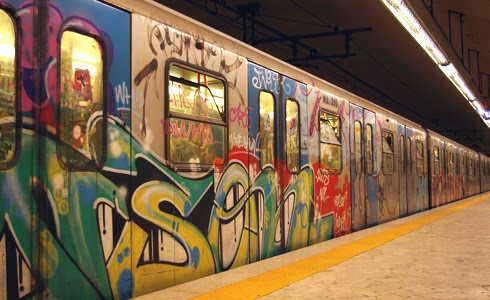 6) Graffiti Kings — It's impossible to get away from the elevated subway in The Get Down. Pivotal scenes take place beneath it, Les Inferno sits next to it, and the rumbling night train always seems to ambling by in the distance. The trains are coated in graffiti, the embroidery of urban decay for some and symbol of purpose and existence to others (mainly to the kings and their crew). Unfortunately, the plot actually strays anytime it follows Dizzie (Jaden Smith), Zeke's graffiti artist friend, but the depictions of late-night crews struggling to use spray cans are imaginative. And I loved the unveiling of the "writers bench," an actual place at the 149th Street subway stop with name artists could meet.
(NOTE: There's an entire Bowery Boys podcast about New York's relationship with subway graffiti that would make a fine companion to this series.
Choose wisely or madness be thy name.
7) Epic use of the Queens Panorama The World's Fair artifact is used as a framing device along with grainy original footage from 1977 (as well as footage made to look like it's from 1977). Speaking of overarching framing devices, the entire show is in effect a massive flashback.  One of our characters grows up to become a major rap sensation, and most episodes begin twenty years later inside a massive arena. (Moulin Rouge and The Great Gatsby have a similar framing device.)
Below: The Studio 54 deejay booth, 1979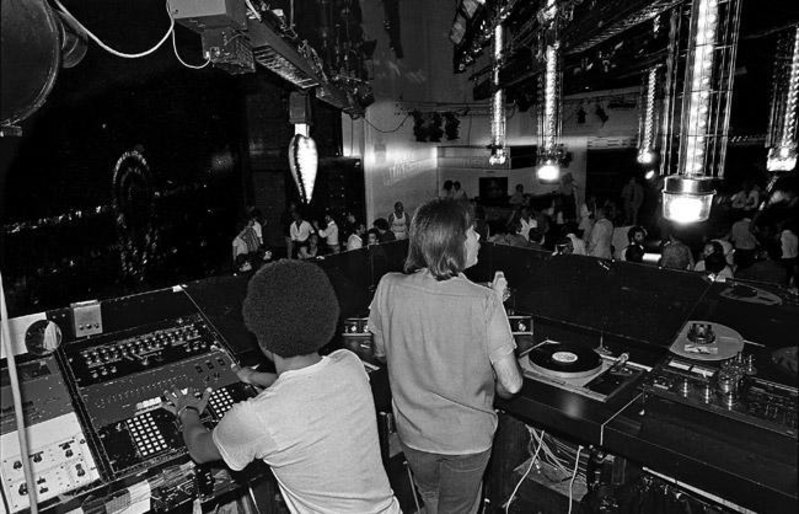 "A Latino, Pentecostal, communal Puerto Rican disco hymn record, right?"
8) The Get Down > Vinyl I'm not sure how an Australian filmmaker bested Martin Scorsese, of all people, in depicting a richer, more fuller 1970s music scene, but here it is. The series does journey into the mainstream music scene of Times Square as Mylene attempts to make it big in the world of disco music. We see the typical scenes — executives being grossly casual in business meetings, musicians doing cocaine for inspiration. At the core of this is the excellent Kevin Corrigan as Jackie Moreno, a fading music producer who jus needs one more big hit.
His humiliation at the 'record pool' — based on an actual method of distribution for New York's hottest disco records — could be seen as a commentary on the entire run of Scorsese's Vinyl (which was cancelled after one season.) And I defy you not to watch his scenes in the Chelsea Hotel — excellently reproduced — without smelling every foul odor that ever wafted down that hallway.
And, even with its faults, that's the ultimate success of The Get Down — you see history, you hear history and, oh yeah, you smell it.
The Get Down is available for streaming exclusively on Netflix. The first six episodes are available now with the next six coming out in early 2017.