There's a spiral staircase inside the western half of the Washington Square Arch, which grants access to the rooftop and fabulous views straight up Fifth Avenue.
Public entrance is prohibited, of course, although that didn't stop six fearless malcontents (including the artists Marcel Duchamp and John Sloan) from breaking in to declare a bohemian revolution late in the evening of January 23, 1917.
Below: A few months after our art revolutionaries take to the arch, it was decorated in support of America's involvement in World War I.
The escapade was organized by Gertrude Drick, a poet mostly forgotten today but known at the time by the name Woe (as in Woe is me).
According to cartoonist Art Young:
"One night [Drick] discovered the blind, unlocked door of the passage and stairway which leads to the top of the arch. A few nights later she had made all the arrangements, invitations, Chinese lanterns, balloons and refreshments for her privately conducted picnics."
Once atop the Arch, the group decorated the outdoor space with lanterns and balloons, and spent the entire night around a fire, drinking wine and tea (the beverage of revolution). They shot off cap pistols into the wintry night air.
Below: John Sloan's classic etching depicting the event. The original is at the Met.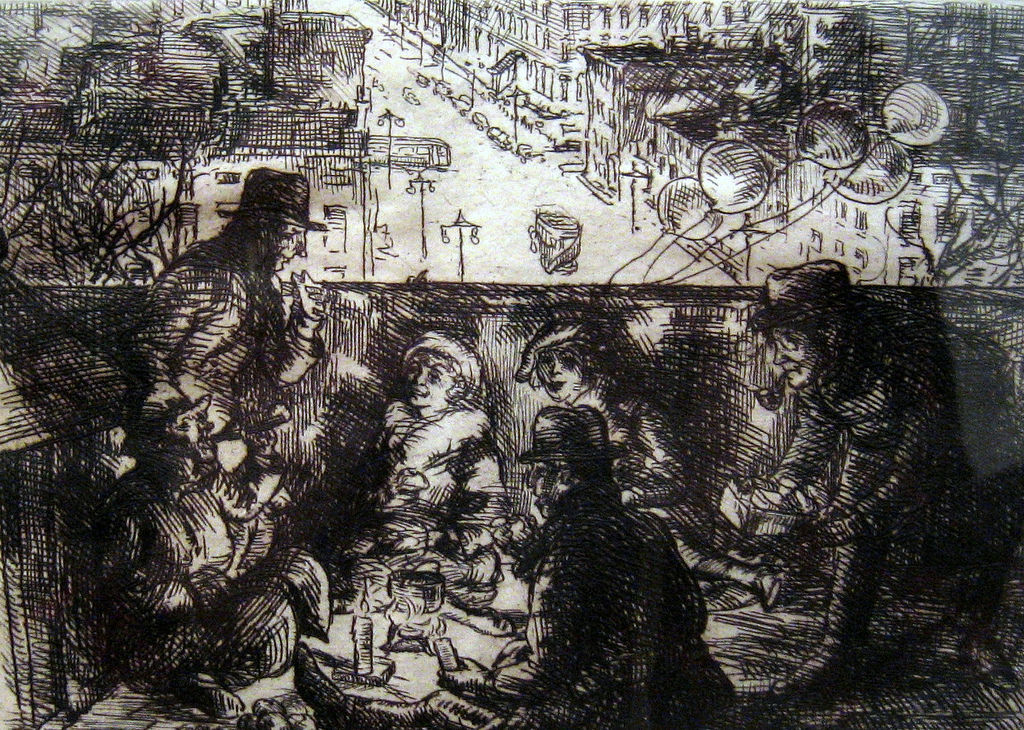 A radical shift in the art scene had already begun in New York,
emanating from the streets around Washington Square.
 Gertrude Vanderbilt Whitney's Studio Club was nearby, as were the apartments of many artists associated with the Ashcan School, including Sloan himself.
Greenwich Village, long a magnet for the unconventional, energized this new wave of painters and playwrights as they bonded in nearby cafes and studios.
It was in this spirit that the so-called Arch Conspirators, shielding their candles from the wind, unfurled an unusual parchment late that night that declared a Free and Independent Republic of Greenwich Village.
The only evidence of this grand proclamation the following morning was the balloons that still clung to the Arch's violated rooftop. But the Village did become free and independent to an extent, a pocket universe of creativity for the rebellious musicians, artists, and writers of the twentieth century.
The above is an excerpt from the book The Bowery Boys: Adventures In Old New York, now available in bookstores everywhere