PODCAST

Part One of our two-part series on New York City in the years following the Revolutionary War.

The story of New York City's role in the birth of American government is sometimes forgotten. Most of the buildings important to the first U.S. Congress, which met here from the spring of 1789 to the late summer of 1790, have long been demolished. There's little to remind us that our modern form of government was, in part, invented here on these city streets.

Related: Listen to Part Two of the series here.

Riding high on the victories of the Revolutionary War, the Founding Fathers organized a makeshift Congress under the Articles of Confederation. After an unfortunate crisis in Philadelphia, that early group of politicians from the 13 states eventually drifted up to New York (specifically to New York's City Hall, to be called Federal Hall) to meet. But they were an organization without much power or respect.

The fate of the young nation lay on the shoulders of George Washington who arrived in New York in the spring of 1789 to be inaugurated as the first president of the United States. His swearing-in would finally unite Americans around their government and would imbue the port city of New York with a new urgency.

This is Part One of a two part celebration of these years, featuring cantankerous vice presidents, festive cannonades, and burning plumage! (Part Two arrives in two weeks.)

FEATURING Washington, Adams, Madison, Livingston and, of course, HAMILTON!
---
The Bowery Boys: New York City History podcast is brought to you …. by you!
We are now producing a new Bowery Boys podcast every two weeks. We're also looking to improve the show in other ways and expand in other ways as well — through publishing, social media, live events and other forms of media. But we can only do this with your help!
We are now a member of Patreon, a patronage platform where you can support your favorite content creators for as little as a $1 a month.
Please visit our page on Patreon and watch a short video of us recording the show and talking about our expansion plans. If you'd like to help out, there are five different pledge levels (and with clever names too — Mannahatta, New Amsterdam, Five Points, Gilded Age, Jazz Age and Empire State). Check them out and consider being a sponsor.
We greatly appreciate our listeners and readers and thank you for joining us on this journey so far. And the best is yet to come!
---
The signing of the Constitution, September 17, 1787.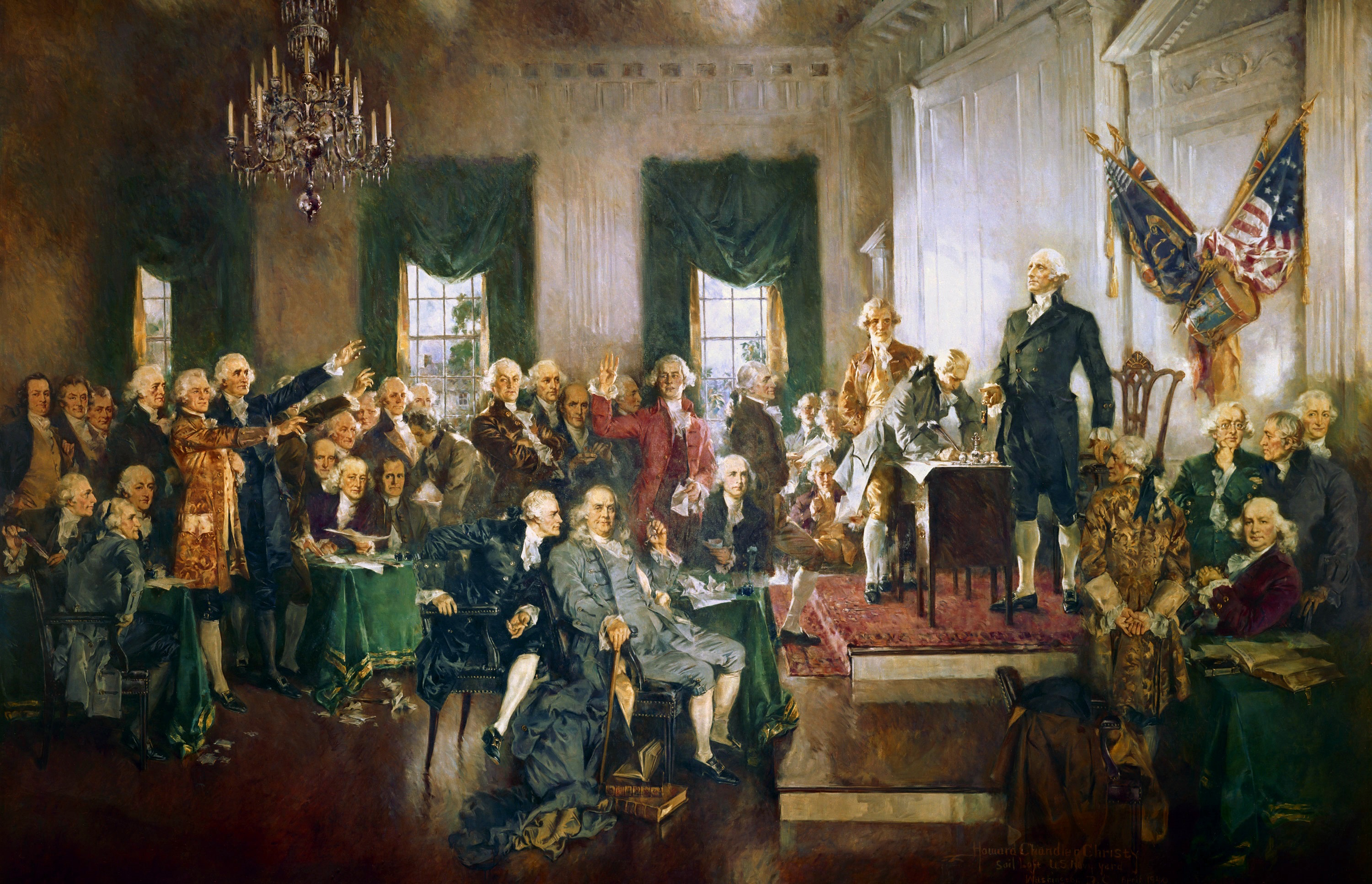 George traveling to his inauguration, as depicted in the 1896 book "The Century book of famous Americans : the story of a young people's pilgrimage to historic homes"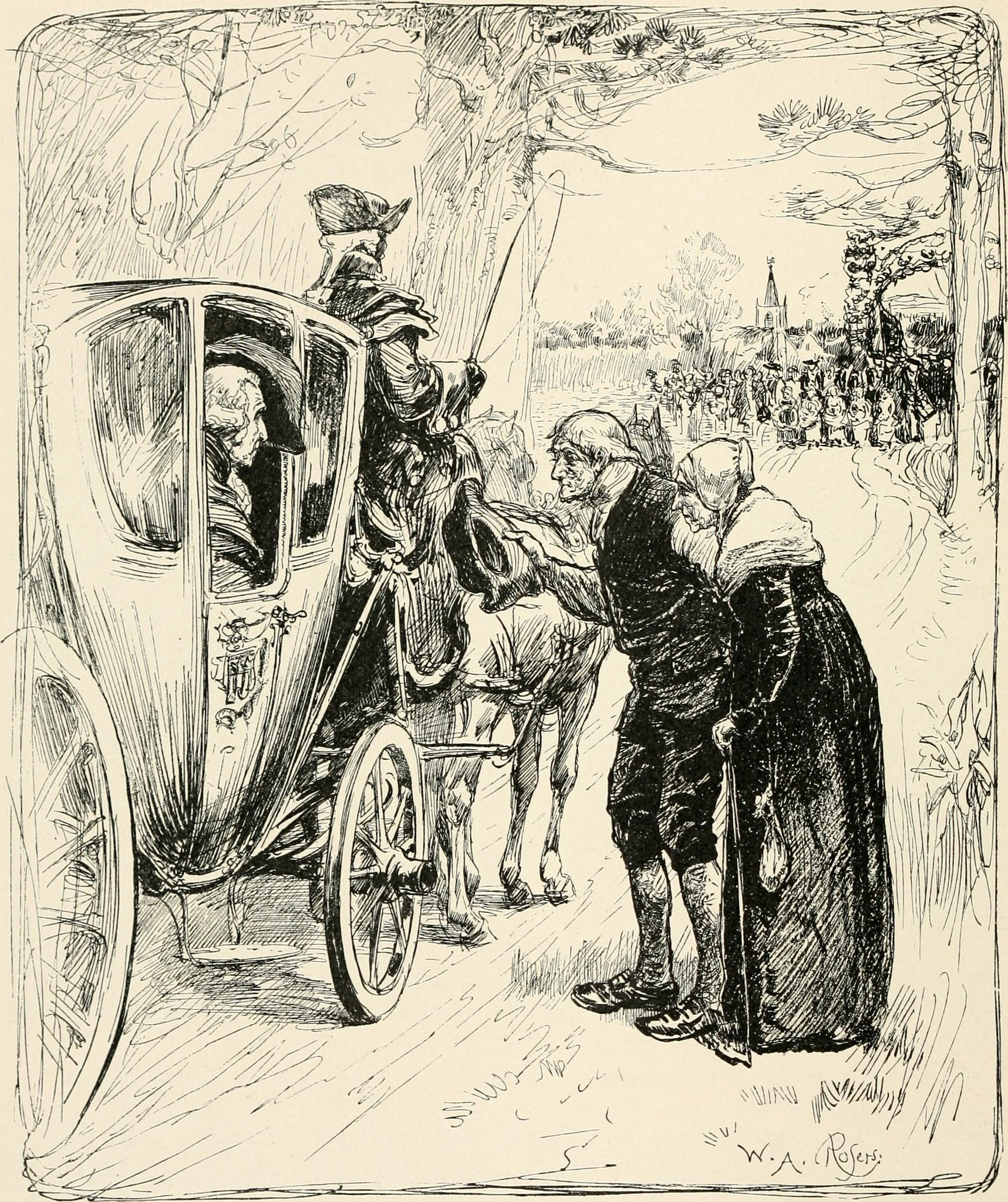 And from an 1889 illustration: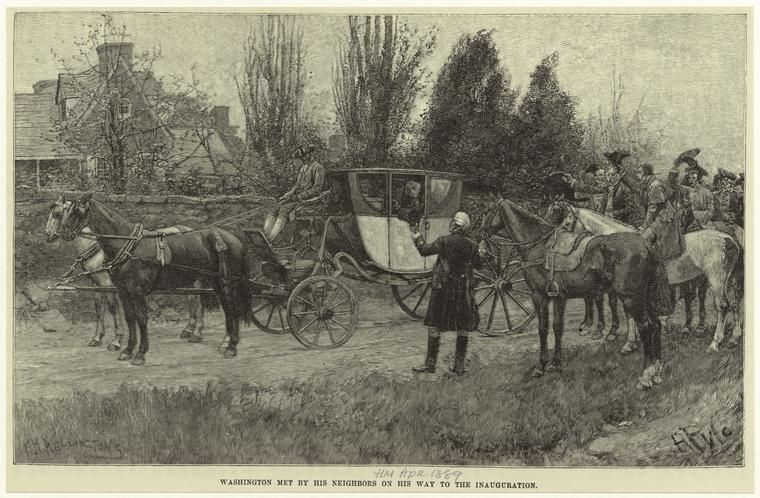 President-Elect Washington crosses floating bridge (Gray's Ferry) — and through one of many triumphal arches — on his inaugural journey, Philadelphia, April 20, 1789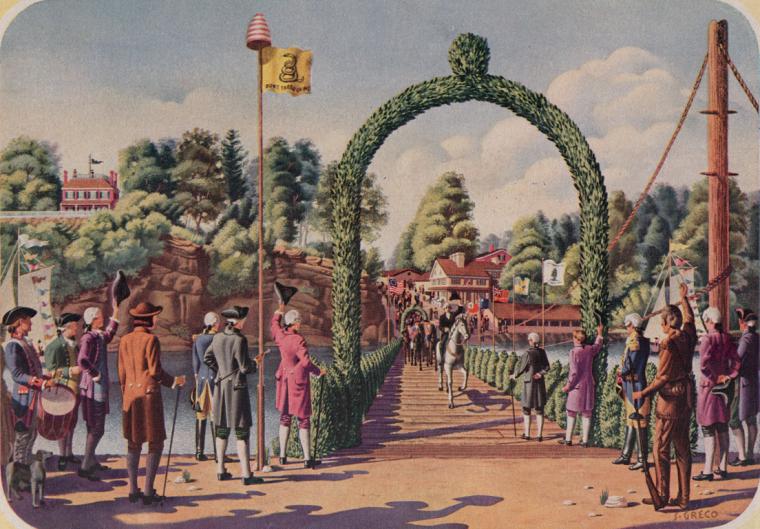 Washington's reception on the bridge of Trenton in 1789 on his way to be inaugurated 1st president of the U. S.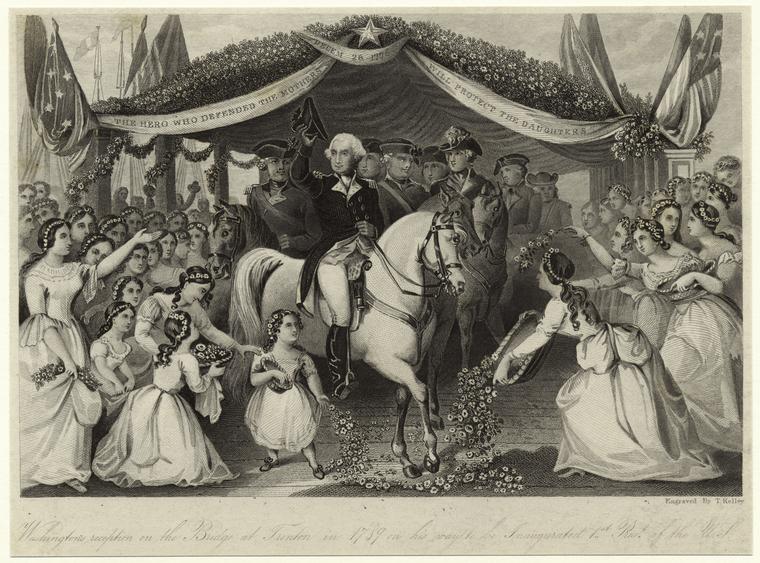 An illustration from 1855 depicts Old City Hall before it was renovated to house the new federal government.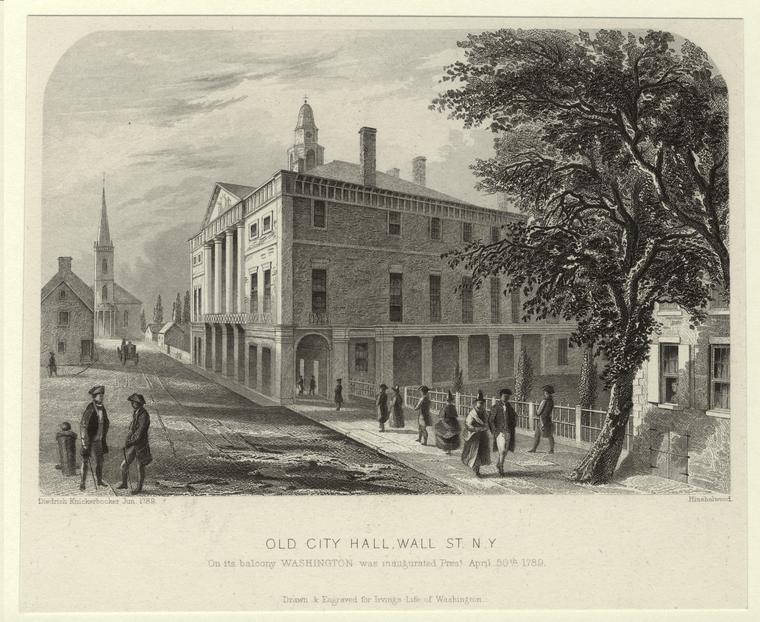 Another view, with Washington's six-horse coach in the foreground.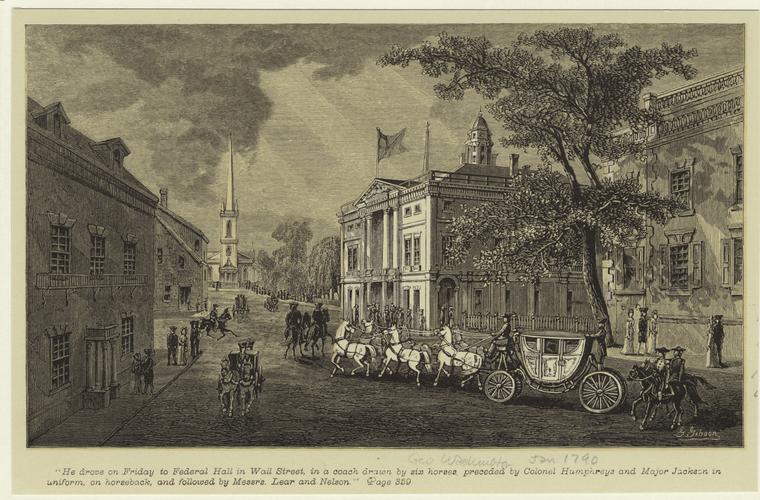 A depiction of Broad Street and Federal Hall as it looked in 1797, but you can easily picture how filled the streets would have been on Washington's inauguration just eight years earlier.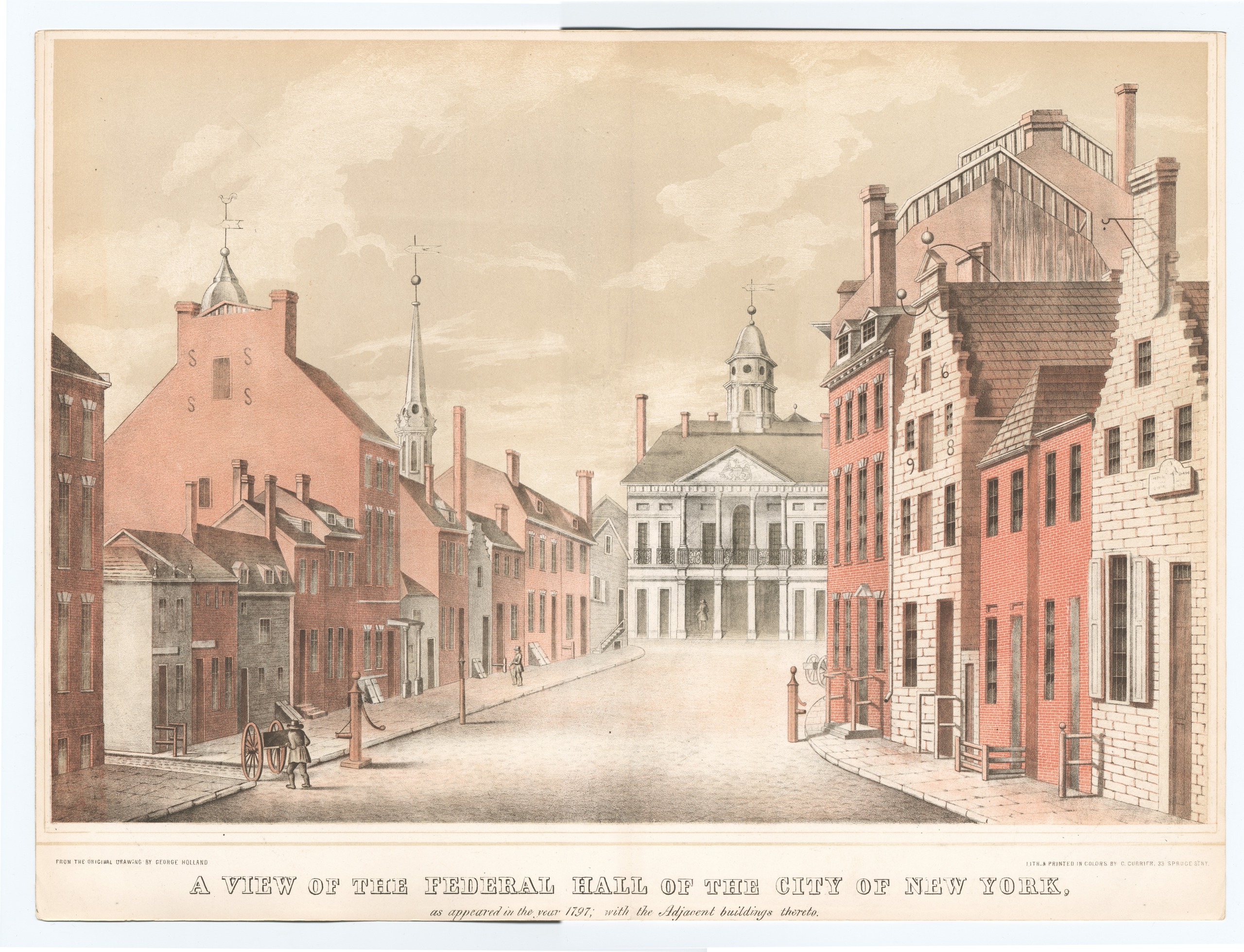 Here's how it looked on the 2008 HBO mini-series John Adams:

From an 1899 oil painting (artist unknown)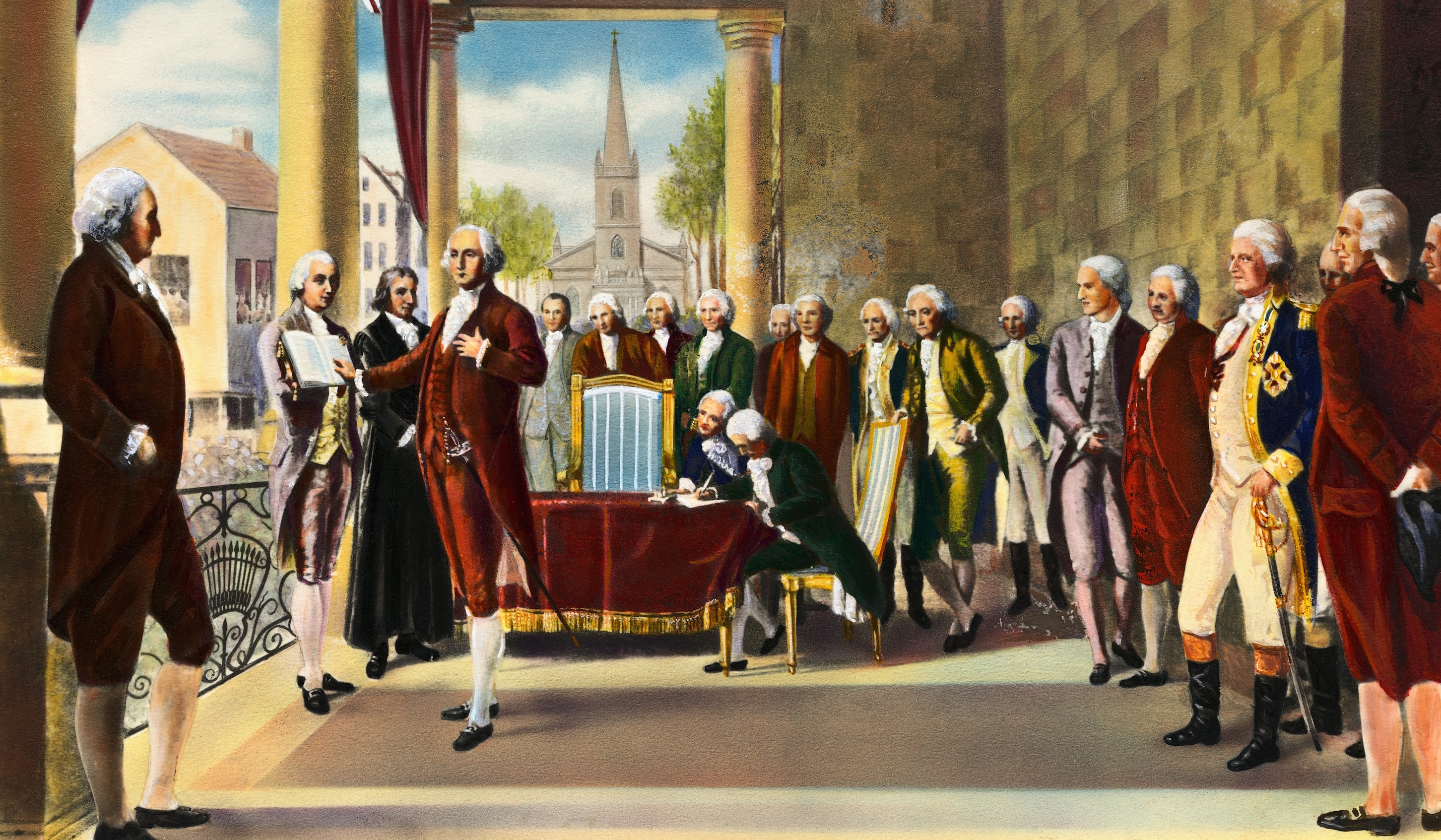 The presidential mansion on Cherry Street: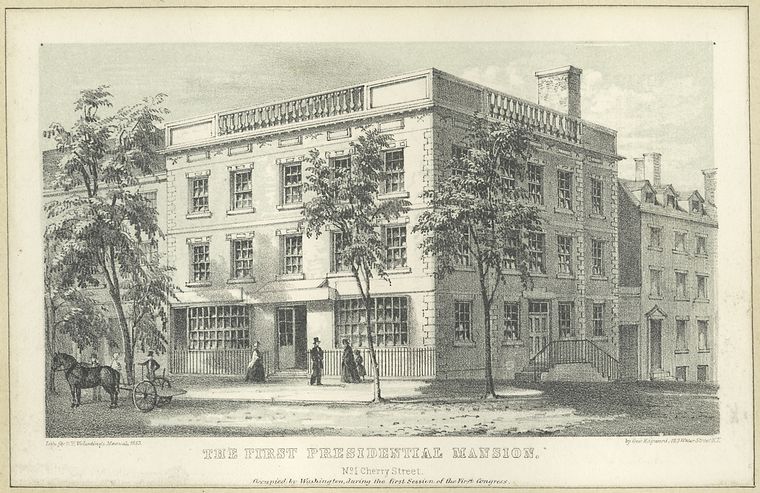 The lovely Richmond Hill, the vice presidential mansion home of John and Abigail Adams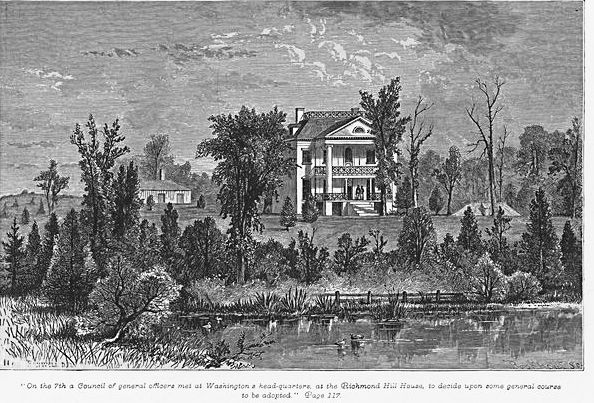 St. Paul's Chapel, where Washington worshipped in New York. Â More information at Trinity's website.