Many of the bars and taverns found on the Bowery today are unfortunately clean, friendly and even trendy establishments, wonderful safe places to meet with friends and family. Not a ruffian or scoundrel in sight. Where's the fun in that?!
Of course, for most of its history, the Bowery was one of the most notorious places in America, the location of great vice and debauchery — gambling dens, brothels, dance halls, dime museums, saloons full of soused drinkers hovering around a boxing ring. For many decades, an elevated train line turned the Bowery into a shadowy haven for illicit shenanigans of all sorts.
And so may I turn your attention to an article which ran in the New York Tribune, on April 12, 1903, that touted New York's reform efforts along the Bowery. This report proudly lists the Bowery's most "evil resorts" which were successfully wiped away thanks to efforts by Mayor Seth Low.
While these would surely be dangerous places to visit, you can't deny that these lurid newspaper descriptions make even the most lowly of dives seem rather interesting.
With each address, I've put a link to Google Maps, revealing what stands on that spot today. In many cases, the building itself is still standing:
15 Bowery "Known to the criminal 'under world' as Spanish Mamie's. Took its name from the presence of a Spanish girl, the associate of many crooks. This was a dive of the lowest sort."
19 Bowery "A back room 'ginmill,' the headquarters of 'Boston Charlie,' a well known character, and his even more notorious woman pal 'Boston Clara.' Boston Charlie was known as a 'first rate cane man', that is, a beggar who pretended to be a cripple. He served many terms in the workhouse and gave this place a reputation in his now line. It was the resort of 'panhandlers'."
Below: An 1880 photograph of the Bowery at Canal Street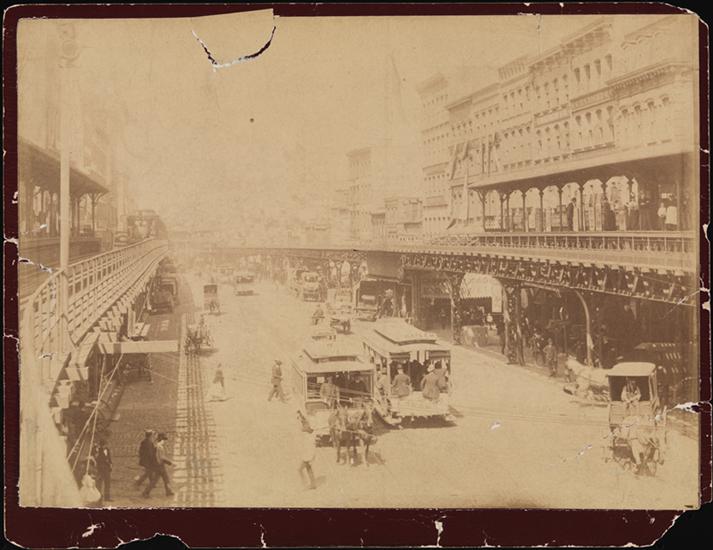 25 Bowery "The New-York Tavern.  Here was  planned a brutal robbery and assault on a Brooklyn jeweler. A low order of 'crooks' made this their 'hang out.'"
101 Bowery "A common backroom resort, a place of assignation and the gathering place of 'crooks' of an inferior order."
Below: The Bowery in 1915. The establishments listed below would have been on this block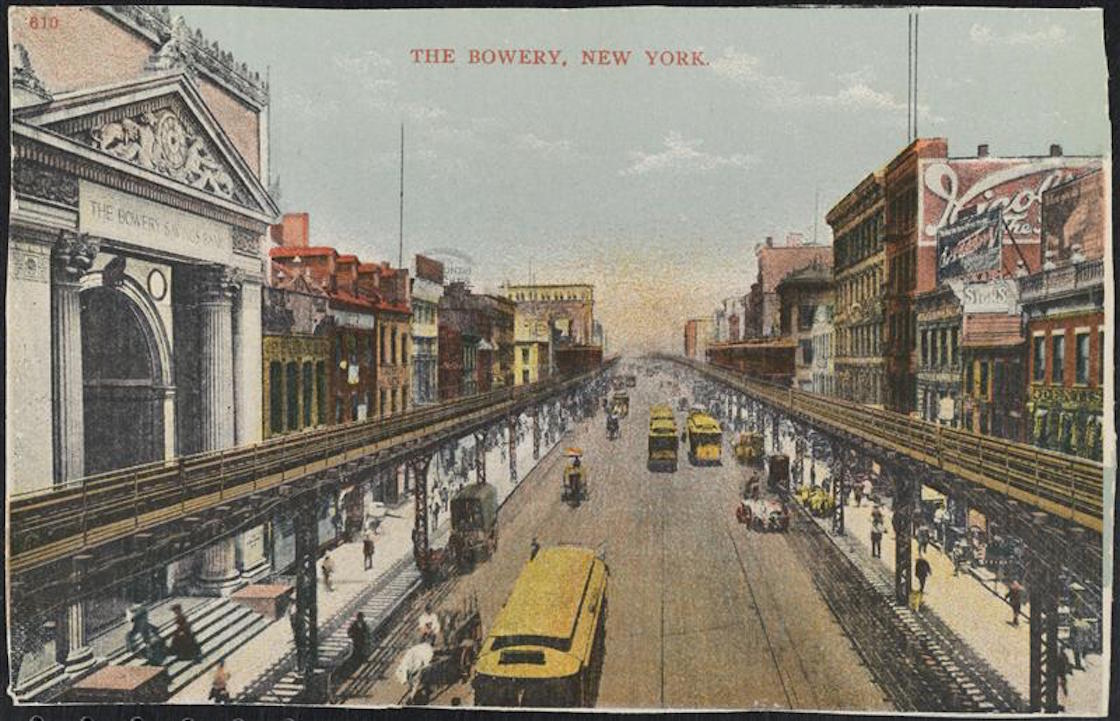 114 Bowery "A resort of cheap pugilists, where obscene pictures were exhibited on a screen, best known as Steve Brodie's" [Read more about Brodie's dive bar here]
115 Bowery "Little Jumbo. This was a notorious resort and the scene of a brutal murder. Criminals and 'panhandlers' made it their headquarters, and sailors were the victims of all sorts of crime, from robbery to murder. It was run for the proprietor by an Italian who was discharged and replaced by an Irishman; soon after the Irishman and the Italian had a fight and the former was killed."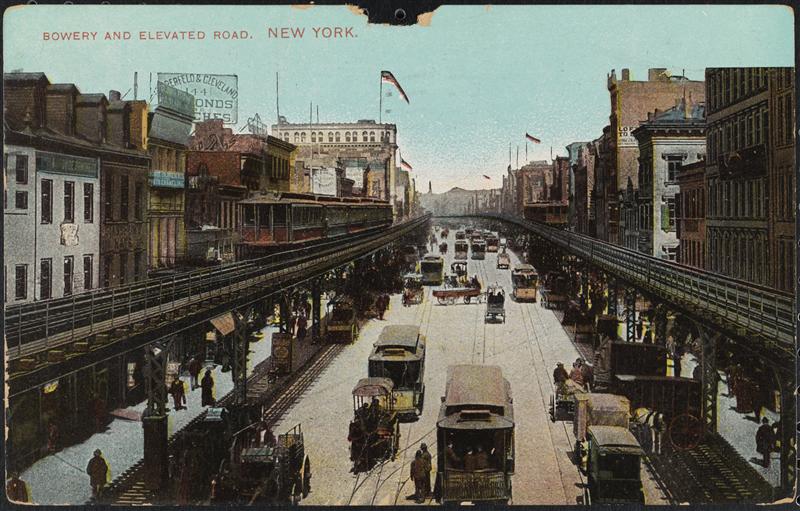 119 Bowery "Flynn's 'Black Hole.' This notorious resort is mentioned by Josiah Flynt as a resort of all sorts of crooks. It had a wide reputation, and went out of business soon after its proprietor, Flynn, was arrested for illegal registration in the last campaign."
Also* — "'Eat 'Em Up Jack' McManus's Rapid Transit House. This was a well known dive kept by McManus, who was formerly head bouncer for McGurk [most known for the morbid McGurk's Suicide Hall, see below]. The assertion that no 'touch', that is, robbery, was ever made in McGurk's and that such business was barred there, is somewhat justified by the fact that this place was started by a former employee of McGurk, and was famous for the 'touches' made there. McManus was known to his 'pals' as a 'strong arm' man, one who garrotes victims he is about to rob with his crooked arm."
287 Bowery "The Tivoli — A concert hall where women in indecent costumes sang indecent songs on the stage; where assignation was carried on openly, and solders and sailors were dragged in and later taken to disorderly houses."
The Bowery in 1905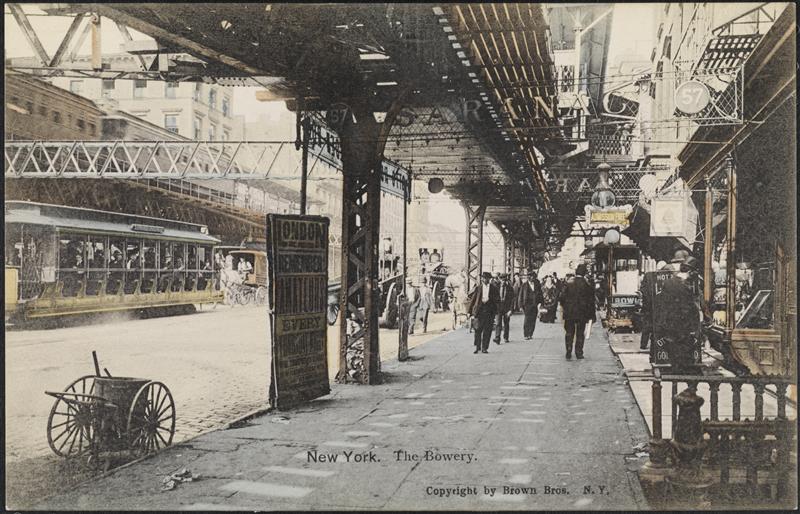 291 Bowery "The Volks Garden — The most notorious concert hall in the Bowery, and, like the Tivoli, a resort for prostitutes, a place of indecent stage exhibitions and the largest of its sort on the Bowery. As many as fifty women were attached to this place, and the business was carried on brazenly, numbers of 'barkers' and 'pullers in' being stationed at the door to drag people in by main force."
295 Bowery "McGurk's 'Suicide Hall' The most notorious resort in the Bowery, the 'hangout' of a large number of young girls. Solders and sailors frequented the place in large numbers. Carbolic acid suicies were the special of the place and gave it its name." [Read more about it in my piece on Suicide Hall.]
*Address not specifically listed. May have shared the building with Flynn's Black Hole