THE FIRST: STORIES OF INVENTIONS AND THEIR CONSEQUENCES The Serbian inventor Nikola Tesla is known as one of the fathers of electricity, the curious genius behind alternating current (AC), the victor in the so-called War of the Currents. But in this episode of The First, starting in the year 1893, Tesla begins conceiving an even grander scheme — the usage of electromagnetic waves to distribute power.
Today we benefit from the electromagnetic spectrum in a variety of ways — Wi-Fi, X-rays, radio, satellites. One of the roads to these inventions begins with Tesla and his experiments with remote control, using radio waves to operate a mechanical object.
But you may be surprised to discover Tesla's initial application of remote control. Far from inventing an children's toy, Tesla's remote controlled device would be used as a weapon of war.
To get this episode, simply download it for FREE from iTunes or other podcasting services.
Subscribe to The First here so that you don't miss future episodes!
Or listen to it straight from here:
11 NIKOLA TESLA AND THE WIRELESS WORLD
Below — A sampling of newspaper headlines involving Nikola Tesla, specifically from the mid and late 1890s (when he first began thinking and experimenting with wireless) and one from 1901.
HE LIVES ON ELECTRICITY
Nikola Tesla Acts Like a Broken-Hearted Man, and Hasn't a Definite Opinion Upon Anything
Electricity is Nikola Tesla's life. Without it he is as miserable as Paul Verlaine and his absinthe stomach would be in a Maine temperance town.
July 18, 1895, The Morning News (Wilmington, Delaware)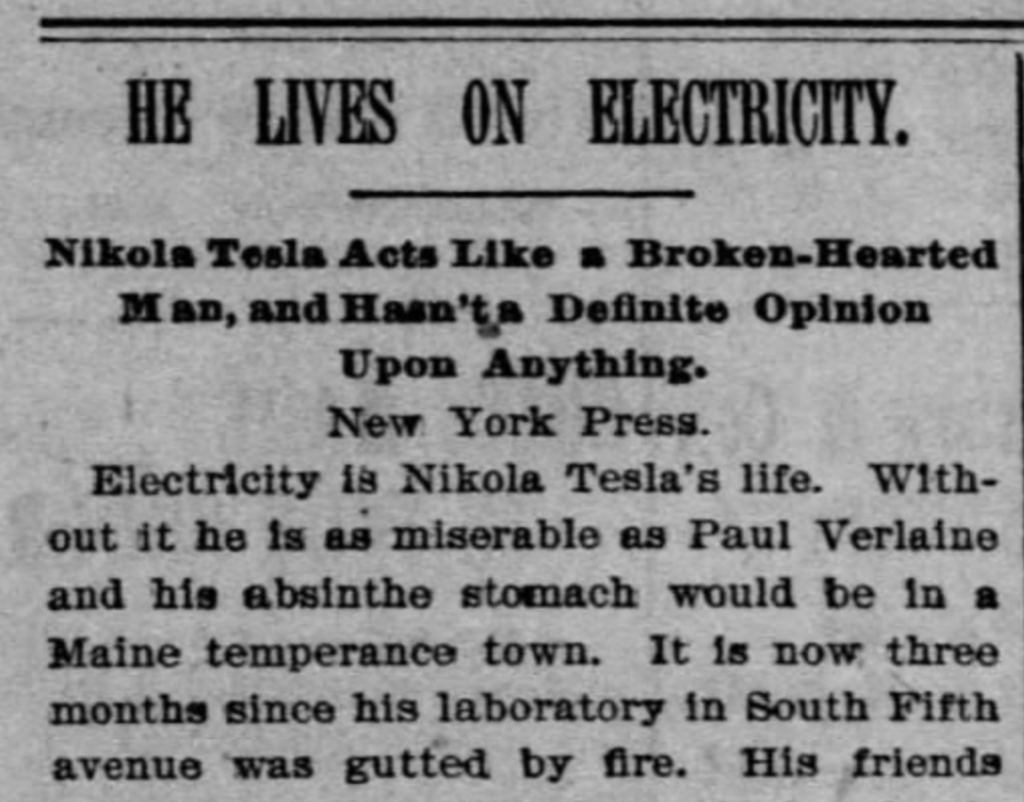 DEATH LURKS IN LIVE WIRES
A Famous Electrician Discusses a Vital Topic
CHIEF POINTS OF PERIL
Nikola Tesla Tells the Non-Expert How to Avoid Dangers — Metallic Paint is a Conductor — Scienties Seeking to Save Life
August 5, 1898, Democrat and Chronicle (Rochester, New York)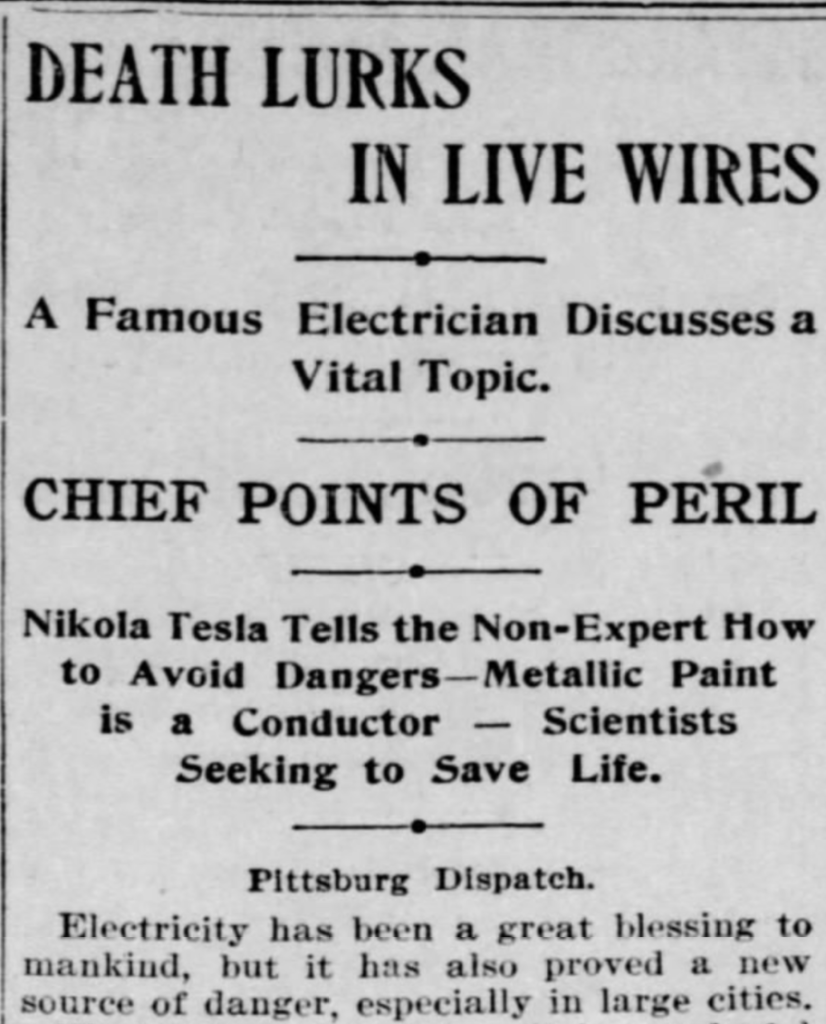 TO USE THE EARTH'S FORCE
Nikola Tesla's Amazing Plan to Harness Free Currents
March 15, 1896, St. Louis Post Dispatch (St. Louis, Missouri)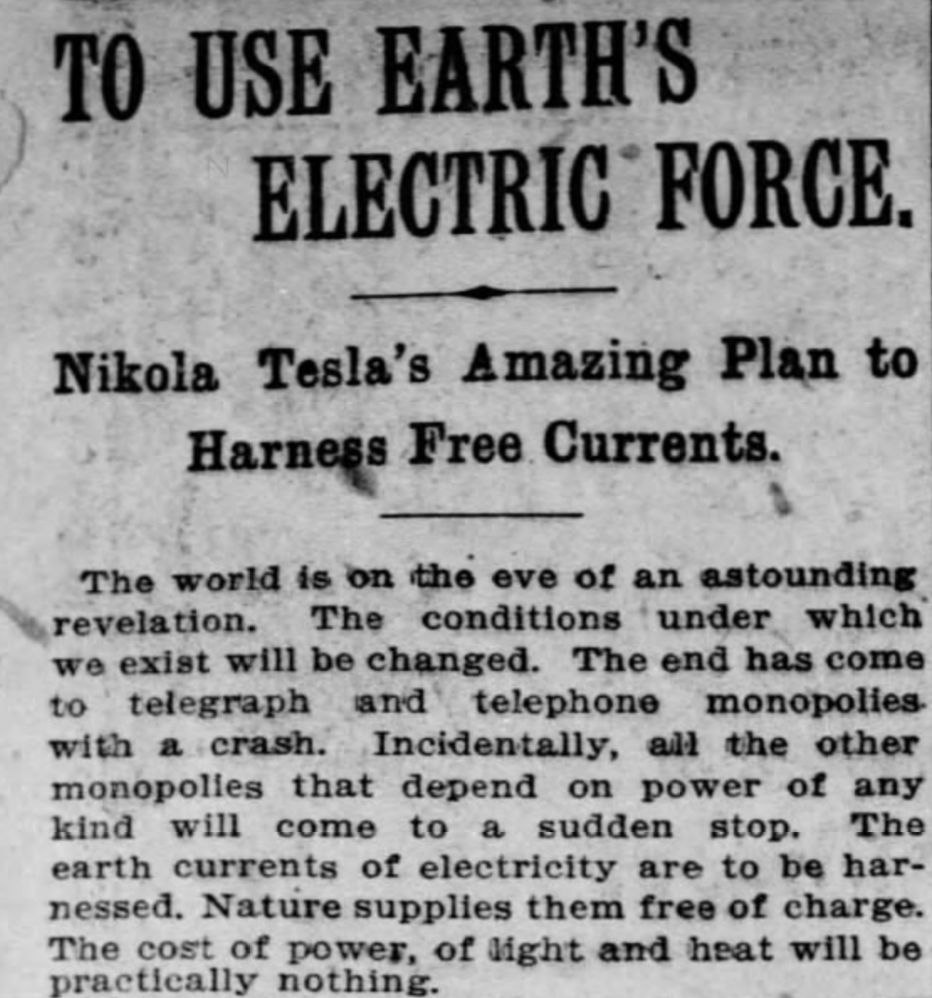 THE FUTURE BATH
Nikola Tesla has invented a way of cleaning the skin
Electricity a Substitute for Soap and Suds — Before and After Pictures — What He Calls the Busy Man's Bath — More Invigorating Than Hot Water
October 25, 1898, The Plain Speaker (Hazleton, Pennsylvania)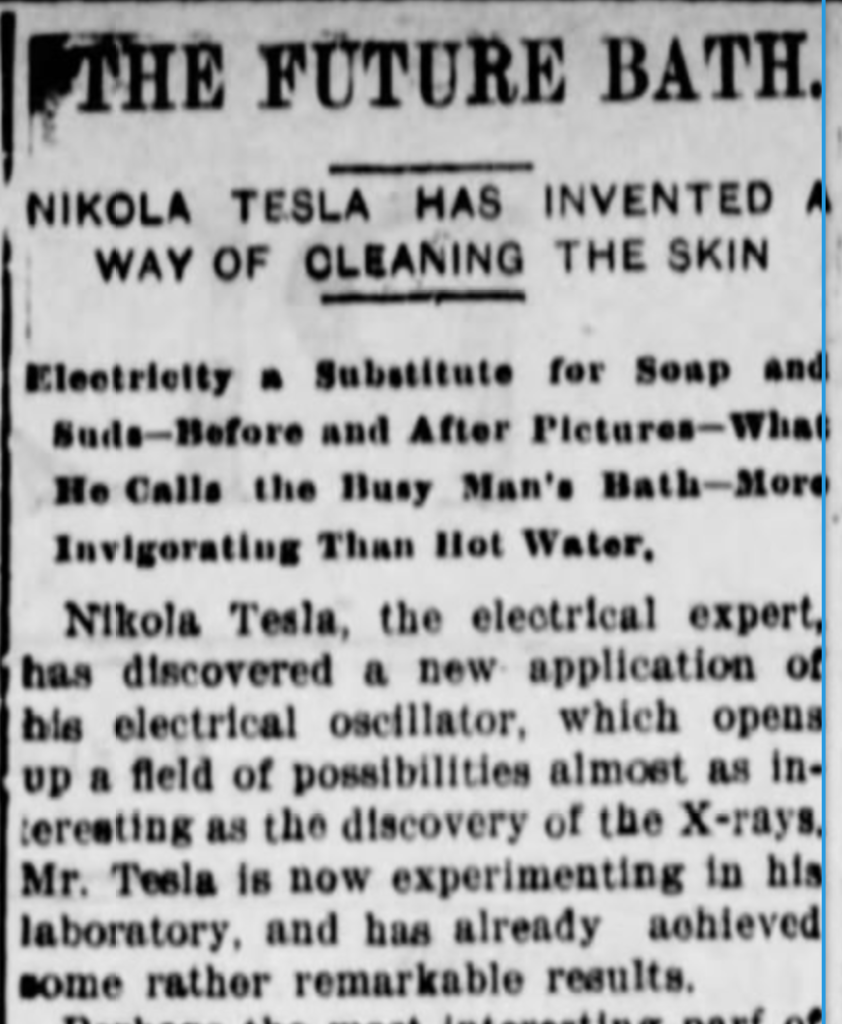 TESLA'S SHIP DESTROYER
Invention for Directing Movements of Torpedo-Boats, Etc.
Electrical Device for Controlling Speed, Direction and Explosive Power at Any Distance Through Natural Media of Space
November 8, 1898, The Indianapolis News (Indianapolis, Indiana)
NAVAL WARFARE TO BE REVOLUTIONIZED
Wizard Tesla's Brain Has Given Birth to a Device That Will Sweep the Seas of Battleships
ELECTRICAL CURRENT SENT THROUGH SPACE
November 8, 1898, St. Louis Post-Dispatch (St. Louis, Missouri)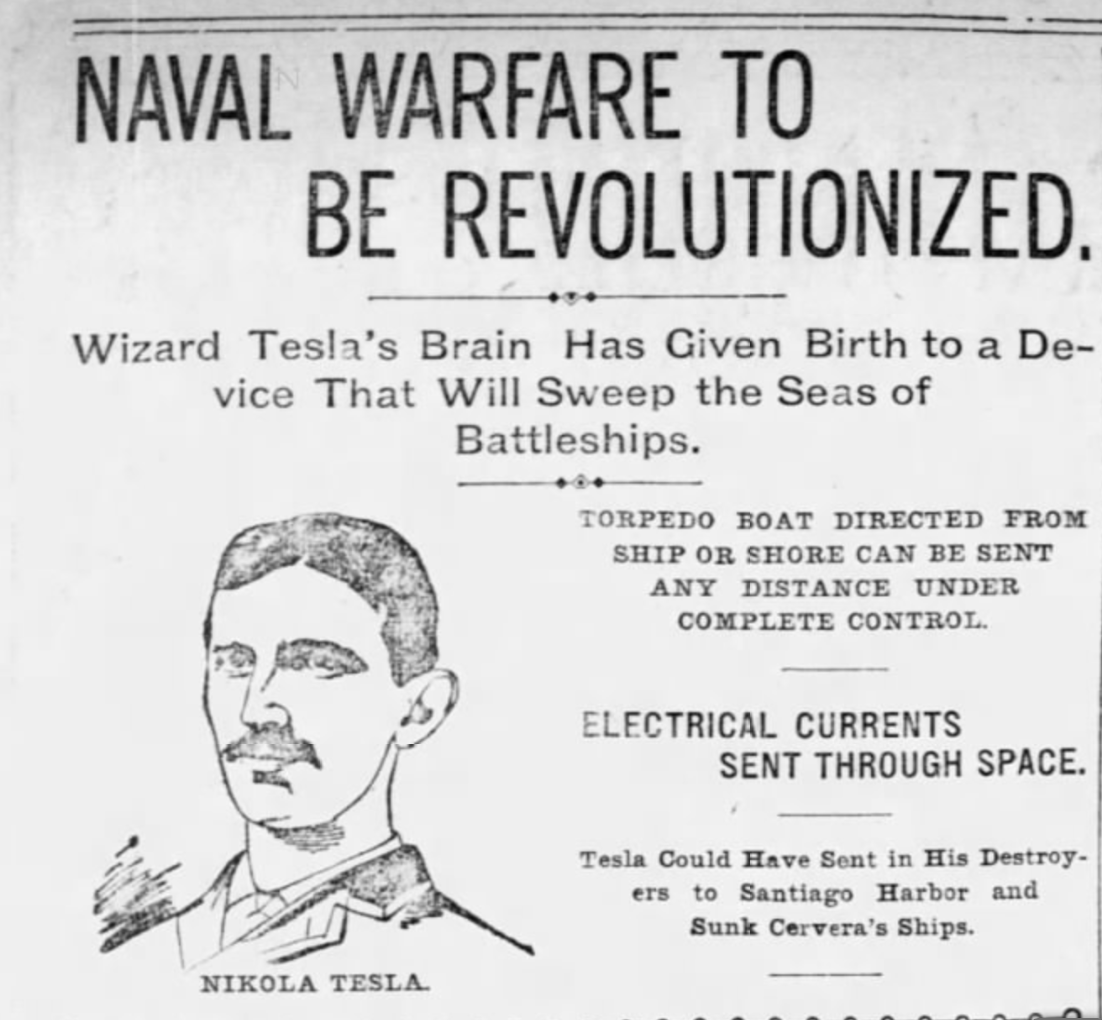 NIKOLA TESLA'S LATEST INVENTION
"We have recently been informed by the public press in flamboyant rhetoric that Nikola Tesla has devised a boat which is destined to revolutionize the art of warfare."
Scientific American, November 19, 1898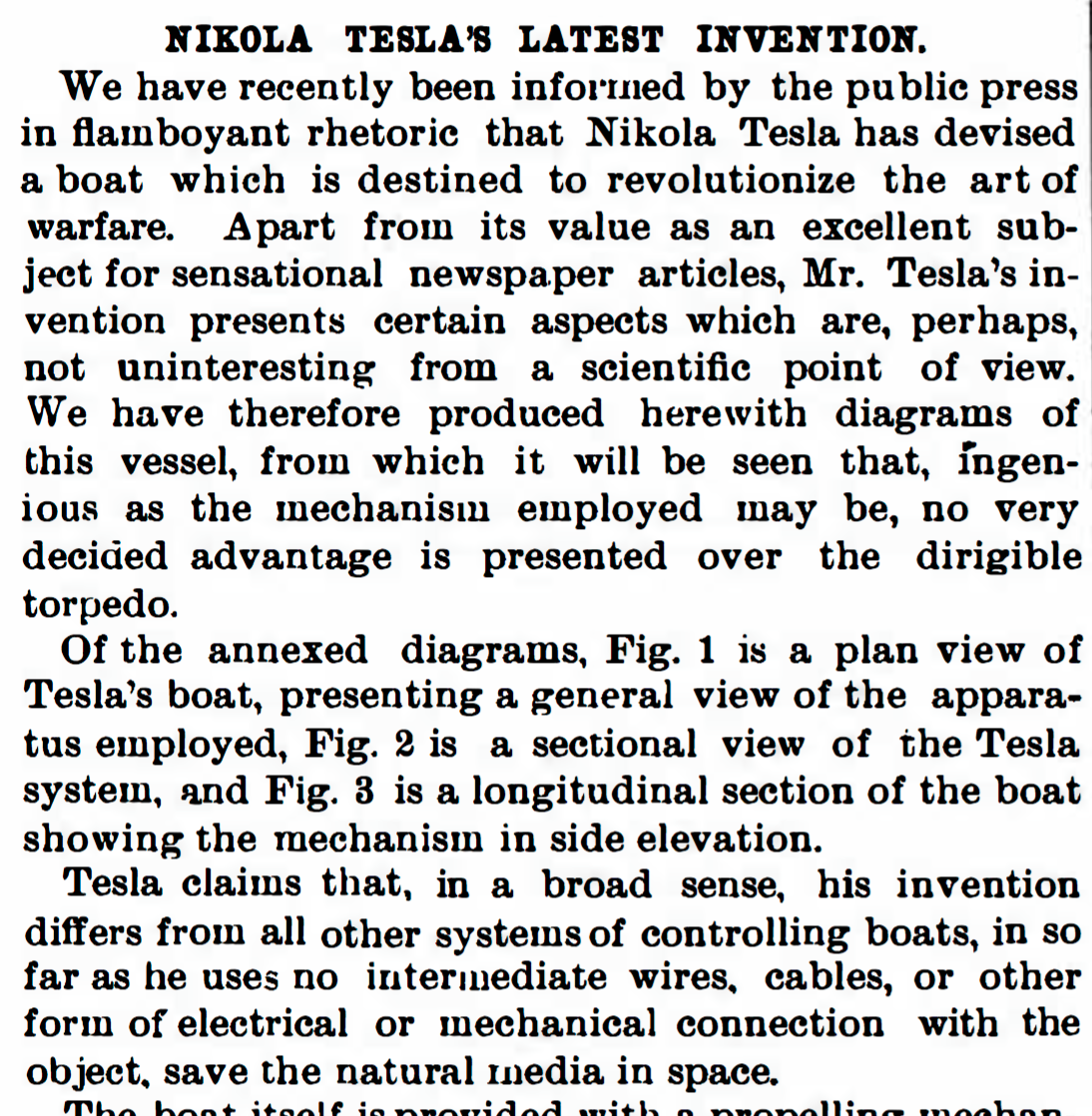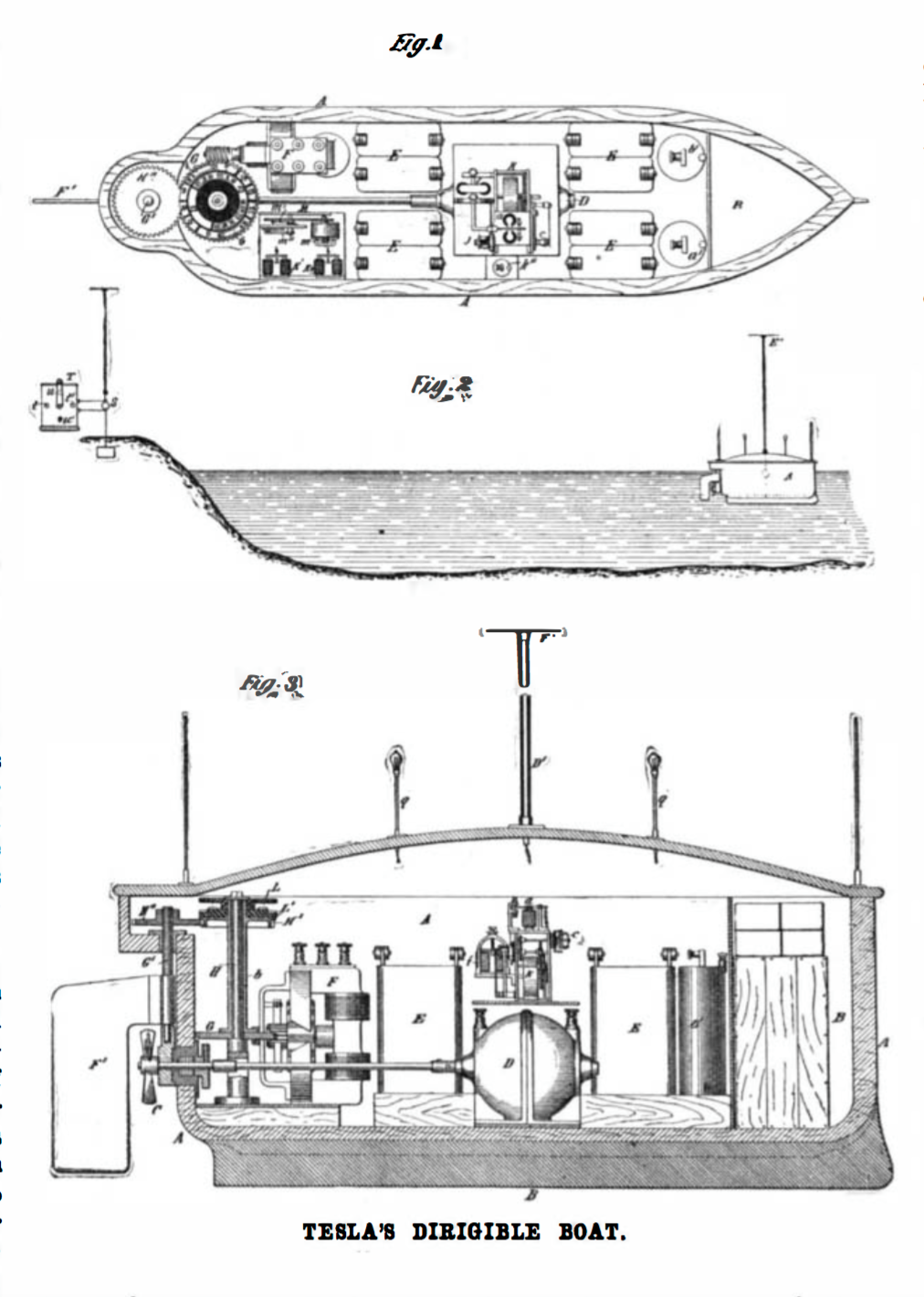 THAT MESSAGE FROM MARS
Scientific American, January 19, 1901