PODCAST

The tale of Captain William Kidd, a respectable New York citizen and landowner, and his transformation into the ruthless pirate of legend.

The area of Lower Manhattan below Wall Street is today filled with investment bankers, business people and tourists. But did you know, over 300 years ago, that the same streets were once crawling with pirates?

In the early decades of the British colony of New York, the city was quite an appealing destination for pirates and their ships filled with stolen treasure. After all, the port of New York was far away from the supervision of the crown, providing local merchants with ample temptations to do business with the high sea's most notorious criminals.

Captain William Kidd is a figure of legend, the most ruthless and bloodthirsty pirate on the planet. And yet, for many years, he was a respectable New York gentleman, with connected friends, a wealthy wife and a sumptuous home on Pearl Street near the original wall of Wall Street.

But Kidd sought adventure as a privateer and made a deal with prominent New Yorkers to scour British trading routes for pirates. This is the tale of how a dashing New York sea captain became branded (perhaps unfairly) as one of the most evil men of the ocean.

PLUS: Captain Kidd's startling connection to New York's Trinity Church! And where in New York City might one find some of Captain Kidd's fabled treasure today?
---
The Bowery Boys: New York City History podcast is brought to you …. by you!
We are now producing a new Bowery Boys podcast every two weeks. We're also looking to improve the show in other ways and expand in other ways as well — through publishing, social media, live events and other forms of media. But we can only do this with your help!
We are now a member of Patreon, a patronage platform where you can support your favorite content creators for as little as a $1 a month.
Please visit our page on Patreon and watch a short video of us recording the show and talking about our expansion plans. If you'd like to help out, there are five different pledge levels (and with clever names too — Mannahatta, New Amsterdam, Five Points, Gilded Age, Jazz Age and Empire State). Check them out and consider being a sponsor.
We greatly appreciate our listeners and readers and thank you for joining us on this journey so far. And the best is yet to come!
---
The Captain William Kidd of real life (painted by Sir James Thornhill), a respectable gentleman using his years in New York who hobnobbed with the wealthiest families in town.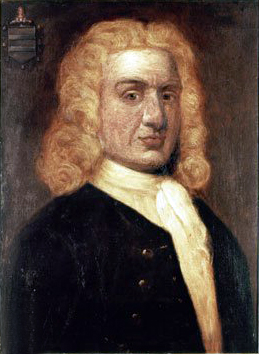 The Captain Kidd of legend, a figure whose not-so-noble exploits on the seas have helped masked the real story of this would-be privateer.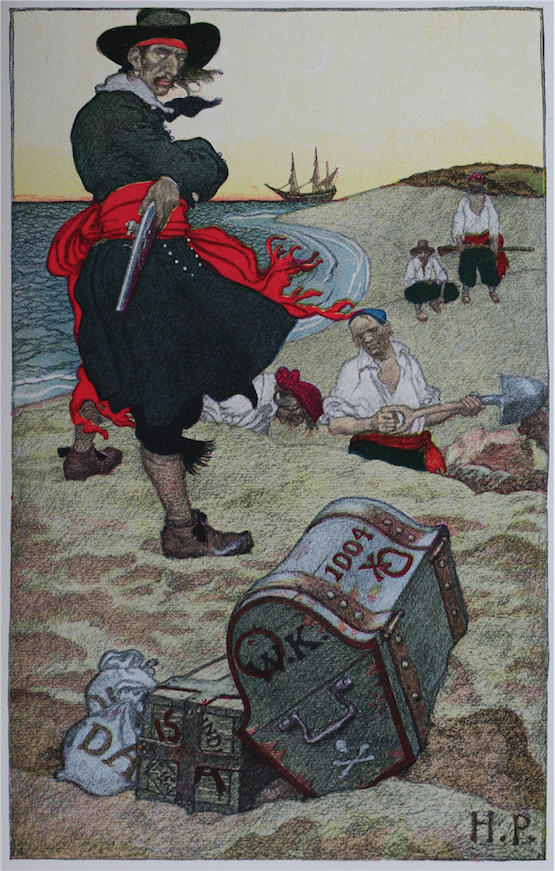 The residence of Captain William Kidd and his wife Sarah Oort Bradley Cox Kidd, at the corner of Pearl Street and Hanover Square. It was built during the Dutch period and located just a few steps from the gate to the city.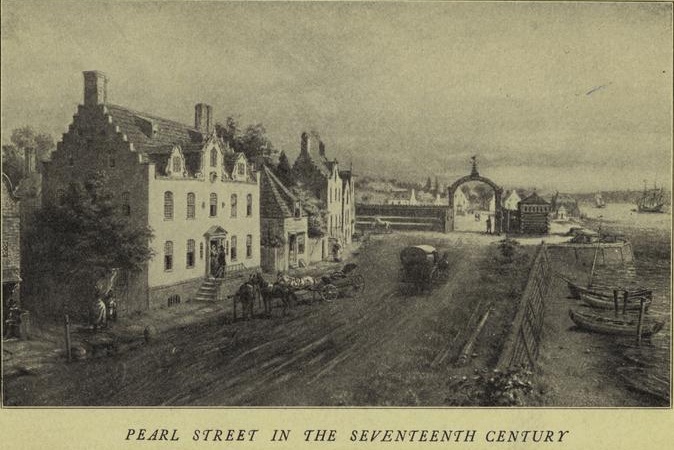 Kidd also owned several other New York properties according to the New York Times, including "56 Wall Street, 86-90 and 119-21 Pearl Street, 52-56 Water Street and 25, 27 and 29 Pine Street."
Captain Kidd, burying his treasure (from an illustration circa 1872)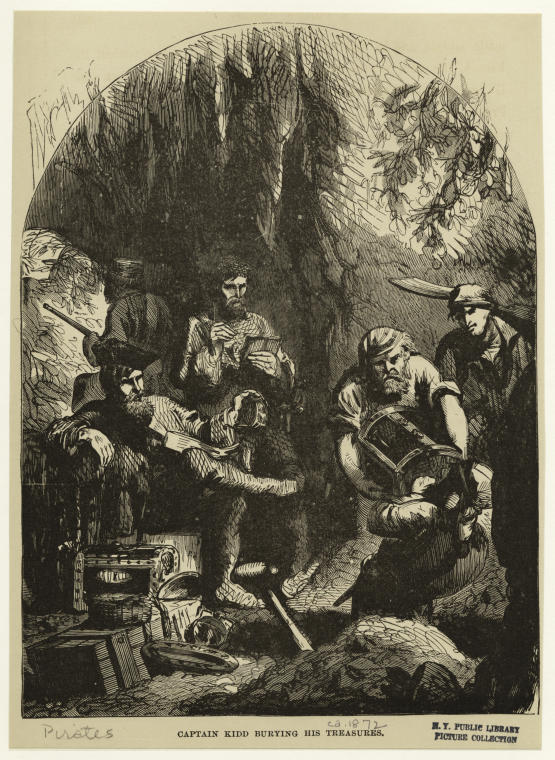 The arrest of Captain Kidd in Boston (from an 1872 illustration)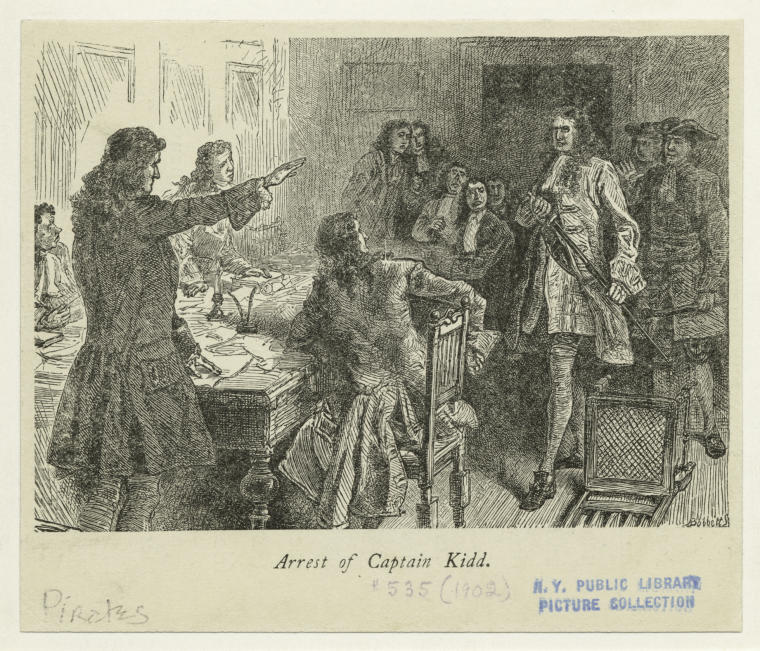 A horrifying image of Kidd gibbeted and displayed along the River Thames and the site of the 'pirates' stairs.'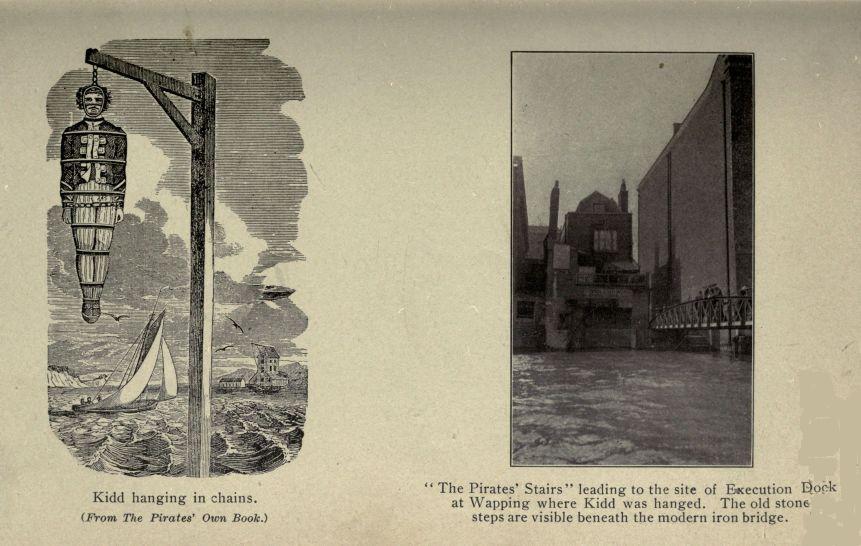 Kidd had a hand in the construction of Trinity Church as he was in New York at the time.
From the Trinity Church website: "In 1696, a small group of Anglicans (members of the Church of England) petitioned the Royal Governor Benjamin Fletcher of New York, then a mercantile colony, for a charter granting the church legal status. Fletcher granted the charter in 1697 and the first Trinity Church was erected at the head of Wall Street facing the Hudson River. Although Anglican services had been held in the colony's fort chapel, the building was the first Anglican Church on the island of Manhattan."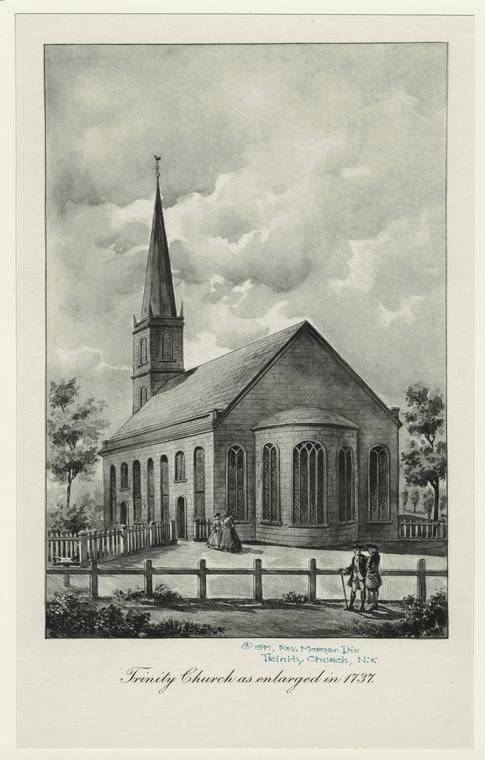 The Leisler Rebellion — Drama in 1689 as Jacob Leisler and his followers sweep supporters of King James out of power. Kidd would contribute in overthrowing Leisler just a couple years later.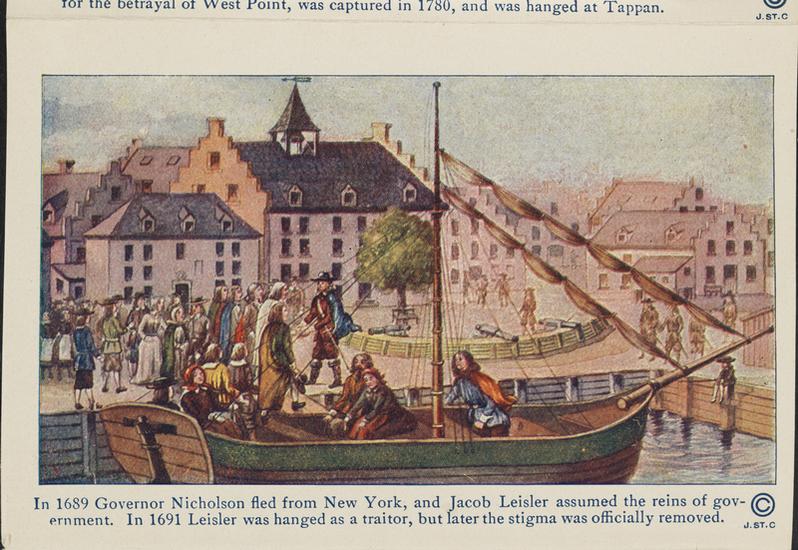 A fanciful reimagining of Captain Kidd in New York Harbor, presumably following the expulsion of Leisler, painted by Jean Leon Gerome Ferris.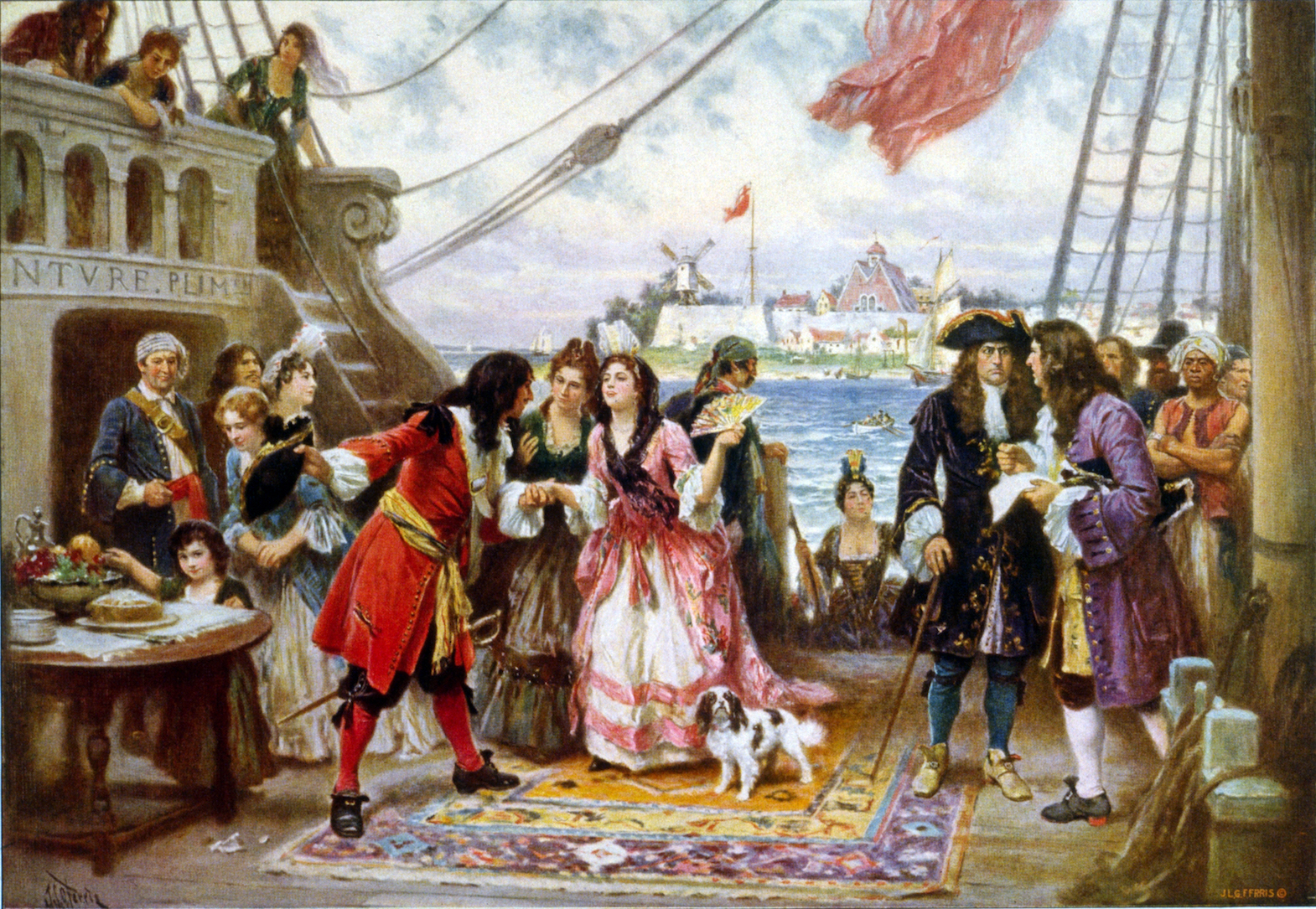 Courtesy NYPLThe Brooklyn Daily Eagle has been quite enamored of Captain Kidd over the years. Here's an illustration of Kidd's ghost hovering over New York (a city still filled with 'modern' pirates, or so claims the article).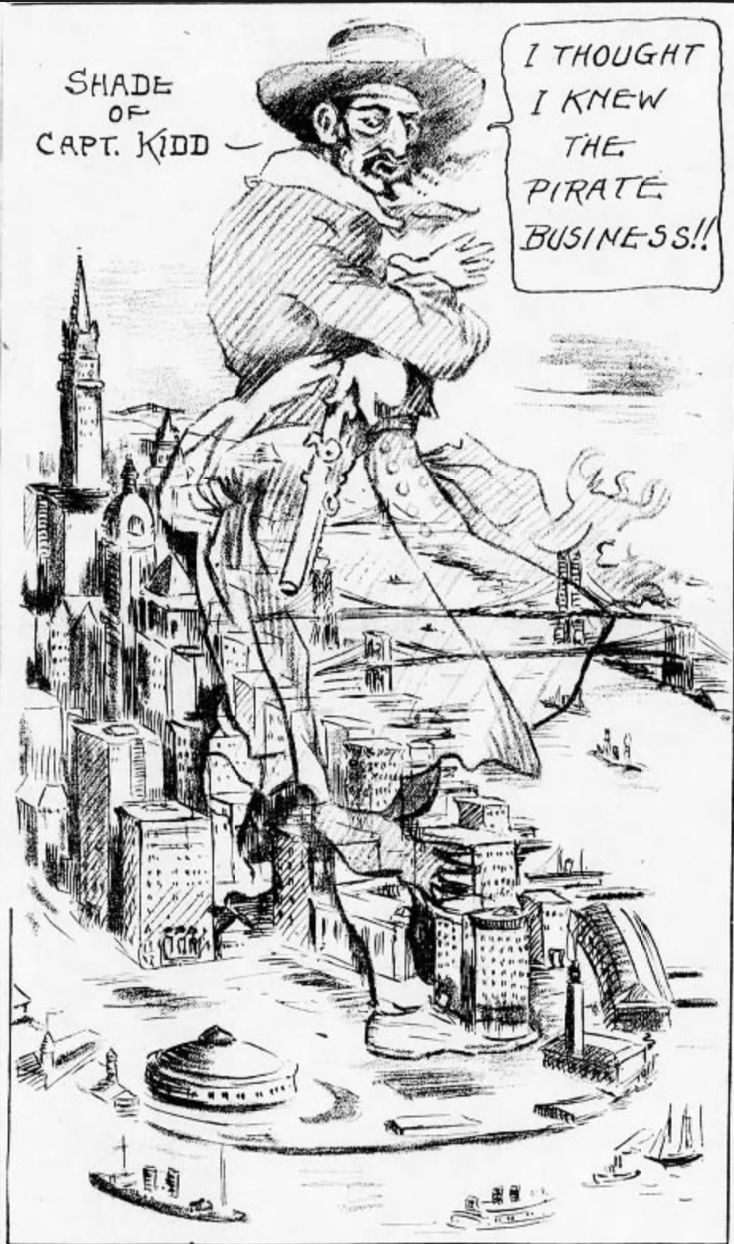 From the Brooklyn Daily Eagle's 'Treasure Hunt' for its readers, a promotion of the Brooklyn Auto Show.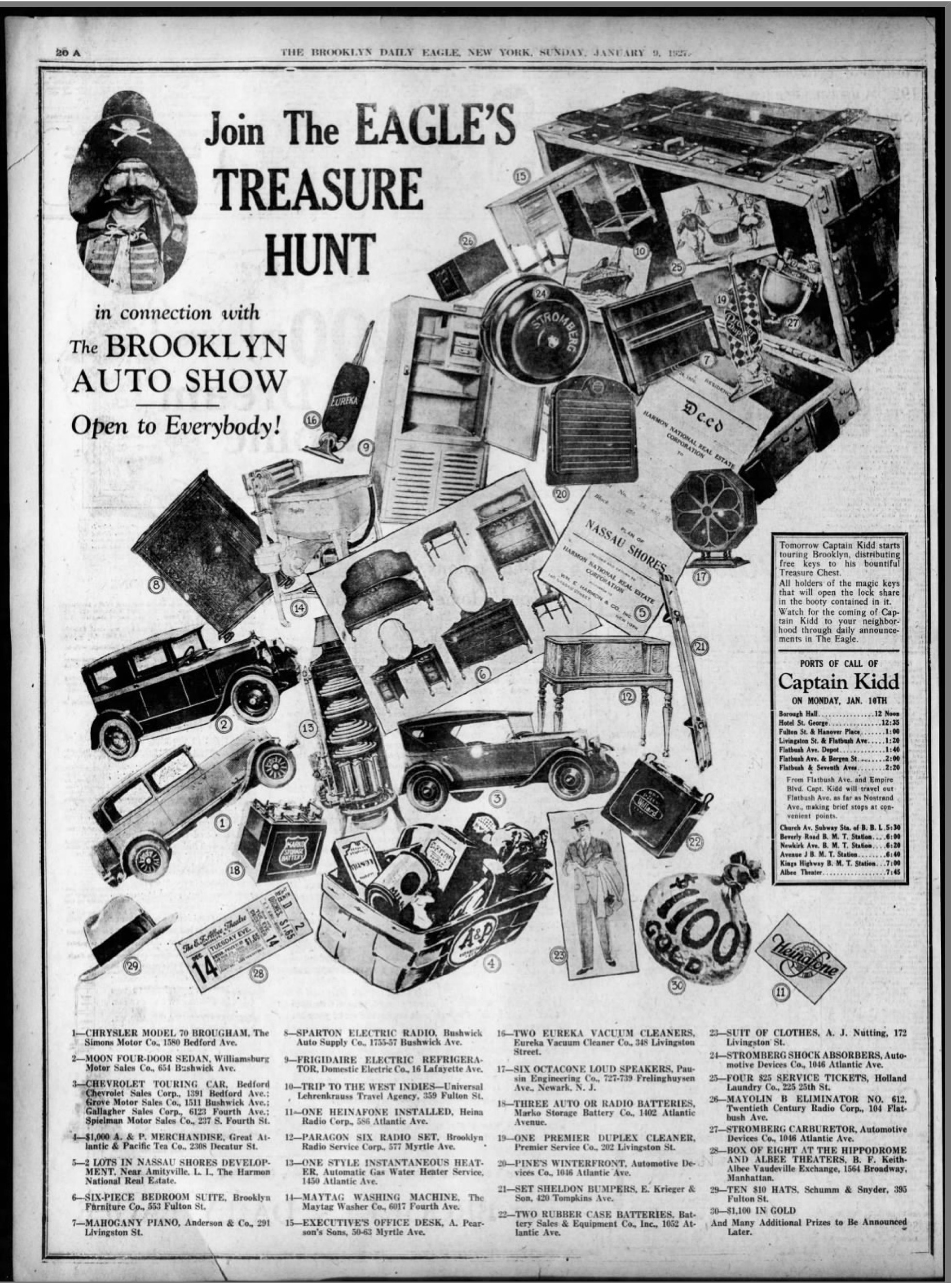 Captain Kidd has been dramatized in several Hollywood films over the years. Here's one with Abbott and Costello!
Captain Kidd in a Saturday matinee serial:

And the well-regarded film version with Charles Laughton as Captain Kidd:
CORRECTION: My misspeaking strikes again! From the final section — it is Blackbeard the pirate, not Bluebeard the pirate, who is made an example of by the English in 1718. (This has been changed in new versions of the show.