If you're looking for some last many gifts for loved ones this year, may we suggest our book The Bowery Boys' Adventures In Old New York? Find it in bookstores or order it from Amazon, Barnes and Noble or your independent bookstore.
Here are a couple holiday-themed excerpts from the book, situated alongside hundreds of other historical sites. It's a great book for those who have never been to New York City (but have a fascination with history) or those who love wandering through the streets.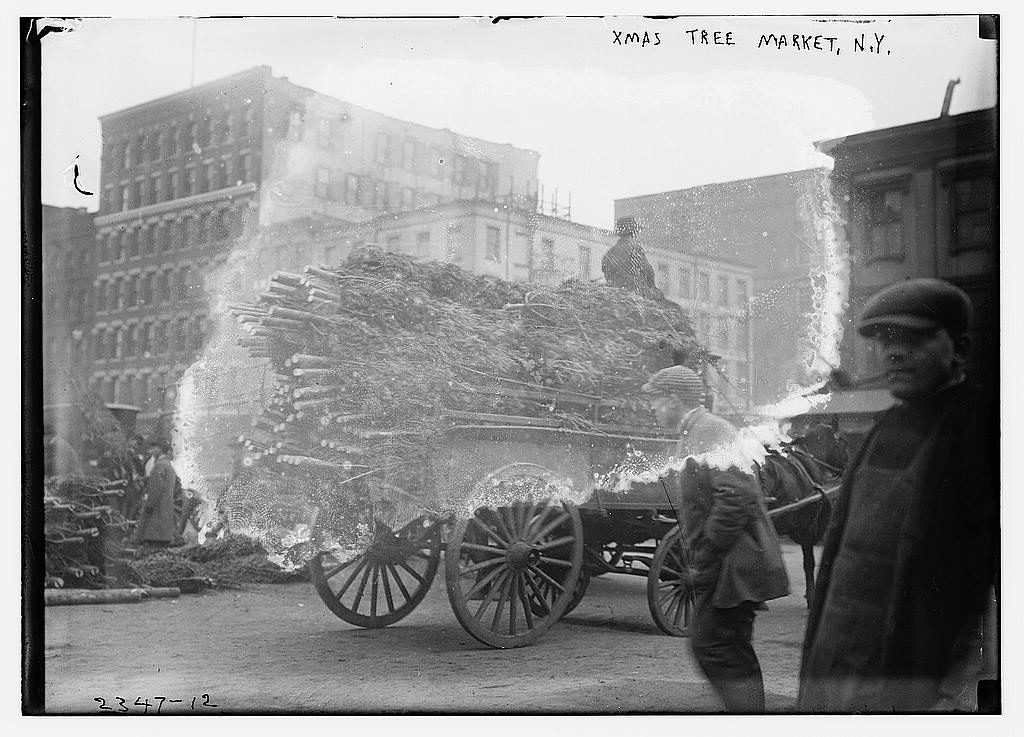 Above: Preparing a Christmas tree market at West Street across from Pier 21, near Duane Street, 1910
THE FIRST CHRISTMAS TREE STAND Today's cute little Washington Market Park sits on the spot of New York's most important outdoor market of the nineteenth century.
In the days before mass refrigeration and chain grocery stores, Washington Market was the place where New Yorkers came to buy their meats and fresh produce. First opened in 1812, the market offered many residents their first encounter with exotic food items from across the country and around the world. (Today a Whole Foods one block away provides much the same function, albeit with higher prices and gluten-free options.)
But this market wasn't just for edibles. In 1851 a woodsman named Mark Carr, living in the Catskill Mountains, chopped down a selection of fir and spruce trees, shoved them into two ox sleds, carted them over to Manhattan on a ferry, and set up shop in the market, paying one dollar for the privilege of selling his rather prickly merchandise. Holiday revelers were thrilled to be spared the journey out of town, and Carr's entire stock of evergreens sold out within the day. No surprise then that other farmers jumped on this evergreen opportunity, and within a few years the open-air Christmas tree market was born. (Chambers and Greenwich Streets)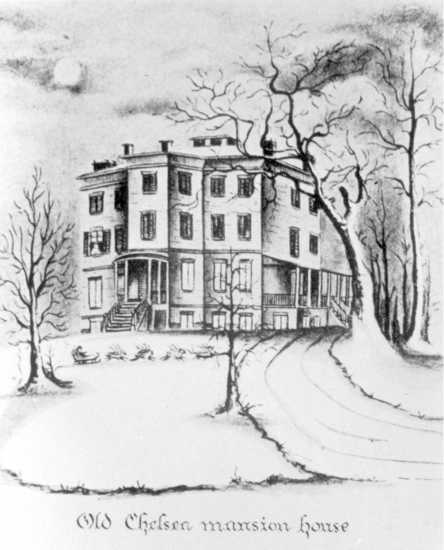 THE NEIGHBORHOOD OF CHELSEA — AT THE HEART OF CHRISTMAS
According to the legend, on Christmas Eve in 1822 Clement Clarke Moore completed a seasonal poem to read to his young children. He penned the whimsical little tale—a throwaway, really, in comparison with his great and respected academic writings on Greek and biblical literature—from a desk at his comfortable, snow-covered mansion, which the family called Chelsea.
The home (pictured above) sat atop an old hill (near today's modern addresses of 422–424 West 23rd Street), which looked out over Moore's vast estate, stretching to the south from here.
According to that legend, Moore had been inspired that day during an outing to Washington Market to purchase a Christmas turkey.
The poem, "A Visit from St. Nicholas" and often referred to as "'Twas the Night Before Christmas," would eventually help shape the story of Santa Claus. His verses practically spelled out the jovial North Pole gift-giver's physical appearance, which was then illustrated by New York–based newspaper and magazine illustrators like Thomas Nast and, in the twentieth century, the Coca- Cola advertising of Haddon Sundblom. Moore even named all eight reindeer.
Moore's poem was published anonymously the following year, and he'd only take credit for penning it—at his children's insistence—in 1844.
Given Moore's original hesitation, some scholars have suggested that another New Yorker, Henry Livingston, Jr., may have written the poem. Until proven otherwise, we like to turn our thoughts to Chelsea—from the wild old hotel to the elevated High Line—every time we hear it.
Pictured at top: The Christmas tree market on West Street at the Hudson Piers, dated 1901