PODCAST The history of Brooklyn's DUMBO neighborhood — from its industrial past to its hi-tech future.
Down Under Manhattan Bridge Overpass (DUMBO) is, we think, a rather drab name for a historically significant place in Brooklyn where some of the daily habits of everyday Americans were invented.
This industrial area between the Brooklyn and Manhattan bridges traces its story to the birth of Brooklyn itself, to the vital ferry service that linked the first residents to the marketplaces of New York. Two early (lesser) Founding Fathers even attempted to build a utopian society here called Olympia.
Instead the coastline's fate would turn to industrial and shipping concerns. Its waterfront was lined with brick warehouses, so impressive and uniform that Brooklyn received the nickname 'the Walled City'.
The industries based directly behind the warehouses were equally as important to the American economy. Most of their factories comprise the architecture of today's DUMBO, grand industrial fortresses of brick and concrete, towering above cobbled streets etched with railroad tracks.
The cardboard-box titan Robert Gair was so dominant in this region that his many buildings were collectively referred to as Gairville. But coffee and tea traditions also came here — not just the manufacture, but the revolutionary ways in which people with buy and drink those beverages.
How did this early New York manufacturing district become a modern American tech hub, with luxury loft apartments and splendid coffee shops? This story of repurpose and gentrification is very different from those told in other neighborhoods.
PLUS: And, no, really, what is up with that name?
Listen Now: DUMBO History
Or listen to it straight from here:
________________________________________________________
The Bowery Boys: New York City History podcast is brought to you …. by you!
We are now producing a new Bowery Boys podcast every week. We're also looking to improve the show in other ways and expand in other ways as well — through publishing, social media, live events and other forms of media. But we can only do this with your help!
We are now a member of Patreon, a patronage platform where you can support your favorite content creators for as little as a $1 a month.
Please visit our page on Patreon and watch a short video of us recording the show and talking about our expansion plans. If you'd like to help out, there are five different pledge levels (and with clever names too — Mannahatta, New Amsterdam, Five Points, Gilded Age, Jazz Age and Empire State). Check them out and consider being a sponsor.
We greatly appreciate our listeners and readers and thank you for joining us on this journey so far.
_______________________________________________________
The DUMBO neighborhood, Brooklyn Heights and downtown Brooklyn on this 1908 survey map.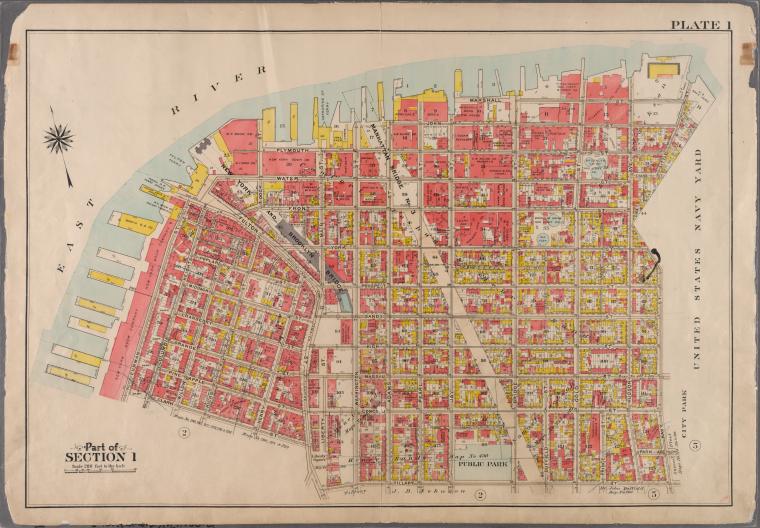 This painting by Francis Guy) actually depicts the area of downtown Brooklyn as it looked during the area's 'Olympia period'.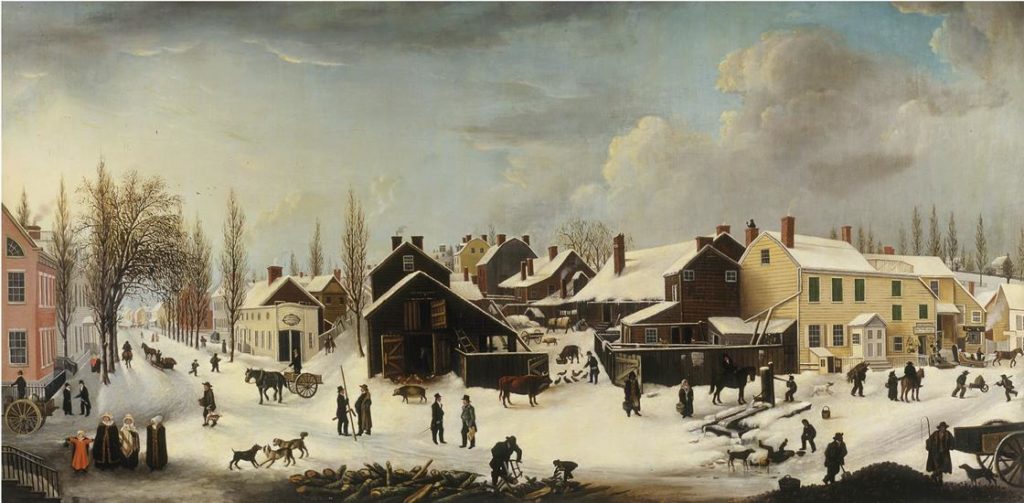 The waterfront in 1974 — the Empire Stores, the former Gair building (1 Main Street) and Sweeney Manufacturing (the kitchenware company)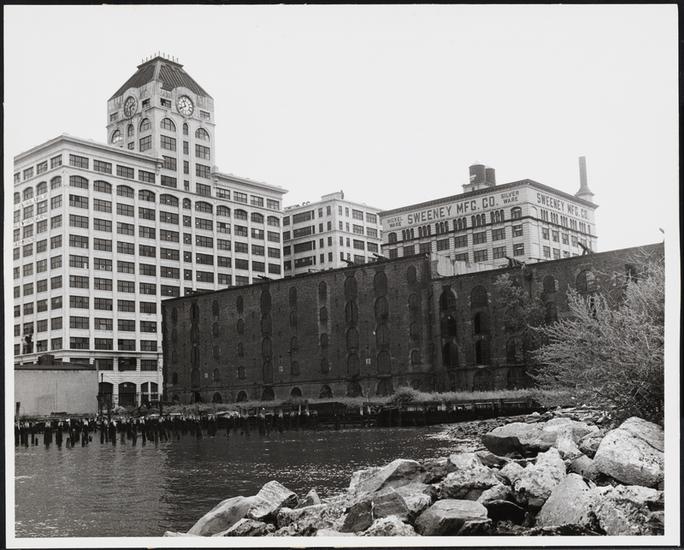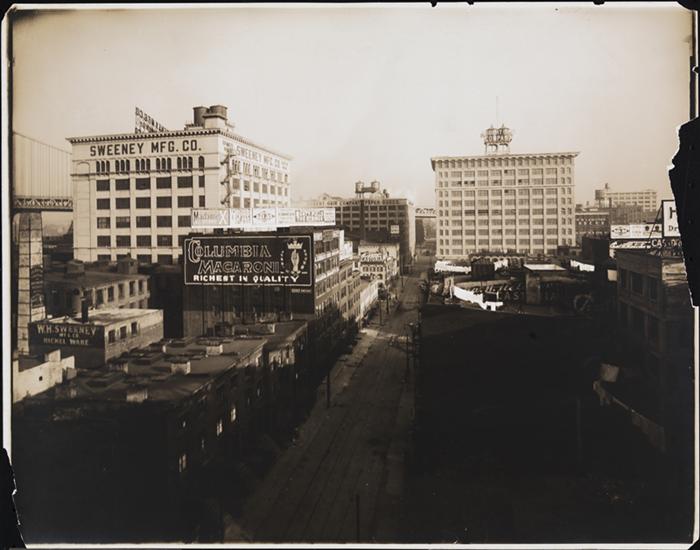 While the neighborhood is dominated by industrial architecture today, it wasn't always so. This picture from 1924 (looking down Main Street with the wooden building sitting at Howard Alley) and the same view today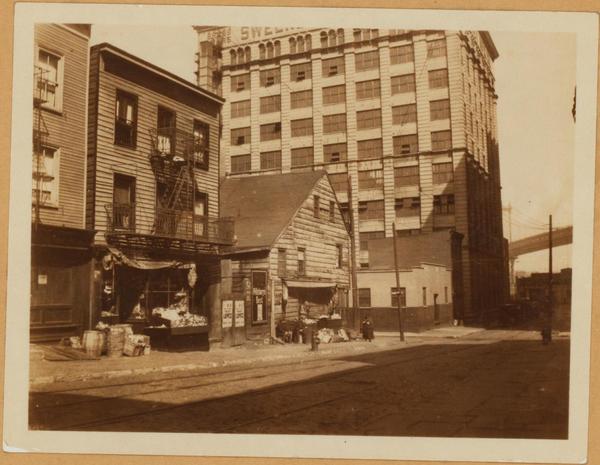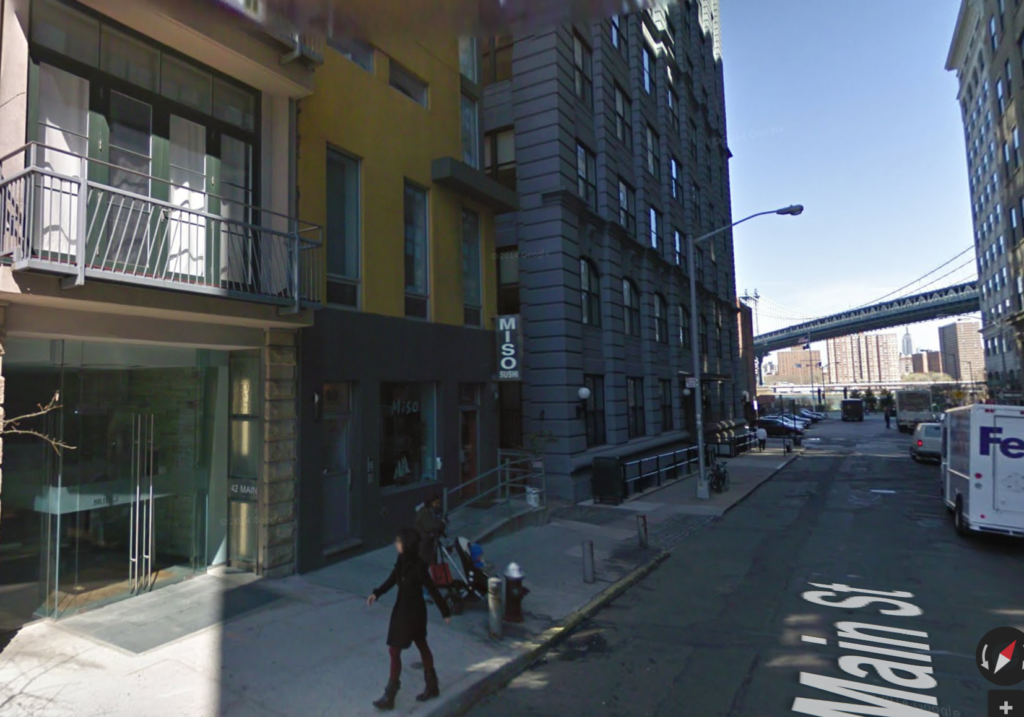 Plymouth Street, west from Pearl Street, showing at the right one of the Arbuckle Bros. Coffee Co. building. April 4, 1938.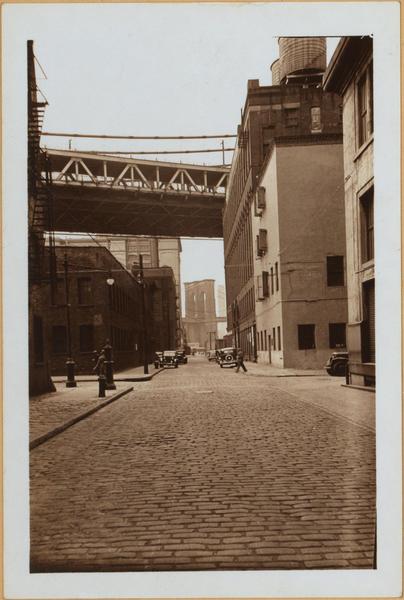 John Street, east from Jay Street, 1938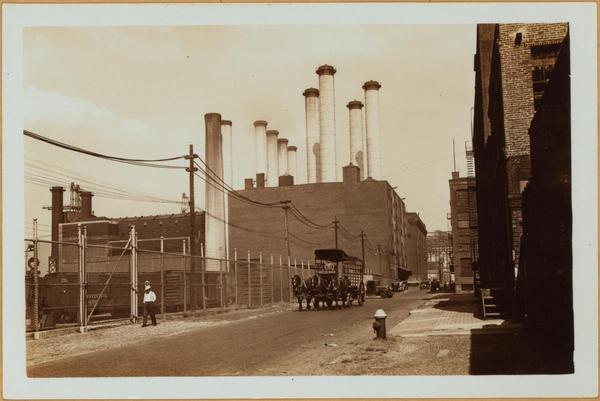 Brooklyn waterfront was lined with warehouses during the 20th century. Here's a view of the coastline from the Fulton Ferry area down to Red Hook.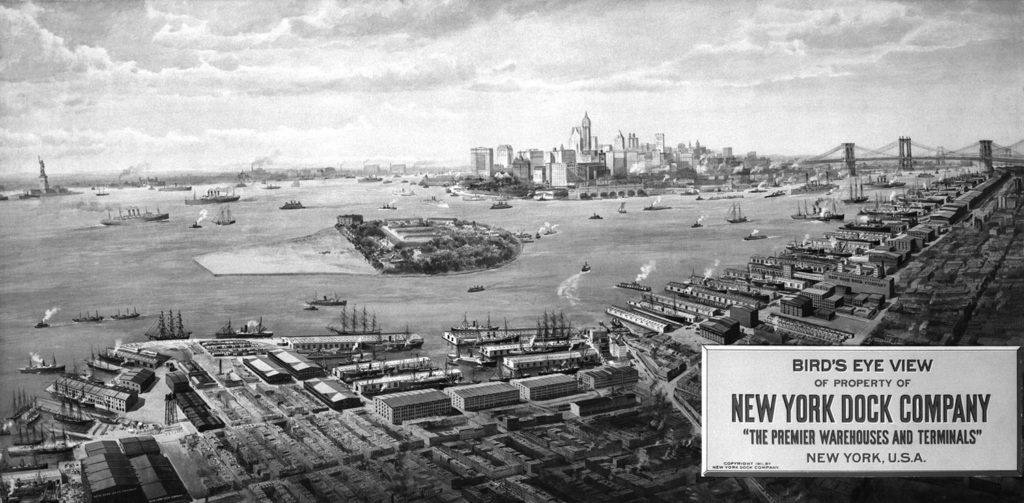 A 1908 view of waterfront properties from Jay Street to Washington Street (pre Manhattan Bridge of course)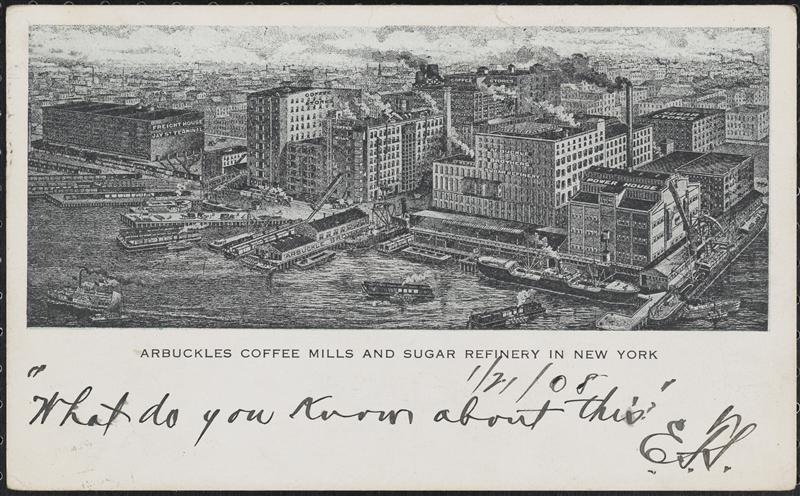 Today you'll find dozens of people every day on the street, taking selfies in front of this view. But back in 1978, the district was virtually abandoned.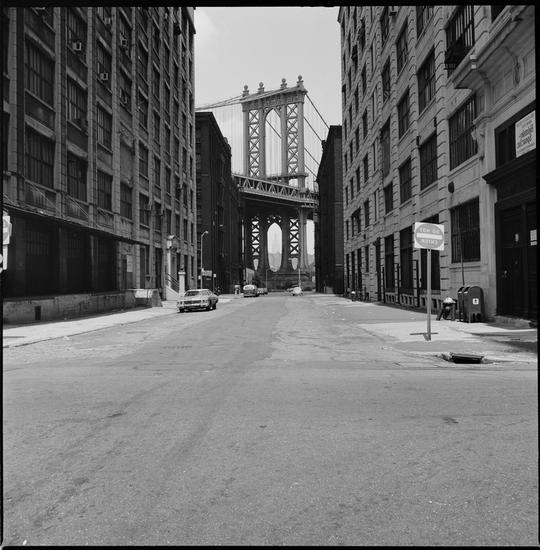 Inside the repurposed Empire Stores, now the headquarters of West Elm and home of the Brooklyn Historical Society annex.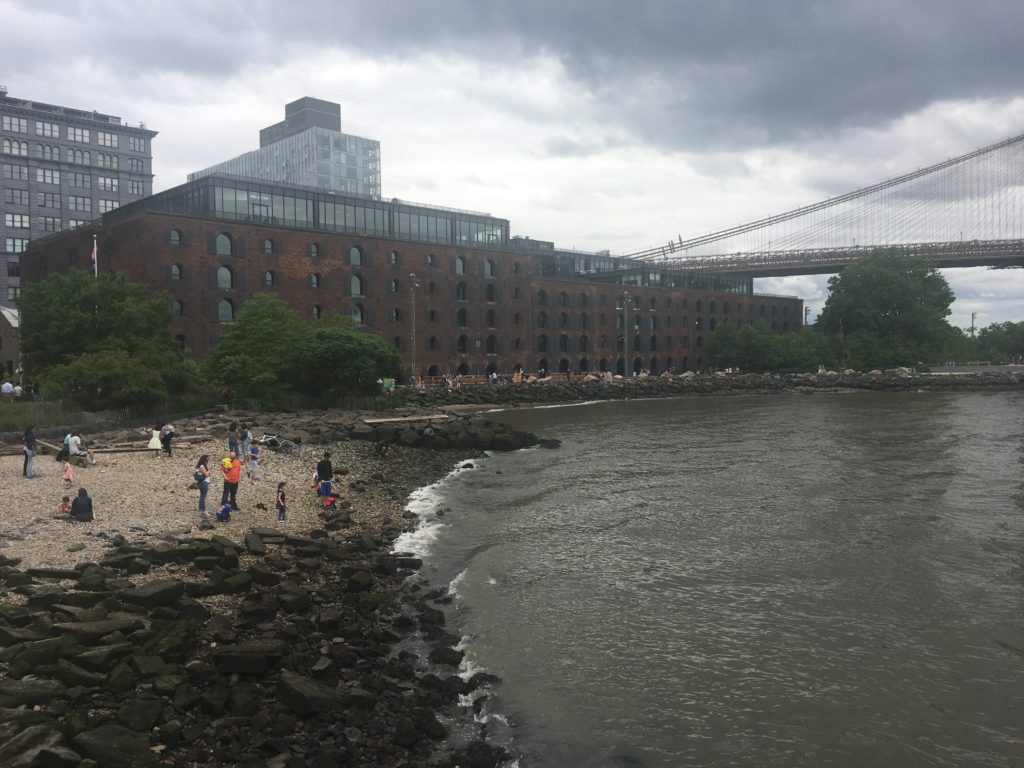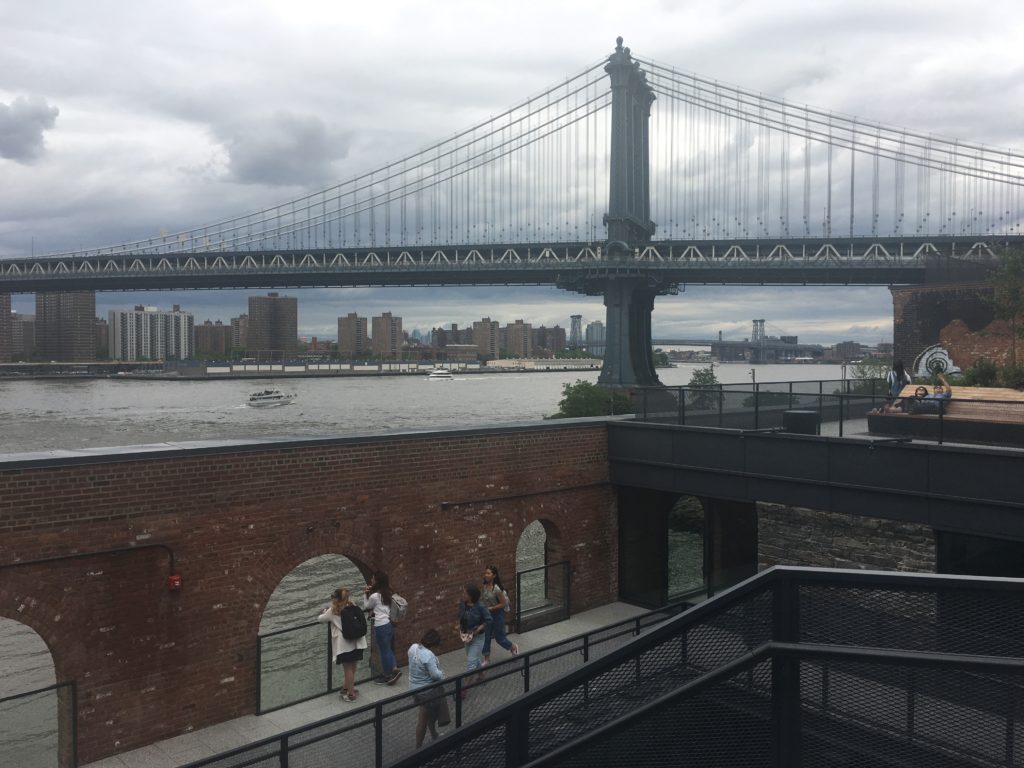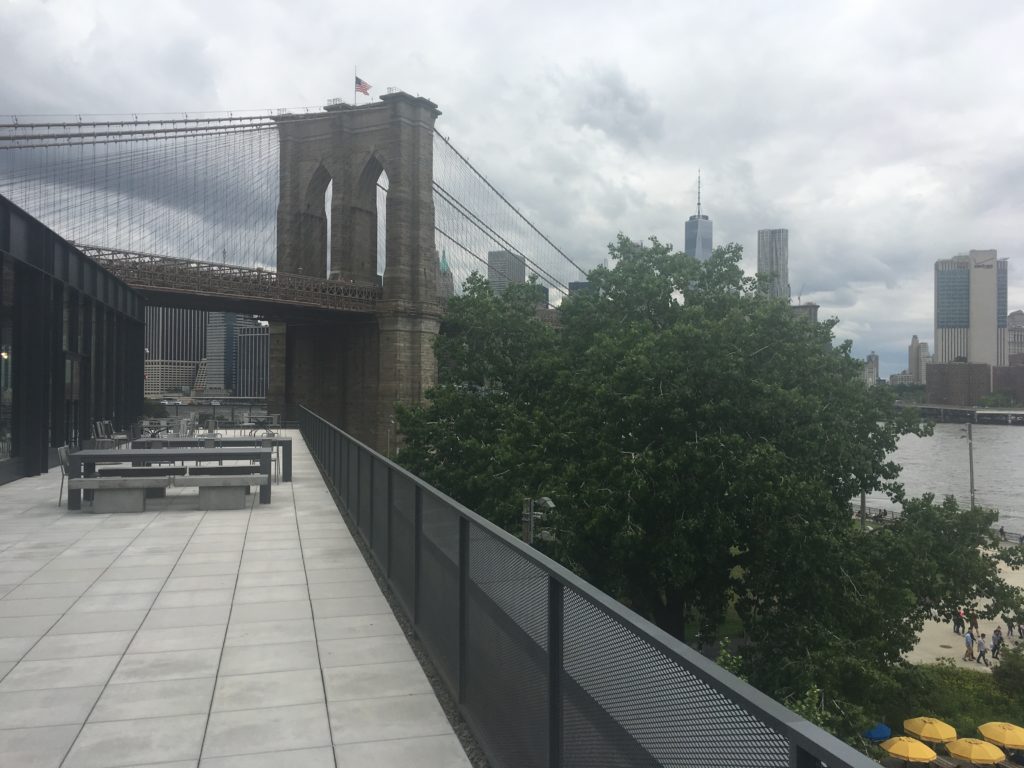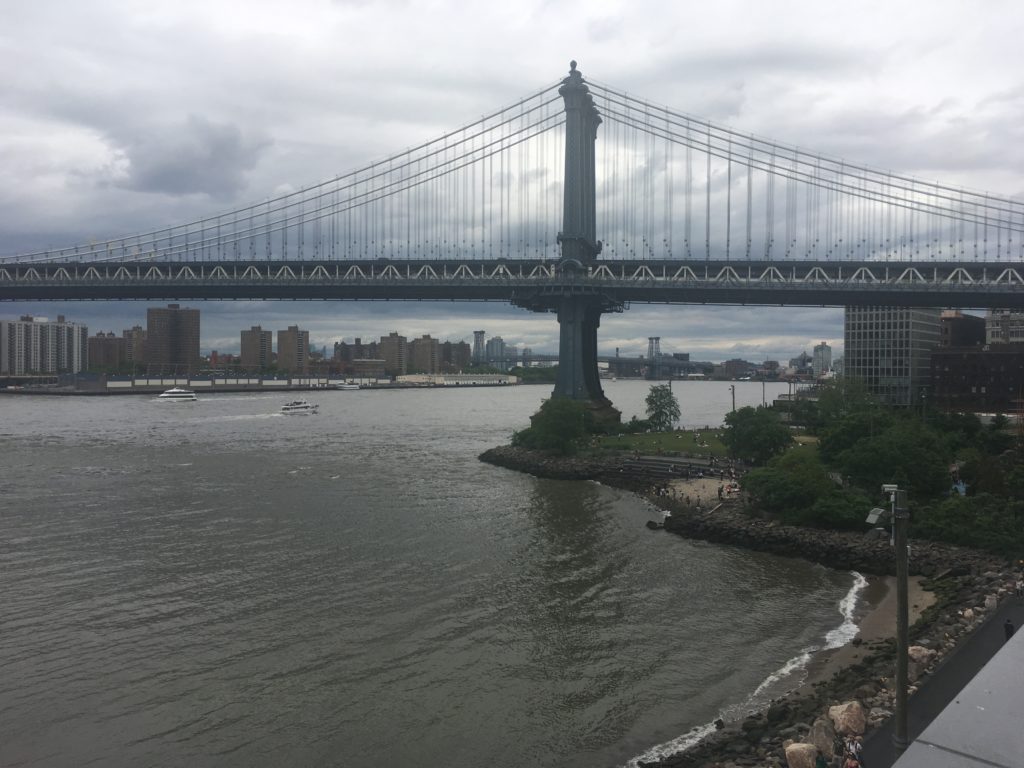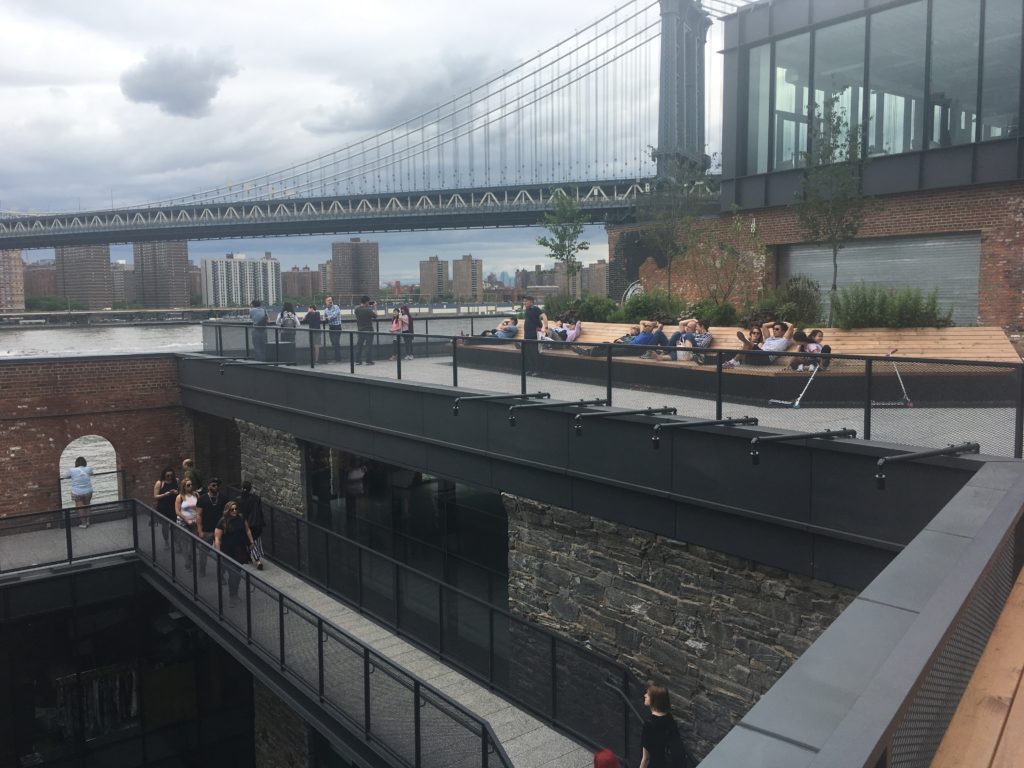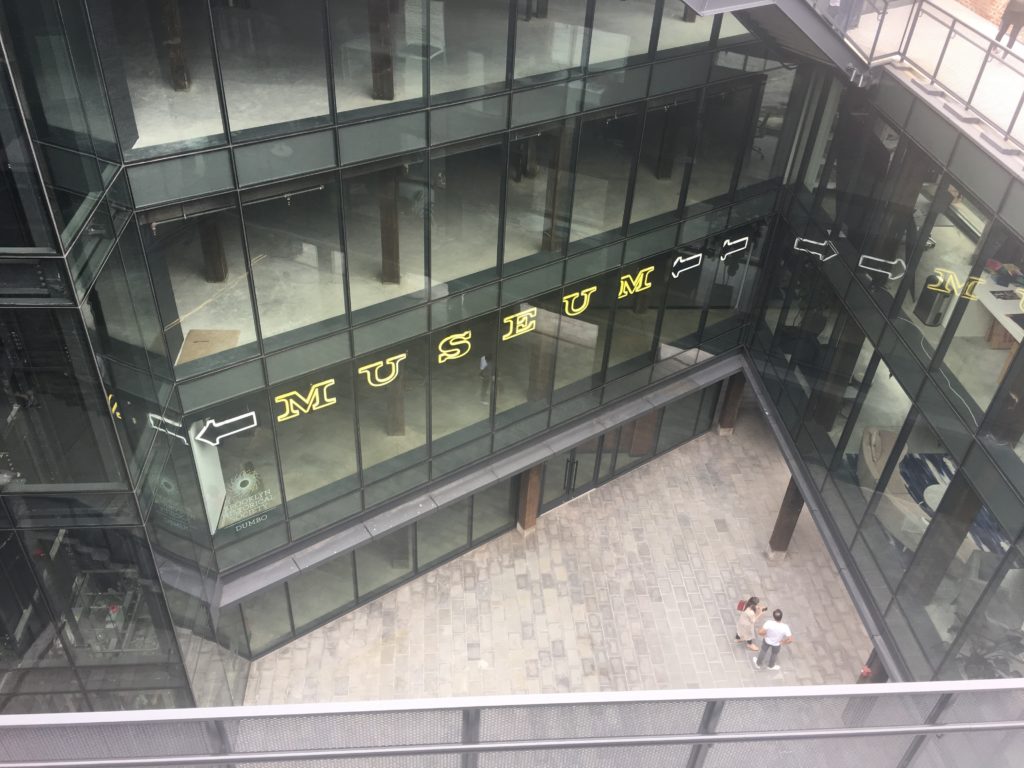 EXHIBITS
Waterfront at the Brooklyn Historical Society's DUMBO gallery
Featuring many aspects of life along the Brooklyn waterfront. Plus an excellent short film At Water's Edge surveying 20,000 years of Brooklyn history.
FURTHER LISTENING
We mentioned these past Bowery Boys podcast on the show. After you've finished listening to our DUMBO: Life on the Brooklyn Waterfront show, give these a try!