PODCAST The evolution of affordable dining — from oyster houses to lunch counters.
The classic diner is as American as the apple pie it serves, but the New York diner is a special experience all its own, an essential facet of everyday life in the big city. They range in all shapes and sizes — from the epic, stand-alone Empire Diner to tiny luncheonettes and lunch counters, serving up fried eggs and corned beef.
In this episode, the Bowery Boys trace the history of the New York diner experience, a history of having lunch in an ever-changing metropolis.
There were no New York restaurants per se before Delmonico's in 1827, although workers on-the-go frequented oyster saloons and bought from street vendors and markets. Cellar establishments like Buttercake Dicks served rudimentary sustenance, and men often ate food provided by bars.
But once women entered the public sphere — as workers and shoppers — eating houses had to evolve to accommodate them. And thus was born the luncheonette, mini-lunch spaces in drug stores and candy shops. Soon prefabricated structures known as diners — many made in New Jersey — moved into vacant lots, streamlining the cheap eating experience.
Cafeterias appealed to New Yorkers looking for cleanliness, and those looking for an inexpensive, solitary meal turned to one unusual restaurant — the automat. Horn & Hardarts' innovative eateries — requiring a handful of nickels — were regular features on the New York City streetscape.
How did all these different types of eating experiences culminate in the modern New York diner-counter experience? For that, you can thank the Greeks.
Listen Now: Diner History Podcast
_________________________________________________________
The Bowery Boys: New York City History podcast is brought to you …. by you!
We are now producing a new Bowery Boys podcast every other week. We're also looking to improve the show in other ways and expand in other ways as well — through publishing, social media, live events and other forms of media. But we can only do this with your help!
We are now a member of Patreon, a patronage platform where you can support your favorite content creators for as little as a $1 a month.
Please visit our page on Patreon and watch a short video of us recording the show and talking about our expansion plans. If you'd like to help out, there are five different pledge levels (and with clever names too — Mannahatta, New Amsterdam, Five Points, Gilded Age, Jazz Age and Empire State). Check them out and consider being a sponsor.
We greatly appreciate our listeners and readers and thank you for joining us on this journey so far.
________________________________________________________
Like oysters? They were the easiest way to grab a quick bite on the go in the 19th century. You could find oyster sellers at markets (pictured here: the scene at a mid-19th century oyster stand at Fulton Market) or…..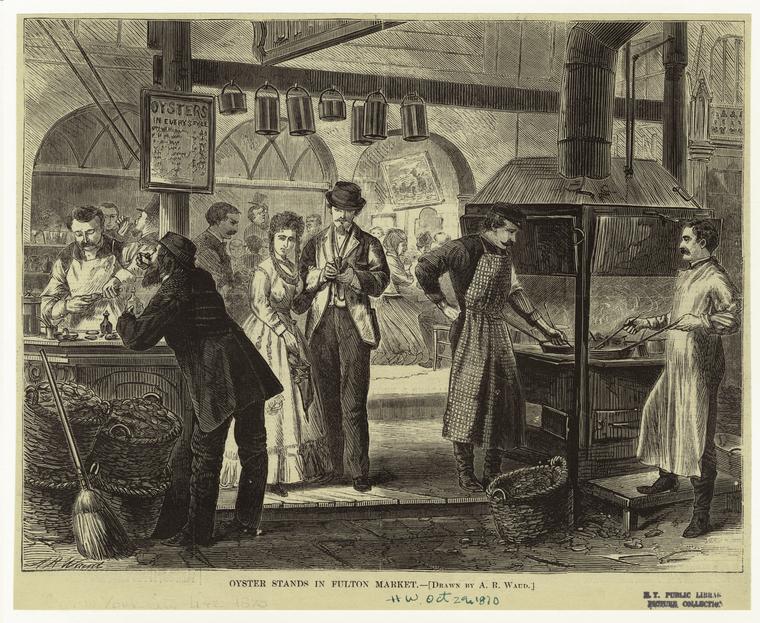 …head over to the many oyster saloons or houses along the waterfront. Believe it or not, many oyster places remained opened well into the 20th century. The ones pictured here were photographed by Berenice Abbott in 1937!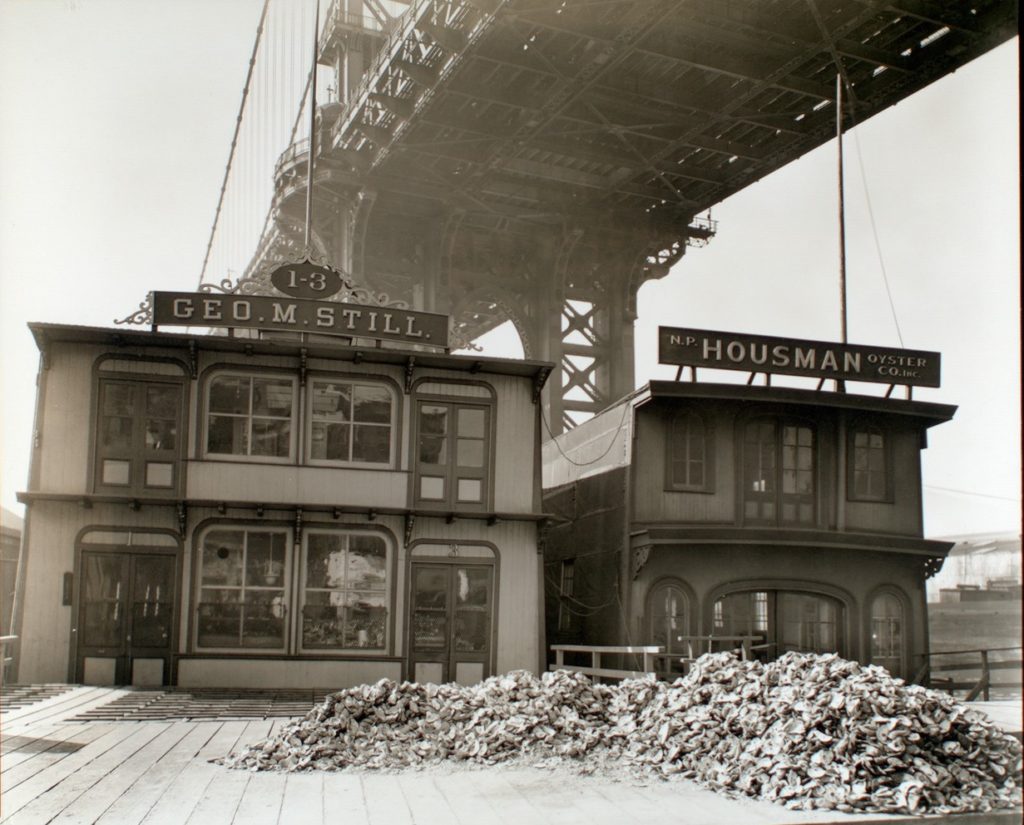 This scene at T.E. Fitzgerald's Bar, taken in 1912, reflects the typical bar and saloon scene of the 19th century. A food bar is at the left, liquor on the right. Below that, a picture from a bar in Jersey City, New Jersey, with a scenario that was probably more standard — help-yourself food heaped on a bar in the corner.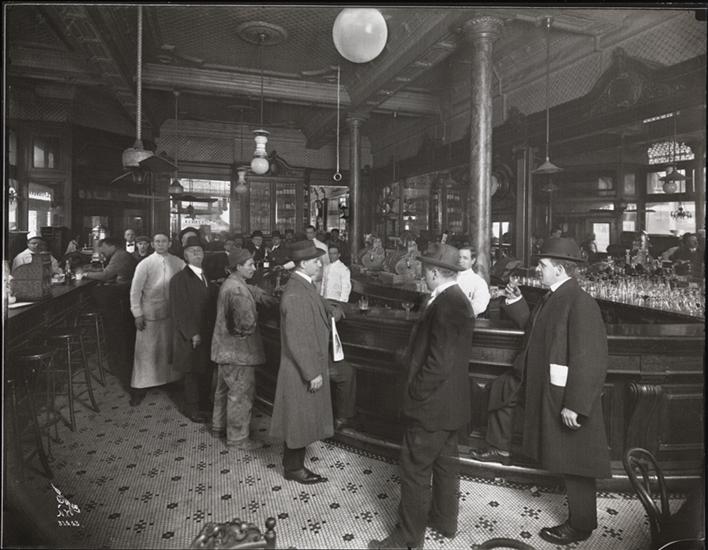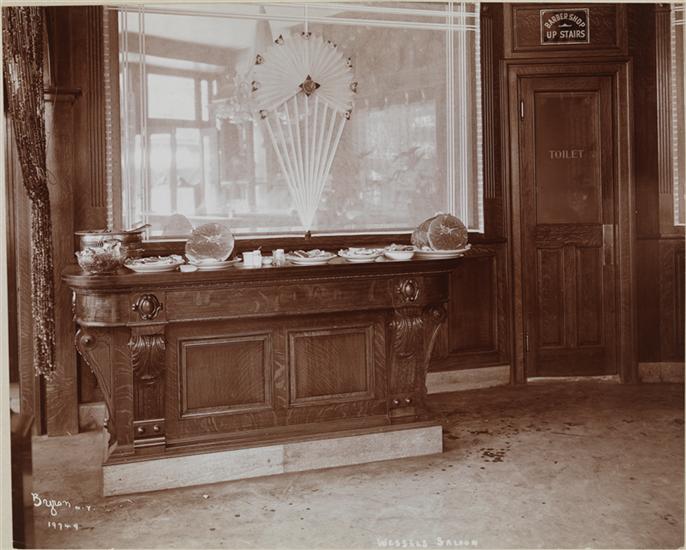 A luncheon menu at Siegel-Cooper Department Store on Ladies Mile, 1901.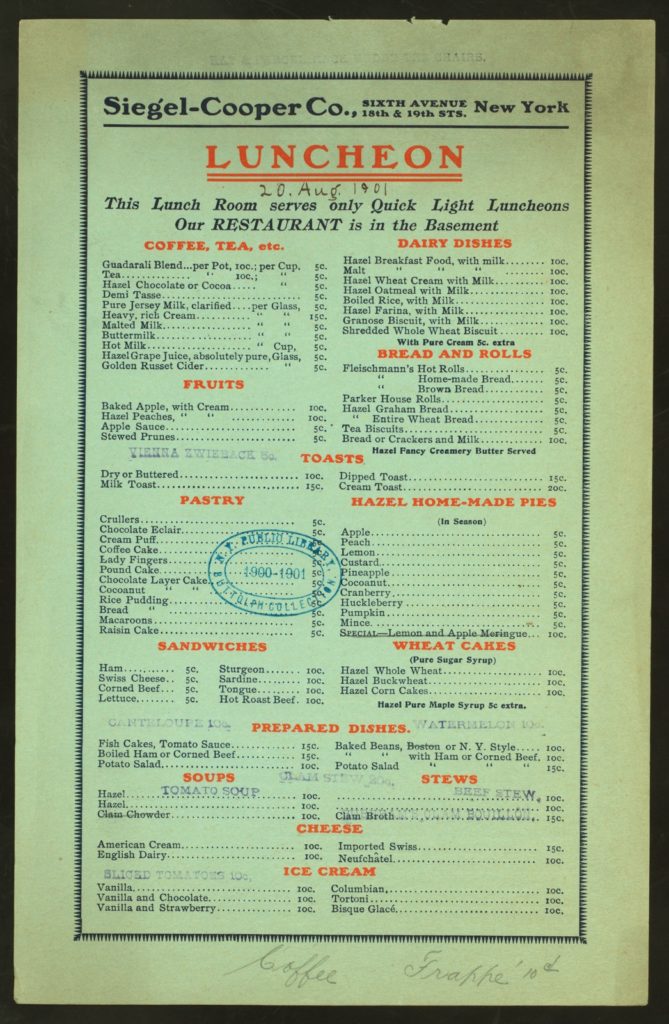 The Arcadia Luncheonette Soda Fountain at 45th Street and Vanderbilt Avenue, 1930.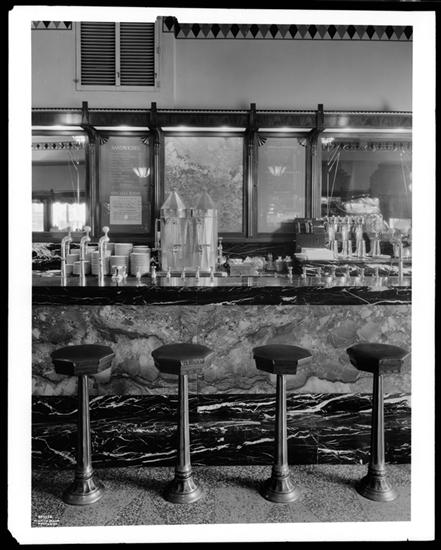 Customers crammed in at a restaurant counter, 1920s.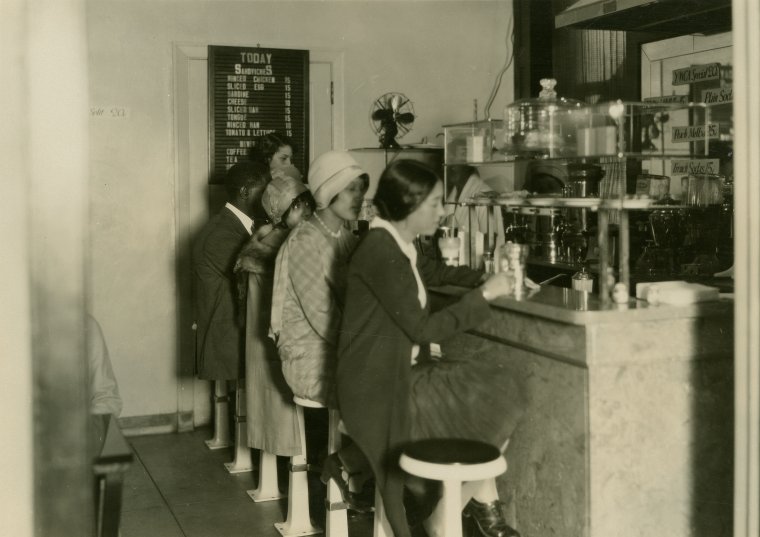 Rela's Open Kitchen Luncheonette & Coffee Shop at 252-254 West 17th Street, 1932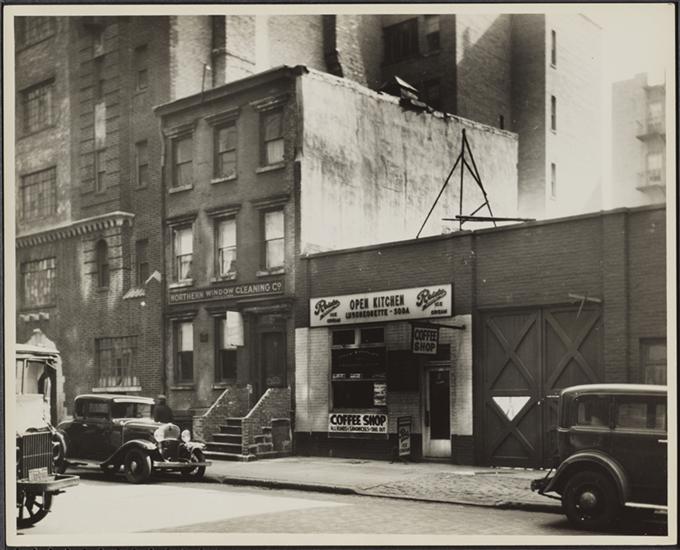 Lamston 5 & 10 Cent Store, lunch counter, 45th Street and Lexington Avenue, 1940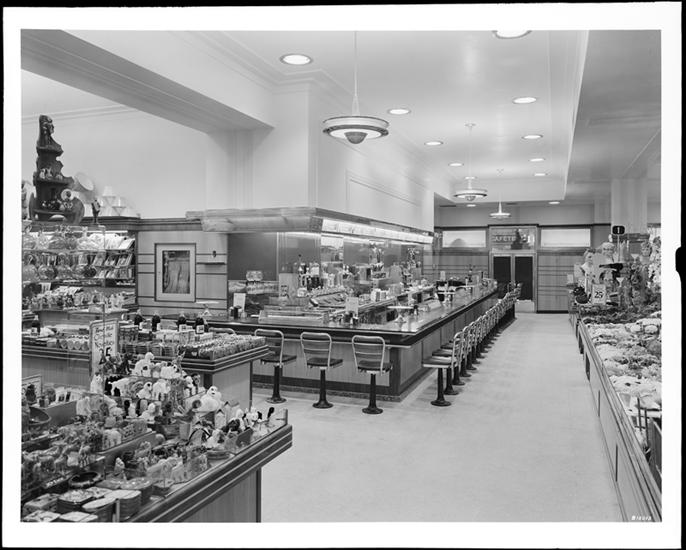 One hundred years ago, an aspiring New York entrepreneur could have a O'Mahony dining car (or diner) shipped to your lot. And voila! Your new restaurant was ready to serve hungry customers.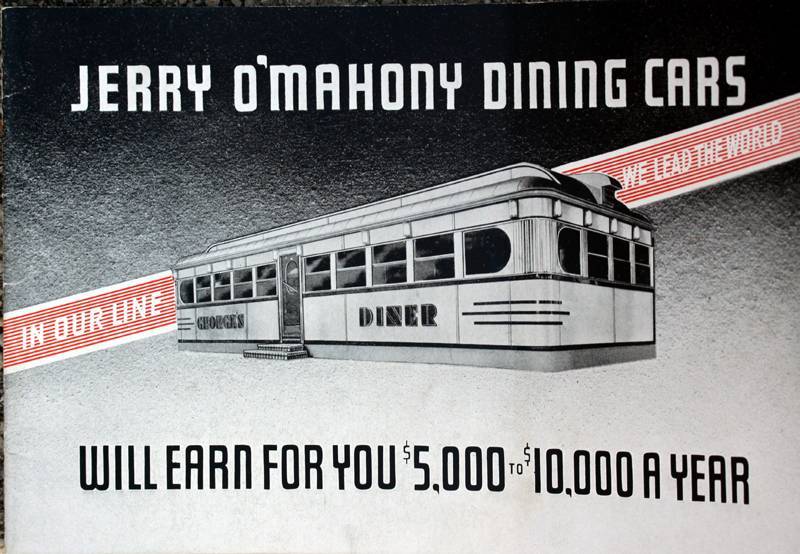 Ladies at a lunch counter, 1948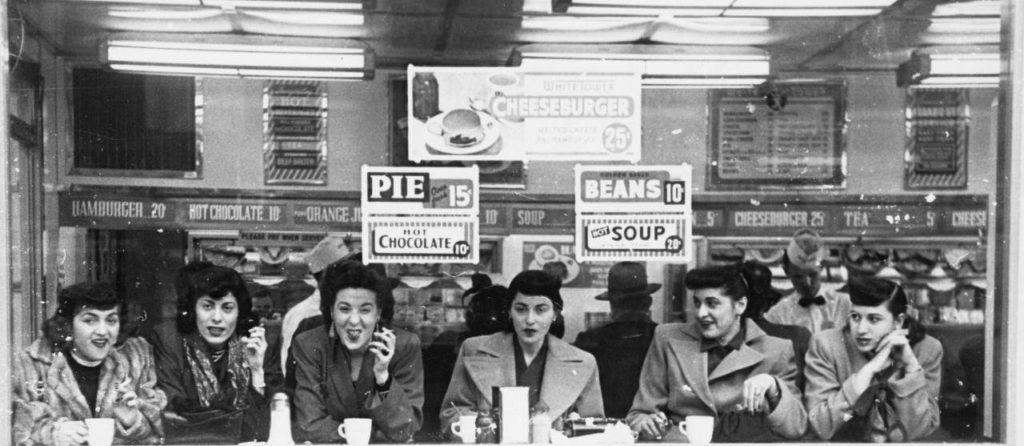 Images of automat goodness from the New York Public Library: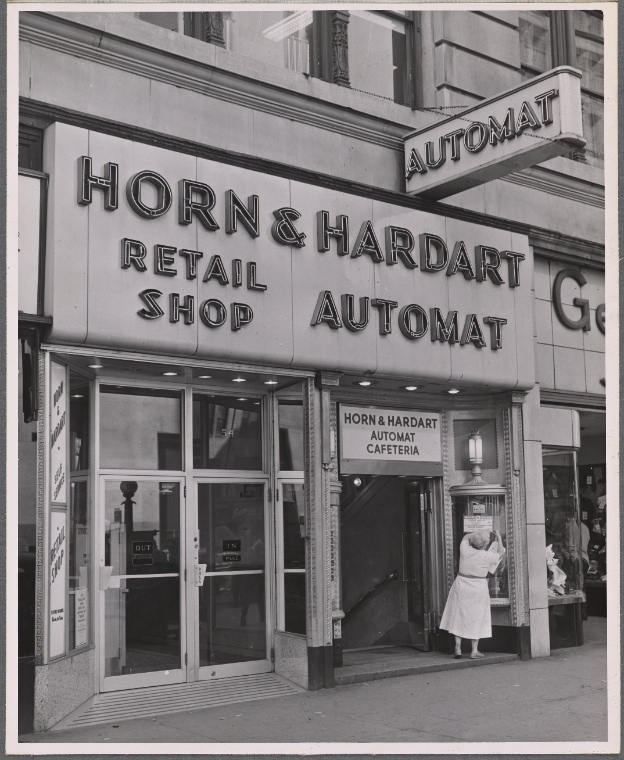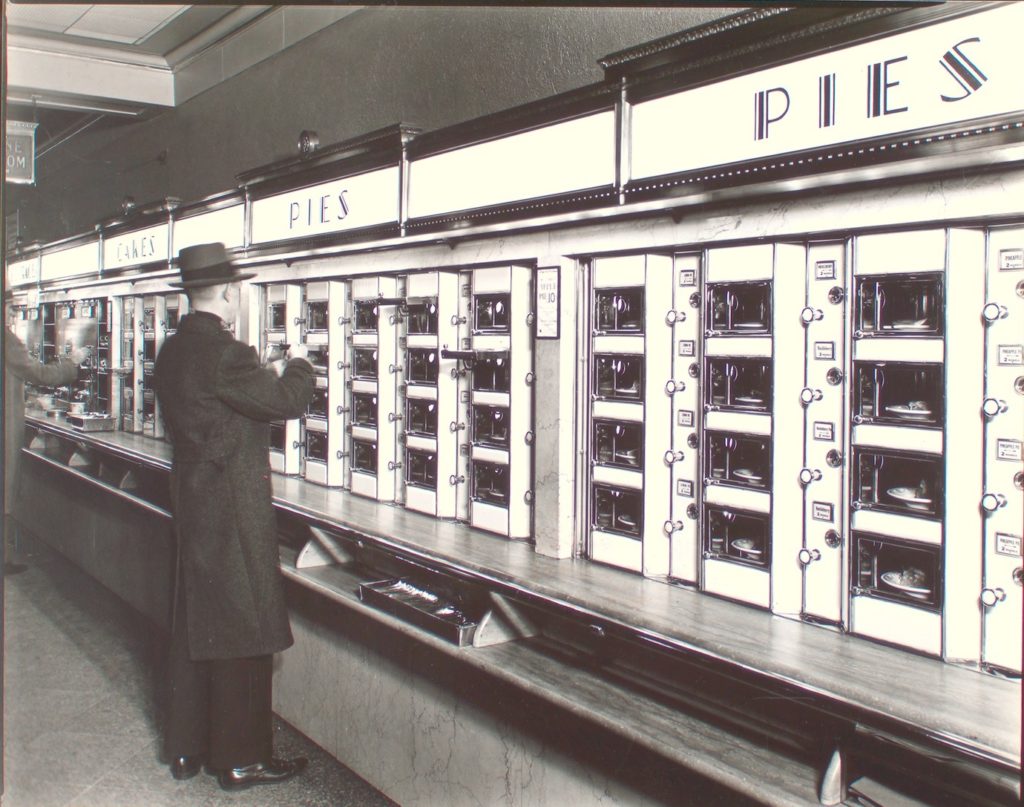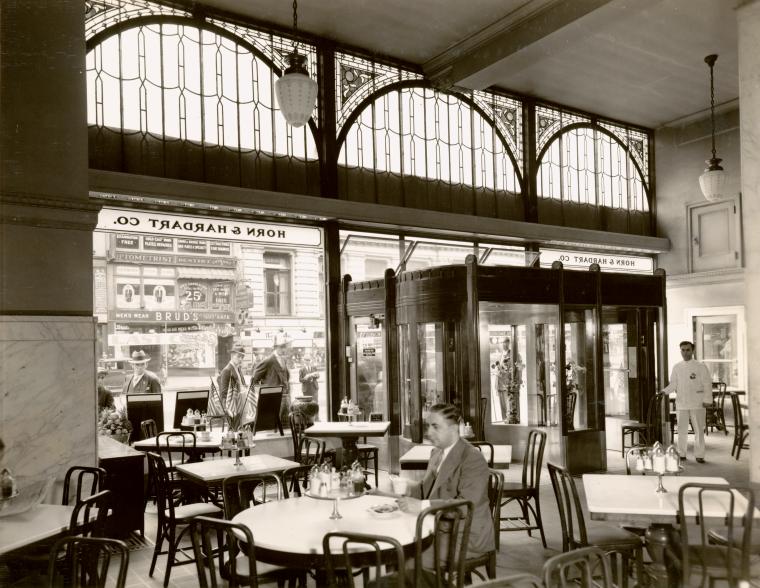 A transfixing little film about dining in an automat.
1960: Religious leaders protest outside a New York Woolworth location in solidarity with protesters in the South.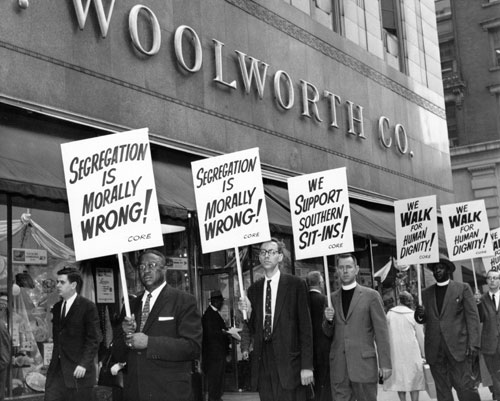 Howard Johnson's Restaurants were another ubiquitous sight on the streets of New York during the 1970s.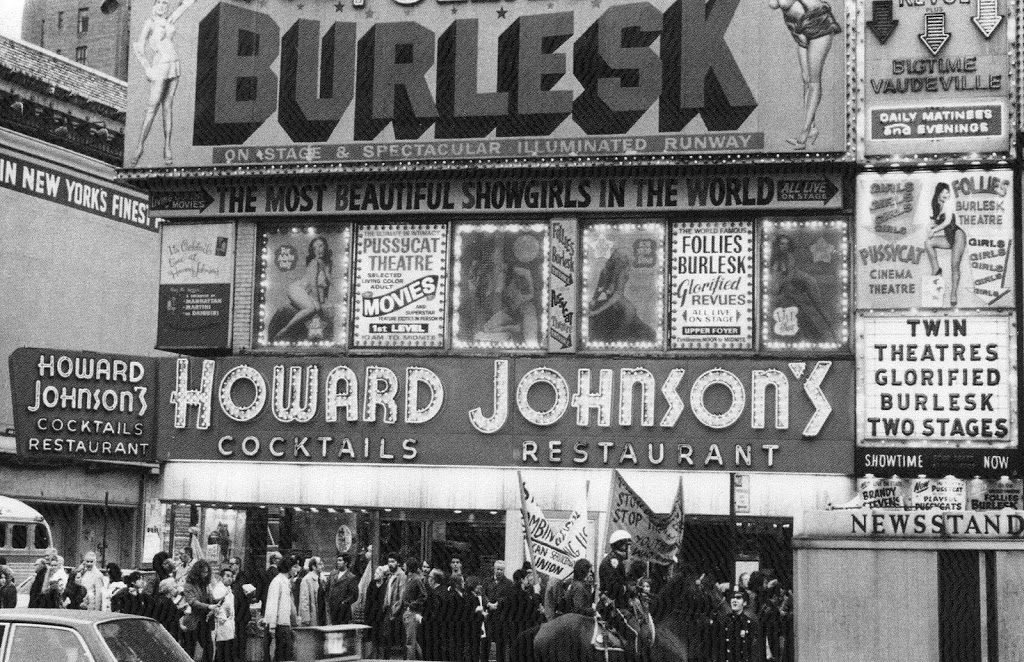 Many stand-alone diners have closed in New York City, but there are plenty still in New Jersey and on Long Island. These New York classics are still open for business: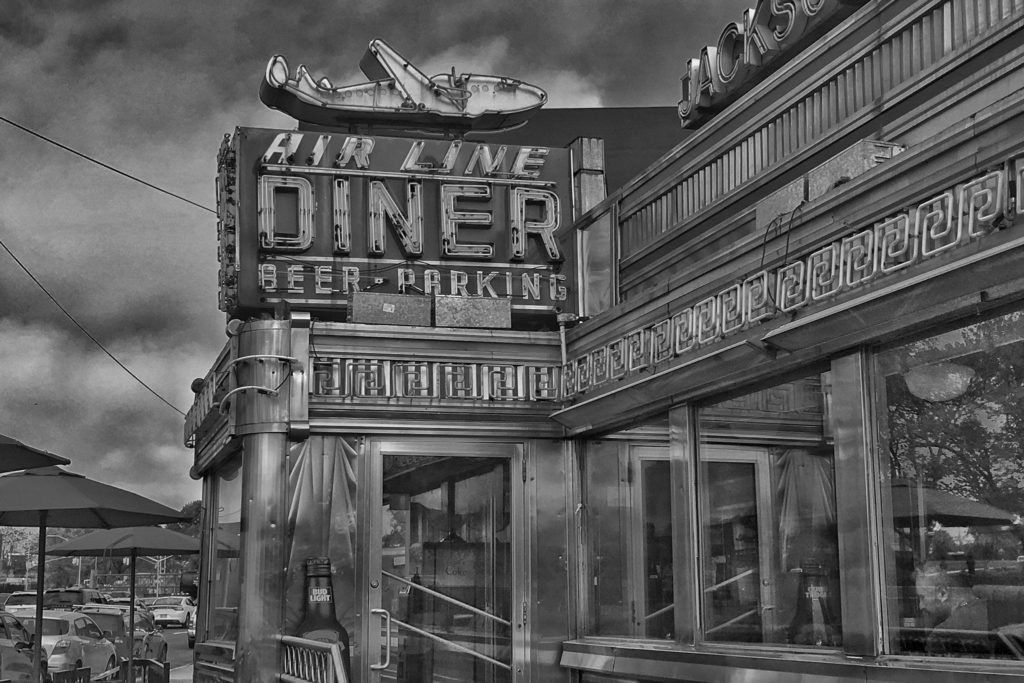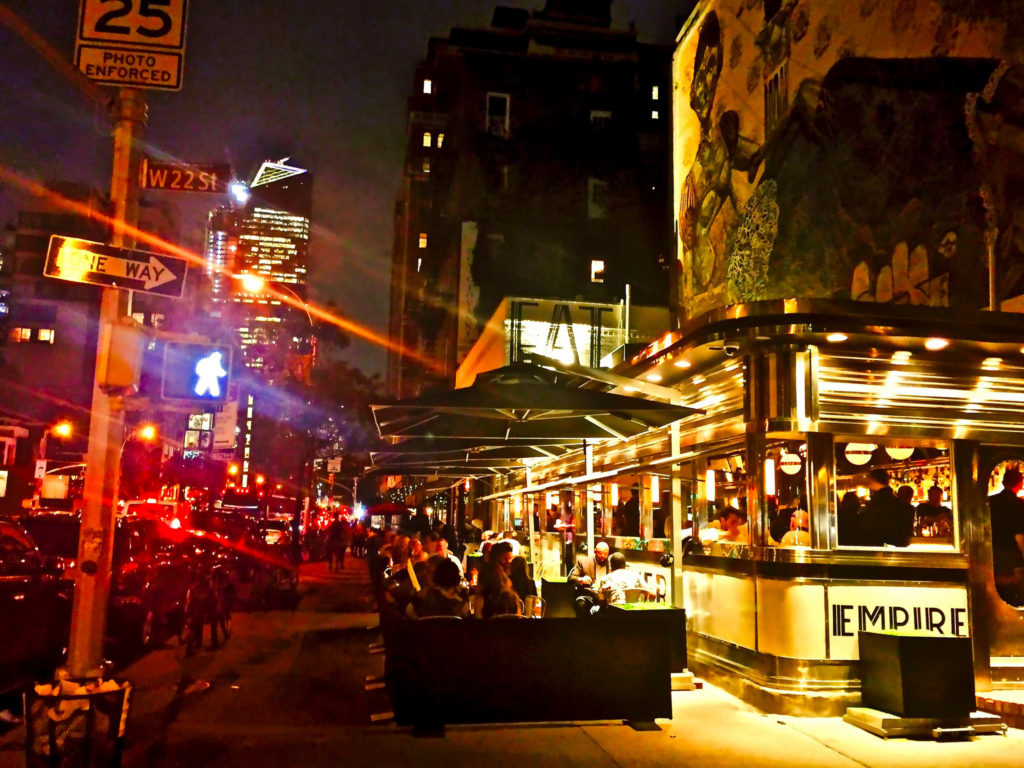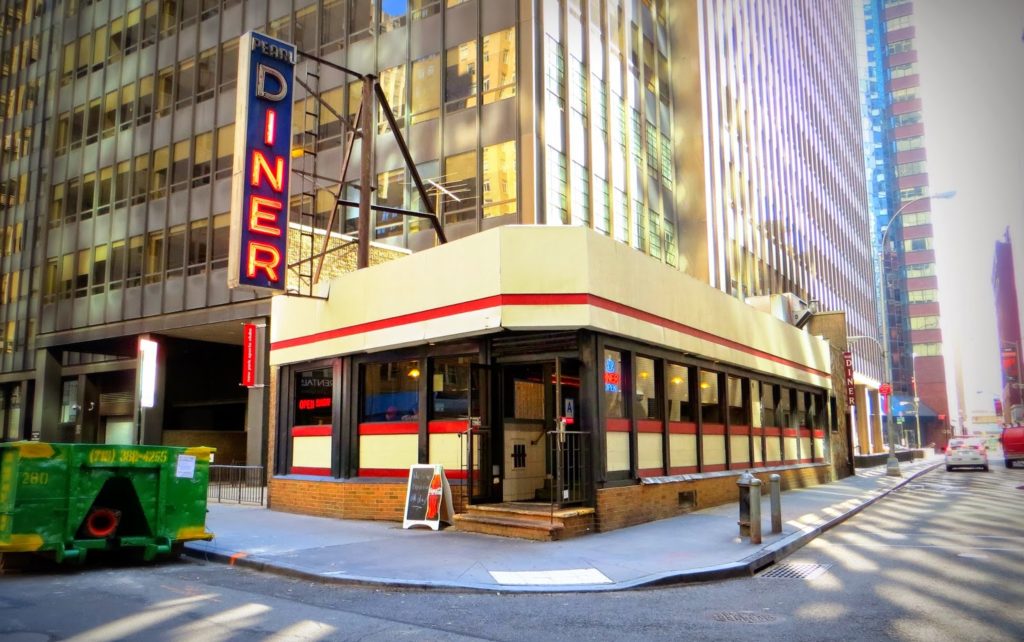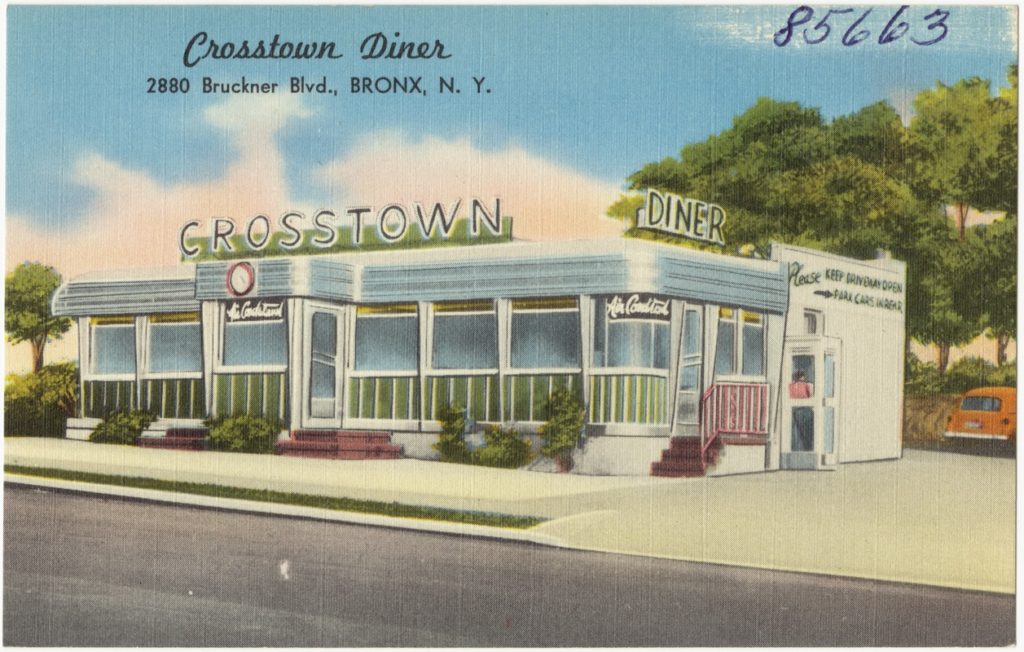 Who knows who'll meet in a New York City diner?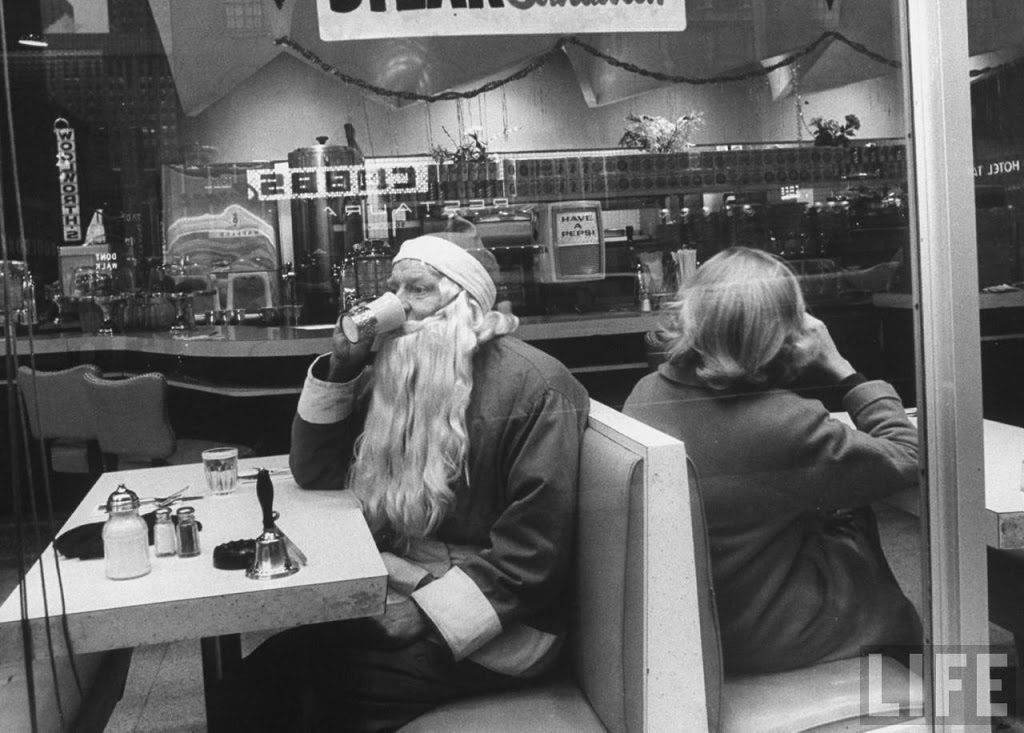 FURTHER EXPLORING
Please visit the New York Public Library's wonderful resource called What's On The Menu?, a searchable database of thousands of old menus. As of this date, they have 1,333,481 dishes transcribed from 17,545 menus!
FURTHER LISTENING
Listen to the podcasts
Looking for the latest episode of our podcasts? Listen now on iTunes to "The Bowery Boys" and "The First".
Find recent podcast episodes here, and click to read more about listening options here.
Read the book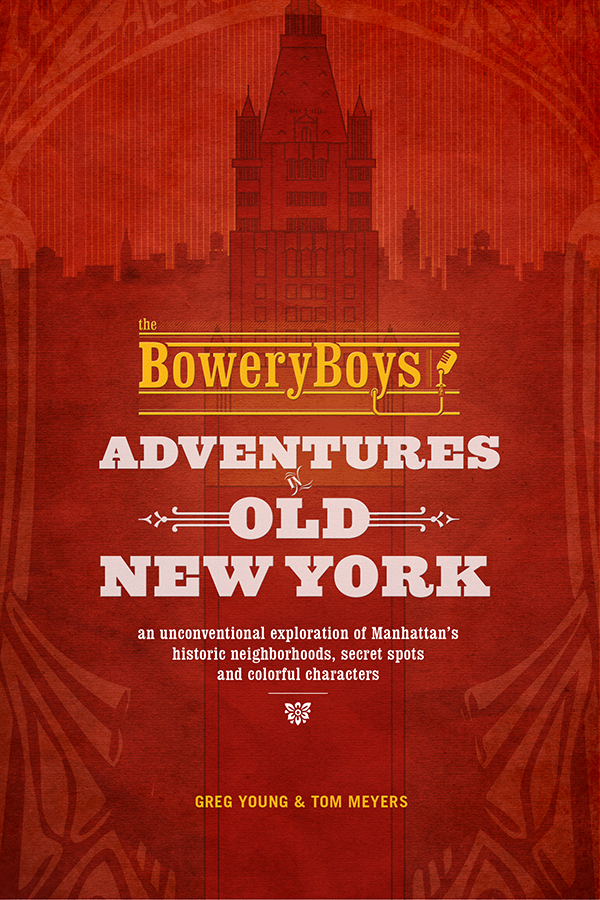 Our first-ever Bowery Boys book, "Adventures in Old New York" is now out in bookstores! A time-traveling journey into a past that lives simultaneously besides the modern city.
Bowery Boys Walking Tours
Are you ready to walk through time? We're excited to announce Bowery Boys Walks, our new walking tours developed around our podcast. Join us in the streets — beginning in October 2018!