PODCAST Back when old New York was once New Amsterdam.
We are turning back the clock to the very beginning of New York City history with this special two-part episode, looking at the very beginnings of European settlement in the area and the first significant Dutch presence on the island known as Manhattan.
The Dutch were drawn to the New World not because of its beauty, but because of its beavers. Beaver pelts were all the rage in European fashion, and European explorers like Henry Hudson reported back that this unexplored land was filled with the animals and their beautiful coats.
Of course, people were already living here — the tribes of the Lenape — and the first settlers sent by the Dutch — French-speaking Walloons — encountered them in the mid 1620s. But relations were relatively good between the two parties at the beginning. Could the native Munsee-speaking people and the first Dutch settlers get along?
In this episode, we walk you through the first two decades of life in the settlement of New Amsterdam, confined to the southern tip of Manhattan. What was the island like back then? How did people live and work in a region so entirely unknown to its European inhabitants?
Listen Now: New Amsterdam History Podcast
To download this episode and subscribe to our show for free, visit iTunes or other podcasting services or get it straight from our satellite site.
You can also listen to the show on Overcast, Google Music and Stitcher streaming radio.
Or listen to it straight from here:
___________________________________________________________________________
The Bowery Boys: New York City History podcast is brought to you …. by you!
We are now producing a new Bowery Boys podcast every other week. We're also looking to improve the show in other ways and expand in other ways as well — through publishing, social media, live events and other forms of media. But we can only do this with your help!
We are now a member of Patreon, a patronage platform where you can support your favorite content creators for as little as a $1 a month.
Please visit our page on Patreon and watch a short video of us recording the show and talking about our expansion plans. If you'd like to help out, there are five different pledge levels (and with clever names too — Mannahatta, New Amsterdam, Five Points, Gilded Age, Jazz Age and Empire State). Check them out and consider being a sponsor.
And join us for the first ever Bowery Boys Movie Club, an exclusive podcast provided to our supporters on Patreon.
We greatly appreciate our listeners and readers and thank you for joining us on this journey so far.
________________________________________________________________________
The official seal of New York City contains many clues to the city's history. It also features not one, but two, beavers.
The original coat of arms for New Amsterdam and New Netherland.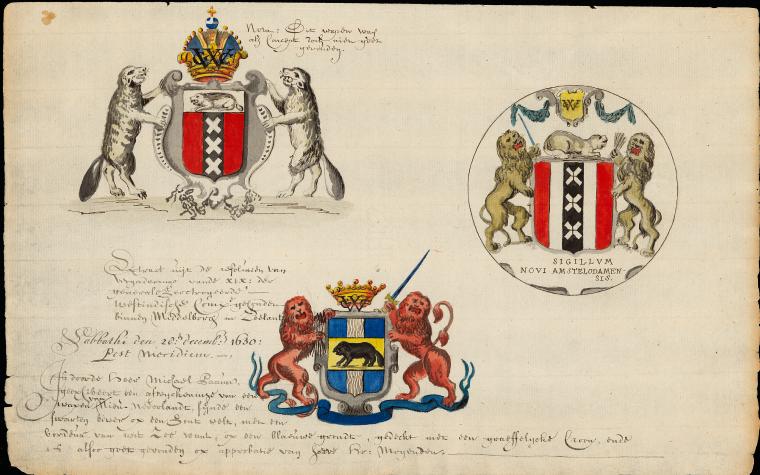 Henry Hudson on a vintage cigarette card.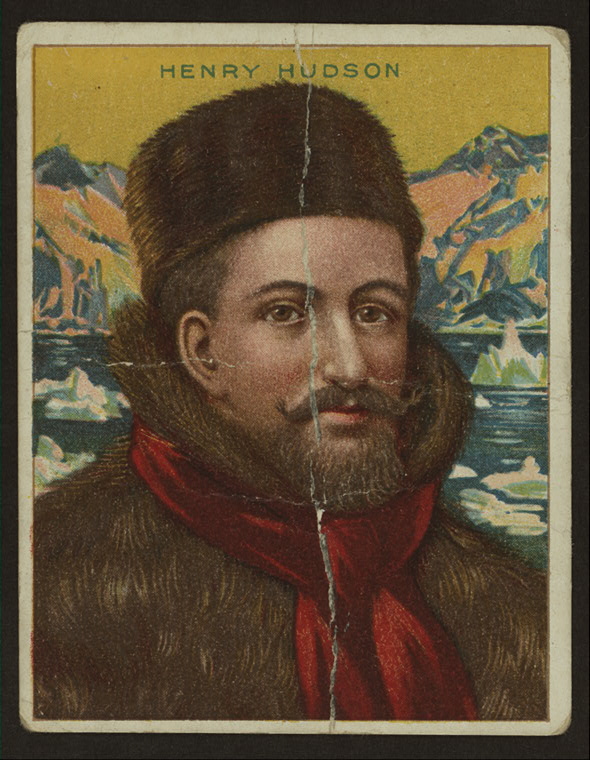 A 1614 map drawn by explorer Adriaen Block, labeling the entire place New Nederlandt!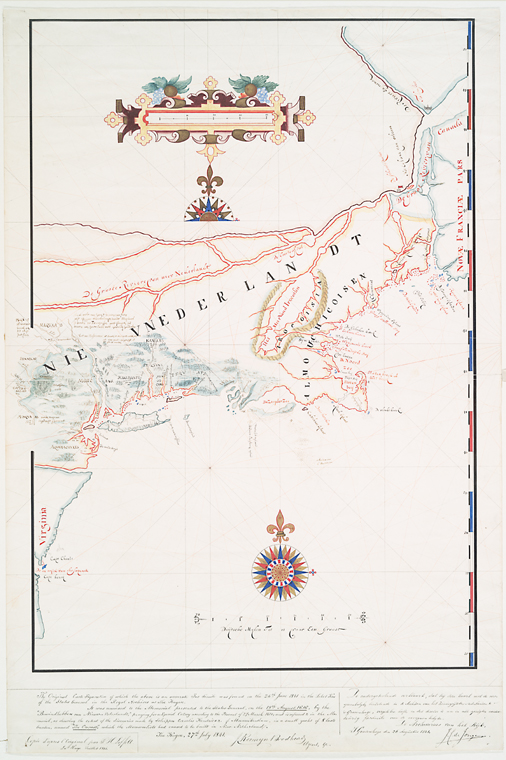 A look at New Amsterdam in it might have looked in 1640. Note the windmill in the background and gallows on Capske Hook!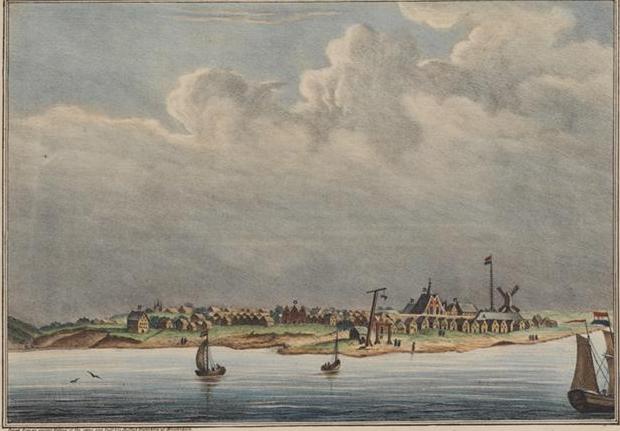 An illustration from the 1921 book A History of the United States by Henry Eldridge Bourne. A Dutch blacksmith shop and a farm scene, Manhattan Island, where a brookside path with the name of Maiden Lane followed a valley to the East River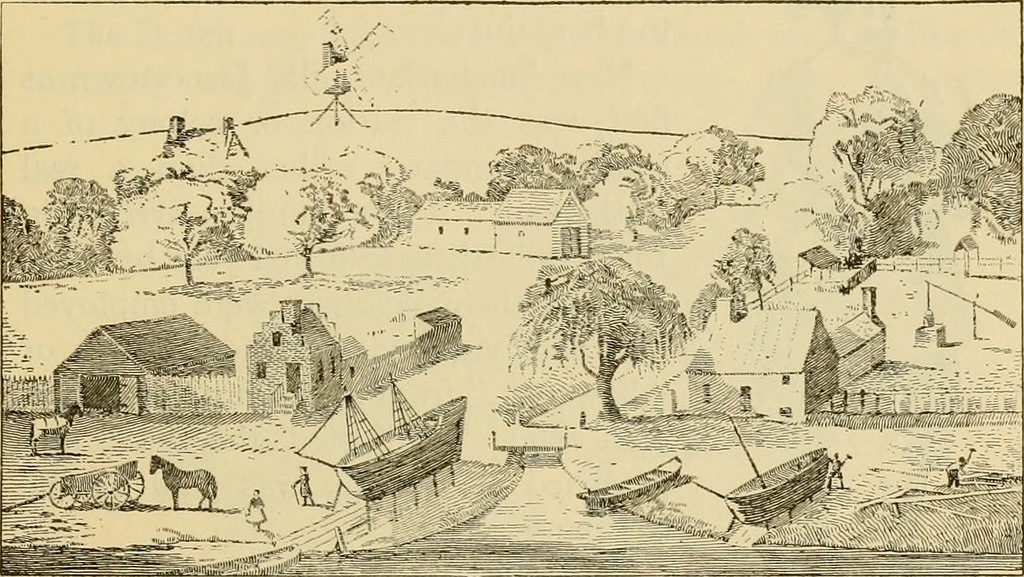 From the same book — a look at Fort Amsterdam and Capske Hook.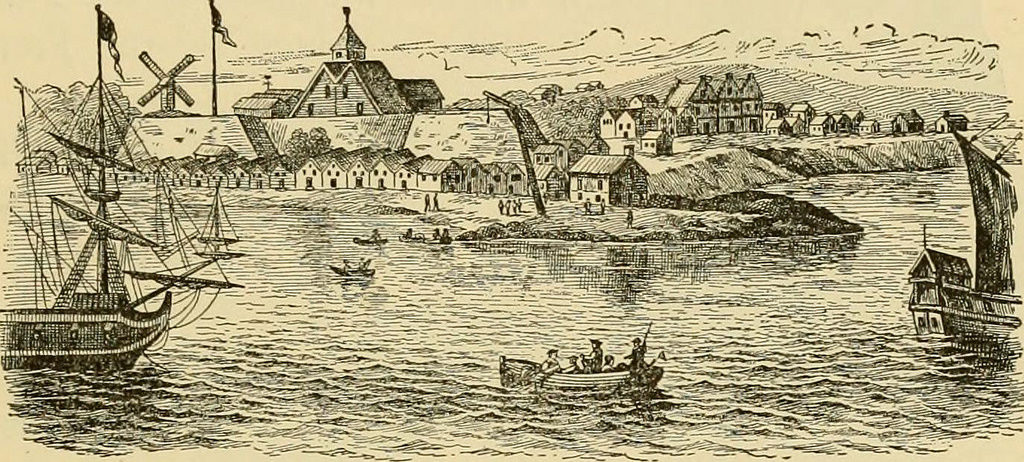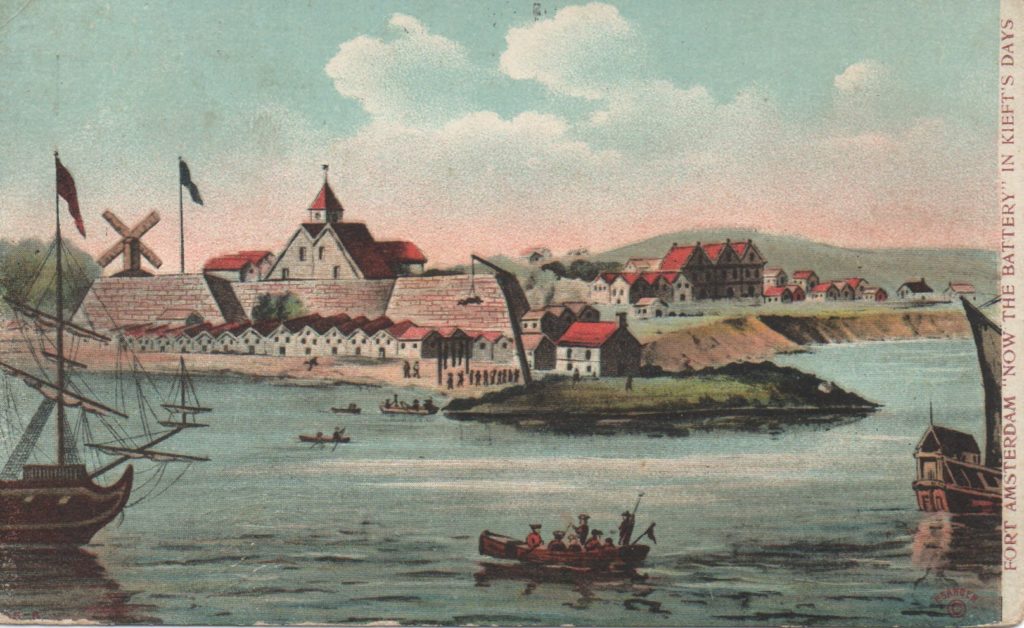 An illustration of New Amsterdam clearly depicts its placement in the larger scheme of the New Netherland territory (and, as the years went by, its increasing prominence as both a tobacco producer and a component of the Dutch transatlantic slave trade).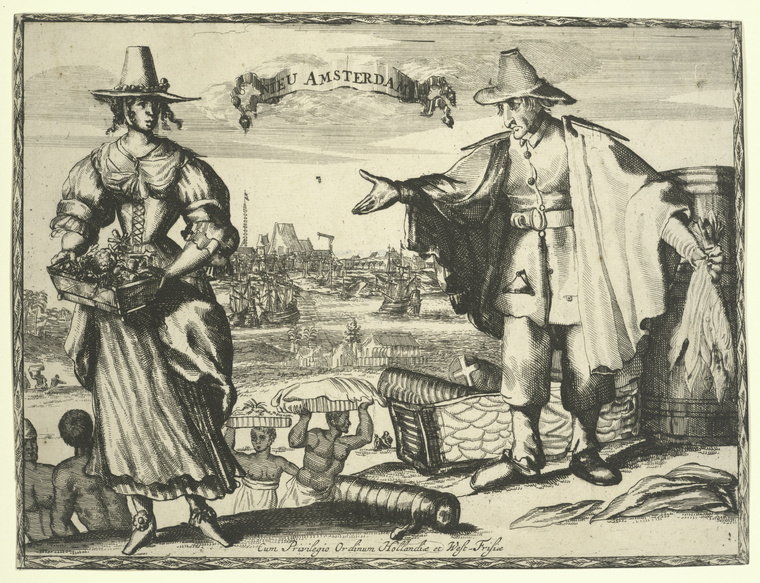 A look at New Amsterdam in the year 1642, dominated by the fort to the south and a sheep's pasture and various farms to the north.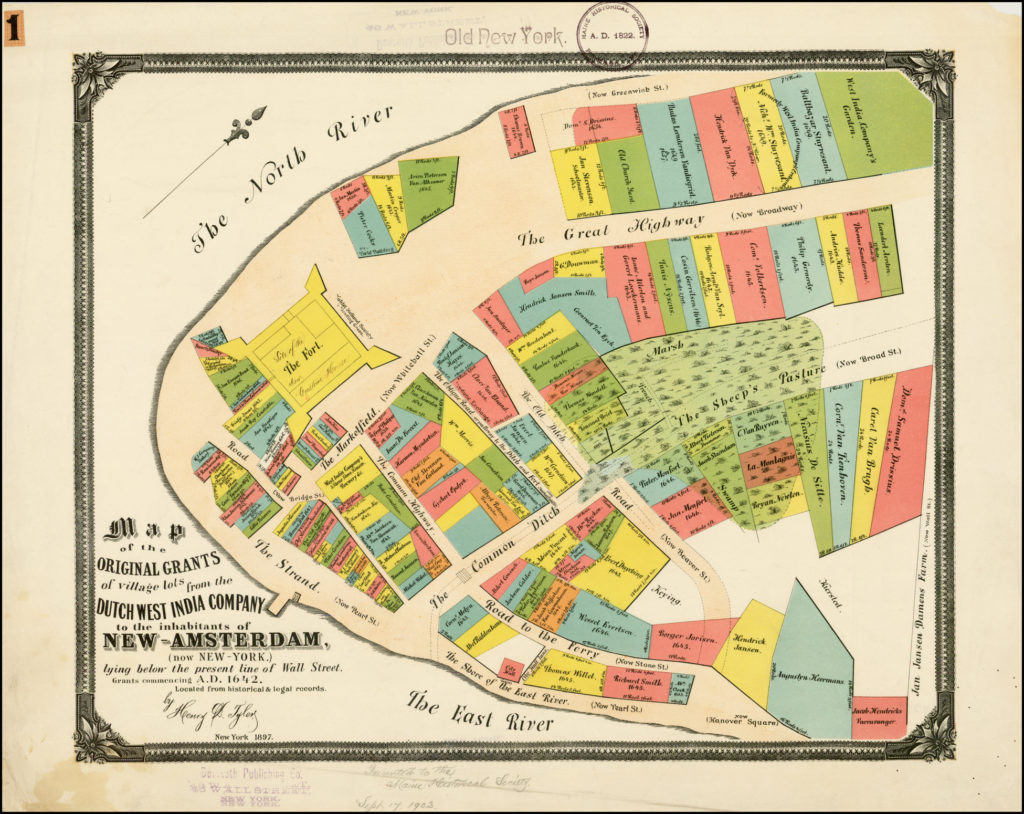 Plan of New Amsterdam About 1644, map dated 1902, compiled from the Dutch and English records by J. H. Innes.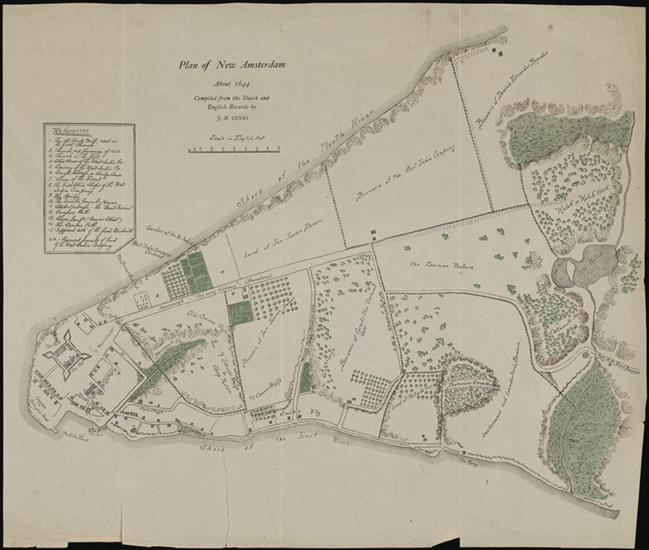 The Pieter Schaghen letter outlining the purchase of the island of Manhattan. This letter is located at the New Netherland Research Center.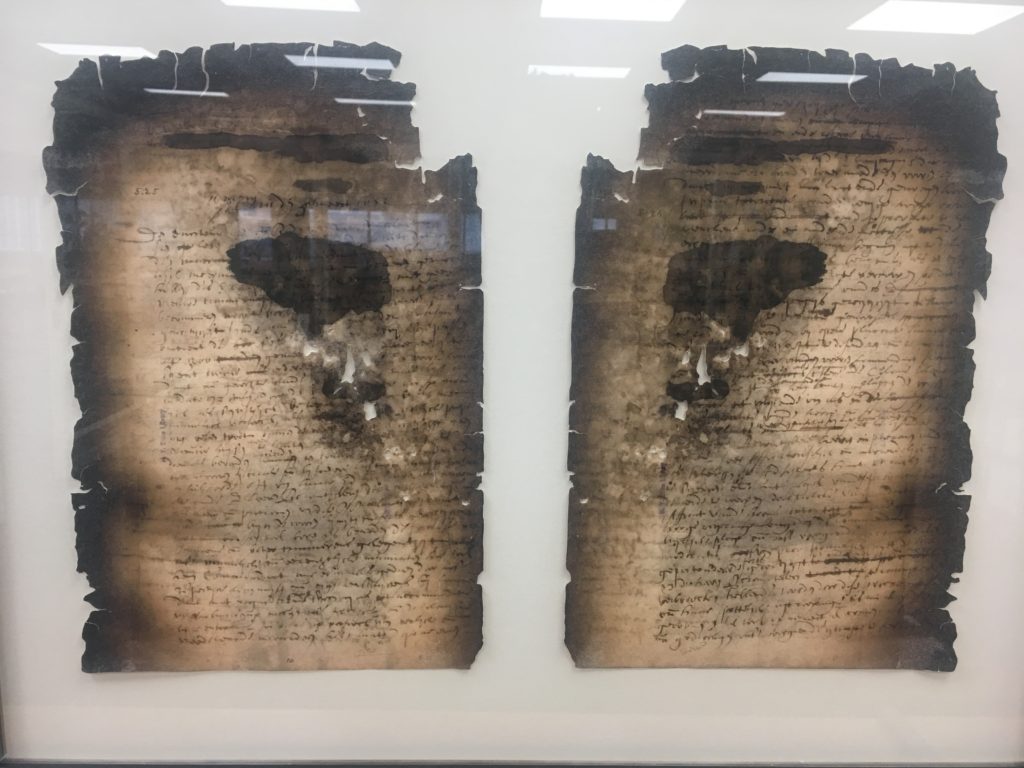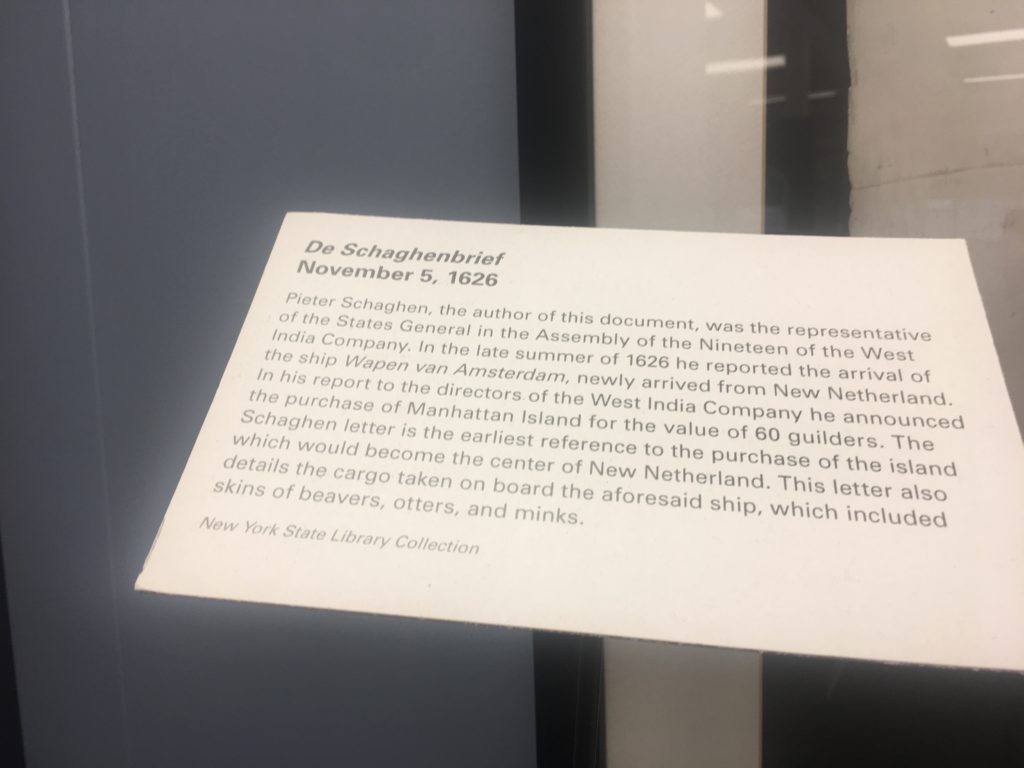 FURTHER LISTENING
Listen to the podcasts
Looking for the latest episode of our podcasts? Listen now on iTunes to "The Bowery Boys" and "The First".
Find recent podcast episodes here, and click to read more about listening options here.
Read the book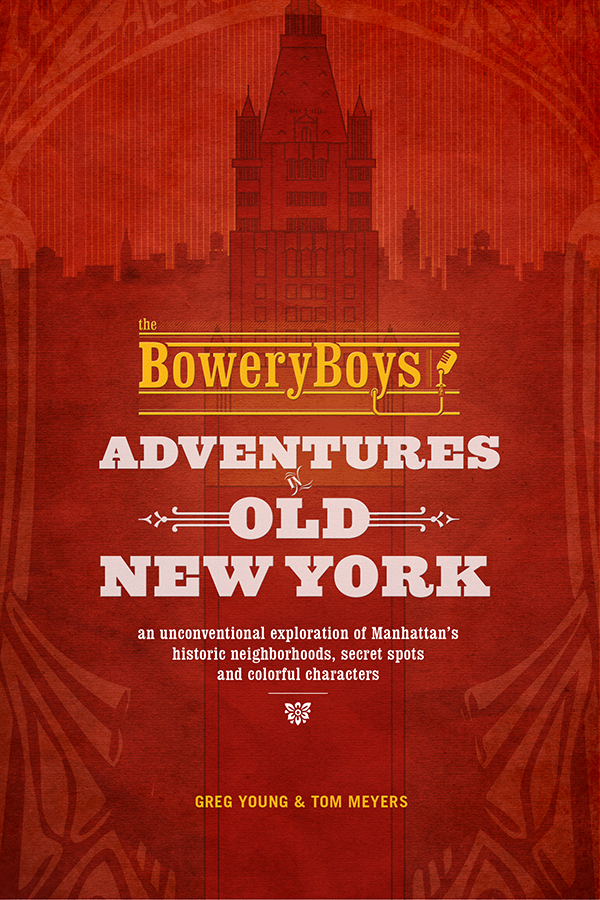 Our first-ever Bowery Boys book, "Adventures in Old New York" is now out in bookstores! A time-traveling journey into a past that lives simultaneously besides the modern city.
Bowery Boys Walking Tours
Are you ready to walk through time? We're excited to announce Bowery Boys Walks, our new walking tours developed around our podcast. Join us in the streets — beginning in October 2018!