The Ziegfeld Theater, one of Manhattan's last single-screen movie theaters, closed for regular film exhibition in 2016.* Its final film was Star Wars: The Force Awakens, an appropriate choice as tens of thousands of movie lovers had gone to the Ziegfeld to see previous films in the series — including the 1977 original.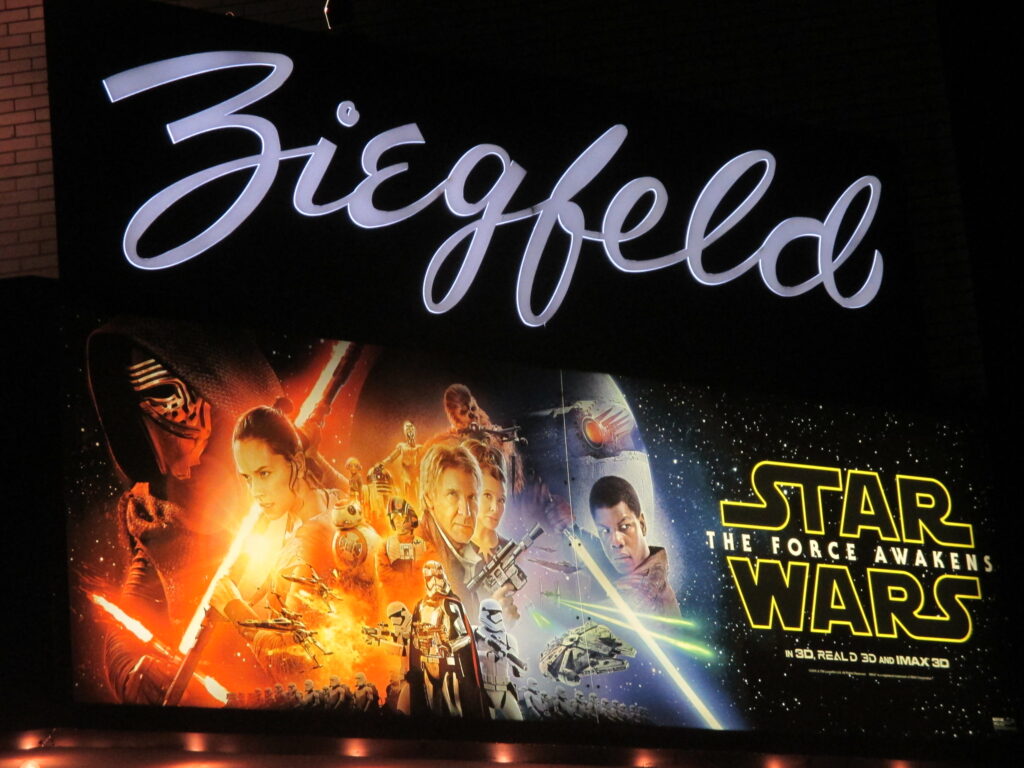 I think the real story here is how — in a landscape of multiplexes and state-of-the-art home theaters — this respected dinosaur, sitting amidst the most valuable real estate in the world, managed to stay open as long as it did, playing a single film at a time.
(The Paris Theater is the only Manhattan theater remaining with just one screen.)
Losing the Ziegfeld means that New York lost a valuable link to one of the city's greatest theatrical icons, Florenz Ziegfeld. Although, to be fair, that link was already indirect.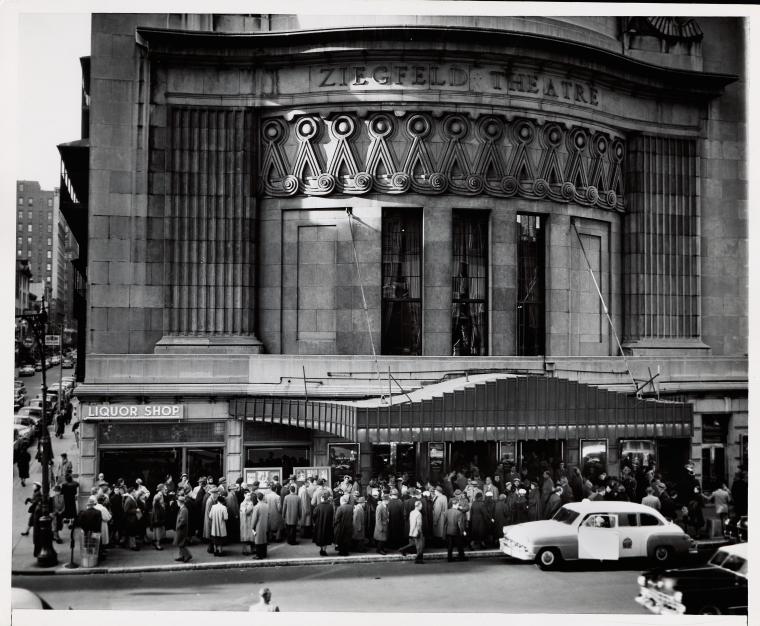 The original Ziegfeld Theater (at top), built especially for the showman by William Randolph Hearst, sat on Sixth Avenue close by the present movie theater. It was demolished in 1966, and a new Ziegfeld — devoted solely to film — was built nearby by Emory Roth & Sons. It opened in December 1969.
At 1,131 seats, the Ziegfeld movie house was hardly the biggest theater in New York. And it doesn't even have the biggest movie screen (that title belonged to the IMAX at Lincoln Center).
But the grandiosity of design, the traditional show-palace style, and the dramatic trappings of its lobby make for a movie experience of special import. Even its bathrooms were extraordinary.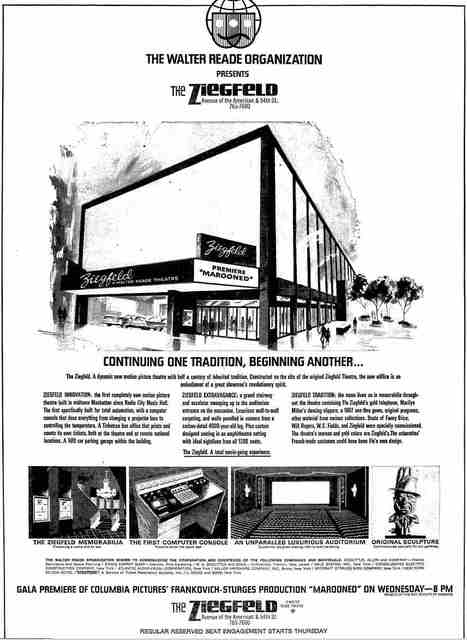 The Ziegfeld was a throwback to New York's early single-screen theaters of yore like the Roxy, the Rivoli and the Capitol. It's also much smaller than all of those. (The Capitol, for instance, sat 4,000 people!)
The Ziegfeld catered to films of a remarkable scope, and it built its reputation upon 'serious' films of pedigree.
Some of the most successful films to ever play the Ziegfeld include Gandhi (1982, playing 31 weeks), Cabaret (1972, 26 weeks), and Close Encounters of the Third Kind (1977, 23 weeks, plus an additional month in its 1980 reissue).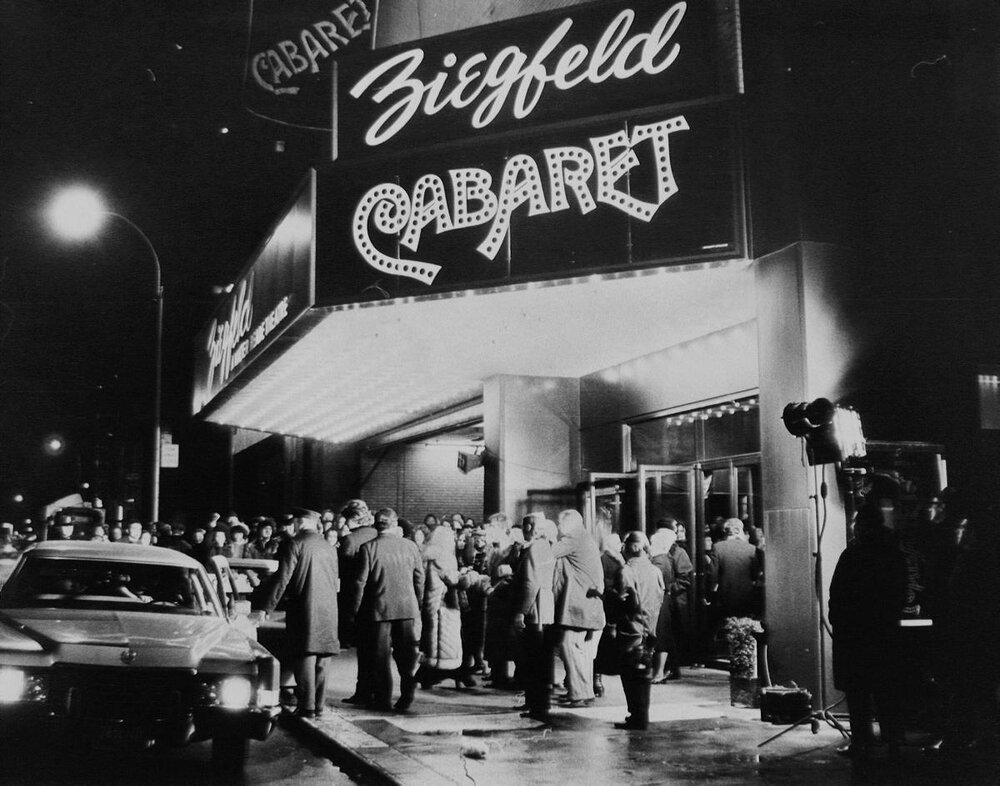 But screen longevity doesn't necessary auger quality. For instance, Raiders Of The Lost Ark played here for three weeks. Grease 2 played for five.
Less than a year after the theater's opening, on November 9, 1970, came the film that currently holds the record for the longest-running film in Ziegfeld's history — Ryan's Daughter.
Perhaps not the traditional classic you might expect to hold such a record.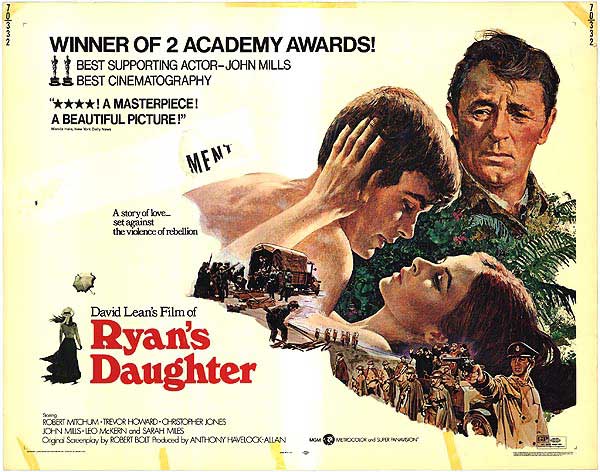 This blown-out, histrionic World War I drama by legendary filmmaker David Lean, loosely based on the book Madame Bovary, recounts an illicit love affair set along the Irish seashore, with crashing waves serenading the passionate kisses between a married pub owner's daughter (played by Sarah Miles) and a maimed war veteran (Christoper Jones) who is intermittently tormented by battle flashbacks.
Star wattage was provided by Robert Mitchum as the jilted husband.
Lean's previous film was Doctor Zhivago, a box office triumph that set international records and proved movie audiences would gratefully sit through lengthy costume dramas if they were any good.
Ryan's Daughter, sadly, was no Doctor Zhivago.
New York Times critic Vincent Canby completely dismisses it — a film full of 'soapy gestures' — but adds a telling postscript to his review:
"I first saw 'Ryan's Daughter' at a press preview at the Ziegfeld Theater, where the audience reaction tended toward rudeness. Five days later, I returned to see it with a paying audience that stood patiently in line around the block before getting into the theater. The members of that audience loved the movie even before they entered the lobby, and, from the reverence with which they greeted the movie itself, they also loved it while seeing it."
The New Yorker's Pauline Kael pulled no punches, calling it a "gush made respectable by millions of dollars 'tastefully' wasted".
Afterwards, a brave Lean showed up for a function by the National Society of Film Critics held at the Algonquin Hotel, where he was mercilessly lambasted by the New York critics.
Lean recalls, "One of the most leading questions was, 'Can you please explain how the man who directed Brief Encounter can have directed this load of sh*t you call Ryan's Daughter?' It really cut me to the heart, and that was Richard Schickel."
The experience was so scarring that Lean later claimed it caused him to withdraw from film making for over a decade
Yet still, New Yorkers flocked to Ryan's Daughter, from its premiere that November and for thirty-three weeks afterwards.
The film, initially presented in the old 'roadshow' format including its overture and intermission, lasted three and a half hours, so the Ziegfeld could only schedule two or three shows a day.
Ryan's Daughter — all of Lean's pictures, actually — seemed ready-made for the Ziegfeld.
By 1970, many of New York's grandest movie screens were already torn down. Those that remained were in Times Square, and it's doubtful that the Upper East Side crowd — older, wealthier New Yorkers — felt comfortable settling down in those theaters by this time.
The Ziegfeld, right off Sixth Avenue, was also nearby midtown's swankiest restaurants (as Mad Men, which once mentioned the old Ziegfeld Theater, regularly demonstrates.)
The film was also presented in Super Panavision 70, a film process using 'spherical optic' lenses that had only been used by a few films. (2001: A Space Odyssey, another Ziegfeld success, used the same process.)
Such visual scope blasted out from the Ziegfeld's immense screen, beguiling and even numbing audiences as the IMAX of its day.
Which is why Lean would always find a welcome audience at the Ziegfeld — his movies were too monumental in scale to be ignored.
His return to filmmaking A Passage To India would play for over three months at the Ziegfeld in 1984. And a reissue of his greatest masterpiece, Lawrence of Arabia, played to sold-out crowds here in 1989.
Personally, if I could go back in time, I'd probably want to attend the Ziegfeld premieres of The Last Temptation of Christ (met with offended protesters) or perhaps Apocalypse Now, which made its debut there in 1979 and played for twelve weeks.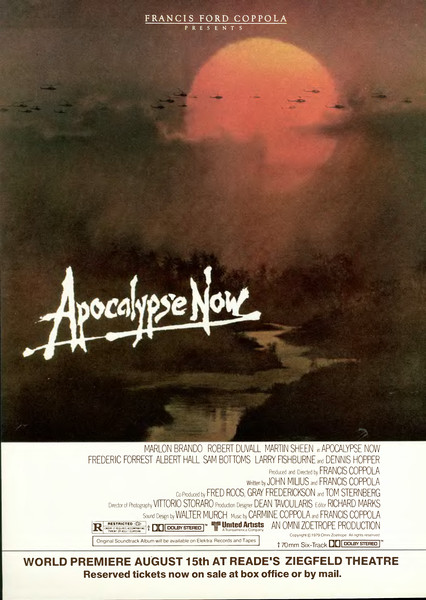 Data courtesy the amazing Cinema Treasures / Michael Coate, with verification using old New York magazines.
*Today the old theater is the luxurious event space Ziegfeld Ballroom. Looks swanky!