The photograph above (officially called "Brooklyn Bridge showing painters on suspenders") is perhaps the best-known image taken by Eugene de Salignac, a city employee who took municipal photography of most major New York structures during the early 20th century.
His work had never appeared in a gallery until 2007, almost 65 years after his death.
His exquisite eye rendered otherwise ordinary shots with a captivating grandeur; this was certainly beyond the call of duty of his responsibilities for the Department of Bridges (later named the Department of Plant and Structures) for which he worked from 1906 to 1934.
In all, it's estimated the city owns about 20,000 glass-plate negatives taken by de Salignac.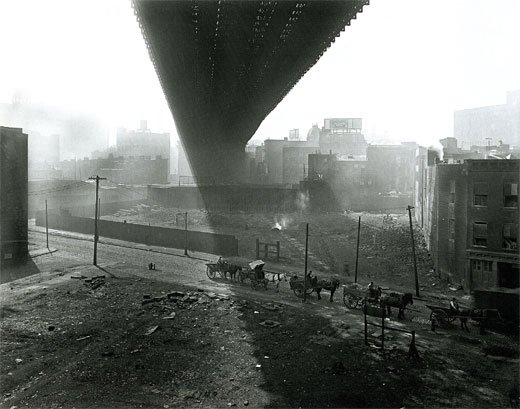 On September 22, 1914, de Salignac headed to the Brooklyn Bridge to observe workers painting the bridge's steel-wire suspension. Perhaps a bit inspired by modern artistic photography of the day, the normally workaday photographer returned to the bridge a couple weeks later, on October 7.
To quote Aperture: "The image was obviously planned, as evidenced by the relaxed nature of these fearless men who appear without their equipment and are joined, uncustomarily, by their supervisor."
It was, generally speaking, an unspectacular day for the 31-year-old bridge.
It's believed that the original color of the Brooklyn Bridge was 'Rawlins Red' although by this time, the vibrant color might have been replaced with the less dramatic 'Brooklyn Bridge Tan.'
Can you imagine what this image would have looked like in color?
I would like to think de Salignac took some inspiration from photographers like Paul Strand who were beginning to see New York City as a set of geometric abstracts.
The spirit of this photograph echoes into the work of Berenice Abbott and especially Charles C Ebbets. In 1932, while de Salignac was still employed by the city, Ebbets was hired by Rockefeller Center to document the construction of the RCA Building.
In one photo, workers were posed in a way that eventually became quite iconic: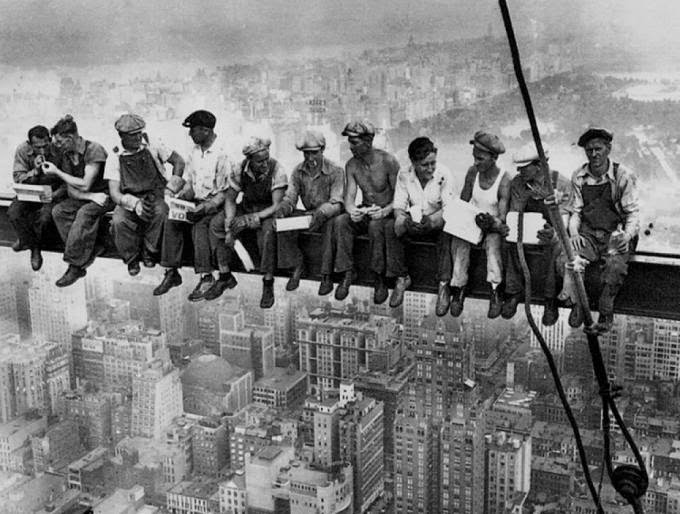 Most likely, none of those other photographers saw de Salignac's Brooklyn Bridge picture. It was essentially lost among the thousands of archives pictures until the 1980s.
For his first film for PBS, Ken Burns used the photograph in his Brooklyn Bridge documentary which went on to snag an Academy Award nomination. In 2007, de Salignac was belatedly honored with an exhibition at the Museum of the City of New York.
De Salignac returned to the bridge to several times to catch more workers in the act of maintaining the bridge. Such as this photograph the following year: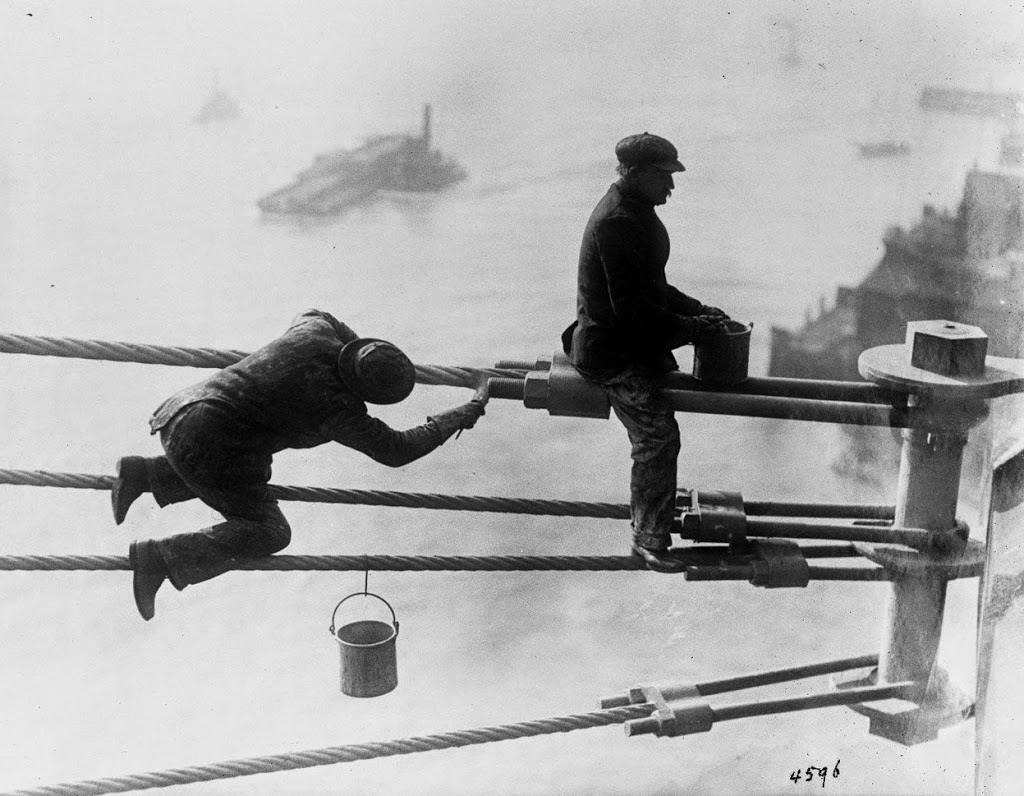 Want to get lost for an hour or so? Check on the New York Municipal Archives vast trove of Eugene de Salignac photographs directly.
**This famous picture Lunch atop a Skyscraper was attributed first to Lewis Hine, then to Charles C Ebbets. Thank you to Michael Lorenzini for pointing this out!
Top photo courtesy New York Municipal Archives. Hine photo courtesy the George Eastman House