Joseph Papp vs. Robert Moses: The saga of Shakespeare in the Park
PODCAST REWIND

The fascinating story of the Public Theater and Joseph Papp's efforts to bring Shakespeare to the people. (Episode #85)

What started in a tiny East Village basement grew to become one of New York's most enduring summer traditions, Shakespeare in the Park, featuring world class actors performing the greatest dramas of the age. But another drama was brewing just as things were getting started. It's Robert Moses vs. Shakespeare! Joseph Papp vs. the city!

ALSO: Learn how the Public Theater got off the ground and helped save an Astor landmark in the process.

THIS SHOW WAS ORIGINALLY RELEASED ON JUNE 18, 2009 — MANY, MANY YEARS BEFORE LIN-MANUEL MIRANDA AND 'HAMILTON' HIT THE PUBLIC STAGE

THIS IS A SPECIAL ILLUSTRATED PODCAST! Chapter headings with images have been embedded in this show, so if your listening device is compatible with AAC/M4A files, just hit play and a variety of pictures should pop up. The audio is superior than the original as well. (This will work as a normal audio file even if the images don't appear.)

For this and our older episodes (Episodes #5-#84), subscribe to The Bowery Boys: NYC History Archive feed on iTunes or directly from our host page.

___________________________________________________________________________

The Bowery Boys: New York City History podcast is brought to you …. by you!

We are now producing a new Bowery Boys podcast every two weeks. We're also looking to improve the show in other ways and expand in other ways as well — through publishing, social media, live events and other forms of media. But we can only do this with your help!

We are now a member of Patreon, a patronage platform where you can support your favorite content creators for as little as a $1 a month.

Please visit our page on Patreon and watch a short video of us recording the show and talking about our expansion plans. If you'd like to help out, there are five different pledge levels (and with clever names too — Mannahatta, New Amsterdam, Five Points, Gilded Age, Jazz Age and Empire State). Check them out and consider being a sponsor.

We greatly appreciate our listeners and readers and thank you for joining us on this journey so far. And the best is yet to come!

________________________________________________________________________

And now I present some of the fantastic photographs from the Billy Rose Division of the New York Public Library.

From the 1971 Shakespeare In The Park production of Cymbeline, with Belvedere Castle standing out in the background.
A photo of Joseph Papp in the Navy (he's the second one from the left), 1942.
Papp in from of the Decorate Theater, under construction in 1960.
Joseph Papp with Elizabeth Swados and Meryl Streep in a Public Theater production of Alice In Concert.
The 'mobile theater' of the New York Shakespeare Festival, pictured here in 1972.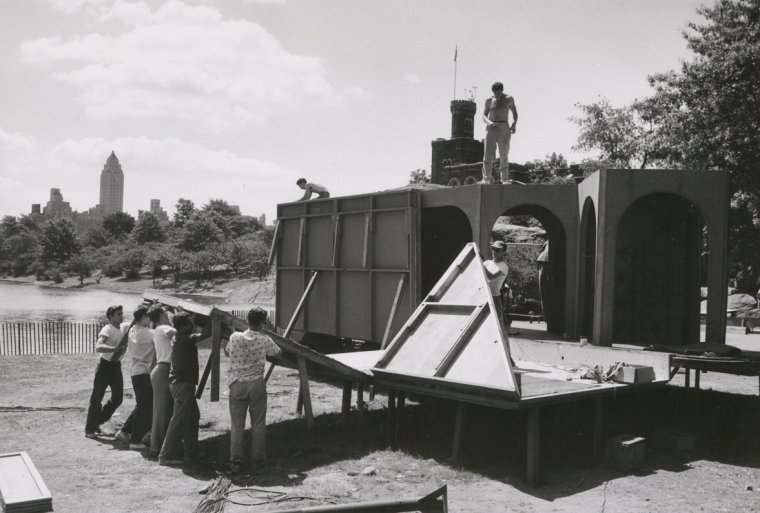 Theater at the East River Amphitheater: The Taming Of The Shrew with Colleen Dewhurst, 1956
The Merchant of Venice, 1962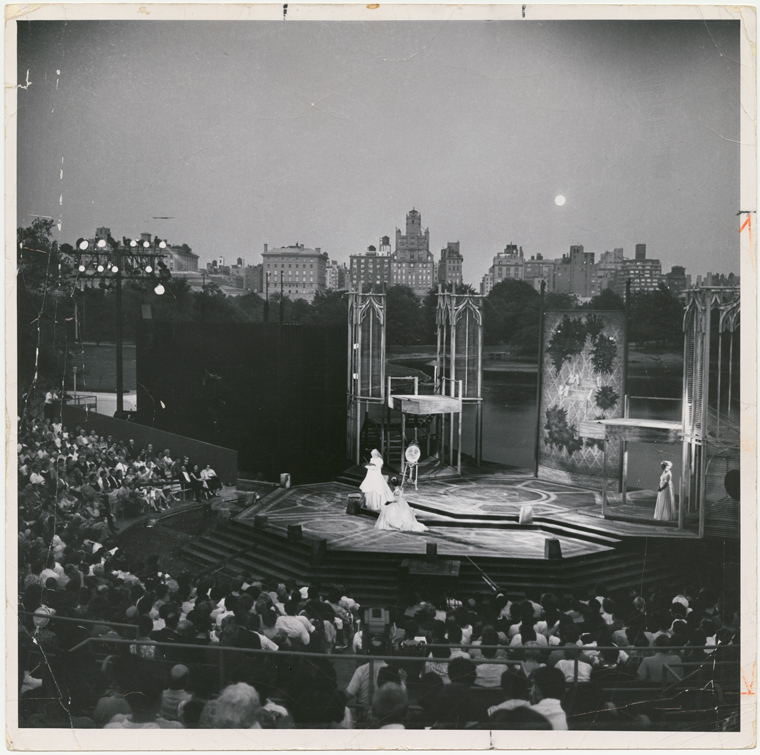 The set from Love's Labours Lost, performed at the Delacorte in 1965:
The city peeks over top of the sets of 1985's Henry V.
A vivid battle scene from 1991's Henry IV Part 1.