This month America celebrates the 100th anniversary of the National Park Service, the organization which protects the great natural and historical treasures of the United States. There are a number of NPS locations in the five borough areas. Throughout the next few weeks, we will focus on a few of our favorites.
For more information, you can visit National Parks Centennial for a complete list of parks and monuments throughout the country. For more blog posts in this series,

click here

.
And listen to our podcast on this subject here: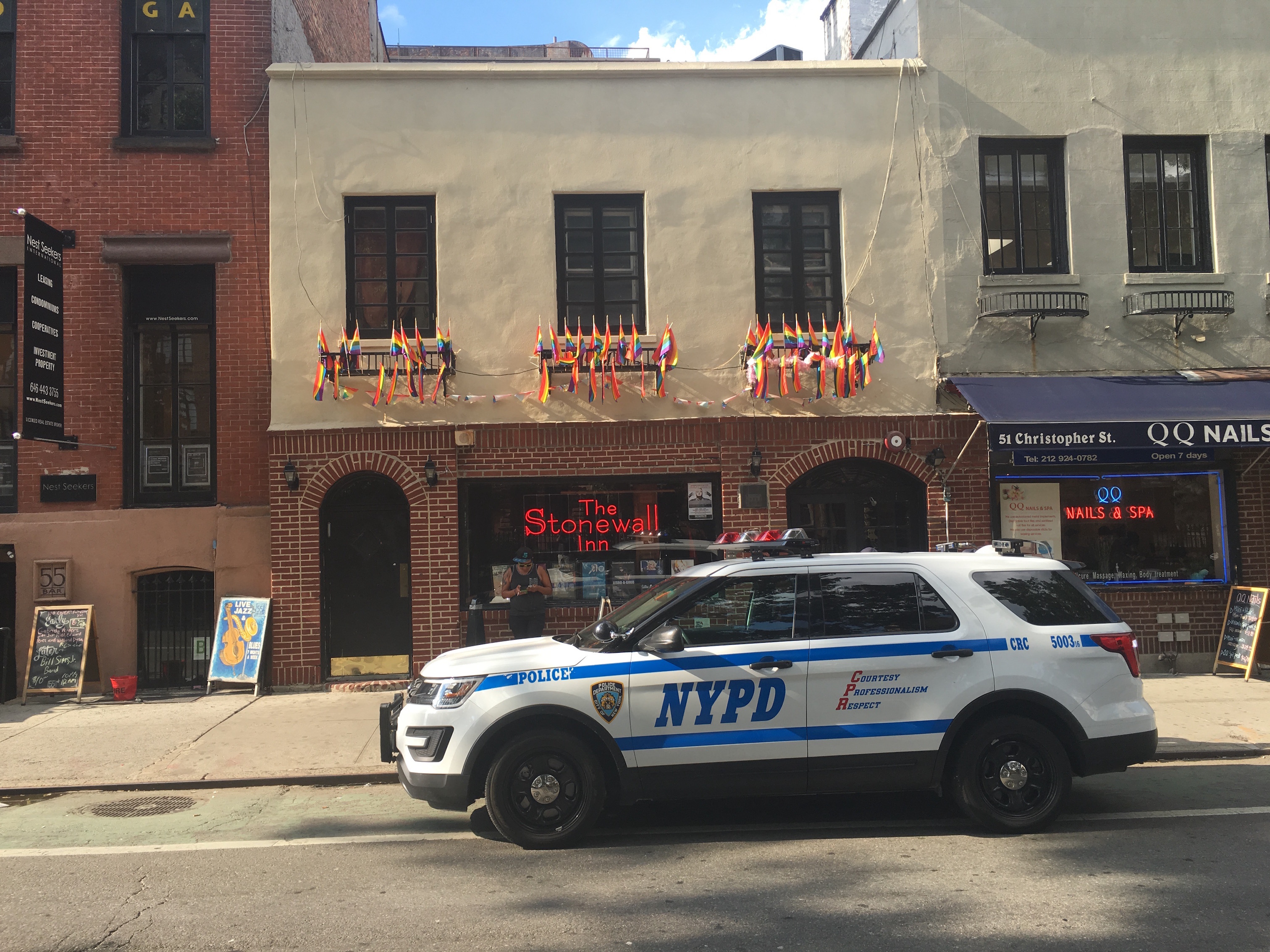 STONEWALL NATIONAL MONUMENT
CHRISTOPHER STREET, WEST VILLAGE, MANHATTAN
On June 24, 2016, President Obama — who had conjured the name of Stonewall Inn in his 2013 inaugural speech — designated the location of the 1969 Stonewall Riots as a National Monument, to be overseen by the National Park Service.
Twelve days earlier, a gunman walked into a gay nightclub in Orlando, Florida, and killed 49 people. It was the deadliest terrorist attack since September 11, 2001, and certainly the greatest single attack upon the American LGBT community in history.
For days after, a makeshift memorial to the Orlando victims sat in front of Stonewall Inn. Even today, as you enter the building, a list of their names greets you upon the wall, next to an older sign that states 'THIS IS A RAIDED PREMISES', a vestige of a time when gay bars were diminished, not decorated.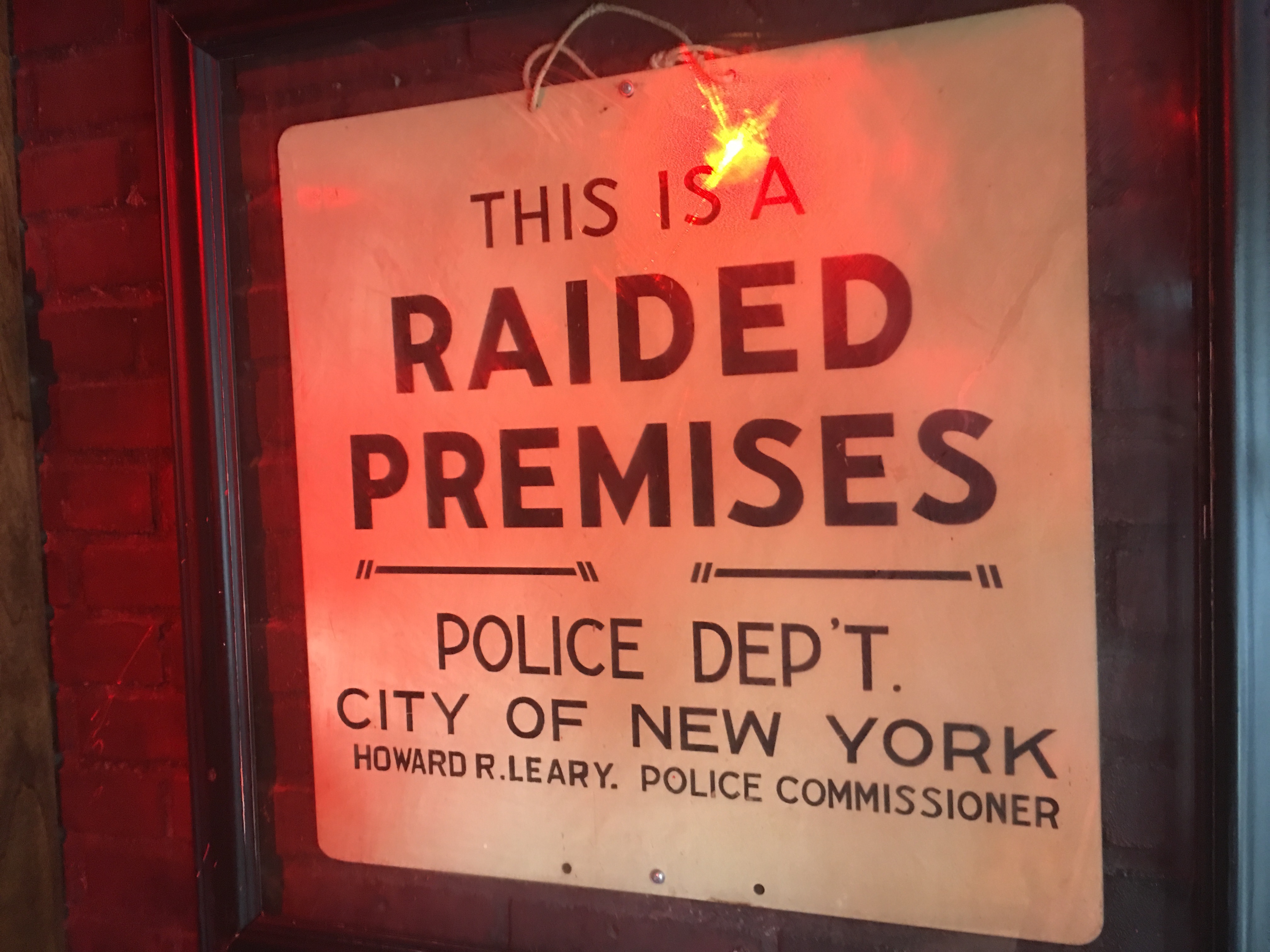 Thus is the power of Stonewall's symbolism, the dignity and community represented in the air around this stumpy, architecturally unspectacular structure.
Recognizing the enigmatic atmosphere of this place, Stonewall National Monument is actually the building proper and the portion of Christopher Street which sits in front of it, as well as the entirety of triangular Christopher Park.
This includes one very relevant piece of art — the four human statues known as the Gay Liberation Monument (placed here in 1992) — and one somewhat random inclusion — a statue to Union general Philip Sheridan.
But perhaps the most unusual aspect to the National Park Service's newest acquisition is that Stonewall Inn is still very much an active bar, even more so now for its fame. Its Big Gay Happy Hours are but one of many things which sets this NPS site apart from, say, Grant's Tomb.
There's a constant police presence in front of Stonewall Inn. On a given night you may even see armed guards out in front, a curious dichotomy with the drag queens who perform on the second floor. I cannot wait to see how they incorporate a temporary ranger station and a visitor center.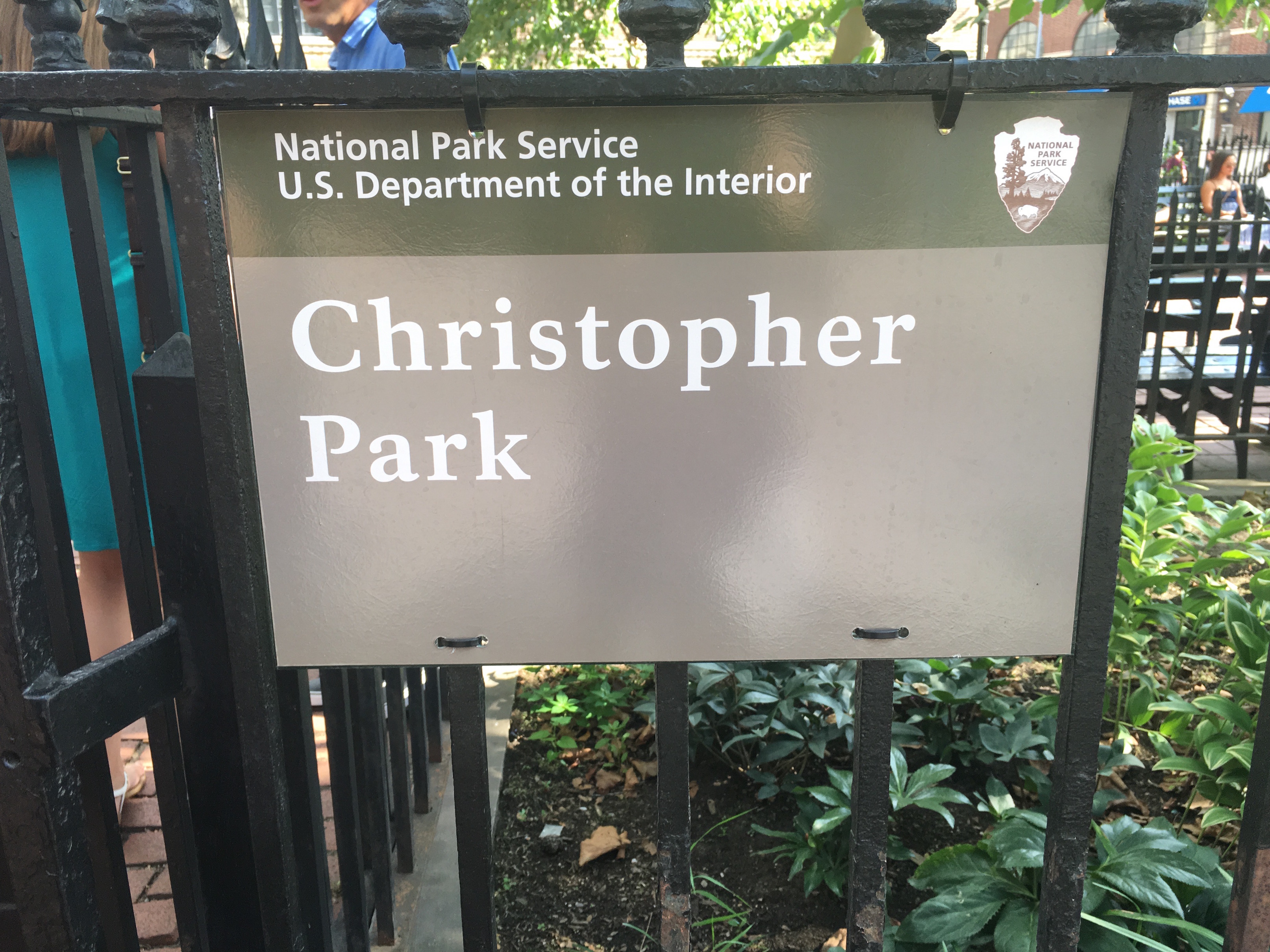 It's unfortunate that Stonewall — a historic symbol of safe space — should feel like slightly less of one because of current events. But this situation does provide another, more hopeful optic: the image of an alert and engaged law enforcement, entrusted in keeping a gay bar safe and secure.
If you could somehow go back in time to tell the men and women who were arrested in the early morning hours of June 28, 1969, about this, they would have laughed (and maybe spit) in your face.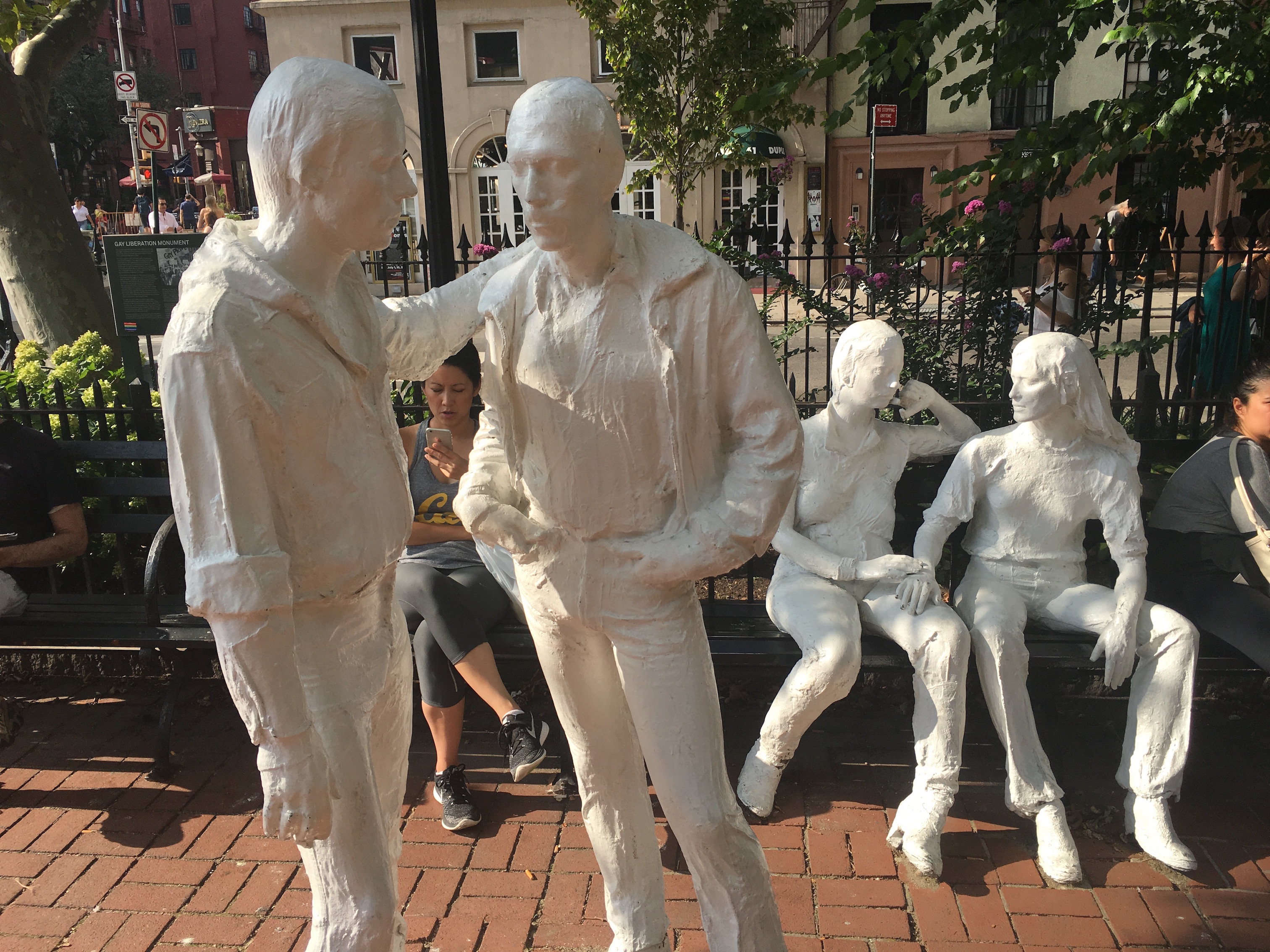 In the 1960s the mob had a veritable monopoly on the Greenwich Village gay scene, tucked invisibly down the neighborhood's side streets.
No bar catering to gays and lesbians could stay open without paying bribes (to both the mob and the police), and complaining bar owners had a funny way of finding themselves arrested or worse. Indeed, police detectives sometimes posed as gay men to corner alleged homophiles.
One of these dank and unappealing bars on Christopher Street was the Stonewall Inn. Its history was long and colorful: A former stable, it became a notorious teahouse 1930, then a somewhat respectable restaurant, then was gutted in a fire before becoming a darkened-window dive bar catering to homosexuals in 1967.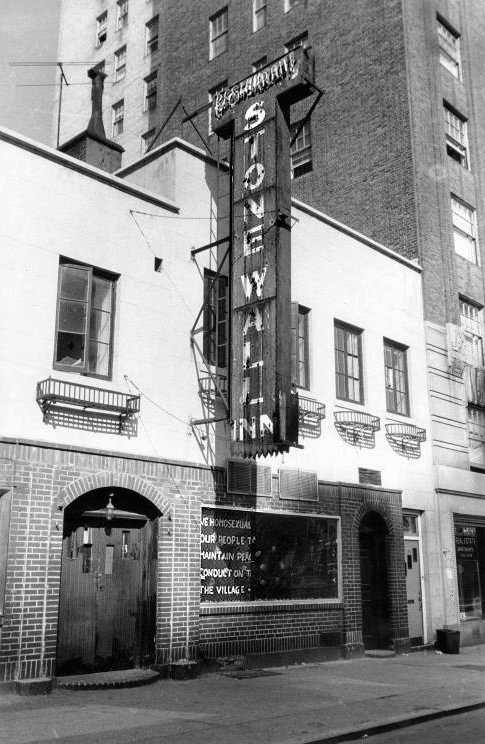 There was nothing especially notable about the Stonewall, with its watered- down drinks and its hat-and-coat check. There was dancing and a jukebox and a good mix of white, African American, and Hispanic patrons just looking to have fun. Wouldn't you be upset if they kept shutting you down for no good reason?
This is precisely what the police attempted just after 1 a.m. on June 28, 1969, when uniformed and undercover cops raided the packed bar and prepared to arrest the patrons.
Protesters gathered in the streets outside the Stonewall Inn in the days following the riots on June 28.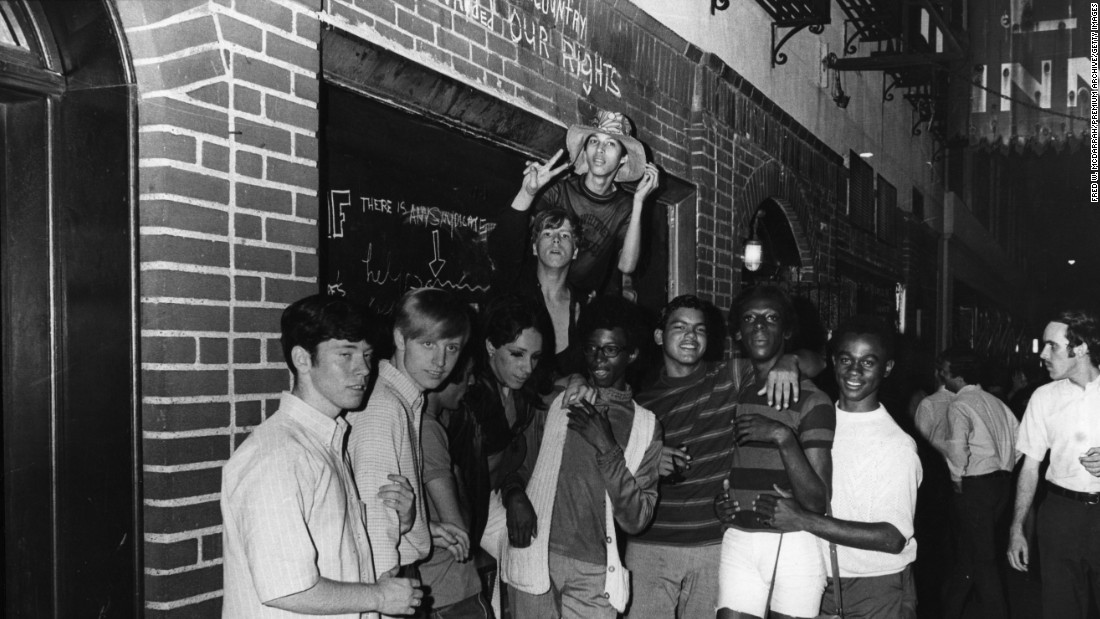 But people were not having it. A crowd outside the bar began heckling the officers as they started their arrests, pulling patrons from the bar and loading them into wagons.
One woman in handcuffs fought fiercely, inspiring an extraordinary coalition of street youths and drag queens to push back against restraint. The crowds swelled as patrons from other bars joined the fracas, filling Christopher Street and pushing back against police harassment until well after four in the morning.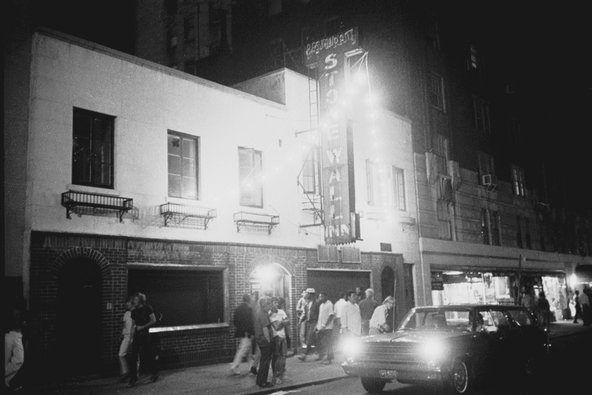 What began as proper rioting aimless anger in the streets grew more focused over the next several days, as hundreds of marginalized New Yorkers returned to the street in front of the Stonewall with a newfound sense of solidarity. Their example inspired people throughout the city and around the country.
One year after the raid, activists would gather in front of the Stonewall and march up to Central Park, an event that would become the city's annual LGBT Pride March.
Today gay pride celebrations and parades in many European countries are referred to as Christopher Street Day celebrations. Although Stonewall Inn has gained national importance today, it is Christopher Street itself that retains the symbolism for many.
And that is why a very small portion of that street — forever associated with struggle — is America's newest  National Monument.
WANT MORE INFORMATION? Visit the NPS Stonewall National Monument site for more information.
LISTEN TO OUR PODCAST!