Times Square in the 1970s: Grindhouses, peep shows and XXX neon nostalgia
PODCAST

42nd Street After Hours. Cinema and sleaze. Nostalgia and fantasy. The story of a real and imagined New York.

Take a trip with us down the grittiest streets in Times Square — the faded marquees of the grindhouses, the neon-lit prurient delights of Eighth Avenue at night.

LISTEN TO OUR LATEST EPISODE HERE:

Times Square in the 1970s was all about fantasy — from the second-run theaters of 42nd Street to the pornographic pleasures of the adult bookstores next door. And yet our ideas of this place and time are also caught in a bit of fantastic nostalgia. In memory it becomes an erotic theme park, a quaint corner of New York City history. Sometimes its stark everyday reality is forgotten.

In this show we focus on a couple of Times Square's most notorious streets from the period — 42nd Street and Eighth Avenue — and provide historical context for the seediness they were known for in this era.

Those glowing marquees disguise a theatrical history that dates from the beginning of Times Square, once hosting productions by the likes of Florenz Ziegfeld and Oscar Hammerstein. And the sex industries themselves trace back to the early seedy days of the Tenderloin neighborhood. They coalesced around Port Authority Bus Terminal (aka 'the cavern of squalor') to produce a gritty scene that was at once alluring, dangerous, and quintessentially New York.

To download this episode and subscribe to our show for free, visit iTunes or other podcasting services or get it straight from our satellite site.

You can also listen to the show on Google Music, Stitcher streaming radio and TuneIn streaming radio from your mobile devices.

The song featured in this week's episode was

___________________________________________________________________________

The Bowery Boys: New York City History podcast is brought to you …. by you!

We are now producing a new Bowery Boys podcast every two weeks.  We're also looking to improve the show in other ways and expand in other ways as well — through publishing, social media, live events and other forms of media.  But we can only do this with your help!

We are now a member of Patreon, a patronage platform where you can support your favorite content creators for as little as a $1 a month.

Please visit our page on Patreon and watch a short video of us recording the show and talking about our expansion plans.  If you'd like to help out, there are five different pledge levels (and with clever names too — Mannahatta, New Amsterdam, Five Points, Gilded Age, Jazz Age and Empire State). Check them out and consider being a sponsor.

We greatly appreciate our listeners and readers and thank you for joining us on this journey so far. And the best is yet to come!

________________________________________________________________________
Our special thanks to HBO and

the

new drama series The Deuce for sponsoring this special episode. Follow along with the Bowery Boys on Twitter (

@Boweryboys

) this Sunday, Sept. 10, at 9pm as we watch the show live and share historical context to some of the action being shown.
One still from the show: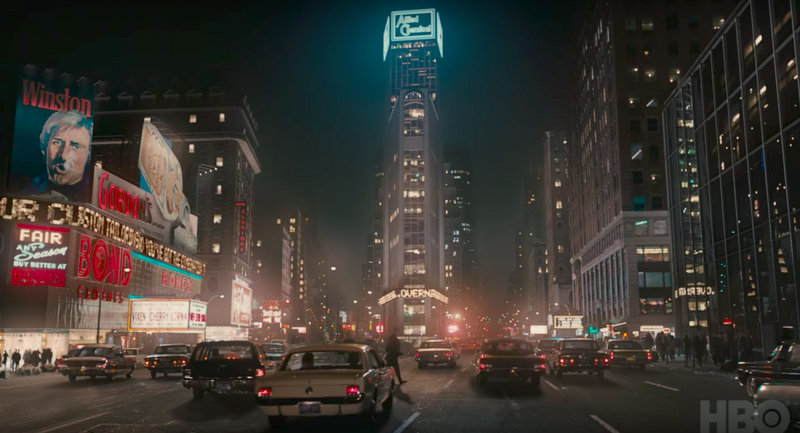 The real Times Square (looking the opposite way):
The look of 42nd Street in the early 1960s. See the New Amsterdam across the street (and the Fascination arcade next to it). Both films The Green Helmet and Parrish are from 1961, but since this was a row of second-row houses by this point, the date could be later.
Port Authority bus terminal in 1965. The north wing ( which would face onto 42nd Street) opened in 1979.
Here's the New Amsterdam Theater in 1903, the year construction was completed — one year before the area would be called Times Square.
The theaters on 42nd Street on the north side, 1968. Note the exhibition of "international films." The grindhouse classic The Notorious Daughter of Fanny Hill was released in 1966.
The same set of marquees in 1973
The Apollo Theater, pictured above, as seen below in 1922. It has already transitioned into film exhibition. (Silver Wings is a famously 'lost' film directed by John Ford.)
The Selwyn through the years. 1918:
1971
1980s
The corner of 42nd Street and Seventh Avenues, 1970
Eighth Avenue also had its share of erotic theaters including the Eros (732 8th Avenue) and the Adonis (839 8th Avenue).
A couple amazing photographs by Maggie Hopp. (See the rest here).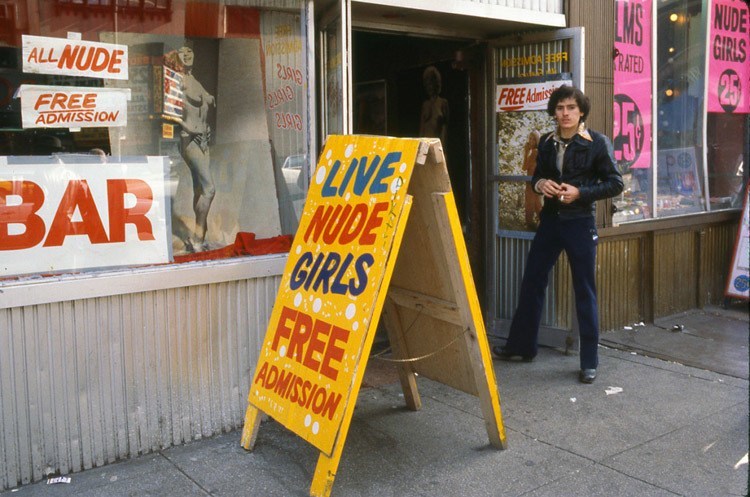 The zone illustrated via the "Sex Entertainment Use Map," in William Kornblum, West 42nd Street: "The Bright Light Zone" (New York: Graduate School and University Center of the City University of New York, 1978). Courtesy of City University of New York.
Taken from a 1976 film Virgins In Heart which played on 42nd Street

Inside the Show World Center, 1982
Terminal Bar in 1981. It closed the following year. Slate has a wonderful collection of images from its bartender Sheldon Nadelman.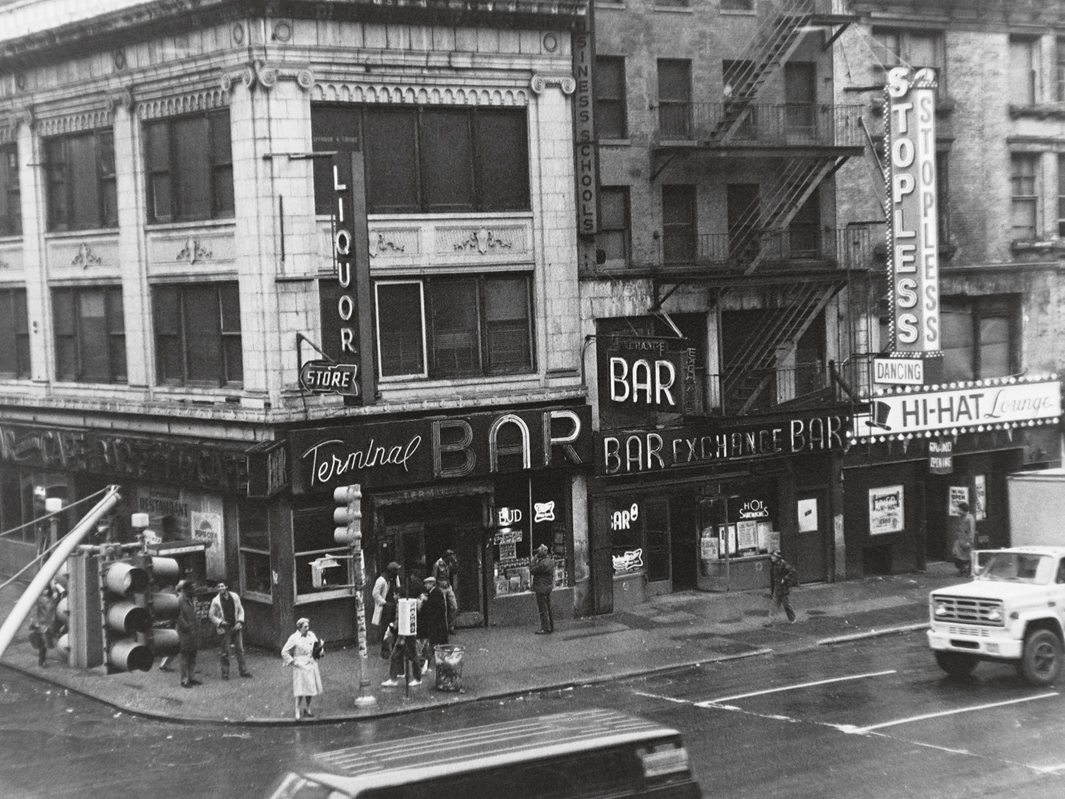 A 2003 documentary about the history of Terminal Bar. Worth watching!

RECOMMENDED READIING:
The Devil's Playground: A Century of Pleasure and Profit in Times Square by James Traub
Down 42nd Street: Sex, Money, Culture and Politics at the Crossroads of the World by Marc Eliot
The Forbidden Apple: A Century of Sex & Sin in New York City by Kat Long
Ghosts of 42nd Street, A History of America's Most Infamous Block by Anthony Bianco
RELATED BOWERY BOYS PODCASTS:
#118 A History of Times Square