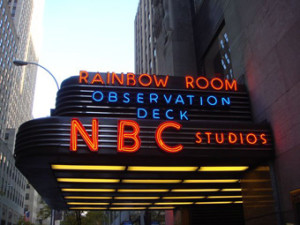 To get you in the mood for the weekend, every Friday we'll be celebrating 'FRIDAY NIGHT FEVER', featuring an old New York nightlife haunt, from the dance halls of 19th Century Bowery, to the massive warehouse spaces of the mid-90s. Past entries can be found here .
For a change, I thought I'd feature a place that is actually, you know, still open. Although it's pricey enough that most of us won't see it much in our lifetimes.
The Rainbow Room offers quite a stark contrast to the Apollo Theater. The Room opened in the same year (1934) as the Apollo opened its doors to black audiences for the first time. Both elicit images of heavenly bodies. Its similarities naturally end there.
Where the Apollo rose from the site of a sleazy burlesque joint, the Rainbow Room was literally the crown on J.D. Rockefeller Jr.'s newly built palace to commercial welfare, Rockefeller Center. Rockefeller, a clean, moral gentleman who preferred warm milk to champagne, was virtually forced to open the place due to social pressures. Rooftop nightclubs were sprouting up all over the city — and in all the society pages — and Rockefeller simply had to have best of everything. 
And thus the man who supported Prohibition opened in Oct 3, 1934 what would become the acme of champagne New York life. And all of it, sixty-five floors above the city, atop what was then the RCA Building.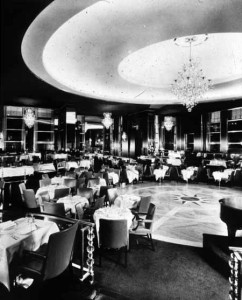 Its design by Elena Bachman Schmidt, with her assistant Vincent Minnelli (yes, Liza's dad), encapsulated Art Deco luxury while never overshadowing either the clientele or those two-story windows. In fact, faceted mirrors near the bar created an illusion that that gorgeous skyline outside was literally seeping into the room. Perhaps it was, striking a waltz on that impressive dance floor that would have made John Travolta salivate — a slowly rotating plate glowing with dazzling colors that changed moodily to the music.
However it was the well-coiffed and tuxedoed birds atop the floor that gave the Room its polish. The Rainbow Room was strictly high society; for a time, it was 'white tie' only, until that was relaxed to 'merely' regular tuxedo styles. Its opening night was, as one journalist proclaimed, filled with "five or six hundred of New York's Four Hundred." It was considered the 'upper crust' of nightclubs, and eventually the well-dressed society families were joined by America's unofficial royals — Broadway and movie stars. Jean Harlow, Cole Porter, Douglas Fairbanks Jr,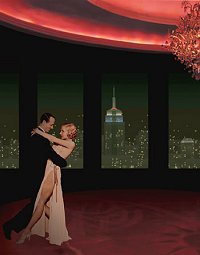 Noel Coward, Bette Davis, Laurence Olivier. The hoity-toity club was no match for Marlene Dietrich, who wanted the band to stop playing waltzes and give her a tango. And they obliged.
(It should be noted, just to keep the Apollo in the back of your mind, that at least for a few years, it was not only 'white tie', it was strictly, entirely white. Blacks were neither admitted nor even allowed to perform. Contrast this to last week's Friday Night Fever feature, Cafe Society, which was in a basement, sure, but whose integrated politics ensured truly world class entertainment.)
The Rainbow Grill soon opened down the hall. A more 'informal' place — still out of the price range of most New Yorkers — the Grill was considered a junior edition and attracted the college-age trust-funders.
When they weren't dancing, patrons of the The Rainbow Room dined to the entertainments of a variety of acts, from the hi-lites of the big band era, to a mixture of almost carnival like acts — trained horses, ping pong champions, magicians, palm readers. In fact, Edgar Bergen and his wooden puppet Charlie McCarthy became national celebrities stemming from just a few performances there.
The Room has seen a couple renovations and a downgrade to 'mere' suit and tie. And the era of high-society nightclubbing itself has transformed into a more Paris Hilton-like debauchery. But it still holds its charms — as long as you're dressed correctly — primarily because of that gorgeous view. Have a couple glasses of champagne, gaze out at New York's perfect skyline, and you can't help but feel romantic.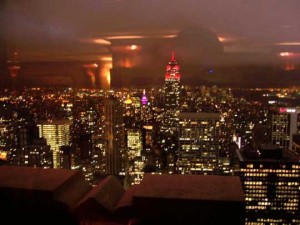 I should add here that down the hall there used to be a fantastic cabaret room called 'Rainbow and Stars' where out of sheer luck (and a regular columnist position as a theater writer, back when I could only afford mac-and-cheese for dinner) I had the privilege to go to write reviews. Imagine that beautiful New York backdrop, in a more intimate setting, with only the world's best cabaret performers plopped in front, singing their hearts out.
 I wore the same (the only) suit jacket each time, I had to scrape up coins just to buy a martini or two. But for a couple hours, like the time I got to watch Rosemary Clooney, I could pretend to understand what it was like to be fabulous and Rockerfellian.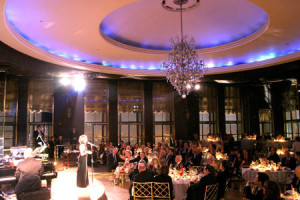 (I gleaned a few facts for this article from the excellent, excellent book Great Fortune by Daniel Okrent, about the building of Rockefeller Center. I love this book so much that I'm actually posting its link at Amazon.)