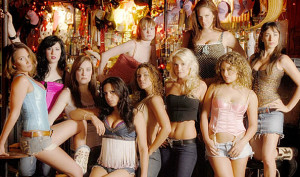 Above: From the official website — the girls of Coyote Ugly
To get you in the mood for the weekend, every Friday we'll be celebrating 'FRIDAY NIGHT FEVER', featuring an old New York nightlife haunt, from the dance halls of 19th Century Bowery, to the massive warehouse spaces of the mid-90s. Past entries can be found HERE.
Studio 54. The Cotton Club. The Copacabana. Coyote Ugly.
If you're thinking to yourself, "Is this a game of 'one of these things is not like the other'", you would be wrong. These four storied institutions have something very key about them — they are the four members of New York nightlife that have been the subject of their very own Hollywood film. (Please email me if I've missed any!)
In fact, of the four, only the Copacabana and Coyote had films made about them while the bars themselves were still in operation. The Copacabana film had Groucho Marx and Carmen Miranda. Coyote Ugly has Bud Cort and Leann Rimes.
Okay, I may be giving a lot of credit to this East Village saloon, 1st Ave and 9th Street, named after the term for waking up with an unattractive partner after a raucous night of beer-goggled imbibing. But you have to admire the gumption and savvy of its creator Liliana Lovell (pictured below) in turning the traditional notion of a dive bar into a kerosene-soaked, carnival-like Hooters.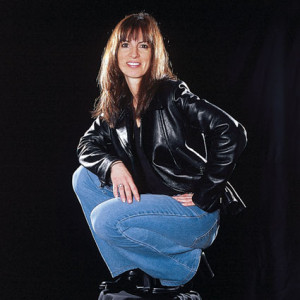 In the early 90s, Lovell was a two-jobber — an intern at an investment firm by day, a bartender at The Village Idiot by night. With a degree from NYU in psychology and communications, she soon found bartending more rewarding and lucrative. In particular, she admired the style of Village Idiot owner Tom McNeill; that bar, formerly a block away from the current location of Coyote Ugly, was known for loud 70s country music, swaggering drink contest and pretty bartenders in low cut tops — almost a camp variation on a Southern hard-drinkin' saloon.
Lovell eventually saved enough to buy an Italian restaurant down the street and refit it with familiar Village Idiot decor but with a twist that would make P.T Barnum blush — a phalanx of female bartenders who could sing, dance and (most importantly) literally blow fire like a sideshow freak. The notion turned mid 90s feminism on its head — a surface objectification of themselves tied into their roles as circus masters — while making a steady profit from frat boys and curiosity seekers.
It would have remained a quaint anomaly of New York college fantasies if not for bartender and writer Elizabeth Gilbert, who turned her experiences into an amusing GQ article that was then quickly spun into a Hollywood feature in 2000, with Maria Bello as playing the brassy, sassy Lovell.
Lovell was quick to take advantage of the films rusty-glam depiction of her establishment. Not exactly the most austere or critically acclaimed concept to begin with, Lovell had no qualms about spinning Coyote Ugly into a franchise, starting (naturally) in Las Vegas in 2001, then to New Orleans in 2003, arguably two places where it could reach its fullest potential.
She's now up to thirteen locations around the country (and one in Panama City) and thanks to a reality show the Ultimate Coyote Ugly Search, may continue to become America's feisty madam of flaming cocktails. Although she might have gone corporate, she's still an East Village institution whenever she's in town (she lives in New Orleans now). Texas Guinan would be so, so proud.