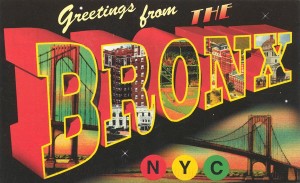 Some New York neighborhoods are simply named for their location on a map (East Village, Midtown). Others are given prefabricated designations (SoHo, Dumbo). But a few retain names that link them intimately with their pasts. Other entries in this series can be found here.
The Bronx is one of two boroughs with names derived from actual people. The residents of Queens can brag that their borough honors Charles II's wife Catherine of Braganza. The Bronx, however, gets its name from less regal sources, from Swedish-born landowner Jonas Bronck. However the Bronx is not directly named after Bronck. Confused?
Despite Bronck's tenacity in forging onto the unknown Lenape Indian territory of Rananchqua in the Dutch colony New Netherlands, his actual role in New York history is quite brief. An ardent intellectual who gave his ship the lofty name Brand van Trogen (The Fire of Troy), Bronck, his wife Teuntje and a boatload of eager voyagers traveled to the new world in 1639 and settled on a stretch of land, 500 acres, across the river from the village of Haarlem.
With permission from the West India company, Bronck had brought builders, his own cattle, boxes of books, and a desire to create a small community of his own. Spread out through the modern neighborhood of Motts Haven, Bronck's farm (Broncksland) and those of the other settlers sat along a north-south river, called by the Lenape the river Aquahung.
Bronck grew tobacco and traded with the local Indians, keeping the peace through exchanges of goods. Jonas however had arrived at a rather unfortunate time to be a pale blond foreigner.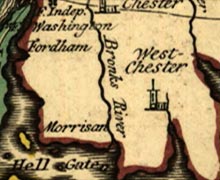 Relations between the Dutch and the native Indian population were tenuous at best, and not greatly assisted by hot-headed director-general William Kieft of the port city of New Amsterdam. In 1643, driven by growing animosities and the murder of a single settler, Kieft ordered troops to rout the Lenape populations at Corsairs Hook and the area now known as Jersey City, murdering dozens of Indians and ensuring years of bloody battles between settlers and natives.
Bronck was the unfortunate recipient of native Indian backlash. That same year, 1643, Bronck and most of his settlers were murdered in an Indian raid.
Kieft would be swept out of the new world by Peter Stuyvesant. Bronckland would pass into other hands, and after just a few years, the parcel of land would no longer be named for him. Jonas was almost erased from history.
Except for that rather sizable river that ran through his property, the Aquahung. Even as memories of Dutch settlers gave way to their British successors — his farm went to two officers in Oliver Cromwell's army! — the river was still referred to as Bronck's River. Eventually it was shortened to the Bronx River, and thus it's the river that the borough is named after.
Had everybody just kept with the original name as given by the Lenape, we would be referring to our northernmost borough as Aquahung.
By the way, Bronck's wife and son escaped the Indian raid, and later, Teuntje with her new husband moved to the area now known as Coxsackie, New York. Son Pieter Bronck became a landowner in his own right and built a house that still stands today. It is the oldest home in all of upstate New York.