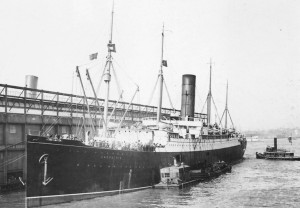 The Carpathia docks off of Pier 54, emptied of its cargo of Titanic survivors
Ninety-six years ago today, the RMS Titanic sank in the icy waters south of Newfoundland, killing 1,517 people, including three of New York City's most prominent and richest citizens, sending a shock wave through high society and the mercantile elite.
William Waldorf's young cousin John Jacob Astor IV had run to Europe with his mistress Madeleine Talmage Force to avert attention from the fact that Ms. Force, a native Brooklynite, was 18 years old. While in Europe, Astor married Madeleine, and she became pregnant with John Jacob Astor V. Astor placed Madeleine on a lifeboat but stayed behind with his pet terrier Kitty.
Pictured below: Astor with his valet, who also died aboard the Titanic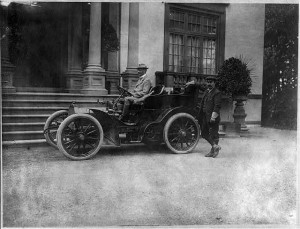 Mining million Benjamin Guggenheim approached his impending death like any well-groomed gentlemen would — he slept through most of it, then changed into evening wear and smoked cigars.
He was with his mistress, a French songstress named Madame Léontine Aubart, who he helped with a lifeboat with her maid. He is noted with the famous line, 'We are dressed up in our best and are prepared to go down like gentlemen.' Guggenheim stayed behind, also with his valet and chauffer. Among the family he left behind was daughter Peggy, patron saint of the Guggenheim Museum.
Macy's owner Isidor Straus actually had his real wife with him, Ida. Even had their been room aboard the lifeboats with all the assorted mistresses and maids, Ida would not have gone. "We lived together, so we shall die together," she is reported to have said, and the two went down with the ship together, embracing each other in deck chairs.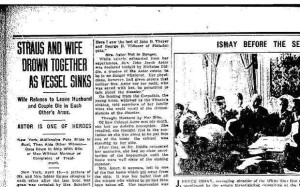 The Titanic was to dock at Chelsea Piers, one of the various busy docks today along the West Side Highway. Instead it was the Carpathia, the passenger liner turned rescue ship, filled with survivors and loaded lifeboats, that first docked at Pier 59 (around 20th Street) to drop off the lifeboats, then Pier 54 (13th street and West Street, today's Meat Packing District) to disembark its own passengers. The Titanic would have originally docked at Pier 59.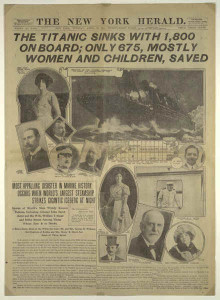 By the way, they're still trying to figure out what really sank the Titanic. (I guess that iceberg just wasn't enough.) The latest theory: bad rivets.
Also, get to know Millvina Dean, the last remaining Titanic survivor.