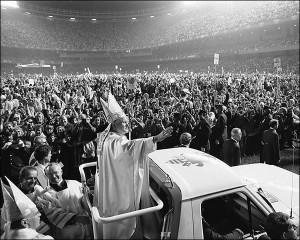 Pope John Paul greets the crowds at Yankee Stadium
Welcome Benedict! I'm not Catholic, but I do love a good papal visit to New York City. Nothing could be more absurd. The leader of the Catholic Church, a man who traces his spiritual lineage all the way back to the apostles — delivering mass at Yankee Stadium, traipsing Fifth Avenue in his sacred robes. I hope that person who dresses as Sesame Street's Elmo in front of Rockefeller Center waves to Benedict as he enters St. Patrick's Cathedral on Friday.
Only the Marquis de Lafayette and the Beatles have been treated to more rapturous displays of welcome by New York City residents. The city has been host to three previous papal visits, and in each case, St. Patrick's has naturally been the manic center of activity. In fact each visit is immortalized on a plaque in front of the cathedral. Although with each trip, the pope in question managed to find a couple other unique corners of the city to visit as well.
Perhaps the strangest was the very first — Pope Paul VI, the controversial leader who presided over the Second Vatican Council and made a name for himself traveling all over the world. Finally in an era were a man could be both pope and jetsetter, Pope Paul arrived in New York in October of 1965 and promptly went to visit his roommate, who was performing in a fair.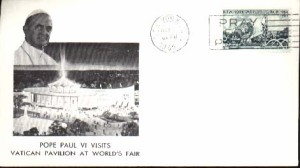 That roommate would be Michelangelo's Pieta, on loan from St. Peter's hallways to the Vatican pavilion at the 1964-65 World's Fair. The Pope visited the Fair on Oct 4, 1965, on a busy day that also included mass at Yankee Stadium (the first papal mass ever in the United States), an address to the United Nations, and a meeting in the city with president Lyndon Johnson at the Waldorf=Astoria.
Today a rounded bench, or exedra, sits in Flushing Meadows park honoring the moment Pope Paul visited the Pavilion. (It seems that whenever a Pope hovers in a place for more than a few minutes, a plaque or monument springs up in its place.)
By the way, I found this extraordinary page full of great photos about the Pope-mobile, the superfine limousine used by the Pope during his visit.
But its Pope John Paul who's the real New York favorite; he held the office for so long that he managed two trips to Gotham City — in 1979 and 1995.
His October 1979 trip was like a rock concert tour, also swinging through Philadelphia, Boston, D.C., Chicago and Des Moines. Part of the enthusiasm was because John Paul, at 58 years old, had just been appointed the year before.
As a cardinal, he had already held mass at Yankee Stadium, so by the time he did it again on October 2, 1979, he was as much a fixture as Reggie Jackson. Rain greeted over 9,000 cheering worshippers — or fans — and, according to legend, when the Pope mounted the ballfield to address the crowd, the rain showers stopped. And as a blessing for Mets fans, the next day the Pope also held rapt an audience of 52,000 at Shea Stadium (pictured below).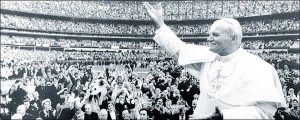 But like all rock stars, the Pope couldn't complete his New York odyssey without a performance at Madison Square Garden. Although John Paul also addressed the U.N. and a St Patrick's audience during that trip, he's best remembered by many for his inspirational address on October 3rd to 19,000 city children.
St Patrick's honored his Holiness's visit in 1979 by installing a bust (see below). But he would be back. On almost exactly the same day, sixteen years later.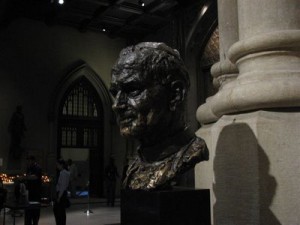 New York City in 1995 was a vastly different city and John Paul returned for a longer visit — four days in total in the entire New York area — on October 4th. This time, instead of just delivering messages to the clergy gathered at St. Patrick's, he spontaneously decided he wanted to walk around the block. And why not? You've got shopping, Saks, street vendors selling Pope souvenirs!
Below: the Pope prepares for his light stroll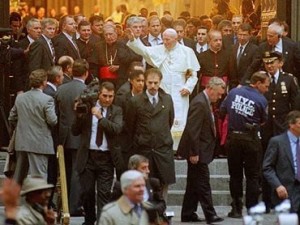 The Pope also finished off his collection of performing in gigantic venues for mass — holding court in Giants Stadium, the Aquaduct Racetrack in Ozone Park and eventually to 100,000 people on the great lawn in Central Park.
From there, the elderly leader of the Catholic Church gave the city the ultimate shout-out: "This is New York! The great New York! This is Central Park. The beautiful surroundings of Central Park invite us to reflect on a more sublime beauty: the beauty of every human being, made in the image and likeness of God. Then you can tell the whole world that you gave the pope his Christmas present in October, in New York, in Central Park."
Pope Benedict, here for two days (April 19-20), has broken the apparently holy tradition of visiting New York in the first week in October. But Benedict, as the cardinal formerly known as Joseph Ratzinger, actually visited the city in that lesser role in 1988, where apparently he was met with protest from gay activists and shunned by some prominent Jewish leaders.
This year, he intends to hit all the "usual" Pope spots — St. Patricks, the United Nations, Yankee Stadium — but has added a couple surprising detours: Park East Synagogue and Ground Zero. At this rate, he might even stop in to see an off-Broadway show! Is Nunsense still playing?