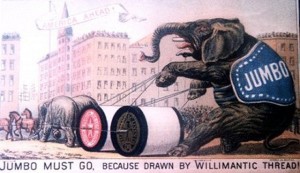 Barnum star Jumbo the Elephant is used in a truly horrific thread company advertisement, being dragged by gigantic spools through the streets of New York City! Oh, PETA, where were you in the 1870s?
The Barnum American Museum, America's surrealistic showcase of the moralistic, natural and bizarre, burned down to the ground in 1865. But that was certainly no hindrance for a man who specialized in making spectacle out of 'humbuggery'.
In addition to the Merrill Lynch building at Broadway and Ann Street, there are two other significant locations in New York to complete your mini-Barnum walking tour.
Barnum reopened his museum several blocks up the street at 539 Broadway in what would later become the heart of the SoHo district. This building was well known to New Yorkers for another form of entertainment — the minstrel act.
The original building at this location was a performance hall called the Chinese Rooms, named for its oriental decor. In 1853 they rented out to the popular blackface touring act Buckley's Serenaders, the Linkin Park of the minstrel set. As the Buckley's Opera House, the building housed delighted drunken audiences until 1862, when the city's Concert Hall Act prohibited the sale of booze in theaters and effectively running the Serenaders out of town. (No doubt you had to be drunk to enjoy minstrel.)
Barnum cobbled together the non-burned remainder of his collection and hosted it here from 1865 until 1868 when it, too, burned down.
Thoroughly over the apparently combustible world of museums, Barnum would soon embark on the project which would bear his name: the circus. In 1870, Barnum would show off his latest star in New York, Jumbo the elephant (below: Jumbo being pulled down Broadway)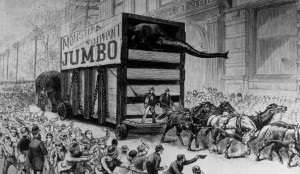 Railroad magnate Cornelius Vanderbilt was also feeling the brunt of a city directive: all trains had to terminate way uptown at 42nd street due to safety and city cleanliness. So what to do with his old train sheds at Madison Avenue between 26th and 27th streets?
Barnum had an idea. He rented the sheds in 1874 and opened a show-stopping variant of his museum, a variety performance of acts, calling it the Monster Classical and Geological Hippodrome (also known as the slightly less pretentious Great Roman Hippodrome).
The Hippodrome was strictly a seasonal venue, with no roof, an open air theatrical proto-circus with oval performance rings and a tarp to give it that 'big top' feel. Wisely, Barnum installed an excessive array of fire-extinguishing options. Below the seats would be a museum and aquarium of much smaller scale than his original museum.
Many of his shows had Wild West themes, and he even hosted horse trotting and chariot races here. However, although its first show drew thousands of curiosity seekers, Barnum realized the real money was to be had on the road and soon relinquished the plot to Patrick Sarsfield Gilmore. Gilmore would refit it with lush gardens and rename it Gilmore's Gardens, though Barnum would host his circus there when it came back through town.
By 1879, the Vanderbilts bought back the property and opened a sporting venue there which they named Madison Square Garden. Although the Garden would go through many incarnations, the official website of MSG traces its lineage today back to Barnum's wacky Hippodrome. And every year when Ringling Bros. and Barnum & Bailey circus swings into town, it always plays the current Madison Square Garden at 7th Ave and 32nd Street.
By the way, Barnum's Hippodrome should not be confused with the far more lavish 1905 Hippodrome in midtown Manhattan, which also hosted Barnum circuses.