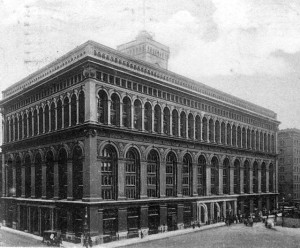 Who knew a produce exchange could look so elegant?
One of New York's most important architects was George B. Post, but you would barely know it today.
Only a handful of his most important buildings — the New York Stock Exchange being the most famous — still stand, the victim of a rapidly changing city sweeping away the former glories of the Beaux-Arts style.
Post wasn't your typical purveyor of the sometimes gaudy excesses of Beaux-Arts, that amalgam of classical and formal styles that dictated American architecture from the 1880s into the 1920s. He was known for making its particular beauty climb, refitting its graceful symmetry literally to new heights. Post proved that the merely traditional needn't be staid and uninspiring. My two favorites of long-gone works:
New York World Building
His best known building during his life was the New York World building on Newspaper Row, more appropriate referred to as the Pulitzer building after the paper's imperious publisher Joseph Pulitzer. It was the tallest building in the world when it was completed in 1890 and was the first building to rise above the spire of Trinity Church.
This was demolished to make way for a car ramp for the Brooklyn Bridge: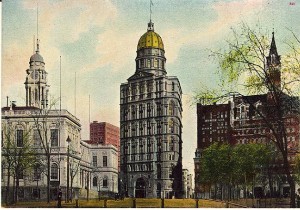 (New York Architecture has some more beautiful pictures of this building)
New York Produce Exchange
You wouldn't expect a building made to hold produce to be an architectural marvel, but Post graceful talent at creating lively open spaces made this one, at 2 Broadway down at Bowling Green, a stunner and certainly must have recommended him as the ideal candidate to design the trading room floor at the New York Stock Exchange. The Produce Exchange was wiped out in 1957. (The exterior is shown up top.)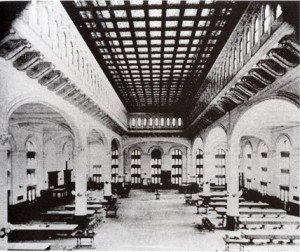 (Picture above, and others of Post's work, can be found at City Review, reviewing a book of Post's work by Sarah Bradford Landau.)
Go to New York Architecture to see a sampling of lost Post buildings.
If you'd rather see one of his few existing ones, simply cross the Williamsburg Bridge over to the Brooklyn side, turn left and look for that beautifully domed and very out-of-place beauty that's now an HSBC bank branch. That's the Williamsburgh Savings Bank, the little brother of the Williamsburgh Savings Bank Tower and one of Brooklyn's most beautiful buildings, built in 1875, many years before the bridge sprouted up in front of it: