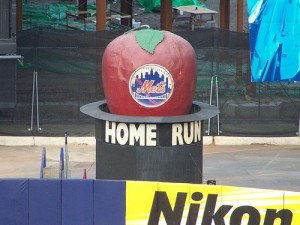 Back in March, we speculated on the fate of Thurman Munson's locker, which had been preserved at Yankees Stadium since the untimely death of the popular Yankees catcher in 1979. Well, Shea Stadium has a far more irreverent but equally treasured fixture that many have been wondering about — the Mets Apple. Will the frail little thing make the move to Citi Field? The answer: no, and yes.
The Mets nine-feet-long, 582 lb apple, which would not look out of place in a Disney animatronic ride, made its debut during the 1980 season. Hoping a clever slogan could prove prophetic, the Mets advertised that "The Magic Is Back!" that year, literally demonstrating this with a mechanical apple that would emerge from a top hat behind center field every time a Met hit a home run.
Accompanied by a light show and the occasional firework display, it was without question one of the cheesiest things to ever grace an American sports stadium. Because of that, however, it was quickly beloved by Mets fans, derided by Yankees fans, and pretty much confused everybody else.
Silly, of course, but the apple was a colorful and original quirk of Shea Stadium. So when it was announced that the Mets would be moving to Citi Field, fans became concerned about the fate of the fruity apparatus. An impassioned website Save The Apple attempted to convince the team to move the apple, which they concede is "an ugly 80s relic."
Their mission was only partially accomplished. According to the Daily News, a new replica of the apple will be popping up in center field at the new Citi Field.
It's been confirmed that the original apple — fairly withered on the vine already — will be saved from the trash heap and will make the transition to the new field in some capacity. But how it will be displayed is undermined. Fans have suggested the apple stand alone on the walkway leading up to the new stadium.
Photo above from Flickr