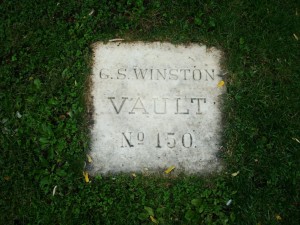 From the New York City Marble Cemetery
Two rarely seen artifacts of the East Village swung open their iron gates this weekend for Open House NY, New York's two oldest cemeteries — the New York Marble Cemetery and the New York City Marble Cemetery. (Yes, you read that right.)
In a few respects they are the Paris and Nicole of ancient burial grounds — virtually identical and marked with occasional rivalries — however these unique New York landmarks are literally all depth, little surface. For below the serene, manicured lawns of both places lie the crypts of hundreds of 19th century New York's leading families.
Before Green-Wood became the fashionable place to rest in peace, wealthy New Yorkers were lured to very first marble cemetery, opened in 1830. Unlike a traditional church cemetery, the New York Marble Cemetery (still listed at 41½ Second Avenue) was strictly a profit-generating venture of Perkins Nichols, who with a board of trustees purchased farmland funded by families already lined up to buy underground vaults.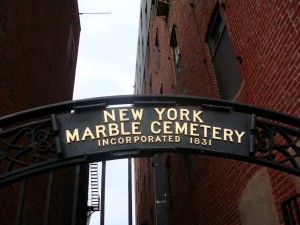 Threats of disease during the early 1800s forced city officials to ban burials in lower Manhattan, below Canal Street. One of Nichols appeals was the Tuckahoe marble used to make the vaults; it was believed that disease was spread from traveling miasma which emanated from dead bodies, however the sturdy marble was believed to contain this effectively.
At $250 a pop, families could book themselves at this "Place of Interment for Gentlemen," which eventually housed 156 vaults. The cemetery appealed more to rich merchants and businessmen, as old moneyed families usually had their own family plots at their country homes. Today it looks like an out of place backyard with fresh green grass and a few trees. Vault markers are placed on the walls surrounding the lawn.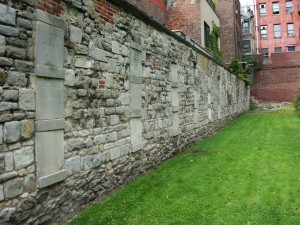 At the New York City Marble Cemetery a block away, the vault markers are affixed into the earth, sharing space with a few traditional grave markers. Trustees hired Nichols to open this plot a little less than a year later, in 1831, due to the success of the original. Not only is it a little larger — with 258 vaults underfoot — but it's readily viewed from Second Street through the bars of some very rustic iron gates.
Although New York Marble Cemetery was first, New York City Marble Cemetery held a loftier roster of permanent residents, including New York Public Library benefactor James Lenox. Who you will no longer find here, however, is fifth president of the United States James Monroe, who was laid here at his death in 1831 and moved back to Virginia in 1858.
Below: the more dramatic New York City Marble Cemetery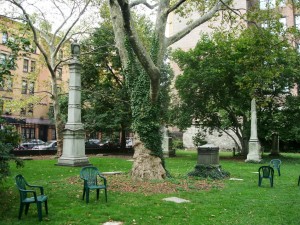 Both cemeteries lost permanent inhabitants once Green-Wood opened, with families preferring to relocate their loved ones to the larger, more landscaped setting. In the 1890s, Jacob Riis almost successfully petitioned to have the original marble cemetery turned into a children's playground, but the plan was later abandoned.
You can find more info at their official websites — Marble Cemetery and NYCMC.
I highly recommend swinging by either next time they're open. In fact, New York Marble Cemetery, hidden away through an alleyway and thus far more quiet, is even open for parties and events. Who wouldn't want to throw a wedding reception here?