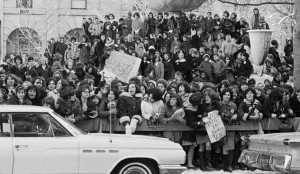 Ladies in a fountain: fans wait impatiently outside the Plaza Hotel
Forty-five years ago today, the Beatles arrive in New York City for their first American appearance. Needless to say, there was some enthusiasm. Read all about it here.
Another American icon Abraham Lincoln didn't have quite the same reception when he arrived here for the first time in February 1860. You can here about it here. The New York Historical Society celebrates the Illinois president all year in a variety of exhibits, including one opening this week Abraham Lincoln in His Own Words: An Intimate View of Our Greatest President.
And look for their Abraham Lincoln and New York exhibit in the fall. You know we'll be all over that. [New York Historical Society]
Sure, Umberto's Clam House in Little Italy looks like a charming little place today. Mafioso 'Crazy' Joe Gallo might disagree with you. [Ephemeral New York]
A lovable ole dive returns: near Port Authority, Holland Bar re-opens its doors. [City Room]
While the East Village mourns the passing of the beloved owner of another saloon institution, the Holiday Cocktail Lounge [Vanishing New York]
And here's a devilish task for you: the Upright Citizen's Brigade has a history themed improv show every Tuesday called 'The Time Capsule', where they ask the audience for history themed figures and events to re-enact in a comedic manner. Somebody has to go there and throw out Peter Stuyvesant. They might love you for it; the improvisational potential of a stubborn Dutch man with a wooden leg is potent indeed. [Every Tuesday in February, 11 pm, The Upright Citizens Brigade Theatre, 307 W. 26th Street (between 8th & 9th), $5 or free to UCB students]
Finally, 225 years ago today, New York, at last considered an American city with the expulsion of the British in November 1783, gets its first post-occupation mayor — James Duane — on February 7, 1784.