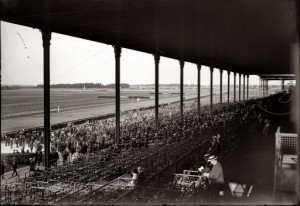 And they're off: Belmont racetrack in 1913(Photo by Shorpy)
Two separate horses, almost sixty years apart. Today in New York history, two different horses won the Belmont Stakes out on the Belmont Racetrack, and became triple crown winners (i.e. victors of the Belmont, the Preakness and the Kentucky Derby). The first, Sir Barton, won all the way back in 1919. Many, many years later, in 1977, the thoroughbred Seattle Slew repeated the triple-crown victory, but with a twist — he is the only undefeated horse to ever win the coveted title.
You may be thinking — what does this have to do with New York City? The Belmont Stakes are held at Belmont Park, in Elmont, New York.
Here's the trivial truth: most of Belmont Park does indeed lie in this pleasant suburb, a quiet farmland before the Belmont racetrack was built here in 1905. (The similarity to the town's name and the name of the park and its namesake, August Belmont, is strictly coincidental.)
But a small portion of the park extends over into Queens, including the train station. One source I read said that this was done purposefully, in case laws on one side of the border or the other tighten in regards to betting on horse racing. Presently, there's talk of Belmont becoming a Native American-owned casino.
The Belmont Stakes were first held all the way back in 1867 at the long-gone Jerome Park Racetrack in the Bronx.
This year's Belmont Stakes, held last Saturday, were won by Summer Bird.