Have you ever just walked around and run smack into some strangely named park (Major Mark Park? Doughboy Park? WNYC Transmitter Park?) that you've never had any idea existed before?
There are parks crammed into every nook and cranny of the city, a testament to community groups and civic leaders who recognized that congested, overcrowded neighborhoods need relief.
The very first parks happen to say something about the formation of the boroughs themselves.
It was recognized early on that you can't have a major city without some patch of public space. Places such as the Common Grounds (where City Hall is today) served as both a rallying spot and even a grazing ground during the 18th century. But these certainly wouldn't be parks in the way we understand them today.
For this survey, a 'park' can actually also mean a 'public square' or 'common grounds'. The birth of the modern park (Central Park) would happen many years after some of these places came into existence: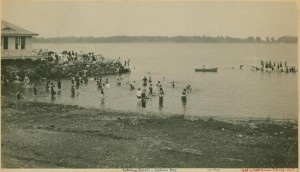 Bathers at Pelham Bay in 1903 (pic courtesy NYPL)
5) BRONX 1888
The New York park service gives the distinction of 'first Bronx park' to, well, most of the major ones — Bronx, Claremont, Crotona, St. Mary's, Van Cortlandt and Pelham Bay Parks. They were all created at once, in sweeping state legislation in the early 1880s, buying up over 4,000 acres of private land to be specifically set aside for parkland.
Parks throughout Manhattan and the future boroughs of Queens, Brooklyn and Staten Island had been created as needed by their communities. The Bronx purchase would actually be the first organized park collective, consolidated in 1888, a notion dreamt of by community activists like John Mullaly, who worried that the growing city would eliminate much of the remaining natural terrain and trap city residents in greenless canyons of tenements.
These lands, however, had been areas for visitors well before being organized as official city parks. Crotona Park, for instance, was known as Bathgate Woods, a wild area that had beerhalls and picnicking grounds along the river. You can still visit the homes of the families who once owned some of these acreages, like the Van Cortlandt House (in Van Cortlandt park) and the Bartow-Pell Mansion (in Pelham Bay Park).
Of course, if you're feeling charitable, you could also consider Woodlawn Cemetary, opened in 1863, the first Bronx park. It's one of the most beautifully manicured spots in the Bronx, even today.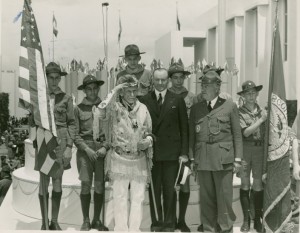 Beard the Scout leader, at the 1939 New York World's Fair
4) QUEENS 1841
I'm giving the title of Queens oldest park to Flushing Park, or what is today known as Daniel Carter Beard Memorial Square. Although it's not really much of a park, and its legitimacy to this title is a little up in the air.
According to the Queens book of lists, old maps reveal that the town of Flushing did lay out a small square in this exact spot in 1841. The area wasn't officially named Flushing Park, however, until 1875.
The park was best known for a Neptune fountain which sat at its center and also became the first Queens park to ever display a Christmas tree. (Now that's trivia!)
In 1942, this portion of the park was renamed for Daniel Carter Beard, a Flushing resident and godfather of the Boy Scouts. It's located in Flushing at Northern Boulevard and Main Street.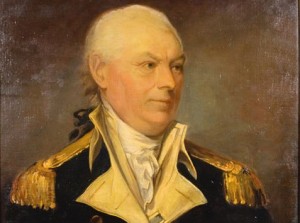 2 TIE!) BROOKLYN 1836
Who is Commodore Barry, and why is his name attached to Brooklyn's oldest park, Commodore Barry Park, established in 1836 in the old neighborhood of Vinegar Hill?
John Barry was one of the Continental Army's greatest sea captains, capturing British ships and even escorting American ally the Marquis De Lafayette back to France to drum up more financial support. He was also the very first commander in chief of the newly formed U.S. Navy.
The village of Brooklyn bought up this land in Vinegar Hill and officially called it City Park, giving the expanding young village its first real parkland. It was renamed, not surprising, due to its situation near the Brooklyn Navy Yards in 1951.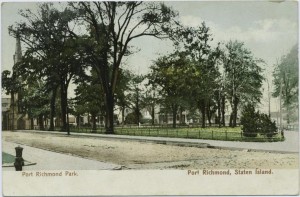 2) STATEN ISLAND 1836
We can thank the well-organized community leaders of Port Richmond for Staten Island's "park" (really more a common grounds), called Veterans Park today.
Port Richmond is on the Staten Island's north shore; in fact Veterans Park isn't too terribly far way from Liedy's Shore Inn, the island's oldest bar. Originally called Ryer's Landing, the port town and ferry landing was carefully laid out by the town leaders in 1836 who built in space for a common area.
After Staten Island was incorporated into New York in 1898, the park was given the official name Port Richmond Park but was changed again 40 years later to its present moniker in honor of American war veterans.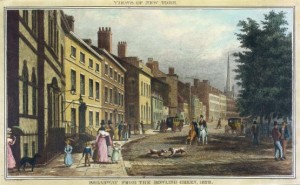 1) MANHATTAN
The very first park in New York is appropriately near one of the very first spots of European settlement — Bowling Green.
When exactly this incredibly busy land became a 'park' is somewhat unclear. Situated right in front of Fort Amsterdam, it was a cattle ground for the Dutch and a marketplace for the British. But throughout that history it was also a parade ground for the military and a common ground for gatherings and to air grievances, such as when disgruntled New Yorkers in 1776 ripped down the statue of King George that once stood here.
However, we get its name today from activities that began occurring here in 1733, when the ground here became an actual early version of bowling.
It was a magnet for wealthy New York townhouses until the grand trek northward began in earnest, leaving Bowling Green to suffer deterioration. A subway station opened underground here in 1905, but it wasn't until the 1970s that it was restored to some sense of its original glory.