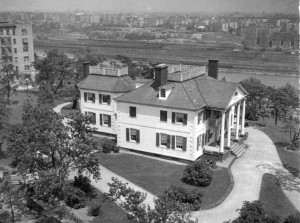 Oh this old thing? The Morris-Jumel Mansion circa 1934 (courtesy of Jumel Terrace)
Next up in our borough challenge — where in the city is the oldest New York home? Not oldest building per se, but actual place of (former) domestic living.
Why would I care to rank this? Consider our city today, with shiny new condos sitting astride tenements and rowhouses. In the ever shifting nature of the city, how on earth does an actual house even survive? Unless it's landmarked, most buildings are under a constant fear of being wiped away by the changing metropolis. So then how did the five below survive in the many generations before landmark status?
What defines a few of these is true historical status — the location of a monumental event — but a couple are just normal domiciles, nothing of extraordinary note. The key is early preservation, historians from generations ago who recognized these structures as a piece of the past, in a time when retaining that past wasn't as heavily revered.
5) MANHATTAN 1765
It's not so strange that Manhattan would place last of the five boroughs. It experiences far greater colossal cycles of change than the other areas. And frankly, the idea of actual mansions or 'houses' in a skyscraper city seems positively askew.
But they obviously exist, and Manhattan's oldest is the Morris-Jumel Mansion. Its builder Roger Morris was a clever architect himself and erected his sumptuous home in 1765 among the quiet hills of today's Washington Heights. The peace did not last. As George Washington and his army fled the city, they had one final stand nearby here, in the battle known as Harlem Heights. Washington used Morris' home as a homebase during the conflict. (The 'dinosaur tree' I mentioned on Monday was actually on the Morris property.)
After the war, the home was bought by Stephen Jumel and was known as the haunt of his scandalous wife Eliza. She lived in the home for years after the death of her first husband and her second, Aaron Burr. (Eliza might actually haunt the place for real. Listen to our ghost story podcast for more info.) With all these brushes with greatness, it's no surprise the home was preserved well after most of the land was sold off in 1882. The city bought it at the start of the new century, and it's been frozen in time ever since.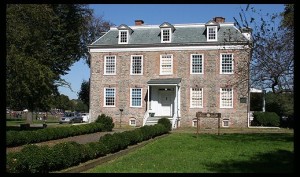 4) BRONX 1748
The Van Cortlandt House (above) and the park surrounding it is one of the Bronx's greatest treasures and a beautiful thing to visit on a nice weekend afternoon. Jacobus Van Cortlandt, from one of New York's most prominent families, was actually a British appointed mayor of the city, but decided to build his family this lovely home far from the bustle of the city. His son later finished construction and, like the Morris home, was used during the Revolutionary War, a "scene of military maneuvers and intrigue" according to the Park Service. Washington too stayed here at some point. (I'm beginning to see the meaning of that 'Washington slept here' cliche.)
What most likely saved the Van Cortlandt and Morris-Jumel homes is that the city had not yet grown this far north yet. When it did get here, its historical value became obvious and was turned into a museum in 1896.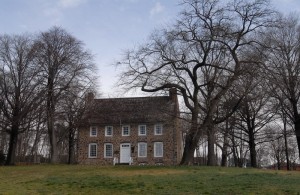 3) STATEN ISLAND 1675
Our third Revolutionary War-themed destination, the Conference House of Tottenville (above) can definitely be said to have never, ever had George Washington inside of it.
At first blush, it doesn't look like the warmest of places. But it was indeed the home of one Christopher Billopp, a sea captain vital to the history of Staten Island, for one of his boasts assured that its fate would eternally be tied to New York's. Any lands that could be circumnavigated by Billopp's ship in a single day would belong in the jurisdiction of New York, not New Jersey. Billopp had a swift vessel, and Staten Island was New York's. In fact, the house, built around 1675, is sometimes known as Bentley Manor, Bentley being the name of his ship.
The 'conference' in the Conference House comes in 1776, with a summit between Lord Howe, of the encroaching British Army, and representatives of the newly formed union — John Adams, Benjamin Franklin and Edward Rutledge. Their entreaties were not enough to stop the invasion of New York, but the home's importance in the tale of the Revolutionary War was enough keep the building safe until 1926, when threats of demolition united residents to save and restore it. Today, the stone structure is the pride of Tottenville.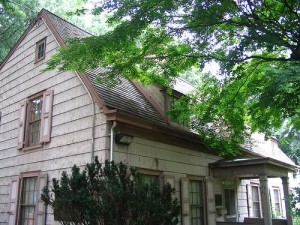 2) QUEENS 1661
The remaining two houses don't have the loftiness of Revolutionary history to support them. They're just really damn old, the benefactors of serendipity, good construction and community love.
What we call today the John Bowne house, in Flushing at 1 Bowne Street at 37th Avenue, was a family home for the Bowne family from the time of its construction in 1661 until it was turned into a museum in 1947. That's an extraordinary, quiet run, but it's not without its own engaging story.
John Bowne came to New Netherlands and immediately butted heads with Peter Stuyvesant. The reason? Bowne was a Quaker and had just come from the Puritan city of Boston. Bowne was quickly arrested for his beliefs and sent to the Netherlands to stand trial. However, not only was he exonerated, but Stuyvesant was himself reprimanded for his lack of religious tolerance.
Bowne's home was heavily remodeled over the years and doesn't look terribly different from a nice old home you would find in the suburbs. It's still definitely worth a visit sometime, although it is currently undergoing another 'extensive renovation'.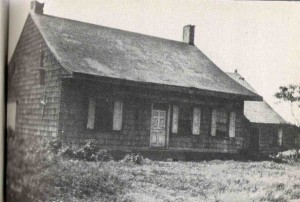 How our oldest house looked in 1899…
1) BROOKLYN 1652
The oldest house in New York belonged to Pieter Claesen Wyckoff and he built it around 1652, living there approximately 43 years after Henry Hudson had sailed into New York harbor.
Unlike many we've just discussed, Pieter's origins are quite humble. In fact, when he came to the New World in 1637, he was an indentured servant. But with hard work, he was able to earn his freedom and purchase his own farmland, which he bought here in the town of Flatlands. He has a connection to Stuyvesant as well, tending to the director-general's cattle around the same time that he built his farmhouse.
The house stayed in the Wyckoff family, even as the family's wealth soon ensured that the Wyckoff name would soon be spread all around the future borough of Brooklyn.
It was finally donated to the city in the 1960s and heavily redone as a museum to New York's Dutch past. It's quite a small but striking house, more the construction of a Dutch fairytale than an urban neighborhood. I highly recommend a brief visit. And the Wyckoff House and Association is currently looking for other Wyckoffs. So if your name is even somewhat similar, give them a call!
(By the way, there are TWO historic Wyckoff houses in Brooklyn. The other, known as the Wyckoff-Bennett Homestead, at 1669 E. 22nd Street, ain't nothing to sneeze at either. It was built in 1766.)
…and how it looks now!