Today's faceoff determines which borough has the oldest bar in the city. These places have enjoyed longevity precisely because they weren't on anybody's radar. The secret to their success is being low-key, neighborhood establishments where booze and conversation come first. Although a few have some kooky decor, none are what anybody would call flashy.
Of course, once you start looking closer, you find that the definition of bar/tavern/saloon itself gets blurred in a couple of these cases.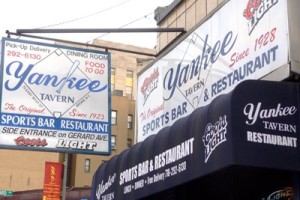 5) BRONX 1923 (not 1928 as the big sign indicates!)
Although I've never seen it described as such, I believe the Bronx's oldest bar is the Yankee Tavern, located at 72 East 161st St in the shadow of the elevated subway and old Yankee Stadium. Not surprisingly, it opened the same year as the stadium (1923) to satisfy a predictably parched clientele of baseball fans. Babe Ruth himself would sometimes come in buy a round of brews.
With the new stadium, this should have been a big year for Joe Bastone, whose family has owned the tavern since its opening. Oh it was big all right: Bastone was charged last month for failing to pay over $1 million in taxes on the place.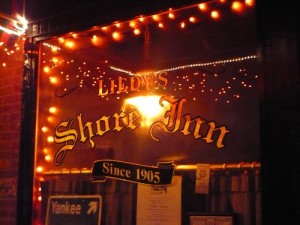 4) STATEN ISLAND 1905
You don't get more rustic than Staten Island's entrant, Liedy's Shore Inn (748 Richmond Terrace), first opened in 1905 by German immigrant Jacob Liedy. Liedy's was popular with the sailors —affectionately called the 'Snugs' as Sailors Snug Harbor is close by — and kept alive during Prohibition by bootleggers who came over from Bayonne, NJ, in rowboats. Since then, the inn has stayed in the Liedy family.
A liquor license snafu almost closed the place for good a couple years ago; apparently current owner Larry Liedy kept the liquor license in his dead mother's name.
It's quite possible that Killmeyer's Old Bavaria Inn (4254 Arthur Kill Rd) in Charleston, SI, is older than Liedy's. Their site confirms that the building is older, though its unclear as to when they might have become an operating tavern. Best to grab a drink at both then!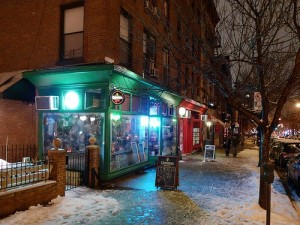 Wintry pic above courtesy Flickr
3) BROOKLYN 1874
I'll have to take it on its word. PJ Hanley's in Carroll Gardens (449 Court St.) proclaims itself to be the oldest bar in the borough, opening in 1874. In fact, this is where a little fudging comes in. There has been a bar at this location since 1874, originally a saloon for Norwegian customers. During Prohibition it was called Ryan's, where Al Capone purportedly brewed beer in its basement. However, the Hanley family have only owned it since 1958. They sold the bar in 2005 but it retains its name and its charm, freshly renovated and reopened a couple years ago.
2) QUEENS 1855
To be in operation over 150 years sometimes requires a certain camouflage. Such is the case with Woodhaven's Union Course Tavern (87-48 78th Street) which basically looks somebody's dilapidated two-story house.
I've seen both 1853 and 1855 associated with Union Course. This is not a trivial matter; the claim of 'New York's oldest bar' is at stake. It seems though that the Queens tavern might be fine with Manhattan taking the title. (A plaque outside indicates 1855 as the official date.) It's still a locals bar, far from the hooves of tourists.
It started as the Blue Pump Room, then became Niers Social Hall in 1891. Mae West, who lived in Woodhaven, sometimes performed here; her picture graces the walls of pressed tin today. It's name today comes from a former racetrack that was once the pride of Woodhaven in the 19th century. The racetrack closed in 1888, so the bar must have taken its name affectionately.
1) MANHATTAN 1854
Everybody knows the oldest continually operating bar in Manhattan is McSorley's Old Ale House (15 East 7th Street), right? The still-popular old hole in the wall has been serving up its signature brew since 1854, for the likes of Abraham Lincoln, Boss Tweed and John Lennon.
But if you tweak the definition of what 'continually operating' and 'bar' is, you might come up with two other candidates. The building that contains the Bridge Cafe (279 Water St.), near the South Street Seaport, has reportedly been the location of liquor sales since 1794, both as 'wine and porter bottler' and as a boozy 'grocer'.
And then, what to make of Fraunces Tavern (54 Pearl St), one of the city's Revolutionary War era treasures and location of George Washington's farewell speech to the Continental Army? The original building, built in 1719, was opened for business as a tavern as early as 1762. However the tavern has been entirely rebuilt on at least a few occasions. Also, Fraunce's has been so much more than just a tavern.
Again, it's all in how you word it. And after a few drinks, does it really matter?