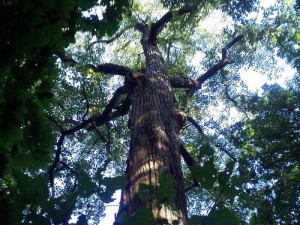 The oldest living New Yorkers outdate all the skyscrapers, the highways and the parks in which most of them live. They have seen generations of New Yorkers come and go. And at least one of them even remembers the region's original indigenous people.
We're talking about the native trees of New York City, those that were planted naturally and not transplanted from elsewhere, giants that have weathered storms and interactions with humans long gone.
Of course it is impossible to know with absolute certainty the oldest trees as not every single one has been measured. There are, in fact, according to MillionTreesNYC, 5. 2 million trees in New York City, about a tenth of which are actually on the streets.
Some other wonderful trivia from MillionTreesNYC:
"– Standing trunk to trunk, New York City street trees would form a line 118 miles long–the distance from Manhattan to Hartford.
— Number of tree species: 168
— Percent of land covered in trees: 24% "
I was not able to find complete info for all five boroughs, and I will indicate where I could not come to a definitive answer. If you have any leads, please post them in the comments section.
I'm obviously no arborist, so the details below are based on the research of others. However maybe someday I'll trek out to these various sites armed with a tape measure and an layman's knowledge on how to evaluate tree age.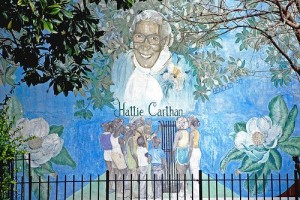 Hattie Carthan, Brooklyn's tree saviour
BROOKLYN
It appears that the oldest tree in the borough — among, as Betty Smith well knows, the many, many trees that grow in Brooklyn — is undetermined. Most likely it sits in Prospect Park which contains most of the borough's remaining natural forest — about 100 acres.
Formerly, the title holder was a 220-year old black oak which once stood here; sadly it uprooted during a storm many years ago and tumbled into the ravine.
However, one of Brooklyn's most famous trees sits in the neighborhood of Bedford-Stuyvesant — a southern magnolia tree Magnolia Grandiflora, brought to Brooklyn from North Carolina in 1885 and located near 667 Lafayette St.
It happens to be the only landmarked living tree in the city, thanks to community leader and nature lover Hattie Carthan, back in 1970.
BRONX
With the borough's thousands of acres of park land, the real candidate for borough's oldest may as yet be undiscovered.
However, the leading candidate is currently a handsome white oak tree around the 18th hole of the Split Rock Golf Course in Pelham Bay Park. The oak is well 'over 200 years old' although its location by a golf course can't be good for its health.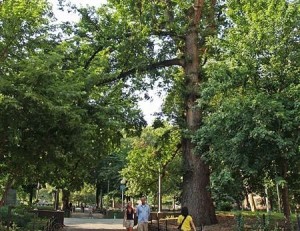 Hangin' around with New York's oldest and most legendary elm
MANHATTAN
One might naturally assume Manhattan's oldest tree must be in Central Park. It's a very manicured place though, and most of its older vegetation was transplanted here. However, the great London plane tree near the Reservoir (pictured below) is said possibly pre-date its construction in 1862.
There are two other candidates for oldest tree on the island. One is in Washington Heights, a 110-foot elm at 163rd Street and St. Nicholas. Known as the Dinosaur, it reportedly shaded George Washington as he surveyed his shifting fortunes during the Battle of Washington Heights.
The most renown candidate is, of course, the Hangman's Elm, in Washington Square Park. At a reported 310 years old, this arboreal old man in the northwest corner of the park most likely never really saw any hangings as its legend indicates, but its certainly fun to morbidly gander at its branches.
The top two candidates for New York's oldest tree have been the fascination of tree lovers since their discovery.
Below: The London plane tree near the Reservoir, most likely Central Park's oldest tree (pic courtesy Central Park 2000)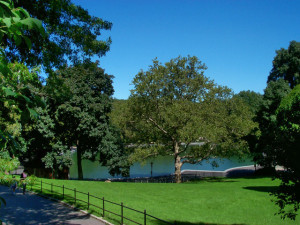 STATEN ISLAND
The two oldest trees in New York happen to be tulip trees, a common tree of the region named for its flower-shaped leaves. The charming Clove Lakes Park, at Forest Avenue and Clove Road, takes its name from the Dutch word "kloven" or cleft. Its granddaddy entry into the tree race is known as the Clove Lakes Colossus is a monstrous 119 feet tall with a circumference of 21.4 feet.
It's reported to be well over 300 years old, predating all but the most rudimentary European settlement here in Staten Island. It's actually a thicker tree than the tulip which is New York's oldest, but that's due to more ideal growing conditions. Unlike many other 'oldest tree' candidates, Clove Lakes takes good care of its elders, easily located at the park's north end near a paved path.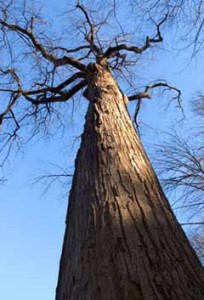 QUEENS
Say hello to the Queens Giant (pictured at top), the grandmother of all native New York City plants. Located along a secluded trail in Queens' Alley Pond Park, this monster is also one of the city's tallest trees at 133.8 feet — just 20 feet shorter than the Statue of Liberty.
It may be one of the few remaining living things from the era before Henry Hudson sailed into New York harbor, with its age calculated at anywhere from 350 to 450 years old. This would make it one of New York's truly extraordinary natural features. Interestingly, in the past, the city has taken a stance of 'benign neglect' to the tree, arguing that it shouldn't be better accessed in order to protect it.
Revised from a previous article which ran in 2009