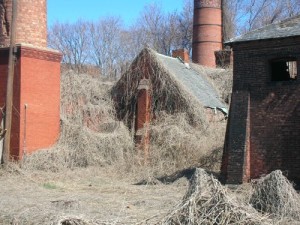 Pic courtesy NYC.gov
I just noticed that Thirteen/PBS's The City Concealed did a great video piece exploring the rarely seen abandoned hospital structures of North Brother Island. Creepy! Watch it here.
North Brother Island, today a bird sanctuary located in the crowded channel between Queens and the Bronx, is best known for its 19th-century smallpox quarantine hospital that became the unfortunate home of Irish immigrant Mary Mallon whom the press called Typhoid Mary. Its brother South Brother Island meanwhile was a haven for a beer mogul. Read our brief history on the Brother Islands here.