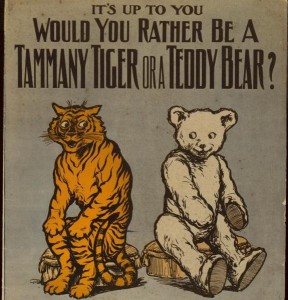 Well, would you?Illustration from sheet music 1908
FRIDAY NIGHT FEVER To get you in the mood for the weekend, every other Friday we'll be featuring an old New York nightlife haunt, from the dance halls of 19th Century Bowery, to the massive warehouse clubs of the mid-1990s. Past entries can be found here.
LOCATION Martling's Tavern
Corner of Nassau and Spruce streets, Manhattan
I promise to move away from the messy business of Tammany Hall for awhile after I profile the surprising location of their birth, a tavern that would collect the most powerful men in the city and form a political club that would influence New York history forever — Martling's Tavern.
Power frequently held court in New York's taverns in the early days. Few New York locations are more important to the American Revolution than Fraunces Tavern, where the seeds of rebellion were sewn and, once victorious, where George Washington resigned from the Continental Army. The Bull's Head Tavern became a veritable marketplace for area cattlemen and a place to share a bit of gossip.
When it formed in 1789, the Tammany Society was a mere fraternal, patriotic organization with little interest in real-time political maneuvering. [You can find out more by listening to our last podcast on the early days of Tammany Hall and the rise of Boss Tweed.] Its ceremony and costumed rituals were even looked down upon by elite elements of society as "a vulgar parade."
But by the late 1890s, this flamboyant men's club was permanently repurposed as a deft political machine. Early mayors like James Duane were 'sachems' who slowly began using the society's ostensibly innocent functions as cover for more political gains.
As a social club, Tammany would naturally require a tavern for a meeting place, especially one with a grand hall to accommodate all their members. The very first meeting place (or 'wigwam') for the Tammany Society was Barden's Tavern on Broadway and Murray Street, just a stone's throw from the center of local and, in 1789-90, even national government. Society members even feted actual native Americans here, a contingent of Creek Indians who must have smirked at seeing all these prominent white males in native drag.
In 1790, according to Gustavus Myer's famous history of Tammany Hall, "the Tammany Society and the military escorted the Indians to Secretary [Henry] Knox's house, introduced them to [President] Washington and then led them to the Wigwam at Barden's Tavern, where seductive drink was served."
Tammany remained at Barden's until they outgrew it in 1798 and moved to a location on the edge of the city (Nassau and Spruce streets) that was owned by one of their members — Abraham 'Brom' Martling.
Martling's place didn't look like much, a 'forlorn' one-story building. According to author Peter L. Bernstein, "The building was so rundown many people referred to it as the Pig Pen." Perhaps the transition to politics required a locale with a rougher edge. They would make Martling's their home until 1812, and it is generally referred to as the first 'real' Tammany Hall.
Wicked politics was already at play by the time the Society settled into Martling's spacious 'Long Room' where a majority of Tammany business would be conducted. When Aaron Burr, flanked on either side by Tammany men, shot his enemy and Tammany scourge Alexander Hamilton, it's alleged that the Society threw a gala that evening in celebration, with toasts raised to Burr's good aim.
Make no mistake; although the business of government was on their mind, these men could drink. According to Myers, "every night men gathered there to drink, smoke and "swap" stories," a "den where the Wolves and Bears and Panthers assemble and drink down large potations of beer":
There's a barrel of porter at Tammany Hall,
And the Bucktails are swigging it all the night long
The society became so associated with the place that they were frequently called Martlingmen. Alternatively, Tammany would call their future meeting chambers a 'long room' in honor of this rundown but effective space.
Martling himself would even became a Tammany sachem, and a tempestuous one at that. Myers: "Taking offense, one day, at the remarks of one John Richard Huggins, a hair-dresser, [Martling] called at Huggins's shop, 104 Broadway, and administered to him a sound thrashing with a rope." Take that, hair-dresser!
As Tammany became more powerful and larger (with some 1,500 members), they would eventually have to move from the Long Room into a headquarters of their own. But they didn't move far from Martling's however. The very first Tammany Hall would be built at Frankfurt and Nassau, mere steps the tavern that had quenched their thirst and saw the adolescent society grow to become a viable political force.
Location of Martling's Tavern:

View Larger Map