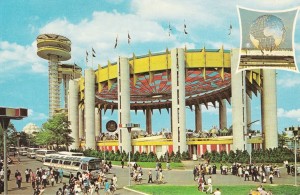 Relive the 1964 World's Fair this weekend — from a trolley
Open House New York, a weekend-long celebration of city-wide architecture, history and habitation, rolls out this weekend at a varied host of locales. If you're like me, you completely forgot to make reservations to any of the hottest tours. So if you're interested in checking out the famous Atlantic Avenue subway tunnel, the grounds of Fresh Kills, Prospect Park's austere Litchfield Villa, the Old Croton Aqueduct, sculptor Tom Otterness' studio, or Radio City Music Hall, you'll have to try another time.
However, there are still many opportunities that are either not yet filled or don't need a reservation at all. Here's eight of the most intriguing Open House sites still actually open: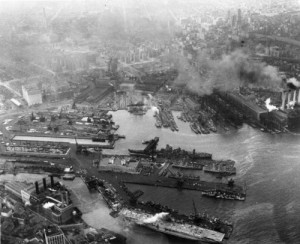 Brooklyn Navy Yard — by bus or bike
Fort Greene, Brooklyn
When: Bike tour Sat & Sun 9am; Bus tour Sat & Sun 2pm
You've seen it from the Manhattan side, you've walked or biked by this walled in Navy shipbuilding grounds, and you may have even pondered the mysterious Commodores Row. Why not take a look inside? They're offering tours by bus or, better yet, grab your bike and take a tour that also features the yard's "green elements."
Why go? Sounds like the perfect thing to do on a nice day
Do this: email ohny@brooklynnavyyard.com and specify bike or bus tour.
Chrysler Building
Midtown Manhattan
Sat 11 am, 2 pm; Sun 12 pm
Get a primer on New York's classiest building from historian Robert Klara, who'll point out the richer characteristics of that lavish lobby and recount the story of the building's construction.
Why go? You can linger on the interior of the building without businessmen leering at you.
Do this: No reservation required, so just show up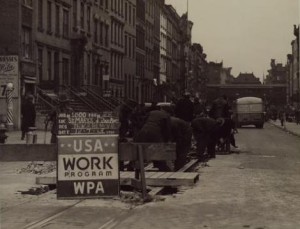 Above: Pre-punk St. Marks Place
East Village on foot
Starts at the East Village Visitors Center, 308 Bowery
Sat 12, 2 pm; Sun 12, 2 pm
Lots of unsung history to hear about among the bars and sushi restaurants of the East Village, from the old punks of St. Mark's to the tenement lore of Alphabet City.
Why go? The fine folks at the Lower East Side History Project do this for a living.
Do this: email info@eastvillagevisitorscenter.com to reserve a spot
The 1939 and 1964 World's Fairs by trolley
Flushing-Meadow Park, Queens (meet at Calvert Circle
Park rangers leader a spirited tour of Flushing-Meadow's fair monuments, many in picturesque ruin.
Why go? Who turns down anything on a trolley?
Do this: Call 718-846-2731 for reservation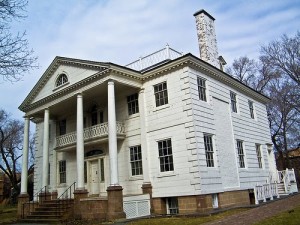 Scavenger Hunt through haunted Morris-Jumel Mansion
Washington Heights, Manhattan
Sat 11 am – 4 pm; Sun 11 am – 4 pm
I think this one is for kids, but the idea of scouring the former home of Eliza Jumel — the same house used by George Washington as an encampment — in a scavenger hunt sounds too tempting to ignore. Listen to our first ghost story podcast, featuring the tale of Mrs. Jumel, to get yourself in the mood.
Why go? You've always wanted to visit the Morris-Jumel Mansion, and you never turn down a scavenger hunt.
Do this: Just show up during the hours above
Robert Moses-era relic: Jacob Riis Park Bathhouse
Rockaway Beach, Queens
Open 9-5pm all weekend, but guided tour at 11am Sat
If you you're a fan of Moses or fascinated in his early vision of public spaces, a tour of the 1932 Jacob Riis Park Bathhouse will give you a great idea of that vision at its most aestheticly pure. Sounds worth the trek from any borough.
Why go? Mr. Moses commands you.
Do this: Call 718.318.4300 to reserve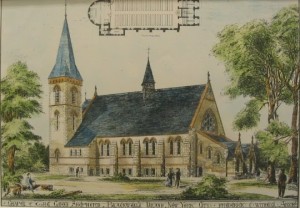 Holy Ghosts of Chapel of the Good Shepherd
Roosevelt Island
Just Sat, from 9am – 4pm
This 1888 house of worship offered Blackwell's Island's many mental patients, prisoners, and the poor souls in the almshouse a touch of spiritual respite. While you're there, walk the length of the island and make a day of it.
Why go? I wish Open House featured more activities on Roosevelt Island, a place teeming with history from every nook
Do this: Just show up, no reservations, although you may have to stand in line
Sites of the Upper West Side
Meet at southeast corner of 96th St/ Broadway, Manhattan
Sat and Sun at 1 pm
This isn't just any old tour of the Upper West Side's fabled Bloomingdale area. Highlighted on the tour will be tales of both the first president (George Washington's sped through here chased by the British) and the latest (Barack Obama's Columbia years). I recommend pairing this with the Morris-Jumel tour, which is open all day.
Why go? Span centuries in just a few short blocks
Do this: Contact webmaster@oldstreets.com for reservations
Check out Open House's website for the complete program, including updated status on new places to visit and time changes.